KICK YOUR ENTHUSIASM (8)
By: Douglas Wolk
January 27, 2022
One in a series of 25 enthusiastic posts, contributed by 25 HILOBROW friends and regulars, on the topic of a favorite sidekick — whether real-life or fictional.
*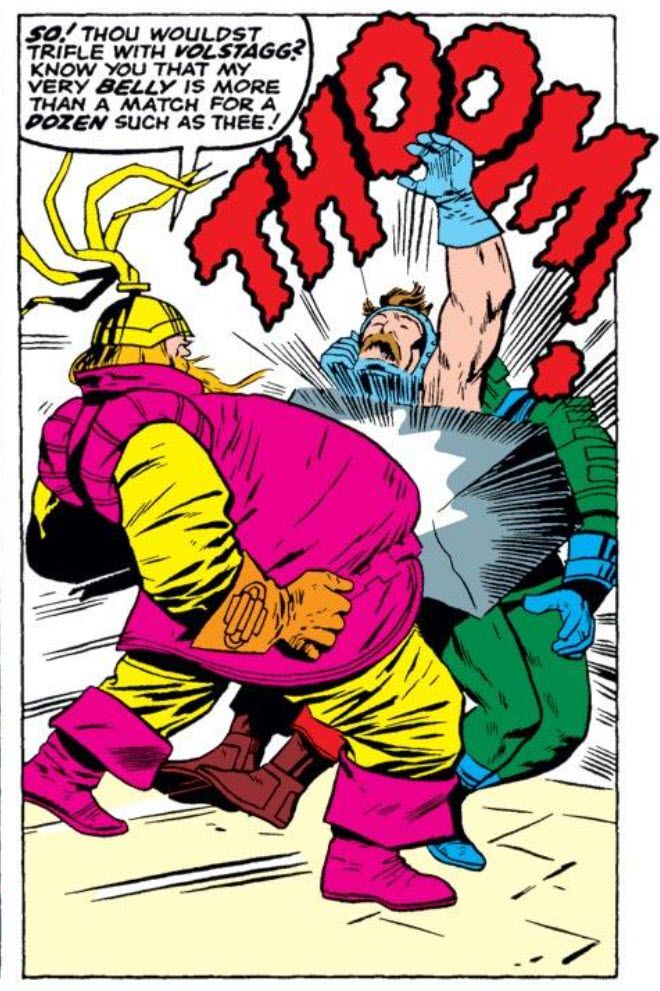 VOLSTAGG
Volstagg the Voluminous is a brilliant twist on a familiar character, a latter-day addition to Marvel Comics' version of the Norse mythological pantheon who's also a thinly disguised version of Shakespeare's Sir John Falstaff: a once-formidable hero who's gone to seed, coasting on his enormous ego, silver tongue, and improbable luck. He's also a sidekick twice over. Invented in 1965 for the "Tales of Asgard" feature that backed up Thor's early adventures in the mythology-as-superheroics comic book Journey Into Mystery, Volstagg usually appears as one of the Warriors Three, a Three Musketeers-like team of Thor's pals. But he's also very much the sidekick of the other two Warriors, Fandral the Dashing and Hogun the Grim: the guy they're there to prop up. When they show up for a fight, he announces that "valorous Volstagg shall turn about and guard the rear!" ("Aye," Hogun snarls, "since all our foes now stand before us.")
Both artist Jack Kirby and writer Stan Lee took individual credit for coming up with the Warriors Three (Lee's claim is, for once, substantially more convincing than Kirby's). Kirby gave Volstagg his form — round and red-bearded, dressed in a bulging purple shirt and a beribboned helmet, prone to chewing scenery and everything else, visibly the comedy-relief character in any scene where he appears — but Lee gave him his note-perfect voice. When Thor starts helping Volstagg break out of a stone cage, the old braggart indignantly replies "How now?!! To speak so of giving aid to Volstagg is akin to giving the peacock an extra feather… the porcupine an extra quill!"
For his first five years or so — the Kirby/Lee period — Volstagg was a miles gloriosus, and a very funny take on that stock character. But later creators of his comics have figured out how to make the joke even funnier by deepening his character a bit, and observing that an over-the-hill god is feeble only by comparison with his peers. ("In his prime," Marvel's official handbook dryly notes, "he could lift about 50 tons; now he can only lift about 35 tons.") Volstagg is buffoonish, cowardly and gluttonous, true, but if he's forced to fight, he will win, every time — if sometimes by knocking his foes over with his mead-gut. Walter Simonson's 1980s tenure as Thor's writer and artist introduced the idea that Volstagg is, in fact, a steadfast defender of children (who find him hilarious rather than pathetic). And Kieron Gillen's 2011-2012 run as Journey Into Mystery's writer found the virtues in Volstagg's vices: a serial exaggerator and prevaricator may also be a glorious tale-spinner, Gillen suggests, and a sidekick who knows that he's the real hero's comedic foil has room to find a way of his own to bend events to the best outcome.
***
KICK YOUR ENTHUSIASM: INTRODUCTION by Josh Glenn | Annie Nocenti on RATSO | Barbara Bogaev on TRIXIE | Sara Ryan on SWIFT WIND | Carlo Rotella on BELT BEARERS | Adam McGovern on JACKIE McGEE | Josh Glenn on RAWHIDE | Gabriela Pedranti on KUILL | Douglas Wolk on VOLSTAGG | Serdar Paktin on CATO | Deirdre Day on TRAMPAS | Dean Haspiel on TIN MAN | Flourish Klink on THE APOSTLE PETER | Miranda Mellis on FAMILIAR | Peggy Nelson on COSMO | Beth Lisick on MARTHA BROOKS | Bishakh Som on CAPTAIN HADDOCK | Stephanie Burt on SAMUEL TAYLOR COLERIDGE | Greg Rowland on SPOCK | Adam Netburn on SENKETSU | Mimi Lipson on ROBIN QUIVERS | Jonathan Pinchera on GUTS | Tom Nealon on TWIKI | Mandy Keifetz on DR. EINSTEIN | Judith Zissman on IGNATZ MOUSE | Anthony Miller on DOCTOR GONZO.
MORE ENTHUSIASM at HILOBROW
MÖSH YOUR ENTHUSIASM (1Q2024): ENTER SANDMAN | MILQUETOAST | CHRISTBAIT RISING | GOING BLIND | HERE COME THE COPS | & 20 other Eighties (1984–1993) Metal songs. STOOGE YOUR ENTHUSIASM (4Q2023): MOVE ON FAST | 96 TEARS | SHE CRACKED | WHAT A WAY TO DIE | PSYCHOTIC REACTION | & 20 other Sixties (1964–1973) proto-punk songs. CURVE YOUR ENTHUSIASM (3Q2023): PIZZA PURISM | BOY BANDS | THE '86 METS | LOVE ISLAND UK | ELTON JOHN | & 20 other reconsidered enthusiasms. TEEN YOUR ENTHUSIASM (2Q2023): ANDY GIBB | VALERIE BERTINELLI | KIM WILDE | ARLO GUTHRIE | MIKE PATTON | & 20 other heartthrobs from our adolescences. DOLLY YOUR ENTHUSIASM (1Q2023): WE FOUND IT | TOGETHER AGAIN | SUNDAY MORNIN' COMIN' DOWN | BAD CASE OF THE BLUES | FANCY | & 20 other Sixties (1964–1973) Country records. KILL YOUR ENTHUSIASM (4Q2022): LT. TASHA YAR | JOYCE SUMMERS | COL. HENRY BLAKE | MRS. LANDINGHAM | ALEX KAMAL | & 20 other TV deaths. BLURB YOUR ENTHUSIASM (3Q2022): LEFT-CORNER BRICK | JOY IS RESISTANCE | THE FUTURE IS PASSÉ | EVERY MINUTE AN OCEAN | SHUT UP, HE EXPLAINED | & 20 other apothegms to live by. KOJAK YOUR ENTHUSIASM (2Q2022): ARK II | WKRP IN CINCINNATI | BUCK ROGERS | THE WHITE SHADOW | POLICE WOMAN | & 20 other Seventies (1974–1983) TV shows. KICK YOUR ENTHUSIASM (1Q2022): KUILL | CATO | COSMO | TRIXIE | VOLSTAGG | & 20 other sidekicks. NERD YOUR ENTHUSIASM (4Q2021): TIME | THE POST OFFICE | ARDUIN | DOUBT | SUMMATIONS | & 20 other nerdy passions. SWERVE YOUR ENTHUSIASM (3Q2021): WARHOL'S WALT WHITMAN | 70, GIRLS, 70 | TYRAEL'S MIGHT | SHIRATO SANPEI | THE LEON SUITES | & 20 other never-realized cultural productions. FIVE-O YOUR ENTHUSIASM (2Q2021): DARK SHADOWS | MANNIX | GET SMART | THE ADDAMS FAMILY | I DREAM OF JEANNIE | & 20 other Sixties (1964–1973) TV shows. FERB YOUR ENTHUSIASM (1Q2021): STEVEN UNIVERSE | TOP CAT | REN & STIMPY | SHE-RA AND THE PRINCESSES OF POWER | DRAGON BALL Z | & 20 other animated series. CARBONA YOUR ENTHUSIASM (2020): "Sex Bomb" | "Going Underground" | "Soft South Africans" | "Typical Girls" | "Human Fly" | & 20 other Seventies (1974–1983) punk singles. KLAATU YOU (2020 weekly): ZARDOZ | METROPOLIS | DARK STAR | SINS OF THE FLESHAPOIDS | SOLARIS | & dozens of other pre-STAR WARS sci-fi movies. CONVOY YOUR ENTHUSIASM (2019): THE TAKING OF PELHAM ONE TWO THREE | ROLLERBALL | BLACK SUNDAY | SORCERER | STRAIGHT TIME | & 20 other Seventies (1974–1983) action movies. SERIOCOMIC (2019 weekly): LITTLE LULU | VIZ | MARSUPILAMI | ERNIE POOK'S COMEEK | HELLBOY | & dozens of other comics. TUBE YOUR ENTHUSIASM (2018): LOONEY TUNES | THREE STOOGES | THE AVENGERS | ROCKY & BULLWINKLE | THE TWILIGHT ZONE | & 20 other Fifties (1954–1963) TV shows. WOWEE ZOWEE (2018 weekly): UNISEX | UNDER THE PINK | DUMMY | AMOR PROHIBIDO | HIPS AND MAKERS | & dozens of other Nineties (1994–2003) albums. KLUTE YOUR ENTHUSIASM (2017): THE KILLERS | BANDE À PART (BAND OF OUTSIDERS) | ALPHAVILLE | HARPER | BLOW-UP | & 20 other Sixties (1964–1973) neo-noir movies. #SQUADGOALS (2017 weekly): THE WILD BUNCH | BOWIE'S BAND | THE BLOOMSBURY GROUP | THE HONG KONG CAVALIERS | VI ÄR BÄST! & dozens of other squads. GROK MY ENTHUSIASM (2016 weekly): THE THEORY AND PRACTICE OF LUNCH | WEEKEND | MILLION YEAR PICNIC | LA BARONNE EMILE D'ERLANGER | THE SURVIVAL SAMPLER | & dozens more one-off enthusiasms. QUIRK YOUR ENTHUSIASM (2016): "Tainted Love" | "Metal" | "Frankie Teardrop" | "Savoir Faire" | "Broken English" | & 20 other Seventies (1974–1983) new wave singles. CROM YOUR ENTHUSIASM (2015): DARKER THAN YOU THINK | THE SWORD IN THE STONE | OUT OF THE SILENT PLANET | THIEVES' HOUSE | QUEEN OF THE BLACK COAST | & 20 other Thirties (1934–1943) fantasy novels. KERN YOUR ENTHUSIASM (2014): ALDINE ITALIC | DATA 70 | TORONTO SUBWAY | JOHNSTON'S "HAMLET" | TODD KLONE | & 20 other typefaces. HERC YOUR ENTHUSIASM (2013): "Spoonin' Rap" | "Rapper's Delight" | "Rappin' Blow" | "The Incredible Fulk" | "The Adventures of Super Rhyme" | & 20 other Seventies (1974–1983) hip-hop songs. KIRK YOUR ENTHUSIASM (2012): Justice or vengeance? | Kirk teaches his drill thrall to kiss | "KHAAAAAN!" | "No kill I" | Kirk browbeats NOMAD | & 20 other Captain Kirk scenes. KIRB YOUR ENTHUSIASM (2011): THE ETERNALS | BLACK MAGIC | DEMON | OMAC | CAPTAIN AMERICA | & 20 other Jack Kirby panels.