NERD YOUR ENTHUSIASM (14)
By: Gabriela Pedranti
November 15, 2021
One in a series of 25 enthusiastic posts, contributed by 25 HILOBROW friends and regulars, on the topic of (one of) their nerdy obsessions.
*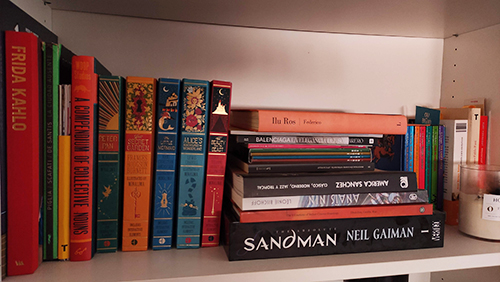 ILLUSTRATED BOOKS
I have to thank those who invented digital books (not only Michael Heart; Spaniards have Ángela Ruiz Robles in high esteem, for example…), but not because I read them. Honestly, I don't read literature on digital devices, just media, papers and some essays… mainly information and research. Because when it comes to the experience of reading (and those who love it will know what I'm talking about), I need to be immersed in a complete adventure, which is probable the main reason of my obsession with illustrated books.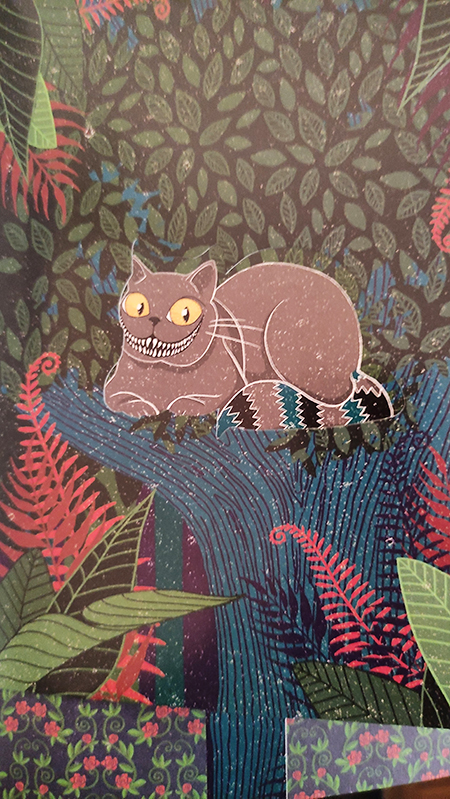 I've loved them since I was a child, but I quickly noticed that this type of books was considered either for children or "second rate" if we talked about comics and illustrated albums. I spent most of the 1990s (I was in my 20s then) trying to find illustrated books that were for adults, or versions of classics with a visual twist. Believe me, it was hard. Nevertheless, being born and raised in Argentina, I was lucky enough to have access to one of the most interesting magazines of the time, Fierro, about illustration/comics/graphic novel — a posh term that we use to point out it's no longer a "second rate" genre (oh, how do I love semiotics!). I was so haunted by it that I wrote my undergraduate dissertation about this publication… And while writing it, I understood one of the reasons of my obsession: what I love about (good) illustrated formats is that you need both words and images to make sense out of them. It's pure hybridization, each element contaminates the other in a continuous blending. It's a like a dance that ebbs and flows, and due to the format of paper books, you can go back and check any fragment of the flow immediately. Books have always been interactive, but illustrated ones ask you to be even more active.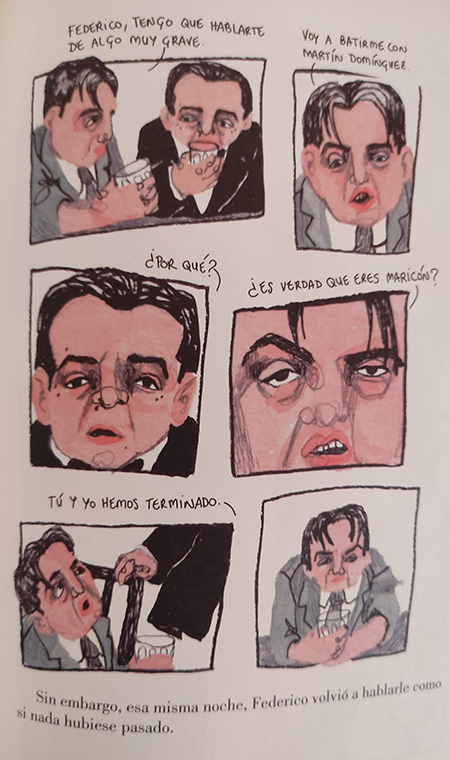 My interest and search for illustrated books did not cease there. Some years later, I was lucky enough to become a writer at a Spanish national newspaper. The pay was not good, but the "press samples" of the illustrated books were heaven. You can imagine my emotion every week, when the postwoman — who already knew my name by then — rang the bell to tell me that she had another heavy pack for me. This went on for some years, and I was able to discover the universe of illustrated books by interviews, visits to different publishing houses, and of course, the books themselves. I was a writer about all this in the moment in which everyone said that paper was dead, that digital books were the future… which was exactly the same moment in which publishing houses understood that unless paper books became a beautiful object in themselves, they were going to lose the battle. And so finally, that's why I have to be thankful to digital books: they made almost every paper book better, and many of them — even from publishing houses that had never considered this — visual and illustrated.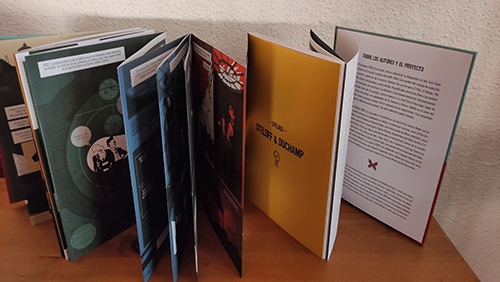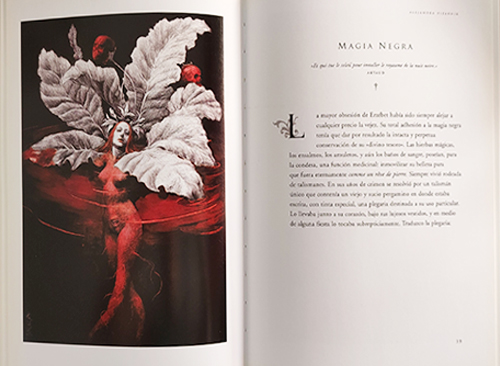 ***
PS: Some of my recommendations, although I could go on and on…
Libros del Zorro Rojo – Literature illustrated by contemporary artists.
Mina Lima – an explosion of visuals that reinvents literature classics.
Warburg & Beach by Jorge Carrión and Javier Olivares. An accordion book, from literature lovers to literature lovers.
Federico, by Ilu Ros – One of my most recent findings, an illustrated (and carefully researched and written) biography of Federico García Lorca.
***
NERD YOUR ENTHUSIASM: INTRODUCTION by Peggy Nelson | Andrew Sempere on NERDING | Blanca Rego on RAIN | Lucy Sante on PSEUDO-AMERICAN PSEUDONYMS OF FRENCH PULP WRITERS DURING WWII | Heather Cole on AMERICAN GIRL | Nicholas Rombes on OLD GEOLOGY SURVEY BOOKS WITH MAP INSERTS | Susan Roe on TIME | Mark Kingwell on SCALE MODELS | Jessamyn West on THE POST OFFICE | Josh Glenn on ARDUIN | Vanessa Berry on NEWSAGENCY AESTHETICS | Toby Ferris on BRITISH/EALING WW2 FILMS | Annie Nocenti on MOSS | Adam McGovern on JOAN SEMMEL | Gabriela Pedranti on ILLUSTRATED BOOKS | Miranda Mellis on DOUBT | Tom Nealon on PAGE EDGES | Mandy Keifetz on KLINGON CONFIDENTIAL (NOVEL EXCERPT) | Eric Weisbard on SUMMATIONS | Kio Stark on LIBRARY OF CONGRESS CLASSIFICATION CODES | Charlie Mitchell on REPO MAN | James Parker on SEINFELD | Heather Kapplow on NOTHING | Russell Bennetts on MODE 7 | Vijay Parthasarathy on VIRTUAL TRAVEL | Marc Weidenbaum on NERD PROXIMITY.
MORE ENTHUSIASM at HILOBROW
STOOGE YOUR ENTHUSIASM (4Q2023): MOVE ON FAST | 96 TEARS | SHE CRACKED | WHAT A WAY TO DIE | PSYCHOTIC REACTION | & 20 other Sixties (1964–1973) proto-punk songs. STOOGE YOUR ENTHUSIASM (4Q2023): MOVE ON FAST | 96 TEARS | SHE CRACKED | WHAT A WAY TO DIE | PSYCHOTIC REACTION | & 20 other Sixties (1964–1973) proto-punk songs. CURVE YOUR ENTHUSIASM (3Q2023): PIZZA PURISM | BOY BANDS | THE '86 METS | LOVE ISLAND UK | ELTON JOHN | & 20 other reconsidered enthusiasms. TEEN YOUR ENTHUSIASM (2Q2023): ANDY GIBB | VALERIE BERTINELLI | KIM WILDE | ARLO GUTHRIE | MIKE PATTON | & 20 other heartthrobs from our adolescences. DOLLY YOUR ENTHUSIASM (1Q2023): WE FOUND IT | TOGETHER AGAIN | SUNDAY MORNIN' COMIN' DOWN | BAD CASE OF THE BLUES | FANCY | & 20 other Sixties (1964–1973) Country records. KILL YOUR ENTHUSIASM (4Q2022): LT. TASHA YAR | JOYCE SUMMERS | COL. HENRY BLAKE | MRS. LANDINGHAM | ALEX KAMAL | & 20 other TV deaths. BLURB YOUR ENTHUSIASM (3Q2022): LEFT-CORNER BRICK | JOY IS RESISTANCE | THE FUTURE IS PASSÉ | EVERY MINUTE AN OCEAN | SHUT UP, HE EXPLAINED | & 20 other apothegms to live by. KOJAK YOUR ENTHUSIASM (2Q2022): ARK II | WKRP IN CINCINNATI | BUCK ROGERS | THE WHITE SHADOW | POLICE WOMAN | & 20 other Seventies (1974–1983) TV shows. KICK YOUR ENTHUSIASM (1Q2022): KUILL | CATO | COSMO | TRIXIE | VOLSTAGG | & 20 other sidekicks. NERD YOUR ENTHUSIASM (4Q2021): TIME | THE POST OFFICE | ARDUIN | DOUBT | SUMMATIONS | & 20 other nerdy passions. SWERVE YOUR ENTHUSIASM (3Q2021): WARHOL'S WALT WHITMAN | 70, GIRLS, 70 | TYRAEL'S MIGHT | SHIRATO SANPEI | THE LEON SUITES | & 20 other never-realized cultural productions. FIVE-O YOUR ENTHUSIASM (2Q2021): DARK SHADOWS | MANNIX | GET SMART | THE ADDAMS FAMILY | I DREAM OF JEANNIE | & 20 other Sixties (1964–1973) TV shows. FERB YOUR ENTHUSIASM (1Q2021): STEVEN UNIVERSE | TOP CAT | REN & STIMPY | SHE-RA AND THE PRINCESSES OF POWER | DRAGON BALL Z | & 20 other animated series. CARBONA YOUR ENTHUSIASM (2020): "Sex Bomb" | "Going Underground" | "Soft South Africans" | "Typical Girls" | "Human Fly" | & 20 other Seventies (1974–1983) punk singles. KLAATU YOU (2020 weekly): ZARDOZ | METROPOLIS | DARK STAR | SINS OF THE FLESHAPOIDS | SOLARIS | & dozens of other pre-STAR WARS sci-fi movies. CONVOY YOUR ENTHUSIASM (2019): THE TAKING OF PELHAM ONE TWO THREE | ROLLERBALL | BLACK SUNDAY | SORCERER | STRAIGHT TIME | & 20 other Seventies (1974–1983) action movies. SERIOCOMIC (2019 weekly): LITTLE LULU | VIZ | MARSUPILAMI | ERNIE POOK'S COMEEK | HELLBOY | & dozens of other comics. TUBE YOUR ENTHUSIASM (2018): LOONEY TUNES | THREE STOOGES | THE AVENGERS | ROCKY & BULLWINKLE | THE TWILIGHT ZONE | & 20 other Fifties (1954–1963) TV shows. WOWEE ZOWEE (2018 weekly): UNISEX | UNDER THE PINK | DUMMY | AMOR PROHIBIDO | HIPS AND MAKERS | & dozens of other Nineties (1994–2003) albums. KLUTE YOUR ENTHUSIASM (2017): THE KILLERS | BANDE À PART (BAND OF OUTSIDERS) | ALPHAVILLE | HARPER | BLOW-UP | & 20 other Sixties (1964–1973) neo-noir movies. #SQUADGOALS (2017 weekly): THE WILD BUNCH | BOWIE'S BAND | THE BLOOMSBURY GROUP | THE HONG KONG CAVALIERS | VI ÄR BÄST! & dozens of other squads. GROK MY ENTHUSIASM (2016 weekly): THE THEORY AND PRACTICE OF LUNCH | WEEKEND | MILLION YEAR PICNIC | LA BARONNE EMILE D'ERLANGER | THE SURVIVAL SAMPLER | & dozens more one-off enthusiasms. QUIRK YOUR ENTHUSIASM (2016): "Tainted Love" | "Metal" | "Frankie Teardrop" | "Savoir Faire" | "Broken English" | & 20 other Seventies (1974–1983) new wave singles. CROM YOUR ENTHUSIASM (2015): DARKER THAN YOU THINK | THE SWORD IN THE STONE | OUT OF THE SILENT PLANET | THIEVES' HOUSE | QUEEN OF THE BLACK COAST | & 20 other Thirties (1934–1943) fantasy novels. KERN YOUR ENTHUSIASM (2014): ALDINE ITALIC | DATA 70 | TORONTO SUBWAY | JOHNSTON'S "HAMLET" | TODD KLONE | & 20 other typefaces. HERC YOUR ENTHUSIASM (2013): "Spoonin' Rap" | "Rapper's Delight" | "Rappin' Blow" | "The Incredible Fulk" | "The Adventures of Super Rhyme" | & 20 other Seventies (1974–1983) hip-hop songs. KIRK YOUR ENTHUSIASM (2012): Justice or vengeance? | Kirk teaches his drill thrall to kiss | "KHAAAAAN!" | "No kill I" | Kirk browbeats NOMAD | & 20 other Captain Kirk scenes. KIRB YOUR ENTHUSIASM (2011): THE ETERNALS | BLACK MAGIC | DEMON | OMAC | CAPTAIN AMERICA | & 20 other Jack Kirby panels.