PROJECT:OBJECTIONABLE (1)
By: Adrienne Crew
October 4, 2021
One in a series of 25 first-person narratives of offense, outrage, innocent transgression or principled affront, in attire, display, speech or spectacle.
*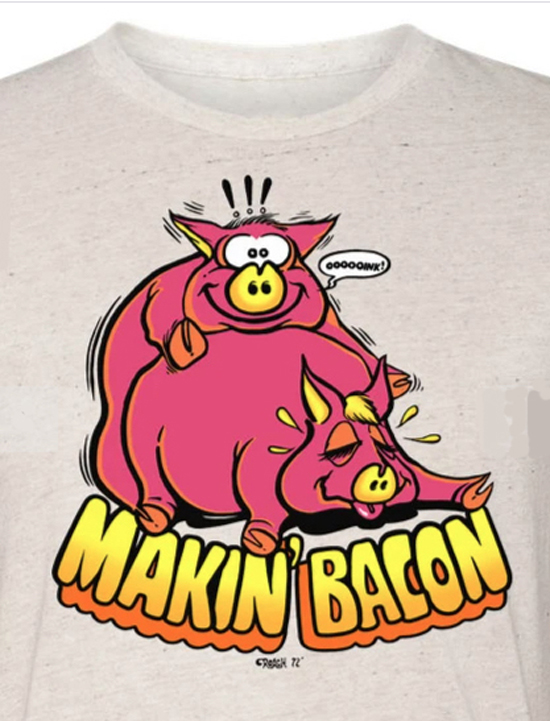 MAKIN' BACON
At the 1976 Pomona County fair, I saw a t-shirt emblazoned with a line drawing of two pigs fucking under the headline: "Makin' Bacon." I gawked at it. I took in the illustration. Two happy pigs fornicated in the mud outside of an outhouse. The crude drawing mimicked the hayseed style favored by Hustler. The swine balled with enthusiasm. I studied the words. "Makin' Bacon."
The word bacon caught my attention first. I loved bacon. My mouth watered at the thought of the crispy pork byproduct. The shirt's words and image taught me that procreation led to food in a manner more straightforward than any "A Day at the Farm" film strip could. I slowly realized the shirt's humor. I chuckled. It was interactive apparel. I stepped into the vendor's stall, prepared to obtain my prize. The shirt was $3. I only had $1. I looked for my father who was examining Mexican jumping beans a few yards away.
"Please, Daddy, can I have $2?" I said.
"Why?" said my father.
"So I can buy that?" I said, pointing at the shirt.
My father looked at the shirt. He looked at me and frowned.
"No," he said in a voice that signaled an end to the conversation. He pulled me away from the storefront, hoping to distract me with bowls of goldfish. I looked back at my object of desire with longing. I never forgot.
That day I learned the power of humor. I also learned that sex doesn't just sell, it sizzles. In my innocence, I didn't realize that shirt was an equal opportunity offender.
That raunchy illustration would have provoked a strong reaction in the '70s. Kids on the playgrounds would have laughed at the animal sexuality. Prudes would have banned it, fearful that the shirt's hedonistic message would corrupt minors.
But I didn't think about that. In stark terms, the shirt declared my love for fried bacon — salty strips of meat surrounded by unctuous rinds of fat. Its scent has a liminal quality in the morning, pulling me from sleep to consciousness like a lover awakening you with kisses.
My romance with bacon began in infancy. Left alone in my highchair one morning, I saw a plate of bacon sitting on the kitchen table. But my arms were too short to reach those strips of deliciousness. Using the weight of my body, I maneuvered my chair closer and closer. I grabbed the bacon just as my seat tipped over. My family rushed back to the kitchen after hearing the commotion. They found me on my back, still strapped to the chair, gnawing bacon.
But not everyone loves bacon. Had I worn that shirt around town, it would have enraged vegetarians. It proselytized eating meat. Even worse, it extolled the virtues of pork: a foodstuff forbidden by dietary laws observed by practitioners of many religions.
Taboos against the consumption of pork make sense as it's bad for you. If you eat a slice of undercooked pork, you can get trichinosis, toxoplasmosis, or tapeworms. Bacon may cause food poisoning due to Listeria or Staphylococcus contamination. Researchers have discovered that cured pork meats can give you a liver disease called hepatitis E virus (HEV). Overconsumption of bacon itself will give you heart disease and colorectal cancer. If the fat doesn't kill you, the nitrates will.
I'm no longer twelve. I now have the means to buy that shirt. I can even obtain the Ed Newton original (a character in the '80s movie The Karate Kid sports a version of the shirt, exposing three generations to its charm). But I still wouldn't wear it in public. In our oversexualized culture, the shirt's sexual imagery looks quaint. But food taboos persist. Viewers may snicker at first but I'm sure they'd shudder inwardly. These days we can't say we don't know about the cruelty and pollution of factory farms. Like cigarettes, eating bacon isn't socially acceptable anymore. Now, it's a health hazard I'd hesitate to practice in public. Who wants to wear a shirt that reminds people of death and disease? That's the garment's perverse appeal. Like the porkers' orgasmic delight, some things are best enjoyed in private.
*
PROJECT:OBJECTIONABLE: INTRODUCTION by Adam McGovern | Adrienne Crew on MAKIN' BACON | Lynn Peril on BABY'S FIRST ASHTRAY | Lisa Levy on TOILETTE-À-TÊTE | Maria Swisher on STEALING GENIUS | Oliver Baer on CTHULHU SEX MAGAZINE | Yelena Tylkina on A DRINK TO DEATH | Elke Claus on URINAL SHRINE | Jeff Lewonczyk on SUSPENDERS OF DISBELIEF | Jenn Mehm on TWIN SKIN | Marlon Stern Lopez on SOUVENIR OF THE LAPD | Lauren Curtis on NAILED IT! | Josh Glenn on K-TEL TRUCKER TAPE | Fran Pado on THE BRIEF LIFE OF FRANCES POTTER | Nikhil Singh on HASHTAG FASHIONPOLICEPROBLEMS | Adam McGovern on PERSONA NON GRATA | Crystal Durant on LICENSE TO SHOCK | Dean Haspiel on DIRTY DOORKNOB | Justin J Bowen on UNKLE KRAMPUS | Annie Nocenti on STICKY FINGERS | Michele Carlo on THE MANY HATS OF CARMEN MOFONGO | Alice Meichi Li on BEDTIME FOR CATWOMAN | Whitney Matheson on GYNECOLOGICAL GOODFELLA | Ran Xia on PROJECT GREENCARD | Mimi Lipson on MEIN KITSCH | Art Wallace on ELECTRIC KOCH.
*
SEMIO OBJECTS: Lucia Laurent-Neva on SPONGEBOB BUS | Samuel Grange on SALT & PEPPER HOLDER| Ximena Tobi on VASALISA | Sónia Marques on CABBAGE TUREEN | Thierry Mortier on BICYCLE BELL | & 20 MORE.
MOVIE OBJECTS: INTRODUCTION | Ramona Lyons on EYE OF THE SERPENT (CONAN THE BARBARIAN) | Faythe Levine on BEDKNOB (BEDKNOBS AND BROOMSTICKS) | Gerald Peary on CUP OF COFFEE (THE BIG HEAT) | Christopher Orr on TOM'S HAT (MILLER'S CROSSING) | Lynn Peril on TRANSISTOR RADIO (DR. STRANGELOVE) | & 20 MORE.
LOST OBJECTS (vol. 2): INTRODUCTION | Joe Yonan on MACRAMÉ ART (ill. Theo Ellsworth) | Ben Katchor on LUCITE CARRYING CASE | Debbie Millman on GLASS POODLE | Lydia Millet on ROCKY HORROR NOVEL (ill. Berta Valló) | Ben Greenman on WARHOL CAN (ill. Clara Selina Bach) | & 20 MORE.
FETISHES: INTRODUCTION | Josh Foer on DEATH MASK | Beth Lisick on MURDERED-OUT KFC BUCKET | Christina Couch on LEECH ACTION FIGURE | Kenneth Goldsmith on THEWLIS SOCK | Abby Rapoport on MAGNATILES | & 20 MORE.
FOSSILS: INTRODUCTION | Allegra Huston on SKATAWAY JACKET | Kevin Obsatz on HOMEMADE NUNCHUKS | Ian Bogost on DESKTOP TELEPHONE | Jeff Lewonczyk on CHA-CHA JACKET SCRAP | Kelly Horan on VOLVO KEY | & 20 MORE.
FLAIR: INTRODUCTION | Cliff Kuang on ROLEX DATEJUST | Ethan Zuckerman on LAPTOP STICKERS | Ann Shoket on LEATHER JACKET | Kembrew McLeod on KEMBREW MERCH | Paola Antonelli on MERMAID TEARS | & 20 MORE.
LOST OBJECTS (vol. 1): INTRODUCTION | Kate Bernheimer on MULLET WIG (ill. Amy Evans) | Dan Piepenbring on COLOGNE (ill. Josh Neufeld) | Doug Dorst on STRATOCASTER (ill. John Holbo) | Paul Lukas on VANILLA BEAN (ill. Allison Bamcat) | Mimi Lipson on DODGE DART (ill. Mister Reusch) | & 20 MORE.
ILLICIT OBJECTS: INTRODUCTION | Kio Stark on PEEPSHOW TOKEN | Sari Wilson on TOMBSTONE PARTS | Annalee Newitz on CAR-BOMB REMNANT | Tito Bottitta on MOONINITE DEVICE | Eric Bennett on DIRTY MAGAZINE | & 20 MORE.
TALISMANIC OBJECTS: INTRODUCTION | Veda Hille on CROCHET SHEEP | Gary Panter on DINOSAUR BONES | Jami Attenberg on SELENITE CRYSTAL | Annie Nocenti on MINIATURE DICE | Wayne Curtis on CLOCK WINDING KEY | & 20 MORE.
POLITICAL OBJECTS: INTRODUCTION | Luc Sante on CAMPAIGN PAMPHLETS | Lydia Millet on PVC POLAR BEAR | Ben Greenman on MATCHBOX CAR | Rob Baedeker on PRESIDENTS PLACEMAT | L.A. Kauffman on WHEATPASTE POSTER | & 20 MORE.
ALSO SEE: PROJECT:OBJECT homepage | POLITICAL OBJECTS (1Q2017) | TALISMANIC OBJECTS (2Q2017) | ILLICIT OBJECTS (3Q2017) | LOST OBJECTS vol. 1 (4Q2017) | FLAIR (2Q2018) | FOSSILS (4Q2018) | FETISHES (2Q2019) | LOST OBJECTS vol. 2 (4Q2019) | MOVIE OBJECTS (2Q2020) | SEMIO OBJECTS (2Q2021) | SIGNIFICANT OBJECTS (cross-posted from Significant Objects website). ALSO SEE: SIGNIFICANT OBJECTS website | LOST OBJECTS (Hat & Beard Press, 2022) | SIGNIFICANT OBJECTS collection, ed. Rob Walker and Josh Glenn (Fantagraphics, 2012) | TAKING THINGS SERIOUSLY, ed. Josh Glenn (Princeton Architectural Press, 2007) | TAKING THINGS SERIOUSLY excerpts.