TALISMANIC OBJECTS (1)
By: Veda Hille
April 1, 2017
One in a 25-part series of nonfiction stories about objects of talismanic significance. This is the second volume in the PROJECT:OBJECT series. Please subscribe to the P:O newsletter; and purchase P:O apparel and accessories — all profits will be donated to the ACLU!
*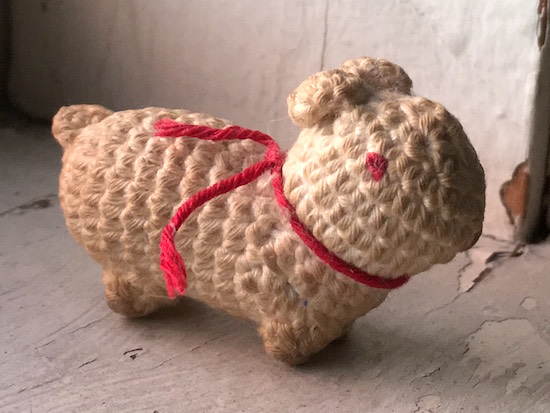 So one time I was sleeping with this guy. We were having a good time, but I couldn't see much future in it. Partially because I had just broken my heart in operatic fashion and had given up on seeing futures, and partially because this guy was so unlike my usual dark thinker artist type. He was young, a bit wild and uncouth, only lightly educated, and totally hot. It seemed like a good bet for the short term. My plan was for this to be the first in a long series of passionate affairs befitting my new status as a Total Player. Then he brought me a present. Something he'd lifted from Value Village. He had dug around in one of those mixed bags of odd toys and brought me a small grubby crochet sheep. Dirty white with little red thread eyes and an unraveled red thread bow. It was frayed and melancholy and only slightly hopeful and right up my alley. This man's presentation of this object made me look twice at him. It was when I first realized he might understand me better than I thought.
I was on tour most of the time in those days, and the sheep came with me. At some point we named it LuckyLuckyLuck, which some nerds will recognize as a quote from Blackadder Season 3. The idiot prince falls into a little vortex of the word "lucky", repeating it into nonsense. I do feel lucky in my life. I also think that's nonsense. But I'm grateful anyway. I ended up marrying that guy. A friend drew LuckyLuckyLuck for our wedding invites. For our first anniversary (paper anniversary!) we went recklessly ahead and got tattoos of that drawing. So now LuckyLuckyLuck stays at home but comes with me everywhere. I've picked up the original sheep while writing this, for the first time in a while. It still works.
*
TALISMANIC OBJECTS series: INTRODUCTION | Veda Hille on CROCHET SHEEP | Gary Panter on DINOSAUR BONES | Jami Attenberg on SELENITE CRYSTAL | Annie Nocenti on MINIATURE DICE | Wayne Curtis on CLOCK WINDING KEY | Judith Zissman on SPINDLE WHORL | Amy Fusselman on BOX OF PENCILS | Josh Glenn on MONKEY WHIMSEY | Mike Watt on DASHBOARD TOTEMS | Gordon Dahlquist on CLAY FOX | Mark Kingwell on ZIPPO | Jennifer Schuessler on BEER-CAN CHAIR | Anne Gisleson on WISDOM TEETH | Ben Ehrenreich on CHROME LUMP | Matthew De Abaitua on HATCHET | Ty Burr on INFLATABLE KING KONG | Jacob Covey on ARGUS COIN | Jessica Helfand on PILL BOTTLE | Shelley Jackson on IMPUNITY JANE | Jennifer Krasinski on LEO'S LIGHTER | Molly Heintz on EVIL EYE | Mark Frauenfelder on MARTIAN FINK RING | Amanda Fortini on PRAYER CARD | Ed Skoog on MAMMOTH IVORY | CONTEST-WINNING STORY: Seth on PEANUTS PAPERBACK.
POLITICAL OBJECTS series: INTRODUCTION | Luc Sante on CAMPAIGN PAMPHLETS | Lydia Millet on PVC POLAR BEAR | Ben Greenman on MATCHBOX CAR | Rob Baedeker on PRESIDENTS PLACEMAT | L.A. Kauffman on WHEATPASTE POSTER | & 20 MORE.
SIGNIFICANT OBJECTS at HILOBROW: PROJECT:OBJECT homepage | PROJECT:OBJECT newsletter | PROJECT:OBJECT objects (Threadless shop — all profits donated to the ACLU) | POLITICAL OBJECTS series (1Q2017) | TALISMANIC OBJECTS series (2Q2017) | ILLICIT OBJECTS series (3Q2017) | LOST OBJECTS vol. 1 series (4Q2017) | FLAIR series (2Q2018) | FOSSIL series (4Q2018). 12 DAYS OF SIGNIFICANCE | 12 MORE DAYS OF SIGNIFICANCE | 12 DAYS OF SIGNIFICANCE (AGAIN) | ANOTHER 12 DAYS OF SIGNIFICANCE . ALSO SEE: SIGNIFICANT OBJECTS website | SIGNIFICANT OBJECTS collection, ed. Rob Walker and Josh Glenn (Fantagraphics, 2012) | TAKING THINGS SERIOUSLY, ed. Josh Glenn (Princeton Architectural Press, 2007) | TAKING THINGS SERIOUSLY excerpts.