SWERVE YOUR ENTHUSIASM (3)
By: Adrienne Crew
July 8, 2021
One in a series of 25 enthusiastic posts, contributed by 25 HILOBROW friends and regulars, on the topic of our favorite unfinished masterworks, legendary obscurities and cherished almost-weres.
*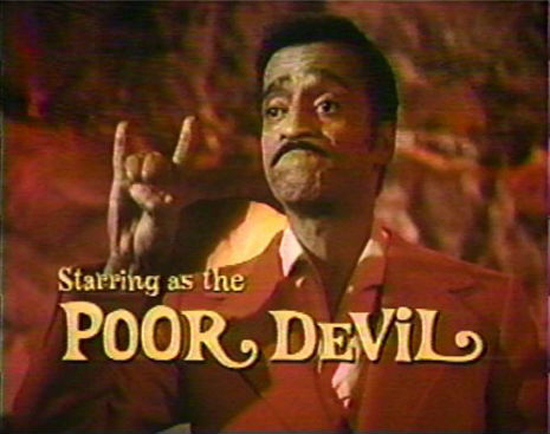 POOR DEVIL
In 1987, I first I learned about Poor Devil, the 1973 pilot about a hapless devil trying to convince a mortal to sell his soul to Satan.
I was in an entry-level program for aspiring TV programmers at CBS in Los Angeles. Managers called us Pages (we were glorified ushers) and made us wear red polyester uniforms in the hot sun while distributing tickets to the less popular game shows like Card Sharks or Press Your Luck. It was hell.
Killing time, we would trade stories about scripts that would never be produced by a big-league television network. A film student spoke about Poor Devil. After attending some orgies with devotees of Anton LaVey's Church of Satan, Sammy Davis Jr. pitched the idea of the world's first satanic sitcom to NBC in the early '70s. Surprisingly, the suits bought the idea and made a pilot, starring Davis, in 1972. It aired on Valentine's Day 1973. After religious groups protested, NBC opted not to make a series out of it.
An urban legend had been born. I had to see this piece of pop cultural madness. I read Sammy Davis Jr.'s memoirs, searching for tidbits about his involvement with Satanism. I collected stories about the pilot from TV veterans. Folks told me stories about Satanic orgies, enjoying illegal substances with Mr. Davis, or crazy coincidences. Did you know that Jay Sebring, future Manson Family victim, had attended Sammy Davis Jr.'s first Church of Satan ritual in Hollywood?
The pilot became my Necronomicon, that book of spells mentioned in H. P. Lovecraft stories. I chased my dream after moving to San Francisco for law school. My search gave me entree to a lot of strange scenes. In Oakland, I partied with Afrofuturists. I listened to Erik Davis speechify about techgnosis in Haight-Ashbury cafes. I joined covens in San Anselmo, attended proto-Burning Man parties on beaches, and worked for dot-coms in order to get that Poor Devil tape. My quest ended when I returned to Los Angeles. By 2015, nearly every hipster publication had related the pilot's production history on the Internet. A crappy dub of the pilot has been on YouTube for years.
I finally saw the pilot on Amazon Prime a few weeks ago. I enjoyed it, but it could never live up to my expectations. My occult education has helped me to see the special Luciferian signifiers. I did enjoy the pilot's witty art direction and costumes. Demons wear red polyester outfits with pendants fashioned to look like devils' heads out of sigils representing Venus and Mercury. When Sammy the devil finally makes it into Beelzebub's office, we see Old Nick with a giant inverted pentagram hanging on the wall behind his desk. Flame-shaped sconces light the interior. Minions salute Lucifer, played by reputed Church of Satan member Christopher Lee, with the Devil's Horns hand signal.
I'm glad that I finally saw Poor Devil. But like most Faustian bargains, the seeking is more interesting than the object of desire.
***
SWERVE YOUR ENTHUSIASM: SERIES INTRODUCTION by Adam McGovern | Luc Sante on WARHOL'S WALT WHITMAN | Peggy Nelson on THE CURSE OF QUIXOTE | Adrienne Crew on POOR DEVIL | Bishakh Som on KATE BUSH BOOTLEGS | Douglas Wolk on BIG NUMBERS #3 | Devin McKinney on THE ORIGINAL OF LAURA | Mandy Keifetz on BACKFIRE | Heather Quinlan on TRANSITIONAL DISNEY | Michael Grasso on STEELY DAN'S 2nd ARRANGEMENT | Kelly Jean Fitzsimmons on THE GREAT MOVIE RIDE | Josh Glenn on LE HIBOU PHILOSOPHE | Lynn Peril on 70, GIRLS, 70 | Ron Wimberly on SHIRATO SANPEI | Holly Interlandi on LONDON AFTER MIDNIGHT |Stan Chou on TYRAEL'S MIGHT | Nikhil Singh on JOURNEY TO IXTLAN | Brian Lozano on BLOWN BANNER | Adam McGovern on THE LEON SUITES | Sajan Saini on BRISCO COUNTY | Heather Kapplow on LORD OF LIGHT | Greg Rowland on SOLARNAUTS | Christopher-Rashee Stevenson on FLEDGLING | Crystal Durant on TURN-ON | Ran Xia on BYRON'S FRAGMENT | Carolyn Raship on BURNT BRONTË.
MORE ENTHUSIASM at HILOBROW
TEEN YOUR ENTHUSIASM (2Q2023): ANDY GIBB | KIM WYLDE | KIRK CAMERON | MACCA | SHAUN CASSIDY & 20 other heartthrobs. DOLLY YOUR ENTHUSIASM (1Q2023): WE FOUND IT | TOGETHER AGAIN | SUNDAY MORNIN' COMIN' DOWN | BAD CASE OF THE BLUES | FANCY | & 20 other Sixties (1964–1973) Country singles. KILL YOUR ENTHUSIASM (4Q2022): LT. TASHA YAR | JOYCE SUMMERS | COL. HENRY BLAKE | MRS. LANDINGHAM | ALEX KAMAL | & 20 other TV deaths. BLURB YOUR ENTHUSIASM (3Q2022): LEFT-CORNER BRICK | JOY IS RESISTANCE | THE FUTURE IS PASSÉ | EVERY MINUTE AN OCEAN | SHUT UP, HE EXPLAINED | & 20 other apothegms to live by. KOJAK YOUR ENTHUSIASM (2Q2022): ARK II | WKRP IN CINCINNATI | BUCK ROGERS | THE WHITE SHADOW | POLICE WOMAN | & 20 other Seventies (1974–1983) TV shows. KICK YOUR ENTHUSIASM (1Q2022): KUILL | CATO | COSMO | TRIXIE | VOLSTAGG | & 20 other sidekicks. NERD YOUR ENTHUSIASM (4Q2021): TIME | THE POST OFFICE | ARDUIN | DOUBT | SUMMATIONS | & 20 other nerdy passions. SWERVE YOUR ENTHUSIASM (3Q2021): WARHOL'S WALT WHITMAN | 70, GIRLS, 70 | TYRAEL'S MIGHT | SHIRATO SANPEI | THE LEON SUITES | & 20 other never-realized cultural productions. FIVE-O YOUR ENTHUSIASM (2Q2021): DARK SHADOWS | MANNIX | GET SMART | THE ADDAMS FAMILY | I DREAM OF JEANNIE | & 20 other Sixties (1964–1973) TV shows. FERB YOUR ENTHUSIASM (1Q2021): STEVEN UNIVERSE | TOP CAT | REN & STIMPY | SHE-RA AND THE PRINCESSES OF POWER | DRAGON BALL Z | & 20 other animated series. CARBONA YOUR ENTHUSIASM (2020): "Sex Bomb" | "Going Underground" | "Soft South Africans" | "Typical Girls" | "Human Fly" | & 20 other Seventies (1974–1983) punk singles. KLAATU YOU (2020 weekly): ZARDOZ | METROPOLIS | DARK STAR | SINS OF THE FLESHAPOIDS | SOLARIS | & dozens of other pre-STAR WARS sci-fi movies. CONVOY YOUR ENTHUSIASM (2019): THE TAKING OF PELHAM ONE TWO THREE | ROLLERBALL | BLACK SUNDAY | SORCERER | STRAIGHT TIME | & 20 other Seventies (1974–1983) action movies. SERIOCOMIC (2019 weekly): LITTLE LULU | VIZ | MARSUPILAMI | ERNIE POOK'S COMEEK | HELLBOY | & dozens of other comics. TUBE YOUR ENTHUSIASM (2018): LOONEY TUNES | THREE STOOGES | THE AVENGERS | ROCKY & BULLWINKLE | THE TWILIGHT ZONE | & 20 other Fifties (1954–1963) TV shows. WOWEE ZOWEE (2018 weekly): UNISEX | UNDER THE PINK | DUMMY | AMOR PROHIBIDO | HIPS AND MAKERS | & dozens of other Nineties (1994–2003) albums. KLUTE YOUR ENTHUSIASM (2017): THE KILLERS | BANDE À PART (BAND OF OUTSIDERS) | ALPHAVILLE | HARPER | BLOW-UP | & 20 other Sixties (1964–1973) neo-noir movies. #SQUADGOALS (2017 weekly): THE WILD BUNCH | BOWIE'S BAND | THE BLOOMSBURY GROUP | THE HONG KONG CAVALIERS | VI ÄR BÄST! & dozens of other squads. GROK MY ENTHUSIASM (2016 weekly): THE THEORY AND PRACTICE OF LUNCH | WEEKEND | MILLION YEAR PICNIC | LA BARONNE EMILE D'ERLANGER | THE SURVIVAL SAMPLER | & dozens more one-off enthusiasms. QUIRK YOUR ENTHUSIASM (2016): "Tainted Love" | "Metal" | "Frankie Teardrop" | "Savoir Faire" | "Broken English" | & 20 other Seventies (1974–1983) new wave singles. CROM YOUR ENTHUSIASM (2015): DARKER THAN YOU THINK | THE SWORD IN THE STONE | OUT OF THE SILENT PLANET | THIEVES' HOUSE | QUEEN OF THE BLACK COAST | & 20 other Thirties (1934–1943) fantasy novels. KERN YOUR ENTHUSIASM (2014): ALDINE ITALIC | DATA 70 | TORONTO SUBWAY | JOHNSTON'S "HAMLET" | TODD KLONE | & 20 other typefaces. HERC YOUR ENTHUSIASM (2013): "Spoonin' Rap" | "Rapper's Delight" | "Rappin' Blow" | "The Incredible Fulk" | "The Adventures of Super Rhyme" | & 20 other Seventies (1974–1983) hip-hop songs. KIRK YOUR ENTHUSIASM (2012): Justice or vengeance? | Kirk teaches his drill thrall to kiss | "KHAAAAAN!" | "No kill I" | Kirk browbeats NOMAD | & 20 other Captain Kirk scenes. KIRB YOUR ENTHUSIASM (2011): THE ETERNALS | BLACK MAGIC | DEMON | OMAC | CAPTAIN AMERICA | & 20 other Jack Kirby panels.