LOST OBJECTS (2)
By: Dan Piepenbring
October 2, 2017
One in a 25-part series of nonfiction stories about lost objects. We asked 25 writers to tell us about a significant object they'd lost (or thrown away, or destroyed), then assigned these stories to 25 illustrators. We're thrilled with the results. This is the fourth volume in the PROJECT:OBJECT series.
UPDATE: The Lost Objects book was published in September 2022 by Hat & Beard Press. Check it out!
*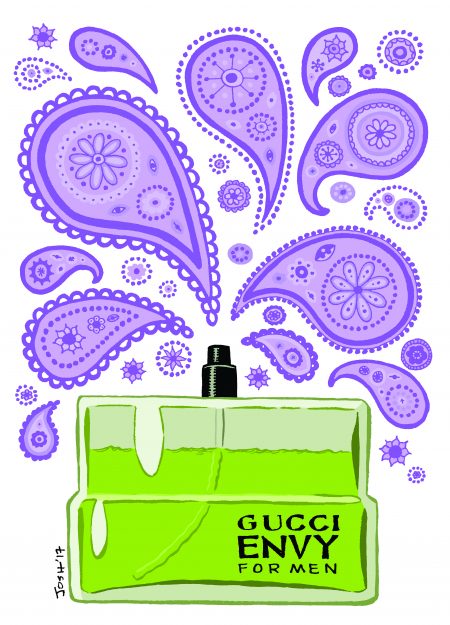 As a twelve-year-old boy, I wanted a bottle of Gucci Envy, a fragrance for men. Like most pubescent desires, this one was driven by a grim fixation on belonging and sex. Also, the cologne was lime green, and I thought that was neat. I made such a stink about it that I got it for Christmas: a squat, boxy phial with a thick black lid that fit into place with a satisfying click. It smelled like a rich man with sculpted abs.
But now that I had it, I saw I was fucked. Wearing it would attract attention — that was the point — and I tried to elude notice at all times. To have a detectable fragrance was to risk being called a fag and punched in the arm. Still, I put it on. I had a smell.
Fragrance enthusiasts like to speak of sillage, the degree to which a perfume lingers in the air when you wear it. I didn't know this word, but I knew, on the bus to school, that I was enshrouded in Envy. In the cafeteria, my big friend took a seat next to me and reminded me that I was small. "Are you wearing cologne?" he asked, as if I'd bathed in pig shit. I said I must've gone a little heavy on the deodorant that morning. My friend called me a fag and punched me in the arm. I swore off Gucci Envy right then and there.
A few years ago, visiting home for Thanksgiving, I rediscovered the bottle, still gleaming with green liquid, in a disused bathroom cabinet. I did what I always do when I recover something old, which is eBay it. Gucci Envy had been discontinued, I learned, and its scarcity made it much sought after. Cologne connoisseurs so valued its delicate top notes of ginger and incense that full bottles now fetched upward of $350. A reviewer on Fragrantica, described it as "one of the centerpieces from the holy era of modern male perfumery." I had to reappraise my seventh-grade self, who seemed now the paragon of taste and discernment. I took the bottle back to New York and started wearing it regularly.
Only weeks into my Envy regimen, I flew to the Midwest for a job interview with The Artist, whose music was to me so powerfully life-affirming that I'd spent years singing it in the shower and forcing it on friends; his poster hung in my bedroom. I had to present myself perfectly — The Artist, himself so immaculately fragranced that associates often recalled smelling him long after he'd left the room, was not one for second chances. Pacing my hotel room, I put on some Envy in the moments before The Artist's driver picked me up.
The meeting went well. Back in my room, I did a lot of celebratory high-kicks and applied Envy liberally to the chest and neck. I wanted to surf on a cloud of Envy. I wanted to drive a cologne car down a perfume parkway. By the end of the trip, after a few more meetings, I was in such an ecstatic daze that I didn't notice when it was time to go to the airport — The Artist had a way of making you lose track of time. I had about negative thirty seconds to pack up and leave. In my haste, I left the Envy on the nightstand.
*
ABOUT THE AUTHOR: See sidebar.
ABOUT THE ARTIST: Josh Neufeld is a Brooklyn-based cartoonist known for his nonfiction narratives of political and social upheaval, told through the voices of witnesses. Neufeld has been a Knight-Wallace Fellow in journalism, an Atlantic Center for the Arts Master Artist, and a Xeric Award winner. His works include A.D: New Orleans After the Deluge, about Hurricane Katrina, and The Influencing Machine: Brooke Gladstone on the Media. www.JoshComix.com
LOST OBJECTS series: INTRODUCTION | Kate Bernheimer on MULLET WIG (ill. Amy Evans) | Dan Piepenbring on COLOGNE (ill. Josh Neufeld) | Doug Dorst on STRATOCASTER (ill. John Holbo) | Paul Lukas on VANILLA BEAN (ill. Allison Bamcat) | Mimi Lipson on DODGE DART (ill. Mister Reusch) | Luc Sante on CLUB CHAIR (ill. Kate Bingaman-Burt) | Nina Katchadourian on FOUNTAIN PENS (ill. Lisa Congdon) | Matthew Sharpe on BAUBLE (ill. Glenn Jones) | Claire Lehmann on PEANUT-BUTTER CRACKERS (ill. Karen Kurycki) | Jessamyn West on ENGINEER RING (ill. Amanda Clarke) | Mandy Keifetz on ORGONE ACCUMULATOR (ill. Emory Allen) | Molly Sauter on DESKTOP DOG (ill. Shayna Piascik) | Amy Thielen on DOG-FUR SCARF (ill. Heather Kasunick) | Stephen O'Connor on HUNTING HAT (ill. Oliver Munday) | Alice Boone on COLLEGE NEWSPAPERS (ill. Rick Pinchera) | Dante Ramos on ROAD ATLAS (ill. Joe Alterio) | Alex Balk on SHOOTING GALLERY (ill. John Lowe) | Chelsey Johnson on NOTEBOOK (ill. Rubi McGrory) | Susannah Breslin on SILICONE VAGINA (ill. Jennifer Heuer) | Seth Mnookin on .22 REVOLVER (ill. Alex Eben Meyer) | Dan Fox on CONKER (ill. Linzie Hunter) | Lisa Takeuchi Cullen on GLASS CLOCK (ill. Rose Wong) | Michael Tisserand on WALKING SHOES (ill. Jackie Roche) | Jeff Turrentine on BASEBALL MITT (ill. Andrew DeGraff) | Randy Kennedy on SNAKE RATTLES (ill. Max Temescu).
ILLICIT OBJECTS series: INTRODUCTION | Kio Stark on PEEPSHOW TOKEN | Sari Wilson on TOMBSTONE PARTS | Annalee Newitz on CAR-BOMB REMNANT | Tito Bottitta on MOONINITE DEVICE | Eric Bennett on DIRTY MAGAZINE | & 20 MORE.
TALISMANIC OBJECTS series: INTRODUCTION | Veda Hille on CROCHET SHEEP | Gary Panter on DINOSAUR BONES | Jami Attenberg on SELENITE CRYSTAL | Annie Nocenti on MINIATURE DICE | Wayne Curtis on CLOCK WINDING KEY | & 20 MORE.
POLITICAL OBJECTS series: INTRODUCTION | Luc Sante on CAMPAIGN PAMPHLETS | Lydia Millet on PVC POLAR BEAR | Ben Greenman on MATCHBOX CAR | Rob Baedeker on PRESIDENTS PLACEMAT | L.A. Kauffman on WHEATPASTE POSTER | & 20 MORE.
SIGNIFICANT OBJECTS at HILOBROW: PROJECT:OBJECT homepage | PROJECT:OBJECT newsletter | PROJECT:OBJECT objects (Threadless shop — all profits donated to the ACLU) | POLITICAL OBJECTS series (1Q2017) | TALISMANIC OBJECTS series (2Q2017) | ILLICIT OBJECTS series (3Q2017) | LOST OBJECTS vol. 1 series (4Q2017) | FLAIR series (2Q2018) | FOSSIL series (4Q2018). 12 DAYS OF SIGNIFICANCE | 12 MORE DAYS OF SIGNIFICANCE | 12 DAYS OF SIGNIFICANCE (AGAIN) | ANOTHER 12 DAYS OF SIGNIFICANCE . ALSO SEE: SIGNIFICANT OBJECTS website | SIGNIFICANT OBJECTS collection, ed. Rob Walker and Josh Glenn (Fantagraphics, 2012) | TAKING THINGS SERIOUSLY, ed. Josh Glenn (Princeton Architectural Press, 2007) | TAKING THINGS SERIOUSLY excerpts.