FLAIR (1)
By: Cliff Kuang
May 2, 2018
The fifth PROJECT:OBJECT volume is a 25-part series of true stories about significant accoutrements, appurtenances, and regalia.
*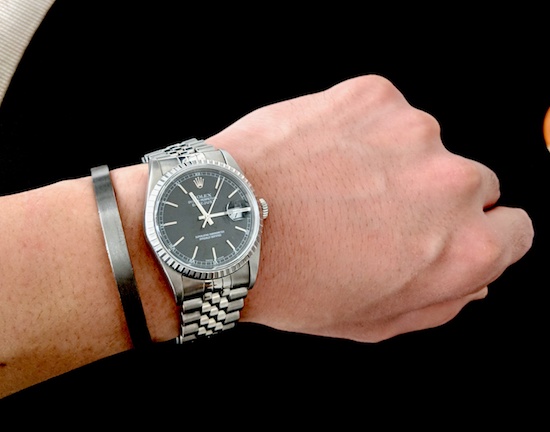 I obsess over finding the Platonic ideal of everything I own and wear; when I find pants or a t-shirt I like, I'll buy four of them, so that I can keep wearing them until I find a better one. So it's no surprise that I put maybe 200 hours of thought into buying the first thing I put on in the morning, and the last thing I take off: My 2000 Rolex Datejust. I didn't think I'd ever be a Rolex guy. In a way, I'm not.
It started with my father's watch, a Datejust from 1986. For an immigrant like him, that watch was a tangible, unambiguous declaration that he'd made it. A few years ago, he gave it to me unannounced: A package in the mail, no note. I didn't want it. To me, the yellow-gold and steel screamed "old Asian man's watch," but there was more to it than that. By choice, my father and I have been basically estranged for 25 years. I can count the number of times we've talked in that time on one hand. So getting an heirloom from him was a strange, uncomfortable experience. I put the watch in a drawer, and told myself I'd eventually sell it and buy a watch I actually wanted.
Last summer, I finally did and that infernal process almost killed me. Watch culture is a vast and unruly forest, whose hidden glens support bizarre micro-obsessions. Did you know that a well-used vintage Rolex GMT Master from the 1960s can command $30,000, while that same watch with a dial faded by UV exposure until it looks melted can run to $120,000? I'm telling you these people are crazy.
In the weeks I spent studying the minute differences between vintage pieces just a decade apart, a funny thing happened. Having looked at literally thousands of watches, I came to appreciate how the Datejust had remained almost utterly unchanged in forty years. They were neither of the past nor the present. And so, after selling my father's watch, I reparked the proceeds in a watch almost the same, except in white gold.
I've never received a compliment on it. People know the watch even if they never think about watches, and a vintage Rolex doesn't stand for "making it." But it stands for something nonetheless. My watch is an heirloom that marks a shared sensibility rather than shared sentiment: A conscious decision to buy something that wouldn't bend to fashion. It marks a connection with my father that I didn't necessarily look for, but's there anyway. Even when you turn away from your past, it has a way of finding you all the same.
*
FLAIR: INTRODUCTION | Cliff Kuang on ROLEX DATEJUST | Ethan Zuckerman on LAPTOP STICKERS | Ann Shoket on LEATHER JACKET | Kembrew McLeod on KEMBREW MERCH | Paola Antonelli on MERMAID TEARS | Kanishka Raja on HANDMADE JACKET | Lynn Peril on BASEBALL RING | Rob Horning on NOTE PAD | Alexandra Lange on BEAD NECKLACE | Stephanie Burt on D&D EARRINGS | Michael Bierut on FEDORA | Debbie Millman on CHARM | Abram Himelstein on LUCKY 7 RING | Deb Chachra on HANDWRAPS | Jennifer Howze on HOLD-UP STOCKINGS | Mark Frauenfelder on CLARK KENT GLASSES | Adam McGovern on PLASTIC ALLIGATOR SHOES | Nicola Twilley on GOLD BRACES | Anne Quito on MUSEUM EARRINGS | Kristin Parker on STEEL BRACELET | Hillary Chute on POCKET KNIFE | James Gaddy on RESTAURANT PEN | Davy Rothbart on SHOELACE BELT | David Hajdu on PINCE-NEZ | Bishakh Som on KNEE-HIGH BOOTS.
LOST OBJECTS (vol. 1): INTRODUCTION | Kate Bernheimer on MULLET WIG (ill. Amy Evans) | Dan Piepenbring on COLOGNE (ill. Josh Neufeld) | Doug Dorst on STRATOCASTER (ill. John Holbo) | Paul Lukas on VANILLA BEAN (ill. Allison Bamcat) | Mimi Lipson on DODGE DART (ill. Mister Reusch) | & 20 MORE.
ILLICIT OBJECTS: INTRODUCTION | Kio Stark on PEEPSHOW TOKEN | Sari Wilson on TOMBSTONE PARTS | Annalee Newitz on CAR-BOMB REMNANT | Tito Bottitta on MOONINITE DEVICE | Eric Bennett on DIRTY MAGAZINE | & 20 MORE.
TALISMANIC OBJECTS: INTRODUCTION | Veda Hille on CROCHET SHEEP | Gary Panter on DINOSAUR BONES | Jami Attenberg on SELENITE CRYSTAL | Annie Nocenti on MINIATURE DICE | Wayne Curtis on CLOCK WINDING KEY | & 20 MORE.
POLITICAL OBJECTS: INTRODUCTION | Luc Sante on CAMPAIGN PAMPHLETS | Lydia Millet on PVC POLAR BEAR | Ben Greenman on MATCHBOX CAR | Rob Baedeker on PRESIDENTS PLACEMAT | L.A. Kauffman on WHEATPASTE POSTER | & 20 MORE.
SIGNIFICANT OBJECTS at HILOBROW: PROJECT:OBJECT homepage | PROJECT:OBJECT newsletter | PROJECT:OBJECT objects (Threadless shop — all profits donated to the ACLU) | POLITICAL OBJECTS series (1Q2017) | TALISMANIC OBJECTS series (2Q2017) | ILLICIT OBJECTS series (3Q2017) | LOST OBJECTS vol. 1 series (4Q2017) | FLAIR series (2Q2018) | FOSSIL series (4Q2018) | FETISHES series (2Q2019) | LOST OBJECTS vol. 2 series (4Q2019) | MOVIE OBJECTS series (2Q2020). ALSO SEE: SIGNIFICANT OBJECTS website | SIGNIFICANT OBJECTS collection, ed. Rob Walker and Josh Glenn (Fantagraphics, 2012) | TAKING THINGS SERIOUSLY, ed. Josh Glenn (Princeton Architectural Press, 2007) | TAKING THINGS SERIOUSLY excerpts.