LOST OBJECTS (4)
By: Paul Lukas
October 6, 2017
One in a 25-part series of nonfiction stories about lost objects. We asked 25 writers to tell us about a significant object they'd lost (or thrown away, or destroyed), then assigned these stories to 25 illustrators. We're thrilled with the results. This is the fourth volume in the PROJECT:OBJECT series.
UPDATE: The Lost Objects book was published in September 2022 by Hat & Beard Press. Check it out!
*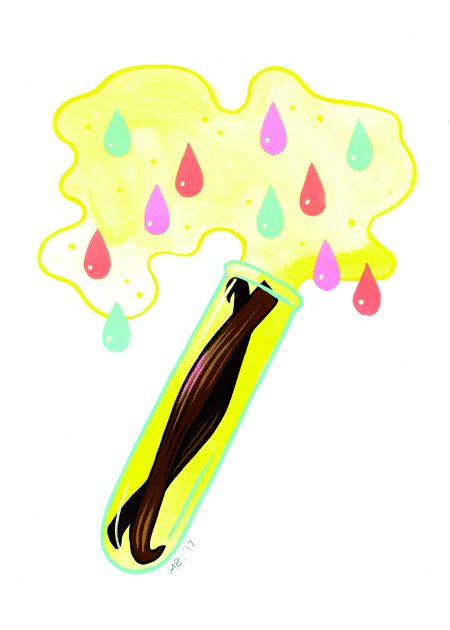 When I was growing up on Long Island, my mother kept all her spices in a cupboard. Amidst the various containers of cinnamon and cumin, there was a test tube with a long, shriveled item inside. "It's a vanilla bean," she explained. "Sometimes a recipe calls for one of them, so I have it ready, just in case." For some reason I found this to be tremendously exotic, and I often went to the cupboard just to examine the bean.
Years passed, and my mother never used the bean, which remained in the cupboard. I continued to check on it from time to time, but its symbolism began to shift. I began seeing it as a proxy for my mother's penchant for thrift (she was a Jew who'd grown up during the Depression — the double-whammy of frugality). It was also an allegory for the way nothing in our home ever seemed to change, which had begun to seem stultifying. Occasionally I'd ask my mother about the bean, and she'd say, "I just haven't needed to use it. But maybe one day." So in the cupboard it stayed.
More time passed. I went off to college, and then began my adult life. The bean, still in the cupboard, was now at least 20 years old, and my mother's inability to part with it was beginning to annoy me. Why was she clinging to it? During visits home, I'd go straight to the cupboard, find the bean, and begin teasing my mother about it. "Why are you still holding onto this thing? Why can't you just admit that you're never going to use it?" She tried to hold firm. "It's not hurting anyone," she'd say. "Why should it matter to you?"
One day, finally, it happened. I came home for a weekend and made my usual check of the cupboard. No bean. "What happened to it?" I demanded. "Well, you were always going on about it, telling me I should get rid of it, and I decided you were right," my mother said, a bit of sadness in her voice. "I was never going to use it, so I threw it away."
I felt terrible. I'd somehow bullied my mother into doing something that clearly went against her nature. She had been right — the vanilla bean wasn't hurting anyone. Why had I berated her about it? I had a flashback to what it had been like to pick on younger, smaller kids in grade school and summer camp. The feeling was queasily familiar.
Moreover, now that the bean was gone, I missed it. I suddenly realized that what it had actually represented was stability and order. As long as the bean was in its appointed spot in the cupboard, all was right with the universe. Now that it was gone, everything seemed open to question. Chaos beckoned.
My parents eventually moved out of that house and into a retirement community where most meals are served at a communal dining hall, so my mother stopped cooking and no longer kept spices in her home. But I continued to feel bad about the bean episode. After about 15 years, I decided to apologize. Naturally, she had forgotten the whole thing. "Why would I even have a vanilla bean?" she said. "I never had a recipe that called for that."
*
ABOUT THE AUTHOR: See sidebar.
ABOUT THE ARTIST: Allison Bamcat is a contemporary illustrator from Boston, Massachusetts. The fine craft of her illustrations collides with her concentration in product surface design, resulting in an array of bouncing conversational repeat prints on handmade soft goods for her brand Bamcat Handmade. She resides in Malden, Mass. with her husband and two cats.
LOST OBJECTS series: INTRODUCTION | Kate Bernheimer on MULLET WIG (ill. Amy Evans) | Dan Piepenbring on COLOGNE (ill. Josh Neufeld) | Doug Dorst on STRATOCASTER (ill. John Holbo) | Paul Lukas on VANILLA BEAN (ill. Allison Bamcat) | Mimi Lipson on DODGE DART (ill. Mister Reusch) | Luc Sante on CLUB CHAIR (ill. Kate Bingaman-Burt) | Nina Katchadourian on FOUNTAIN PENS (ill. Lisa Congdon) | Matthew Sharpe on BAUBLE (ill. Glenn Jones) | Claire Lehmann on PEANUT-BUTTER CRACKERS (ill. Karen Kurycki) | Jessamyn West on ENGINEER RING (ill. Amanda Clarke) | Mandy Keifetz on ORGONE ACCUMULATOR (ill. Emory Allen) | Molly Sauter on DESKTOP DOG (ill. Shayna Piascik) | Amy Thielen on DOG-FUR SCARF (ill. Heather Kasunick) | Stephen O'Connor on HUNTING HAT (ill. Oliver Munday) | Alice Boone on COLLEGE NEWSPAPERS (ill. Rick Pinchera) | Dante Ramos on ROAD ATLAS (ill. Joe Alterio) | Alex Balk on SHOOTING GALLERY (ill. John Lowe) | Chelsey Johnson on NOTEBOOK (ill. Rubi McGrory) | Susannah Breslin on SILICONE VAGINA (ill. Jennifer Heuer) | Seth Mnookin on .22 REVOLVER (ill. Alex Eben Meyer) | Dan Fox on CONKER (ill. Linzie Hunter) | Lisa Takeuchi Cullen on GLASS CLOCK (ill. Rose Wong) | Michael Tisserand on WALKING SHOES (ill. Jackie Roche) | Jeff Turrentine on BASEBALL MITT (ill. Andrew DeGraff) | Randy Kennedy on SNAKE RATTLES (ill. Max Temescu).
ILLICIT OBJECTS series: INTRODUCTION | Kio Stark on PEEPSHOW TOKEN | Sari Wilson on TOMBSTONE PARTS | Annalee Newitz on CAR-BOMB REMNANT | Tito Bottitta on MOONINITE DEVICE | Eric Bennett on DIRTY MAGAZINE | & 20 MORE.
TALISMANIC OBJECTS series: INTRODUCTION | Veda Hille on CROCHET SHEEP | Gary Panter on DINOSAUR BONES | Jami Attenberg on SELENITE CRYSTAL | Annie Nocenti on MINIATURE DICE | Wayne Curtis on CLOCK WINDING KEY | & 20 MORE.
POLITICAL OBJECTS series: INTRODUCTION | Luc Sante on CAMPAIGN PAMPHLETS | Lydia Millet on PVC POLAR BEAR | Ben Greenman on MATCHBOX CAR | Rob Baedeker on PRESIDENTS PLACEMAT | L.A. Kauffman on WHEATPASTE POSTER | & 20 MORE.
SIGNIFICANT OBJECTS at HILOBROW: PROJECT:OBJECT homepage | PROJECT:OBJECT newsletter | PROJECT:OBJECT objects (Threadless shop — all profits donated to the ACLU) | POLITICAL OBJECTS series (1Q2017) | TALISMANIC OBJECTS series (2Q2017) | ILLICIT OBJECTS series (3Q2017) | LOST OBJECTS vol. 1 series (4Q2017) | FLAIR series (2Q2018) | FOSSIL series (4Q2018). 12 DAYS OF SIGNIFICANCE | 12 MORE DAYS OF SIGNIFICANCE | 12 DAYS OF SIGNIFICANCE (AGAIN) | ANOTHER 12 DAYS OF SIGNIFICANCE . ALSO SEE: SIGNIFICANT OBJECTS website | SIGNIFICANT OBJECTS collection, ed. Rob Walker and Josh Glenn (Fantagraphics, 2012) | TAKING THINGS SERIOUSLY, ed. Josh Glenn (Princeton Architectural Press, 2007) | TAKING THINGS SERIOUSLY excerpts.