LOST OBJECTS (5)
By: Mimi Lipson
October 8, 2017
One in a 25-part series of nonfiction stories about lost objects. We asked 25 writers to tell us about a significant object they'd lost (or thrown away, or destroyed), then assigned these stories to 25 illustrators. We're thrilled with the results. This is the fourth volume in the PROJECT:OBJECT series.
UPDATE: The Lost Objects book was published in September 2022 by Hat & Beard Press. Check it out!
*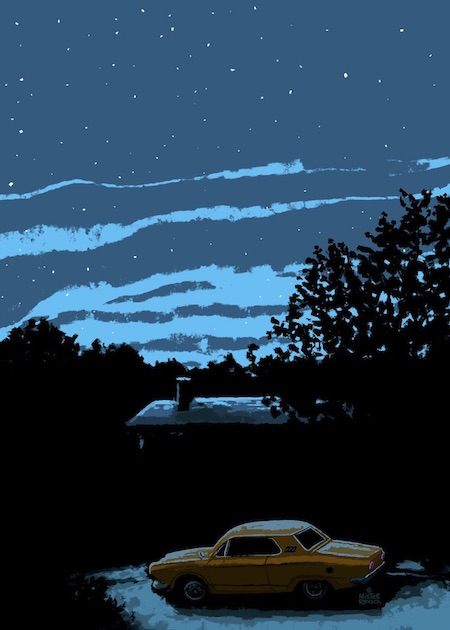 It was the summer of 1984, and I had a plan with a friend to go on an American road trip. I was eighteen, he a few years older. We were both Reed College dropouts, living on opposite ends of the continent. He sent letters from San Jose, where he was working and saving up for a car. "I am now the only, sole, exclusive warehouseman at a furniture store," he wrote. "I make $5.65 an hour." But then we had a fight, and he sent me another letter saying he didn't want to go on a trip with me anymore. Though I didn't understand it at the time, I was in love with this weird, ecstatic boy! Which is to say: without either of us realizing it, he had broken my heart.
Those were the circumstances under which I bought my 1963 Dodge Dart, with $600 I'd earned waiting tables in Harvard Square. It was a dull, solarized copper color. The bench seats had a pleasant rubbery smell, and instead of a shift lever there was a vertical row of buttons on the metal dashboard that said R-N-D-2-1. I parked outside my house and slept in the back seat for the first two nights, dreaming of two-lane blacktops and Arizona stars. I would be my own Neal Cassady. Except that I didn't have a driver's license, which meant that my older brother had to register the Dart for me.
I kept the radio tuned to a station that played music from the time of my car's youth: the Dixie Cups, the Chordettes, Roy Orbison, Dick and Dee Dee. I began wearing cat-eye sunglasses and pedal pushers. One afternoon I was backing out of a spot at the supermarket, lazily turning the wide steering wheel and singing along with the Everly Brothers (When I want you, all I have to do is dreeeeam), when, CRUNCH!! The Dart's bumper, heavy as a cast-iron frying pan, had accordioned the front quarter panel of a passing Monte Carlo. A stack of small bills exchanged hands the next day, and I agreed with my brother that it was time to start studying for my driver's test.
I had my Dart for a couple of years. It should have lasted longer; there were only 60,000 miles on the sturdy slant-6 engine when I bought the car. It's my great shame that I didn't take better care of it. By the end, the transmission was slipping so badly that getting into reverse meant punching R and gunning the engine with one leg out the door, Barney Rubble style. One morning I found that a car thief, disgusted and enraged by an attempt to back the Dart out of its parking spot, had driven it into a tree and slashed all the tires and seats. I sold the car for scrap. My heart was no longer broken, and besides, I thought this world would always be full of $600 Dodge Darts.
*
ABOUT THE AUTHOR: See sidebar.
ABOUT THE ARTIST: Mister Reusch is a freelance illustrator and instructor at Massachusetts College of Art & Design in Boston. He's made thousands of pictures for kids' books, snowboards, magazines, movie theaters, newspapers, video games, rock posters, album covers, t-shirts, dog rescue groups, burlesque troupes, restaurants, city buses, and more.
LOST OBJECTS series: INTRODUCTION | Kate Bernheimer on MULLET WIG (ill. Amy Evans) | Dan Piepenbring on COLOGNE (ill. Josh Neufeld) | Doug Dorst on STRATOCASTER (ill. John Holbo) | Paul Lukas on VANILLA BEAN (ill. Allison Bamcat) | Mimi Lipson on DODGE DART (ill. Mister Reusch) | Luc Sante on CLUB CHAIR (ill. Kate Bingaman-Burt) | Nina Katchadourian on FOUNTAIN PENS (ill. Lisa Congdon) | Matthew Sharpe on BAUBLE (ill. Glenn Jones) | Claire Lehmann on PEANUT-BUTTER CRACKERS (ill. Karen Kurycki) | Jessamyn West on ENGINEER RING (ill. Amanda Clarke) | Mandy Keifetz on ORGONE ACCUMULATOR (ill. Emory Allen) | Molly Sauter on DESKTOP DOG (ill. Shayna Piascik) | Amy Thielen on DOG-FUR SCARF (ill. Heather Kasunick) | Stephen O'Connor on HUNTING HAT (ill. Oliver Munday) | Alice Boone on COLLEGE NEWSPAPERS (ill. Rick Pinchera) | Dante Ramos on ROAD ATLAS (ill. Joe Alterio) | Alex Balk on SHOOTING GALLERY (ill. John Lowe) | Chelsey Johnson on NOTEBOOK (ill. Rubi McGrory) | Susannah Breslin on SILICONE VAGINA (ill. Jennifer Heuer) | Seth Mnookin on .22 REVOLVER (ill. Alex Eben Meyer) | Dan Fox on CONKER (ill. Linzie Hunter) | Lisa Takeuchi Cullen on GLASS CLOCK (ill. Rose Wong) | Michael Tisserand on WALKING SHOES (ill. Jackie Roche) | Jeff Turrentine on BASEBALL MITT (ill. Andrew DeGraff) | Randy Kennedy on SNAKE RATTLES (ill. Max Temescu).
ILLICIT OBJECTS series: INTRODUCTION | Kio Stark on PEEPSHOW TOKEN | Sari Wilson on TOMBSTONE PARTS | Annalee Newitz on CAR-BOMB REMNANT | Tito Bottitta on MOONINITE DEVICE | Eric Bennett on DIRTY MAGAZINE | & 20 MORE.
TALISMANIC OBJECTS series: INTRODUCTION | Veda Hille on CROCHET SHEEP | Gary Panter on DINOSAUR BONES | Jami Attenberg on SELENITE CRYSTAL | Annie Nocenti on MINIATURE DICE | Wayne Curtis on CLOCK WINDING KEY | & 20 MORE.
POLITICAL OBJECTS series: INTRODUCTION | Luc Sante on CAMPAIGN PAMPHLETS | Lydia Millet on PVC POLAR BEAR | Ben Greenman on MATCHBOX CAR | Rob Baedeker on PRESIDENTS PLACEMAT | L.A. Kauffman on WHEATPASTE POSTER | & 20 MORE.
SIGNIFICANT OBJECTS at HILOBROW: PROJECT:OBJECT homepage | PROJECT:OBJECT newsletter | PROJECT:OBJECT objects (Threadless shop — all profits donated to the ACLU) | POLITICAL OBJECTS series (1Q2017) | TALISMANIC OBJECTS series (2Q2017) | ILLICIT OBJECTS series (3Q2017) | LOST OBJECTS vol. 1 series (4Q2017) | FLAIR series (2Q2018) | FOSSIL series (4Q2018). 12 DAYS OF SIGNIFICANCE | 12 MORE DAYS OF SIGNIFICANCE | 12 DAYS OF SIGNIFICANCE (AGAIN) | ANOTHER 12 DAYS OF SIGNIFICANCE . ALSO SEE: SIGNIFICANT OBJECTS website | SIGNIFICANT OBJECTS collection, ed. Rob Walker and Josh Glenn (Fantagraphics, 2012) | TAKING THINGS SERIOUSLY, ed. Josh Glenn (Princeton Architectural Press, 2007) | TAKING THINGS SERIOUSLY excerpts.