LOST OBJECTS (35)
By: Debbie Millman
October 30, 2019
One in an ongoing series of nonfiction stories about lost objects. In 2017, Project:Object's Josh Glenn and Rob Walker asked 25 writers to tell us about a significant object they'd lost (or thrown away, or destroyed), then assigned these stories to 25 illustrators. The first Lost Objects series was such a hit with readers, and so fun for us to publish, that we've decided it deserves a sequel.
UPDATE: The Lost Objects book was published in September 2022 by Hat & Beard Press. Check it out!
*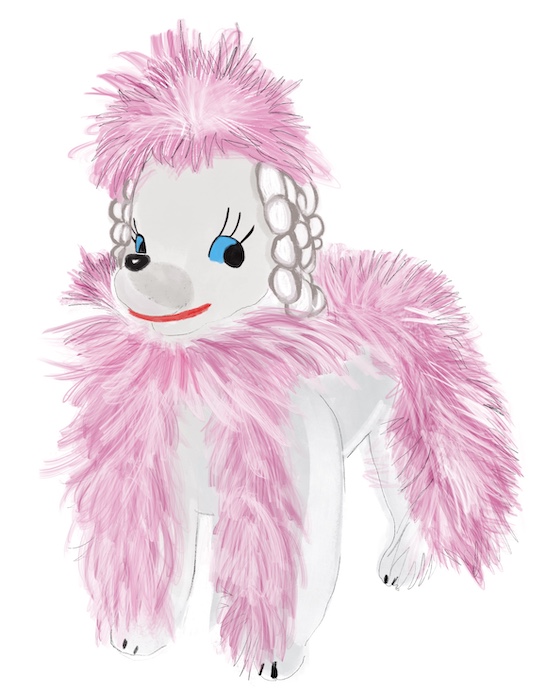 It was a long time ago; you were maybe 5 or 6 years old, a time before the black years began. You lived in Howard Beach, Queens, in a suburban neighborhood so new the streets didn't have sidewalks yet. Your parents were still married and were active participants in fundraising for the local Jewish synagogue. Having worked as a weekend carnival barker for a Coney Island arcade as a teen, your father volunteered to work the Big Wheel at the temple's annual summer bazaar.
It was late August and you went to the bazaar wearing pink shorts and a pink-and-white-striped blouse. You had a dollar crumpled up in your hands which you could spend on anything you wanted. There was Skee-Ball and a bucket toss. There were sparkly glass bowls on a table that were 25 cents each. There was a table of soft handmade dolls and a machine spinning cotton candy. There was so much it was almost too much, but really it wasn't.
You held the dollar close to your chest. You couldn't decide.
You walked over to the Big Wheel to consult your Dad. He was behind a long table with black and white numbers painted directly on the wooden top. The shelves surrounding the wheel held a variety of prizes: giant plush teddy bears, tin toy musical instruments, netted bags of striped marbles, plastic-wrapped boxed puzzles and inflatable rainbow-colored beach balls.
Your Dad looked large against the wheel and you watched as people put their money on specific numbers. You felt glee as someone won, and watched with envy as they chose a prize. You decided you want to play. You uncurled the dollar bill, and after a moment of consideration, carefully placed it on the 10. You looked up at your Dad and he gave the wheel a big pull. People started yelling and cheering.
Come on, six! Give me a six!
12! 12! Twellllllllllllve!
Stop now! Stop NOW!
The wheel clicked and clattered as it spun around and around and then slowed. The numbers inched by one at a time, and then, as if it were a miracle, the wheel stopped on the 10. It felt like everyone started clapping, your Dad gave you a high five and asked you to pick out a prize.
You scanned the shelves. You pointed at the bear and then suddenly saw what you had to have: a small, white ceramic glass poodle with tufts of hot-pink fur. Him, you declared, and your father gently took the dog off the shelf and handed it to you. You gingerly hugged him close. You couldn't believe how lucky you were.
You don't remember when he disappeared. Maybe when your parents divorced, and you moved; maybe when you moved again after your mother's second divorce several years later. When you were in your forties you tried to find a replica on eBay and found something close, but not quite. You still wonder how you lost him.
*
LOST OBJECTS 2: INTRODUCTION | Geoff Manaugh on MOROCCAN TRINKET (ill. Mariana Pita) | Joe Yonan on MACRAMÉ ART (ill. Theo Ellsworth) | Laura Lippman on LABYRINTH GAME (ill. Laura Didyk) | Ben Katchor on LUCITE CARRYING CASE | Neil LaBute on PICKLED OCTOPUS (ill. Disa Wallander) | Miranda Mellis on SEQUINED SCARF (ill. Adam Goldberg) | Chris Piascik on GENERAL HUSTLER BMX | Jenny Kroik on MISSING TOY PIECES | Anita Kunz on FLOWER NECKLACE | Debbie Millman on GLASS POODLE | Heather Kapplow on CERAMIC ARTWORK (ill. Matt Wuerker) | Lydia Millet on ROCKY HORROR NOVEL (ill. Berta Valló) | Ben Greenman on WARHOL CAN (ill. Clara Selina Bach) | Leah Hennessey on BATMAN RING (ill. Dean Haspiel) | Kathryn Davis on PRAYER CARD (ill. Dina Noto) | Mikita Brottman on PINK ELEPHANTS (ill. Sarah Williamson) | Nathaniel Rich on AUTOGRAPHED BASEBALL (ill. Ellen Rose) | Charles Glaubitz on TRACK SHOES | Seth on ENTERPRISE MODEL | Becky Stern on SKELETON SWEATER (ill. Monica Garwood) | Mark Dery on GRANDFATHER PHOTO (ill. Kelli Anderson) | Paola Antonelli on VINYL SKIRT (ill. Guillermo Meraz) | Sara Ryan on FINGER PUPPET (ill. Steve Lieber) | Alex Gerasev on KARMA PARKA | Margaret Wertheim on ECCENTRIC BOOK (ill. Armando Veve).
FETISHES: INTRODUCTION | Josh Foer on DEATH MASK | Beth Lisick on MURDERED-OUT KFC BUCKET | Christina Couch on LEECH ACTION FIGURE | Kenneth Goldsmith on THEWLIS SOCK | Abby Rapoport on MAGNATILES | & 20 MORE.
FOSSILS: INTRODUCTION | Allegra Huston on SKATAWAY JACKET | Kevin Obsatz on HOMEMADE NUNCHUKS | Ian Bogost on DESKTOP TELEPHONE | Jeff Lewonczyk on CHA-CHA JACKET SCRAP | Kelly Horan on VOLVO KEY | & 20 MORE.
FLAIR: INTRODUCTION | Cliff Kuang on ROLEX DATEJUST | Ethan Zuckerman on LAPTOP STICKERS | Ann Shoket on LEATHER JACKET | Kembrew McLeod on KEMBREW MERCH | Paola Antonelli on MERMAID TEARS | & 20 MORE.
LOST OBJECTS (vol. 1): INTRODUCTION | Kate Bernheimer on MULLET WIG (ill. Amy Evans) | Dan Piepenbring on COLOGNE (ill. Josh Neufeld) | Doug Dorst on STRATOCASTER (ill. John Holbo) | Paul Lukas on VANILLA BEAN (ill. Allison Bamcat) | Mimi Lipson on DODGE DART (ill. Mister Reusch) | & 20 MORE.
ILLICIT OBJECTS: INTRODUCTION | Kio Stark on PEEPSHOW TOKEN | Sari Wilson on TOMBSTONE PARTS | Annalee Newitz on CAR-BOMB REMNANT | Tito Bottitta on MOONINITE DEVICE | Eric Bennett on DIRTY MAGAZINE | & 20 MORE.
TALISMANIC OBJECTS: INTRODUCTION | Veda Hille on CROCHET SHEEP | Gary Panter on DINOSAUR BONES | Jami Attenberg on SELENITE CRYSTAL | Annie Nocenti on MINIATURE DICE | Wayne Curtis on CLOCK WINDING KEY | & 20 MORE.
POLITICAL OBJECTS: INTRODUCTION | Luc Sante on CAMPAIGN PAMPHLETS | Lydia Millet on PVC POLAR BEAR | Ben Greenman on MATCHBOX CAR | Rob Baedeker on PRESIDENTS PLACEMAT | L.A. Kauffman on WHEATPASTE POSTER | & 20 MORE.
SIGNIFICANT OBJECTS at HILOBROW: PROJECT:OBJECT homepage | PROJECT:OBJECT newsletter | PROJECT:OBJECT objects (Threadless shop — all profits donated to the ACLU) | POLITICAL OBJECTS series (1Q2017) | TALISMANIC OBJECTS series (2Q2017) | ILLICIT OBJECTS series (3Q2017) | LOST OBJECTS vol. 1 series (4Q2017) | FLAIR series (2Q2018) | FOSSIL series (4Q2018) | FETISHES series (2Q2019) | LOST OBJECTS vol. 2 series (4Q2019) | MOVIE OBJECTS series (2Q2020). ALSO SEE: SIGNIFICANT OBJECTS website | SIGNIFICANT OBJECTS collection, ed. Rob Walker and Josh Glenn (Fantagraphics, 2012) | TAKING THINGS SERIOUSLY, ed. Josh Glenn (Princeton Architectural Press, 2007) | TAKING THINGS SERIOUSLY excerpts.