FOSSILS (5)
By: Kelly Horan
October 14, 2018
The sixth PROJECT:OBJECT volume is a 25-part series of true stories about fossils — which is to say, objects that bear witness to a vanished way of life.
*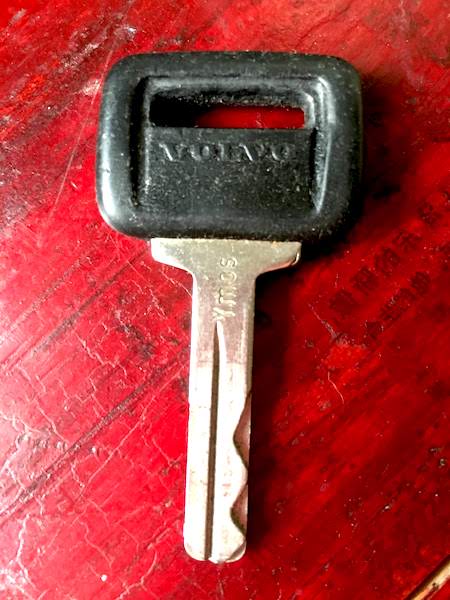 "Hello, old friend." Had I said this aloud or just thought it? It was 3:30 in the morning and, restless, I decided to dip my toe into the alleged life-changing magic of tidying up by starting with a desk drawer. There was the key. And even before I'd run my fingertips along its five, crossword solution letters — V O L V O — the long-forgotten story of my getaway was all I could think about.
It was the summer when I knew my marriage was ending, and my car was dying, too. My mechanic handed me the key, its well-worn, side-milled steel cold in my palm. This was before car keys were tiny remote controls in our pockets. When a car key had a little heft to it, was something to turn so that the ignition would too. "It's time," was all he said.
About a half dozen times before that, when I'd wheedled yet another of his discount voodoo fixes, he'd gone along. But with the last one had come his Do Not Resuscitate order. I took it hard. Owing to a student year in Paris and to the lingering throb I still felt because of that golden, revelatory moment in time, I'd been insufferable enough not only to have named the car, but to have done so in French. I'd even sprung for the vanity plate: FOLIE. As in, mania. As in, mad about this old box of a car, my first.
I was the third owner but had put the most miles on the car. The odometer read 85,000 when I bought the big black sedan with a $7,000 bank loan. At its time of death, the car had traveled nearly 300,000 miles more. They'd been my freedom miles, my courtship miles, my first job as a reporter miles. I'd driven to my own September wedding in that car. Now, as with the man whose perfect mixtape was still in the dashboard cassette player, I braced myself for goodbye.
I donated the car to a charity. It seemed a dignified if defeated end, to be towed away to do good. I left the car's papers and one key in the glove box. The other key, I kept. At the time, I couldn't say why.
That fall, after the movers had come, I came home to a blinking answering machine. It was the chief of police from a distant town. I assumed it was a wrong number, but she called back, asked for me by name. Did I own a 1988 Volvo? Did I have money troubles? Had I recently been down her way? There'd been a spate of bank robberies. My name was on the registration found in the getaway car. The robbers had gotten away.
It wasn't until that moment that I realized that I had gotten away, too, and that I'd kept that key as proof.
*
FOSSILS: INTRODUCTION | Allegra Huston on SKATAWAY JACKET | Kevin Obsatz on HOMEMADE NUNCHUKS | Ian Bogost on DESKTOP TELEPHONE | Jeff Lewonczyk on CHA-CHA JACKET SCRAP | Kelly Horan on VOLVO KEY | Sarah Rich on WESTFEST EARRINGS | Cynthia Joyce on MELODICA | Kevin Brockmeier on SALADMOBILE | Adam Harrison Levy on PASSPORT HOLDER | Marissa Frayer on BABY BLANKET | Elizabeth Foy Larsen on RML BOOKEND | Jae Nichelle on SHEET MUSIC | Sean Patrick Walsh on TYPEWRITER | Andrew Innes on BUST OF DUCK | Carla Sinclair on FACTSHEET FIVE | Chapell Ellison on SLEIGH BELL | Malcolm Evans on "QUEEN MARY" FOB | Jason Gilbert on HAND CHAIR | Karl Taro Greenfeld on OPIUM KIT | Tony Leone on MODEL TANK | Dave Boerger on TEEN BIBLE | Chelsey Johnson on BREYER HORSES | Erin M. Routson on PAPER WALLET | Alissa Walker on JUKEBOX | Adrienne Crew on FISH SCALER.
FLAIR: INTRODUCTION | Cliff Kuang on ROLEX DATEJUST | Ethan Zuckerman on LAPTOP STICKERS | Ann Shoket on LEATHER JACKET | Kembrew McLeod on KEMBREW MERCH | Paola Antonelli on MERMAID TEARS | & 20 MORE.
LOST OBJECTS (vol. 1): INTRODUCTION | Kate Bernheimer on MULLET WIG (ill. Amy Evans) | Dan Piepenbring on COLOGNE (ill. Josh Neufeld) | Doug Dorst on STRATOCASTER (ill. John Holbo) | Paul Lukas on VANILLA BEAN (ill. Allison Bamcat) | Mimi Lipson on DODGE DART (ill. Mister Reusch) | & 20 MORE.
ILLICIT OBJECTS: INTRODUCTION | Kio Stark on PEEPSHOW TOKEN | Sari Wilson on TOMBSTONE PARTS | Annalee Newitz on CAR-BOMB REMNANT | Tito Bottitta on MOONINITE DEVICE | Eric Bennett on DIRTY MAGAZINE | & 20 MORE.
TALISMANIC OBJECTS: INTRODUCTION | Veda Hille on CROCHET SHEEP | Gary Panter on DINOSAUR BONES | Jami Attenberg on SELENITE CRYSTAL | Annie Nocenti on MINIATURE DICE | Wayne Curtis on CLOCK WINDING KEY | & 20 MORE.
POLITICAL OBJECTS: INTRODUCTION | Luc Sante on CAMPAIGN PAMPHLETS | Lydia Millet on PVC POLAR BEAR | Ben Greenman on MATCHBOX CAR | Rob Baedeker on PRESIDENTS PLACEMAT | L.A. Kauffman on WHEATPASTE POSTER | & 20 MORE.
SIGNIFICANT OBJECTS at HILOBROW: PROJECT:OBJECT homepage | PROJECT:OBJECT newsletter | PROJECT:OBJECT objects (Threadless shop — all profits donated to the ACLU) | POLITICAL OBJECTS series (1Q2017) | TALISMANIC OBJECTS series (2Q2017) | ILLICIT OBJECTS series (3Q2017) | LOST OBJECTS vol. 1 series (4Q2017) | FLAIR series (2Q2018) | FOSSIL series (4Q2018) | FETISHES series (2Q2019) | LOST OBJECTS vol. 2 series (4Q2019) | MOVIE OBJECTS series (2Q2020). ALSO SEE: SIGNIFICANT OBJECTS website | SIGNIFICANT OBJECTS collection, ed. Rob Walker and Josh Glenn (Fantagraphics, 2012) | TAKING THINGS SERIOUSLY, ed. Josh Glenn (Princeton Architectural Press, 2007) | TAKING THINGS SERIOUSLY excerpts.