LOST OBJECTS (3)
By: Doug Dorst
October 3, 2017
One in a 25-part series of nonfiction stories about lost objects. We asked 25 writers to tell us about a significant object they'd lost (or thrown away, or destroyed), then assigned these stories to 25 illustrators. We're thrilled with the results. This is the fourth volume in the PROJECT:OBJECT series.
UPDATE: The Lost Objects book was published in September 2022 by Hat & Beard Press. Check it out!
*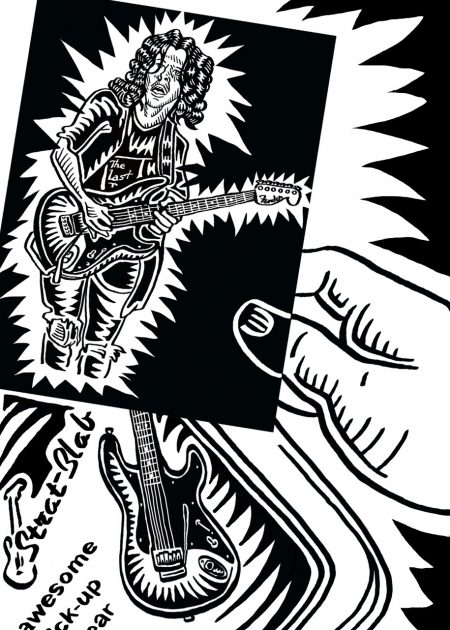 June 1990: the summer before my senior year in college. I returned to my childhood home exhausted and depressed after a spring studying in France and bungling through Europe. I'd alienated a host family in Tours and close friends in Budapest, been hassled by Greek police and Hungarian border guards, had my heart broken in Oxford and Bruges. I'd fled the continent a few weeks early, so I still had a few hundred dollars left. Thus was I primed — emotionally, spiritually, neurochemically, and financially — to seek salvation at Sam Ash Music in White Plains.
A Fender Stratocaster, new-old-stock, marked way down. Tobacco Burst finish, rosewood fingerboard. A curious suite of features I'd never seen on one Strat before: two single-coils and a bridge humbucker, plus a coil-splitting switch and a Kahler Spyder locking tremolo. Gloriously meaty-quacky-junky-shrill tones. And the neck! It felt like home the moment I picked it up.
Reader, I bought it.
I spent the summer practicing three or four hours a night, slowly evolving from a clumsy amateur into an enthusiastic (if limited) pentatonic wailer. Understand: this kind of commitment was unprecedented. But plugging in and playing this guitar begat joy, and joy begat focus, and focus begat progress, which begat more joy, and so on. I felt like the best version of myself that I'd ever been.
Five years and a couple hundred gigs later, a house I shared with four friends in Palo Alto was burgled. My Mystery Strat, my maybe-one-of-a-kind Axe of Best Self: it was gone, I would never hold it again, and that hurt like hell.
Here's the thing, though: I think I've found it.
Last year, on a writing deadline, I decided instead to go online in a quest to ID my old guitar. Eventually I found an image of it on a Strat-enthusiasts site where people posted photos of their herds and talked shop at a level far over my head. I messaged the owner: where'd he get it? Had he ever seen another like it? What's the model called, anyway? (On eBay a few years ago; no, never; nothing, it's a hodgepodge of Japanese and American parts Fender slapped together while clearing factory stock in the late '80s.)
Is it the same guitar? I say yes. Even if it isn't, it's a close enough match that I can choose to believe it is — which feels very nearly as good, and so I will, and do.
He sent me updated photos of what it looked like since he'd modded it with new pickups, new nut and tuners, other tweaks here and there — which, I'll admit, stung me. At least he hadn't swapped out the neck. O, that neck! I told him to email me if he ever wanted to sell. He said he could only sell it for "more than it's worth." And I thought about that summer-of-'90 kid, full of joy and purpose and nascent musical fearlessness and fumbly half-learned Blackmore and Clapton and Stevie Ray licks.
So, how much?
He ballparked it.
I don't have that kind of money right now, I said. That'll take a while.
So I don't have it (almost-certainly-it) back, but I do know where it is, and I know it's being appreciated by someone who knows his guitars and is likely ten times the player that I ever was. That's almost as good. Almost.
*
ABOUT THE AUTHOR: See sidebar.
ABOUT THE ARTIST: John Holbo is an associate professor of philosophy at the National University of Singapore.
LOST OBJECTS series: INTRODUCTION | Kate Bernheimer on MULLET WIG (ill. Amy Evans) | Dan Piepenbring on COLOGNE (ill. Josh Neufeld) | Doug Dorst on STRATOCASTER (ill. John Holbo) | Paul Lukas on VANILLA BEAN (ill. Allison Bamcat) | Mimi Lipson on DODGE DART (ill. Mister Reusch) | Luc Sante on CLUB CHAIR (ill. Kate Bingaman-Burt) | Nina Katchadourian on FOUNTAIN PENS (ill. Lisa Congdon) | Matthew Sharpe on BAUBLE (ill. Glenn Jones) | Claire Lehmann on PEANUT-BUTTER CRACKERS (ill. Karen Kurycki) | Jessamyn West on ENGINEER RING (ill. Amanda Clarke) | Mandy Keifetz on ORGONE ACCUMULATOR (ill. Emory Allen) | Molly Sauter on DESKTOP DOG (ill. Shayna Piascik) | Amy Thielen on DOG-FUR SCARF (ill. Heather Kasunick) | Stephen O'Connor on HUNTING HAT (ill. Oliver Munday) | Alice Boone on COLLEGE NEWSPAPERS (ill. Rick Pinchera) | Dante Ramos on ROAD ATLAS (ill. Joe Alterio) | Alex Balk on SHOOTING GALLERY (ill. John Lowe) | Chelsey Johnson on NOTEBOOK (ill. Rubi McGrory) | Susannah Breslin on SILICONE VAGINA (ill. Jennifer Heuer) | Seth Mnookin on .22 REVOLVER (ill. Alex Eben Meyer) | Dan Fox on CONKER (ill. Linzie Hunter) | Lisa Takeuchi Cullen on GLASS CLOCK (ill. Rose Wong) | Michael Tisserand on WALKING SHOES (ill. Jackie Roche) | Jeff Turrentine on BASEBALL MITT (ill. Andrew DeGraff) | Randy Kennedy on SNAKE RATTLES (ill. Max Temescu).
ILLICIT OBJECTS series: INTRODUCTION | Kio Stark on PEEPSHOW TOKEN | Sari Wilson on TOMBSTONE PARTS | Annalee Newitz on CAR-BOMB REMNANT | Tito Bottitta on MOONINITE DEVICE | Eric Bennett on DIRTY MAGAZINE | & 20 MORE.
TALISMANIC OBJECTS series: INTRODUCTION | Veda Hille on CROCHET SHEEP | Gary Panter on DINOSAUR BONES | Jami Attenberg on SELENITE CRYSTAL | Annie Nocenti on MINIATURE DICE | Wayne Curtis on CLOCK WINDING KEY | & 20 MORE.
POLITICAL OBJECTS series: INTRODUCTION | Luc Sante on CAMPAIGN PAMPHLETS | Lydia Millet on PVC POLAR BEAR | Ben Greenman on MATCHBOX CAR | Rob Baedeker on PRESIDENTS PLACEMAT | L.A. Kauffman on WHEATPASTE POSTER | & 20 MORE.
SIGNIFICANT OBJECTS at HILOBROW: PROJECT:OBJECT homepage | PROJECT:OBJECT newsletter | PROJECT:OBJECT objects (Threadless shop — all profits donated to the ACLU) | POLITICAL OBJECTS series (1Q2017) | TALISMANIC OBJECTS series (2Q2017) | ILLICIT OBJECTS series (3Q2017) | LOST OBJECTS vol. 1 series (4Q2017) | FLAIR series (2Q2018) | FOSSIL series (4Q2018). 12 DAYS OF SIGNIFICANCE | 12 MORE DAYS OF SIGNIFICANCE | 12 DAYS OF SIGNIFICANCE (AGAIN) | ANOTHER 12 DAYS OF SIGNIFICANCE . ALSO SEE: SIGNIFICANT OBJECTS website | SIGNIFICANT OBJECTS collection, ed. Rob Walker and Josh Glenn (Fantagraphics, 2012) | TAKING THINGS SERIOUSLY, ed. Josh Glenn (Princeton Architectural Press, 2007) | TAKING THINGS SERIOUSLY excerpts.