SEMIO OBJECTS (17)
By: Thierry Mortier
June 1, 2021
One in a series of 25 nonfiction narratives about semioticians' significant objects. Presented to HILOBROW's readers by Project:Object.
*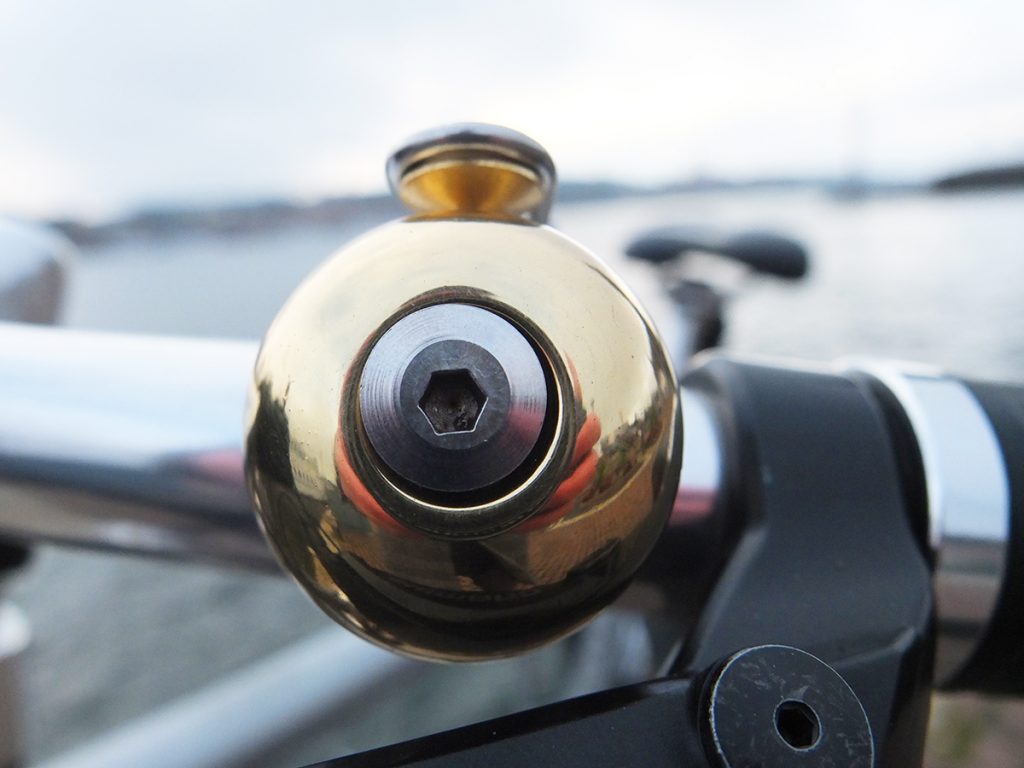 BICYCLE BELL
I was 44 when I bought my first brand-new bicycle. Born in Belgium, the land of the Flandriens, those track cycling legends from the 1910-20s, you can bank on being on two wheels as soon as you hit 3-4 years. Bicycling is just part of my cultural DNA and it came as a surprise that although I had owned a great many bicycles before, I never had a new one. My older brother started the recurring cynical response, "Aw, poor you, never owned a new bicycle". He didn't pick up on the fact that after four decades of riding secondhand bicycles I felt proud of this under-consumption.
When I looked for wheels in Sweden, hitting the secondhand market came naturally. Stockholm is bicycle-theft central after all, why buy new? Don't get me wrong — I put in the effort, but I could not, for the life of me, find a frame size that would give my back a smooth ride. Ironically, I found my new bike on sale — for the same reason I couldn't find it secondhand: The average Swede is just that little bit taller than me.
It's a decent bike, nothing fancy, Swedish make — if you buy new, buy local, right? — and I love riding it through town. But, it came with a really crappy bell that broke off in no time. For a few measly bucks each time, I replaced it with even crappier bells that I found at the local hardware store.
One day, after nearly missing an appointment — Google Maps does not take the crappiness of one's bell into account when predicting estimated time of arrival — I went straight from the meeting into a hipster bicycle store just across the street. The guy behind the counter clearly felt that neither my bicycle nor I belonged there, but he was helpful nonetheless.
"I need a decent bell," I said.
"You do," he replied, and continued, "The only one we've got that will fit is this one."
"But is it decent?" I asked.
It is. Since that day, I'm not worried that someone ran off with my unexciting bicycle when I walk to where I've chained up last in bicycle-theft central. I worry about losing this precious, little bell — and its tantalizing chant.
It's so unbelievably clear. It rings; it chimes. It projects its sound waves with a decisive lucidity that is startlingly delicate. It produces a sound fit for an orchestra at a pristine church wedding. People jump at its voice and delight in its intrusion. Whenever I take my bike I need to muster my utmost self-control not to ring the bell instantly.
Riding home late at night or when there are no people around, I ring my bell, just so I get to travel through its brightness for a fleeting moment.
*
SEMIO OBJECTS: INTRODUCTION by Josh Glenn | Chris Arning on INKSTONE BROOM | Hamsini Shivakumar on SOUL MOTHER SAREES| Lucia Laurent-Neva on SPONGEBOB BUS | Samuel Grange on SALT & PEPPER HOLDER| Ximena Tobi on VASALISA | Luca Marchetti on TEAPOT | Charles Leech on ORNAMENT| Gabriela Pedranti on MAFALDA DOLL | Sarah Johnson on JOAN OF ARC FIGURINE | Vijay Parthasarathy on BINGO | Aiyana Gunjan on WEDDING DUCKS | Serdar Paktin on NEY | Paulina Goch-Kenawy on VASE | Daria Arkhipova on POKER CHIP | Iván Islas on THERMOS| Sónia Marques on CABBAGE TUREEN | Thierry Mortier on BICYCLE BELL | Louise Jolly on CHALICES | Wei Fen Lee on CURRY PUFF POT | Mariane Cara on MINI WINDSOCK | Malex Salamanques Amiel on MARIA LIONZA | Seema Khanwalkar on THANJAVUR DOLL | Maria Papanthymou on KITCHEN WHISK | Martha Arango on ST. ANTHONY OF PADUA | Max Matus on WOODEN ROBOT.
*
MOVIE OBJECTS: INTRODUCTION | Ramona Lyons on EYE OF THE SERPENT (CONAN THE BARBARIAN) | Faythe Levine on BEDKNOB (BEDKNOBS AND BROOMSTICKS) | Gerald Peary on CUP OF COFFEE (THE BIG HEAT) | Christopher Orr on TOM'S HAT (MILLER'S CROSSING) | Lynn Peril on TRANSISTOR RADIO (DR. STRANGELOVE) | & 20 MORE.
LOST OBJECTS (vol. 2): INTRODUCTION | Joe Yonan on MACRAMÉ ART (ill. Theo Ellsworth) | Ben Katchor on LUCITE CARRYING CASE | Debbie Millman on GLASS POODLE | Lydia Millet on ROCKY HORROR NOVEL (ill. Berta Valló) | Ben Greenman on WARHOL CAN (ill. Clara Selina Bach) | & 20 MORE.
FETISHES: INTRODUCTION | Josh Foer on DEATH MASK | Beth Lisick on MURDERED-OUT KFC BUCKET | Christina Couch on LEECH ACTION FIGURE | Kenneth Goldsmith on THEWLIS SOCK | Abby Rapoport on MAGNATILES | & 20 MORE.
FOSSILS: INTRODUCTION | Allegra Huston on SKATAWAY JACKET | Kevin Obsatz on HOMEMADE NUNCHUKS | Ian Bogost on DESKTOP TELEPHONE | Jeff Lewonczyk on CHA-CHA JACKET SCRAP | Kelly Horan on VOLVO KEY | & 20 MORE.
FLAIR: INTRODUCTION | Cliff Kuang on ROLEX DATEJUST | Ethan Zuckerman on LAPTOP STICKERS | Ann Shoket on LEATHER JACKET | Kembrew McLeod on KEMBREW MERCH | Paola Antonelli on MERMAID TEARS | & 20 MORE.
LOST OBJECTS (vol. 1): INTRODUCTION | Kate Bernheimer on MULLET WIG (ill. Amy Evans) | Dan Piepenbring on COLOGNE (ill. Josh Neufeld) | Doug Dorst on STRATOCASTER (ill. John Holbo) | Paul Lukas on VANILLA BEAN (ill. Allison Bamcat) | Mimi Lipson on DODGE DART (ill. Mister Reusch) | & 20 MORE.
ILLICIT OBJECTS: INTRODUCTION | Kio Stark on PEEPSHOW TOKEN | Sari Wilson on TOMBSTONE PARTS | Annalee Newitz on CAR-BOMB REMNANT | Tito Bottitta on MOONINITE DEVICE | Eric Bennett on DIRTY MAGAZINE | & 20 MORE.
TALISMANIC OBJECTS: INTRODUCTION | Veda Hille on CROCHET SHEEP | Gary Panter on DINOSAUR BONES | Jami Attenberg on SELENITE CRYSTAL | Annie Nocenti on MINIATURE DICE | Wayne Curtis on CLOCK WINDING KEY | & 20 MORE.
POLITICAL OBJECTS: INTRODUCTION | Luc Sante on CAMPAIGN PAMPHLETS | Lydia Millet on PVC POLAR BEAR | Ben Greenman on MATCHBOX CAR | Rob Baedeker on PRESIDENTS PLACEMAT | L.A. Kauffman on WHEATPASTE POSTER | & 20 MORE.
ALSO SEE: PROJECT:OBJECT homepage | POLITICAL OBJECTS (1Q2017) | TALISMANIC OBJECTS (2Q2017) | ILLICIT OBJECTS (3Q2017) | LOST OBJECTS vol. 1 (4Q2017) | FLAIR (2Q2018) | FOSSILS (4Q2018) | FETISHES (2Q2019) | LOST OBJECTS vol. 2 (4Q2019) | MOVIE OBJECTS (2Q2020) | SEMIO OBJECTS (2Q2021) | SIGNIFICANT OBJECTS (cross-posted from Significant Objects website). ALSO SEE: SIGNIFICANT OBJECTS website | LOST OBJECTS (Hat & Beard Press, 2022) | SIGNIFICANT OBJECTS collection, ed. Rob Walker and Josh Glenn (Fantagraphics, 2012) | TAKING THINGS SERIOUSLY, ed. Josh Glenn (Princeton Architectural Press, 2007) | TAKING THINGS SERIOUSLY excerpts.