FOSSILS (3)
By: Ian Bogost
October 8, 2018
The sixth PROJECT:OBJECT volume is a 25-part series of true stories about fossils — which is to say, objects that bear witness to a vanished way of life.
*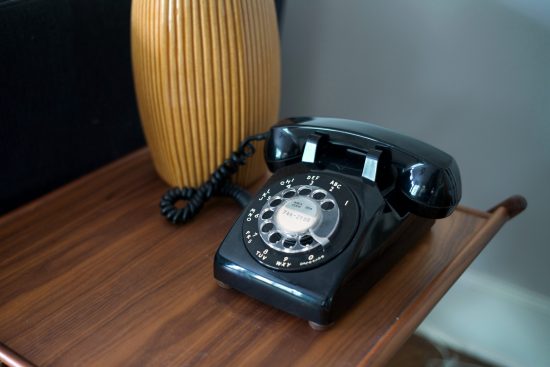 Everyone used to have the same telephone. There were different versions in different eras, but the one I remember is the Western Electric model 500, the standard desk telephone provided by the Bell system from the 1950s into the '80s. It's squat and square, with an angled face that holds the rotary dial (or, starting in the 1960s, the touch-tone keys). Rugged but portable, these were the workhorses of 20th-century telephony.
Today telephones, insofar as anyone uses them, are delicate electronic gadgets, more like toy dogs than robust appliances. We baby them. Not so those old phones. You could slam the receiver down to hang up on someone. You could wedge it between your shoulder and ear while lassoing the coiled cord around the kitchen. If you dropped a phone, the ringer would clang from vague nuisance, but it wouldn't break. The wall-mounted version, the model 554, only accentuated the thing's vigor even more. The wham-ding of the handset hitting the cradle was no less memorable than the shkkk-whirrrr of the rotary dial. These phones didn't buckle under the white-knuckled anger of a frustrating phone call.
I've kept a model 500 desktop phone, in black, which I've lugged from house to house. When my older daughter, now a teenager, was younger, she called it "her phone," and used it to call Grandma. That worked both for-real and pretend, as the phone was an equally evocative oddity whether plugged into the wall jack or not.
Then we moved again, and there are no wall jacks anymore. The phone is mostly a sculptural object now, sitting on a shelf as if it were a wooden sphere or a bronze bull. My younger daughter, about the age of the older one back when, now asks me to bring "her phone" down — she calls it that too. A play phone. Every time, I worry that she might drop it on herself. The phone's physical bulk once tracked the gravity of the conversations that took place upon it; after all, the telephone had become the primary way of dealing with business both personal and bureaucratic. No more.
To remember when it did, I sometimes mimic the act of using the model 500 when retrieve or stow it for my daughter. Slipping two fingers in the housing indentation under the cradle to carry it feels no less retro-chic than smoking a cigarette or sipping whiskey from a silver-rimmed tumbler. But actually using the phone, alas, does not. Their transformation to midcentury-design prop is complete.
Between the eighties and the aughts, phones diversified: innumerable designs of electronic phones and then cell phones. The one-design certainty of the Western Electric became passé. But a decade later, everyone has the same phone again. It's a glass-and-metal rectangle now, characterized by litheness and fragility. Let's not romanticize the certainty of telephony back in the day; it was just as anxious an activity as it is for today's smartphone-neurotics. But at least then the apparatus feigned conviction on the caller's behalf.
*
FOSSILS: INTRODUCTION | Allegra Huston on SKATAWAY JACKET | Kevin Obsatz on HOMEMADE NUNCHUKS | Ian Bogost on DESKTOP TELEPHONE | Jeff Lewonczyk on CHA-CHA JACKET SCRAP | Kelly Horan on VOLVO KEY | Sarah Rich on WESTFEST EARRINGS | Cynthia Joyce on MELODICA | Kevin Brockmeier on SALADMOBILE | Adam Harrison Levy on PASSPORT HOLDER | Marissa Frayer on BABY BLANKET | Elizabeth Foy Larsen on RML BOOKEND | Jae Nichelle on SHEET MUSIC | Sean Patrick Walsh on TYPEWRITER | Andrew Innes on BUST OF DUCK | Carla Sinclair on FACTSHEET FIVE | Chapell Ellison on SLEIGH BELL | Malcolm Evans on "QUEEN MARY" FOB | Jason Gilbert on HAND CHAIR | Karl Taro Greenfeld on OPIUM KIT | Tony Leone on MODEL TANK | Dave Boerger on TEEN BIBLE | Chelsey Johnson on BREYER HORSES | Erin M. Routson on PAPER WALLET | Alissa Walker on JUKEBOX | Adrienne Crew on FISH SCALER.
FLAIR: INTRODUCTION | Cliff Kuang on ROLEX DATEJUST | Ethan Zuckerman on LAPTOP STICKERS | Ann Shoket on LEATHER JACKET | Kembrew McLeod on KEMBREW MERCH | Paola Antonelli on MERMAID TEARS | & 20 MORE.
LOST OBJECTS (vol. 1): INTRODUCTION | Kate Bernheimer on MULLET WIG (ill. Amy Evans) | Dan Piepenbring on COLOGNE (ill. Josh Neufeld) | Doug Dorst on STRATOCASTER (ill. John Holbo) | Paul Lukas on VANILLA BEAN (ill. Allison Bamcat) | Mimi Lipson on DODGE DART (ill. Mister Reusch) | & 20 MORE.
ILLICIT OBJECTS: INTRODUCTION | Kio Stark on PEEPSHOW TOKEN | Sari Wilson on TOMBSTONE PARTS | Annalee Newitz on CAR-BOMB REMNANT | Tito Bottitta on MOONINITE DEVICE | Eric Bennett on DIRTY MAGAZINE | & 20 MORE.
TALISMANIC OBJECTS: INTRODUCTION | Veda Hille on CROCHET SHEEP | Gary Panter on DINOSAUR BONES | Jami Attenberg on SELENITE CRYSTAL | Annie Nocenti on MINIATURE DICE | Wayne Curtis on CLOCK WINDING KEY | & 20 MORE.
POLITICAL OBJECTS: INTRODUCTION | Luc Sante on CAMPAIGN PAMPHLETS | Lydia Millet on PVC POLAR BEAR | Ben Greenman on MATCHBOX CAR | Rob Baedeker on PRESIDENTS PLACEMAT | L.A. Kauffman on WHEATPASTE POSTER | & 20 MORE.
SIGNIFICANT OBJECTS at HILOBROW: PROJECT:OBJECT homepage | PROJECT:OBJECT newsletter | PROJECT:OBJECT objects (Threadless shop — all profits donated to the ACLU) | POLITICAL OBJECTS series (1Q2017) | TALISMANIC OBJECTS series (2Q2017) | ILLICIT OBJECTS series (3Q2017) | LOST OBJECTS vol. 1 series (4Q2017) | FLAIR series (2Q2018) | FOSSIL series (4Q2018) | FETISHES series (2Q2019) | LOST OBJECTS vol. 2 series (4Q2019) | MOVIE OBJECTS series (2Q2020). ALSO SEE: SIGNIFICANT OBJECTS website | SIGNIFICANT OBJECTS collection, ed. Rob Walker and Josh Glenn (Fantagraphics, 2012) | TAKING THINGS SERIOUSLY, ed. Josh Glenn (Princeton Architectural Press, 2007) | TAKING THINGS SERIOUSLY excerpts.