AFROFUTURISM (5)
By: Adrienne Crew
April 9, 2019
We are pleased to present a 10-part series exploring the aesthetics and visual rhetoric of Afrofuturism, by HILOBROW friend Adrienne Crew — who previously brought us an exploration of P-Funk's Afrofuturism.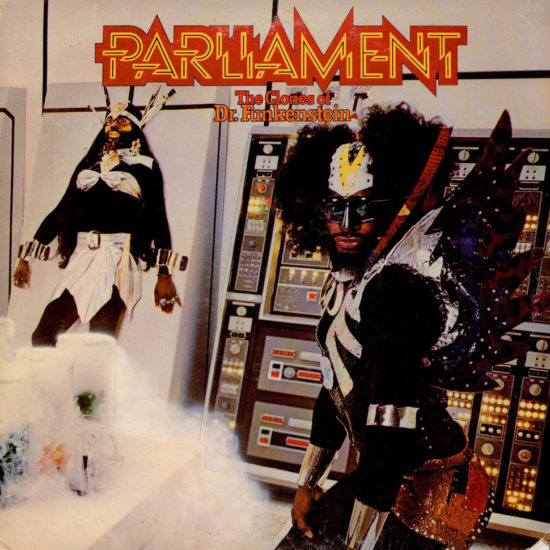 ALIEN NATION
To quote Mark Dery, the writer who helped coin the term "Afrofuturism" in his 1993 essay "Black to the Future: Afro-Futurism 1.0": "African-Americans are, in a very real sense, the descendants of alien abductees." "There's nobody more available for space than those of us whose ancestors came over in the Middle Passage," the poet Nikki Giovanni said in a 2017 interview, "because space is middle passage."
Yes, for decades now it's been obvious — to people within and without the black community — that we relate to aliens from outer space. I often characterize my social isolation as a literal form of alienation. Echoing the complaints of the villainous Bug-Edgar, after he appropriates a hapless human's form in the 1995 film Men in Black, I sometimes tell friends, "This girl suit itches." So when Nikki Giovanni confesses, in her 1978 poem "Space," that "a flying saucer just landed in my living room," I can relate.
The trope, a powerful way to communicate the outsider status of African Americans, got started in the 1960s and '70S. Philip Jose Farmer's 1957 sci-fi novel Night of Light inspired Jimmy Hendrix to write "Purple Haze" in 1966 — an song that he originally conceived of as an epic about "the history of the wars on Neptune." George Clinton and his P-Funk collective built an Afronaut cosmology around Star Child and Dr. Funkenstein; the P-Funk mythology began to emerge with the release of Funkadelic's self-titled debut album in 1970. Reggae producer Lee "Scratch" Perry once told an interviewer, "I am an alien from the other world, from outer space, I don't have no land, no estate, no property, no house. Not on this earth. I live in space — I'm only a visitor here."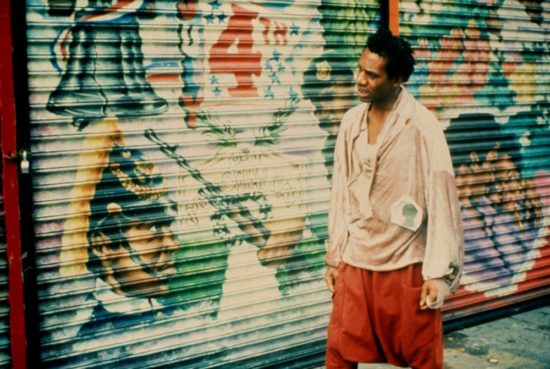 The trope was used to powerful effect in John Sayles's 1984 film Brother from Another Planet, but during the Eighties and Nineties it was reduced to a knee-jerk stereotype in blockbusters like the Stargate franchise. In the first 1994 film, scientists discover that an ancient Egyptian artifact is actually a dimensional portal to a planet inhabited by aliens who resemble Egyptian gods. There's a similar idea at the heart of Luc Besson's 1997 film The Fifth Element. Around this time, I began to grow weary of the cliched ways in which people of African descent are portrayed as aliens.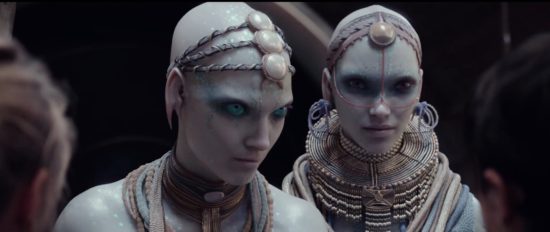 I'm glad that Besson's 2017 film Valerian and the City of a Thousand Planets bombed. I can't tell if the French director is a neo-colonialist prankster or just a racist, but why does he think it's cool to populate his films with deracinated people of color? In Valerian, he invented a race of pearlescent Masai humanoids, called the Mul, searching for a home after a space battle destroys their planet.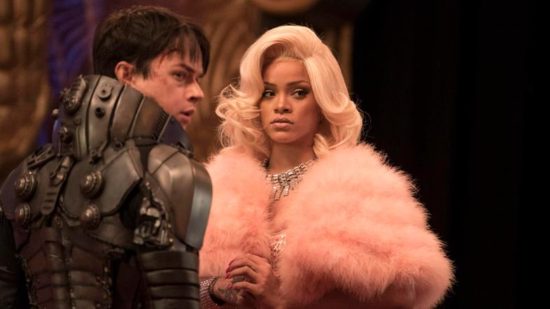 Valerian is the White Savior figure scrambling to help this embattled civilization yet still fails to stop the murder of the only black character in the movie: a shapeshifting stripper named Bubbles, played by Rhianna, who sacrifices herself for his quest.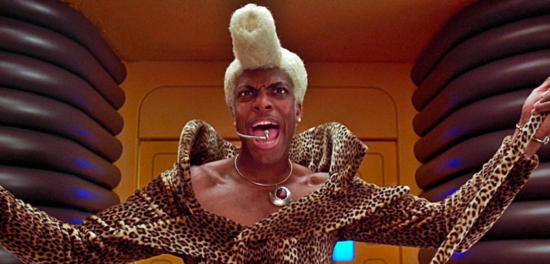 Besson loves to put black people in blonde wigs. Rhianna sports a Marilyn Monroe-esque blonde fall in one scene while Chris Tucker sashayed around a spaceship in a blonde afro as Ruby Rhod in Besson's 1997 film The Fifth Element.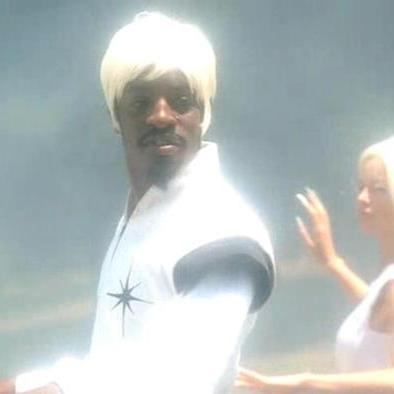 Outkast's 1997 "ATLien" ushered in Afrofuturism 2.0. But why does André 3000 have to sport a blonde wig as the alien in the 2013 video for "Prototype"?
I'm scanning the horizon for fresh takes on black aliens. It's out there. I think the visual arts are leading the way toward a new type of Afro Alien aesthetic.
TheeSatisfaction's album cover for Earthee excites me (in a non salacious way):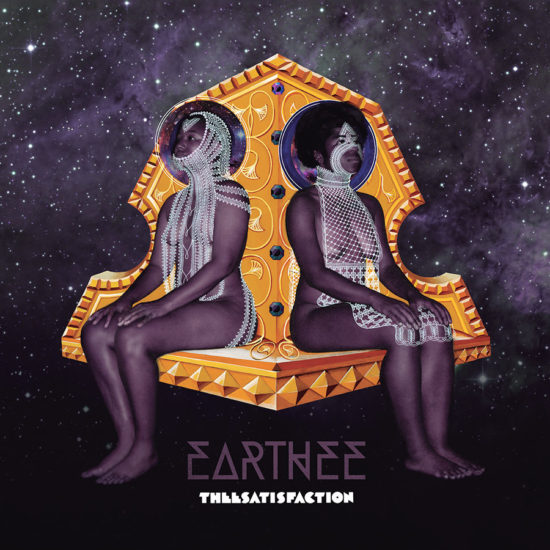 I love Mikael Owunna's Infinite Essence project. (Also see this NPR page.) I want to see representation of aliens from another dimension. Ancient Egyptian civilization doesn't represent all of Africa and its diaspora.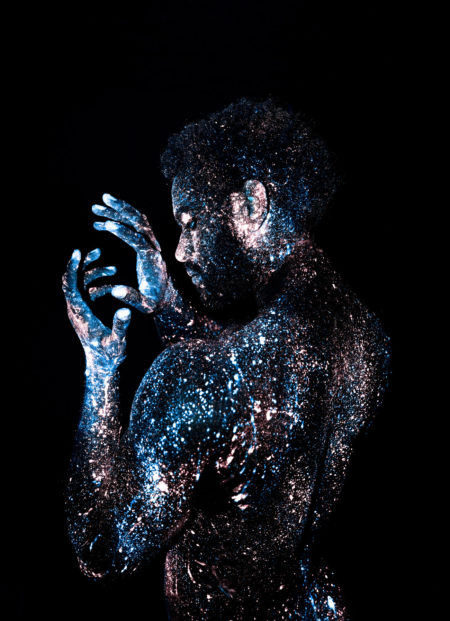 And the Ancestral Futurism of graffiti artist James Monk (aka James Castillo aka RasTerms). His Afro Alien Space Angels uplift my Instagram feed: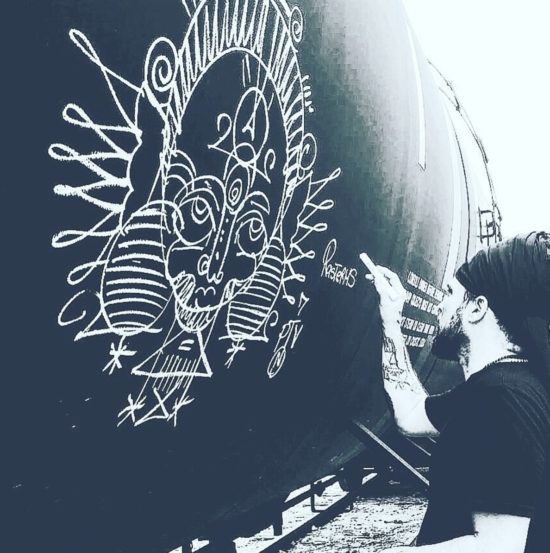 Check out the work of these other Afrofuturistic visual artists at Blavity.com here.
Not one of these new Afro Aliens wears a blond wig.
***
AFROFUTURISM: INTRODUCTION | HAIR POLITICS | BODY HORROR | TIME TRAVEL | SWEET CHARIOTS | ALIEN NATION | A WAY OUT OF NO WAY | ROBOT LIBERATION | ADAPTATION & HYBRIDISM | STARSEEDS | BLACK UTOPIA. ALSO SEE: P-FUNK AFROFUTURISM | SAMUEL R. DELANY | OCTAVIA E. BUTLER | W.E.B. DUBOIS'S "THE COMET".