POLITICAL OBJECTS: INTRO
By: PROJECT:OBJECT
January 18, 2017
Introducing POLITICAL OBJECTS, the first volume in a new and ongoing enterprise, PROJECT:OBJECT.
PROJECT:OBJECT is a sequel to the much-discussed quasi-anthropological SIGNIFICANT OBJECTS experiment conducted in 2009–2010 by Joshua Glenn and Rob Walker, culminating in a book lavishly published by Fantagraphics in 2012. PROJECT:OBJECT will publish 100 original nonfiction stories about objects in 2017 — right here on HILOBROW — in quarterly "volumes" inspired by distinct themes. This new endeavor further extends Rob and Josh's pioneering exploration of narrative, objects, and meaning into the realm of (often unexpected) personal significance.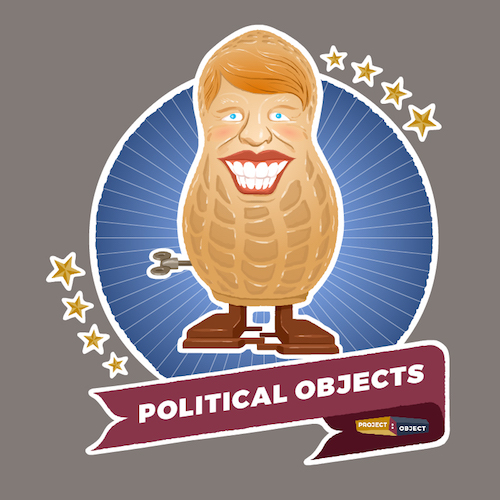 In the debut series, the political is personal. POLITICAL OBJECTS begins tomorrow — just before Inauguration Day — and features an all-star cast of 25 writers telling new stories of "political" objects they own, and why these objects matter.
Here's the POLITICAL OBJECTS lineup.
INTRODUCTION | Luc Sante on CAMPAIGN PAMPHLETS | Lydia Millet on PVC POLAR BEAR | Ben Greenman on MATCHBOX CAR | Rob Baedeker on PRESIDENTS PLACEMAT | L.A. Kauffman on WHEATPASTE POSTER | Astra Taylor on SALAM'S NECKLACE | Carolina A. Miranda on POCHO | Stephen Duncombe on PROTEST SIGN | Marisa Silver on SHAMAN BOWLS | James Hannaham on DR. BUZZARD LP | Virginia Heffernan on HRC PAINTING | Kenya (Robinson) on BURNER PHONE | Kathryn Davis on POLITBUREAU | Chenjerai Kumanyika on NAT TURNER PRINT | Alexis Madrigal on MERMAID COSTUME | Anne Boyer on ALL KNEES AND ELBOWS OF SUSCEPTIBILITY AND REFUSAL | Steven Heller on JFK DOLL | Anne Elizabeth Moore on BLOOD PRESSURE MONITOR | Gary Dauphin on RUM BOTTLE | Tom Frank on DNC PASS | Lizzie Skurnick on GROUP PHOTO | Stuart Ewen on SNCC PIN | Benjamen Walker on BEEF BOX 12″ | Rob Walker on CAMPAIGN SIGN | Alex Kalman on THEM=US PIN.
Batches of POLITICAL OBJECTS stories will appear on HILOBROW before, on, and just after the inauguration, and will continue to roll out through the end of March. The objects include overtly political artifacts both charismatic and absurd, and items whose stealthily political nature will surprise you; the stories range from the uplifting to the poignant to the unexpectedly illuminating. It's a terrific collection.
And it's just the beginning. Three more PROJECT:OBJECT collections will follow in the year ahead, with a new theme each quarter. Stay tuned for details on those volumes, and a variety of related attractions, diversions, stunts, and spectacles to be unveiled in the year ahead.
Subscribe to the PROJECT:OBJECT newsletter here.
We're grateful to BoingBoing, Kottke.org, Design Observer, Paola Antonelli, The Awl, and everyone else who's given PROJECT:OBJECT a shout-out.
Thanks, Rick Pinchera, for the POLITICAL OBJECTS logo. And thanks, SEMIOVOX, for sponsoring PROJECT:OBJECT.
*
SIGNIFICANT OBJECTS at HILOBROW: PROJECT:OBJECT homepage | PROJECT:OBJECT newsletter | PROJECT:OBJECT objects (Threadless shop — all profits donated to the ACLU) | POLITICAL OBJECTS series (1Q2017) | TALISMANIC OBJECTS series (2Q2017) | ILLICIT OBJECTS series (3Q2017) | LOST OBJECTS vol. 1 series (4Q2017) | FLAIR series (2Q2018) | FOSSIL series (4Q2018). 12 DAYS OF SIGNIFICANCE | 12 MORE DAYS OF SIGNIFICANCE | 12 DAYS OF SIGNIFICANCE (AGAIN) | ANOTHER 12 DAYS OF SIGNIFICANCE . ALSO SEE: SIGNIFICANT OBJECTS website | SIGNIFICANT OBJECTS collection, ed. Rob Walker and Josh Glenn (Fantagraphics, 2012) | TAKING THINGS SERIOUSLY, ed. Josh Glenn (Princeton Architectural Press, 2007) | TAKING THINGS SERIOUSLY excerpts.