POLITICAL OBJECTS (4)
By: Rob Baedeker
January 20, 2017
One in a 25-part series of nonfiction stories about objects of political significance. This is the first volume in the PROJECT:OBJECT series. Please subscribe to the P:O newsletter; and purchase P:O apparel and accessories — all profits will be donated to the ACLU!
*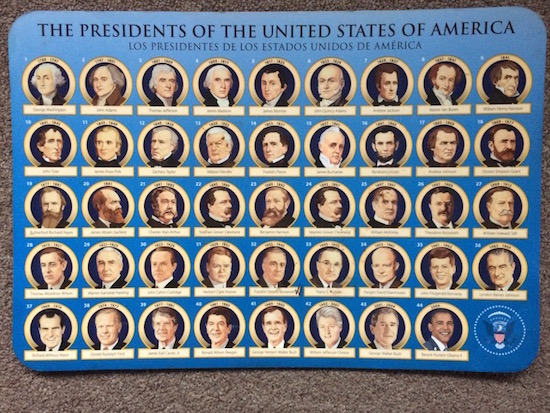 It was the 2012 election, Obama vs. Romney. I was cooking eggs. My daughter, Nora, then 5 years old, entered the kitchen. NPR was probably on the radio, and Nora was probably wearing her green-camo cargo shorts.
Seemingly out of nowhere, Nora asked, "Daddy? Can a girl be president?"
Her question took me aback, but it shouldn't have. It was a totally reasonable thing to wonder given the data around her. NPR was likely playing clips from the campaign trail, two men making pronouncements. And then there was her placemat, "The Presidents of the United States of America." It's since been retired, but I dug it up recently. It's a flimsy, laminated rectangle with portraits of 44 men in rank and file. In the lower right corner, the presidential seal holds a place for then-unknown number 45.
Where did the placemat come from? Kmart, I think, via grandma. It's made in the U.S.A, and it's bilingual. On the back there is trivia: "Tallest (El mas alto). Shortest (El mas bajo)." (Lincoln and Madison, respectively). Scanning the faces now, I notice some other patterns. Facial hair is thick from Grant through Taft, but scant before and after. No one smiles until Kennedy. Clumps of Nora's dried spaghetti sauce still spatter the faces of McKinley and Fillmore.
I remember Nora studying the placemat back then, and asking my wife and me about individual presidents: "Was James Knox Polk a good president?" "Was Martin Van Buren a good president?" I remember saying mostly, "I'm not sure." Next to Franklin Delano Roosevelt's portrait, though, I now see two thick, black check marks in Nora's hand. We must have given a clear answer about FDR.
And I think I gave Nora a clear answer about whether a girl could be president, but she might have been confused by my reaction — by the slight pause before I answered and by my quick, surprised laugh. To me, the laugh was full of love for her innocence and wonder at the world before her. And it was a reaction to the small shock of truth revealed in her question — the space still remaining between the actual and the possible.
Nora wouldn't have sensed me considering, for an instant, that the answer I gave would inform her beliefs about herself and the world — another data point to put alongside the Presidents Placemat.
"Yes," I told her. "Of course. Yes."
*
POLITICAL OBJECTS series: INTRODUCTION | Luc Sante on CAMPAIGN PAMPHLETS | Lydia Millet on PVC POLAR BEAR | Ben Greenman on MATCHBOX CAR | Rob Baedeker on PRESIDENTS PLACEMAT | L.A. Kauffman on WHEATPASTE POSTER | Astra Taylor on SALAM'S NECKLACE | Carolina A. Miranda on POCHO | Stephen Duncombe on PROTEST SIGN | Marisa Silver on SHAMAN BOWLS | James Hannaham on DR. BUZZARD LP | Virginia Heffernan on HRC PAINTING | Kenya (Robinson) on BURNER PHONE | Kathryn Davis on POLITBUREAU | Chenjerai Kumanyika on NAT TURNER PRINT | Alexis Madrigal on MERMAID COSTUME | Anne Boyer on ALL KNEES AND ELBOWS OF SUSCEPTIBILITY AND REFUSAL | Steven Heller on JFK DOLL | Anne Elizabeth Moore on BLOOD PRESSURE MONITOR | Gary Dauphin on RUM BOTTLE | Tom Frank on DNC PASS | Lizzie Skurnick on GROUP PHOTO | Stuart Ewen on SNCC PIN | Benjamen Walker on BEEF BOX 12″ | Rob Walker on CAMPAIGN SIGN | Alex Kalman on THEM=US PIN.
SIGNIFICANT OBJECTS at HILOBROW: PROJECT:OBJECT homepage | PROJECT:OBJECT newsletter | PROJECT:OBJECT objects (Threadless shop — all profits donated to the ACLU) | POLITICAL OBJECTS series (1Q2017) | TALISMANIC OBJECTS series (2Q2017) | ILLICIT OBJECTS series (3Q2017) | LOST OBJECTS vol. 1 series (4Q2017) | FLAIR series (2Q2018) | FOSSIL series (4Q2018). 12 DAYS OF SIGNIFICANCE | 12 MORE DAYS OF SIGNIFICANCE | 12 DAYS OF SIGNIFICANCE (AGAIN) | ANOTHER 12 DAYS OF SIGNIFICANCE . ALSO SEE: SIGNIFICANT OBJECTS website | SIGNIFICANT OBJECTS collection, ed. Rob Walker and Josh Glenn (Fantagraphics, 2012) | TAKING THINGS SERIOUSLY, ed. Josh Glenn (Princeton Architectural Press, 2007) | TAKING THINGS SERIOUSLY excerpts.