FLAIR (2)
By: Ethan Zuckerman
May 5, 2018
The fifth PROJECT:OBJECT volume is a 25-part series of true stories about significant accoutrements, appurtenances, and regalia.
*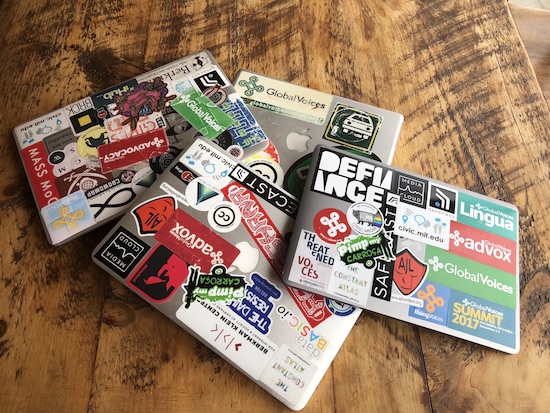 For years, a dear friend and I traveled together to tech conferences around the world. In a parking lot in South Africa, we saw a sign warning us not to back over the penguins that roamed the area: a green road sign with an iconographic car backing over a supine penguin. I took a picture, had it made into a laptop sticker, and the two of us sported it proudly, a two-person club, an inside joke that we invited the rest of the world to ask us about.
Geeks decorate their laptops. The artsy ones buy full wraps, giant stickers that turns the back of the screen into a single, coherent image. But most of us treat our laptops as early 20th-century steamer trunks, accumulating stickers that show where we've been and what we've done.
The producers of The Fifth Estate, a film about Julian Assange and the origins of Wikileaks, called me to clear the use of the Global Voices logo in their film. I assumed it was for a scene where Assange pitches his new project at the Global Voices summit in Budapest (strange, but true), but what they really wanted was to ensure his laptop could sport a Global Voices sticker. They also featured a sticker from Noisebridge, a legendary hackerspace in San Francisco, which led to a great exchange between Sony's lawyers and the Noisebridge anarchists. Say what you will about the film (and most of what's been said about it wasn't flattering), the producers understood that laptop stickers are badges, affiliations, and signs of belonging.
I go through laptops quickly, and there's a brief period with a new machine where it's pristine and shiny. I consider briefly whether this is the one I'll finally leave undecorated, but six weeks in, once I've concluded I'm not going to return the machine, the base stickers go on. The MIT lab where I work. Different projects from Global Voices, the online journalism community I helped found a dozen years ago. Stickers for each of the projects my grad students work on, because they've learned that printing stickers turns an idea into unalterable reality — stick it to your laptop, and you'll have to stick to the task.
Most of the projects represented on my stickers are ones I advise or helped found, but not all. Atop the base layer are stickers from especially cool projects I've encountered — my most recent is Pimp my Caroça, a Brazilian project that helps make wastepickers more visible by connecting them with local artists and community volunteers who paint their carts in bright colors. I met Mundano, the amazing artist behind the project at a conference in Denver, and we exchanged stickers so we could fly each other's colors.
I try to put on stickers only when I can explain the project I'm representing and, preferably, introduce someone to the founder or chief executive. Laptop stickers are a calling card, an invitation to have a conversation, and I want to hold up my end of the bargain. To do otherwise feels a little like wearing an insignia I'm not entitled to.
*
FLAIR: INTRODUCTION | Cliff Kuang on ROLEX DATEJUST | Ethan Zuckerman on LAPTOP STICKERS | Ann Shoket on LEATHER JACKET | Kembrew McLeod on KEMBREW MERCH | Paola Antonelli on MERMAID TEARS | Kanishka Raja on HANDMADE JACKET | Lynn Peril on BASEBALL RING | Rob Horning on NOTE PAD | Alexandra Lange on BEAD NECKLACE | Stephanie Burt on D&D EARRINGS | Michael Bierut on FEDORA | Debbie Millman on CHARM | Abram Himelstein on LUCKY 7 RING | Deb Chachra on HANDWRAPS | Jennifer Howze on HOLD-UP STOCKINGS | Mark Frauenfelder on CLARK KENT GLASSES | Adam McGovern on PLASTIC ALLIGATOR SHOES | Nicola Twilley on GOLD BRACES | Anne Quito on MUSEUM EARRINGS | Kristin Parker on STEEL BRACELET | Hillary Chute on POCKET KNIFE | James Gaddy on RESTAURANT PEN | Davy Rothbart on SHOELACE BELT | David Hajdu on PINCE-NEZ | Bishakh Som on KNEE-HIGH BOOTS.
LOST OBJECTS (vol. 1): INTRODUCTION | Kate Bernheimer on MULLET WIG (ill. Amy Evans) | Dan Piepenbring on COLOGNE (ill. Josh Neufeld) | Doug Dorst on STRATOCASTER (ill. John Holbo) | Paul Lukas on VANILLA BEAN (ill. Allison Bamcat) | Mimi Lipson on DODGE DART (ill. Mister Reusch) | & 20 MORE.
ILLICIT OBJECTS: INTRODUCTION | Kio Stark on PEEPSHOW TOKEN | Sari Wilson on TOMBSTONE PARTS | Annalee Newitz on CAR-BOMB REMNANT | Tito Bottitta on MOONINITE DEVICE | Eric Bennett on DIRTY MAGAZINE | & 20 MORE.
TALISMANIC OBJECTS: INTRODUCTION | Veda Hille on CROCHET SHEEP | Gary Panter on DINOSAUR BONES | Jami Attenberg on SELENITE CRYSTAL | Annie Nocenti on MINIATURE DICE | Wayne Curtis on CLOCK WINDING KEY | & 20 MORE.
POLITICAL OBJECTS: INTRODUCTION | Luc Sante on CAMPAIGN PAMPHLETS | Lydia Millet on PVC POLAR BEAR | Ben Greenman on MATCHBOX CAR | Rob Baedeker on PRESIDENTS PLACEMAT | L.A. Kauffman on WHEATPASTE POSTER | & 20 MORE.
SIGNIFICANT OBJECTS at HILOBROW: PROJECT:OBJECT homepage | PROJECT:OBJECT newsletter | PROJECT:OBJECT objects (Threadless shop — all profits donated to the ACLU) | POLITICAL OBJECTS series (1Q2017) | TALISMANIC OBJECTS series (2Q2017) | ILLICIT OBJECTS series (3Q2017) | LOST OBJECTS vol. 1 series (4Q2017) | FLAIR series (2Q2018) | FOSSIL series (4Q2018) | FETISHES series (2Q2019) | LOST OBJECTS vol. 2 series (4Q2019) | MOVIE OBJECTS series (2Q2020). ALSO SEE: SIGNIFICANT OBJECTS website | SIGNIFICANT OBJECTS collection, ed. Rob Walker and Josh Glenn (Fantagraphics, 2012) | TAKING THINGS SERIOUSLY, ed. Josh Glenn (Princeton Architectural Press, 2007) | TAKING THINGS SERIOUSLY excerpts.