ILLICIT OBJECTS (4)
By: Tito Bottitta
July 4, 2017
One in a 25-part series of nonfiction stories about objects of illicit significance. This is the third volume in the PROJECT:OBJECT series. Please subscribe to the P:O newsletter; and purchase P:O apparel and accessories — all profits will be donated to the ACLU!
*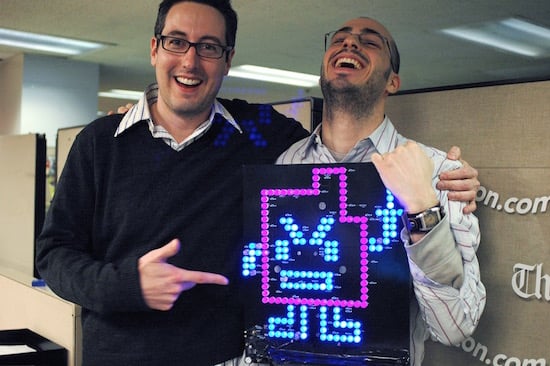 The city shut down the trains for an entire day. Politicians held somber press conferences. The police were out in full force, trying to find every last one. Hoax devices they called 'em, once they'd decided that they weren't bombs — as though they were supposed to look like bombs, which they didn't.
I was 26, working in new media for the old media (The Boston Globe). When they finally posted a photo, my younger colleagues and I went, "Aha! Aqua Teen Hunger Force." It's this late-night cartoon starring a milkshake, a meatball, and, sometimes, the Mooninites.
How did these Mooninite lite-brite devices end up all over Boston? While the authorities scratched their heads, we googled — and quickly discovered that the whole thing was a movie promotion. Guerilla marketing, very DIY. A Charlestown-based artist named Zebbler had been hired to assemble the devices by hand. He and a partner then careened all over Boston, posting twenty Mooninite devices in high-traffic, hard-to-reach places; they proudly posted photos of their exploits to Zebbler's website.
Based on this evidence, I put together a map of the Mooninite devices — for the Globe website. I pieced together the locations from context clues in the photos: a street sign, a restaurant, a record store I could just make out in the corner of the image. By the time I'd finished and posted the map online, it was midnight. The city's hysteria had turned to anger; the cops had arrested Zebbler. I climbed into my old Toyota.
Rolling slowly through the streets, I followed Zebbler's trail. Davis. Porter. Central. Over the river and past the Smoots. Boston was still crawling with cops; blue and red lights smeared across the car's windows. Comm Ave. Kenmore. No luck anywhere — had they already found all twenty? And then, on the side of Boston University's Global Studies Building, I spotted a purple glow. Was it? Yes! The last motherfucking Mooninite.
Man, it's high up there. Shit, those cops are close. All right — just be discreet. Walk over there, casual-like. I'm just going to grab this big ol' traffic cone, maybe I can knock it down. Not working — that thing is stuck strong. What else can I use around here? There's a tall city garbage can. Remove the garbage bag, flip the can upside down, climb on top. Grab the traffic cone and try again. Scriiiiiitch. It's coming down. Scriiiiiitch. C'mon c'mon c'mon. Scriiiiiiiiiii — got it.
I dropped the cone, jumped down from the trash can, pulled my coat over the glowing Mooninite in an effort to conceal it — but you could still see its glow — and raced to my car. Slipped behind the wheel and I was gone.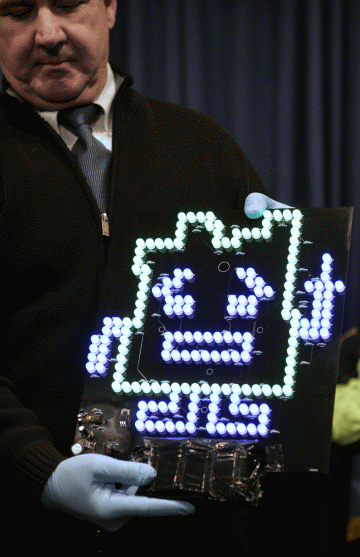 *
ILLICIT OBJECTS series: INTRODUCTION | Kio Stark on PEEPSHOW TOKEN | Sari Wilson on TOMBSTONE PARTS | Annalee Newitz on CAR-BOMB REMNANT | Tito Bottitta on MOONINITE DEVICE | Eric Bennett on DIRTY MAGAZINE | Natalie Kestecher on EROTIC RECORDING (audio) | Wayne Chambliss on RADIOACTIVE TRINITITE | Julian Hoeber on PIG HAMMER | Catherine Newman on HOARDED VICODIN | Josh Glenn on JAY-PEE SLUGGER | Nicole Pasulka on SHROOMS (audio) | Paul Lukas on STOLEN CORKSCREW | Shelby El Otmani on OCCULT CANDLE (audio) | Sam Dingman on HACK DOCUMENTS (audio) | Andrew Leland on GUIDE CANE (audio) | Douglas Rushkoff on LEARY'S STASH BOX | Kalila Holt on BURNT UNDERWEAR (audio) | William Gibson on RACIST BOOK | Alison Fensterstock on FUNERAL FLOWER | Julia Barton on PREGNANCY TEST (audio) | Miranda Mellis on GOLD TEETH | Katie Notopoulos on COPULATING PIGS | Ramona Martinez on STOLEN REMNANT (audio) | Wesley Stace on TOM WAITS NOTE | Mike Montiero on BO DEREK CARDS.
TALISMANIC OBJECTS series: INTRODUCTION | Veda Hille on CROCHET SHEEP | Gary Panter on DINOSAUR BONES | Jami Attenberg on SELENITE CRYSTAL | Annie Nocenti on MINIATURE DICE | Wayne Curtis on CLOCK WINDING KEY | & 20 MORE.
POLITICAL OBJECTS series: INTRODUCTION | Luc Sante on CAMPAIGN PAMPHLETS | Lydia Millet on PVC POLAR BEAR | Ben Greenman on MATCHBOX CAR | Rob Baedeker on PRESIDENTS PLACEMAT | L.A. Kauffman on WHEATPASTE POSTER | & 20 MORE.
SIGNIFICANT OBJECTS at HILOBROW: PROJECT:OBJECT homepage | PROJECT:OBJECT newsletter | PROJECT:OBJECT objects (Threadless shop — all profits donated to the ACLU) | POLITICAL OBJECTS series (1Q2017) | TALISMANIC OBJECTS series (2Q2017) | ILLICIT OBJECTS series (3Q2017) | LOST OBJECTS vol. 1 series (4Q2017) | FLAIR series (2Q2018) | FOSSIL series (4Q2018). 12 DAYS OF SIGNIFICANCE | 12 MORE DAYS OF SIGNIFICANCE | 12 DAYS OF SIGNIFICANCE (AGAIN) | ANOTHER 12 DAYS OF SIGNIFICANCE . ALSO SEE: SIGNIFICANT OBJECTS website | SIGNIFICANT OBJECTS collection, ed. Rob Walker and Josh Glenn (Fantagraphics, 2012) | TAKING THINGS SERIOUSLY, ed. Josh Glenn (Princeton Architectural Press, 2007) | TAKING THINGS SERIOUSLY excerpts.