ILLICIT OBJECTS (5)
By: Eric Bennett
July 6, 2017
One in a 25-part series of nonfiction stories about objects of illicit significance. This is the third volume in the PROJECT:OBJECT series. Please subscribe to the P:O newsletter; and purchase P:O apparel and accessories — all profits will be donated to the ACLU!
*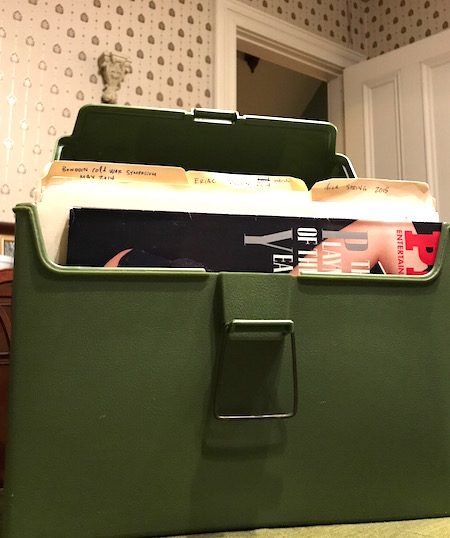 Last summer, at the end of my sabbatical, my car died on the drive from Michigan to Rhode Island. It died in a city where an ex-girlfriend lives. I'll call her Minerva. She had settled there since our breakup a decade earlier. Now, both at turning points, biding farewell to youth, we briefly gave it one last shot — an experiment doomed to fail. Minerva was more professional, mature, and sure of her desires than I was. This had not changed since 2008.
Minerva lived in a not-great neighborhood, so I unloaded my junk into her living room. Then I bought a ticket to Michigan, where my dad's friend had a car for sale. I would buy it, drive it back, and donate the dead one to NPR. It was a fine plan, except for one thing, a Playboy.
I had gone through puberty as Gorbachev was dismantling Communism. Internet porn did not exist. My childhood home was hardly private enough for videotapes. And even magazines were hard to come by. My father, preaching sermons to farmers, was not the type to subscribe to Hustler. The brothers of guys from the bus might hook me up. But my main resort was, weirdly, to farmland. Vigilant by woods and creek, I sometimes found a discarded glossy not yet decimated by rain.
Therefore, in young adulthood, between girlfriends, I celebrated escaping adolescent powerlessness by buying a magazine now and then. You don't have to do this often to amass, over the years, a real stash. By the time I dated Minerva, my twenties were ending. But the stash persisted. And, as we were breaking up, she stumbled across it. And she feigned good humor. But there was more shame and embarrassment than laughter as we made a purge.
So, last summer. NPR wanted the title to the car.
"Where's the title?" Minerva asked.
The title was in a box at the college I teach at, three states away. Next to the Playboy, if I remembered correctly. Unlike all those past magazines, this one I owned because it featured fiction by David Foster Wallace.
"In my office? I think? But what if I left the car where it is for now?"
"Let's get it donated," Minerva said. "Call the secretary. She'll mail the title."
"Moral turpitude" is grounds for dismissal according to my contract. The college is Catholic. The secretary got married as Kennedy was trying to dismantle Communism. I pictured her searching through my files and discovering Playmate of the Year 1988.
Alternatively, I pictured explaining all this to Minerva. Three generations of American men, with decreasing plausibility, had claimed they read Playboy for the articles. Plus, our history.
I called the secretary.
"If I don't call back, I've found it," she said cheerfully.
I called again ten minutes later. "Find it?"
"Yes," she said. "Right here."
The Playmate, raising her arms, draws a black camisole upward across her breasts. Could I hear traces of this image in the secretary's voice? I found out two weeks later. The Playboy was in a different box, with my coffee maker.
*
ILLICIT OBJECTS series: INTRODUCTION | Kio Stark on PEEPSHOW TOKEN | Sari Wilson on TOMBSTONE PARTS | Annalee Newitz on CAR-BOMB REMNANT | Tito Bottitta on MOONINITE DEVICE | Eric Bennett on DIRTY MAGAZINE | Natalie Kestecher on EROTIC RECORDING (audio) | Wayne Chambliss on RADIOACTIVE TRINITITE | Julian Hoeber on PIG HAMMER | Catherine Newman on HOARDED VICODIN | Josh Glenn on JAY-PEE SLUGGER | Nicole Pasulka on SHROOMS (audio) | Paul Lukas on STOLEN CORKSCREW | Shelby El Otmani on OCCULT CANDLE (audio) | Sam Dingman on HACK DOCUMENTS (audio) | Andrew Leland on GUIDE CANE (audio) | Douglas Rushkoff on LEARY'S STASH BOX | Kalila Holt on BURNT UNDERWEAR (audio) | William Gibson on RACIST BOOK | Alison Fensterstock on FUNERAL FLOWER | Julia Barton on PREGNANCY TEST (audio) | Miranda Mellis on GOLD TEETH | Katie Notopoulos on COPULATING PIGS | Ramona Martinez on STOLEN REMNANT (audio) | Wesley Stace on TOM WAITS NOTE | Mike Montiero on BO DEREK CARDS.
TALISMANIC OBJECTS series: INTRODUCTION | Veda Hille on CROCHET SHEEP | Gary Panter on DINOSAUR BONES | Jami Attenberg on SELENITE CRYSTAL | Annie Nocenti on MINIATURE DICE | Wayne Curtis on CLOCK WINDING KEY | & 20 MORE.
POLITICAL OBJECTS series: INTRODUCTION | Luc Sante on CAMPAIGN PAMPHLETS | Lydia Millet on PVC POLAR BEAR | Ben Greenman on MATCHBOX CAR | Rob Baedeker on PRESIDENTS PLACEMAT | L.A. Kauffman on WHEATPASTE POSTER | & 20 MORE.
SIGNIFICANT OBJECTS at HILOBROW: PROJECT:OBJECT homepage | PROJECT:OBJECT newsletter | PROJECT:OBJECT objects (Threadless shop — all profits donated to the ACLU) | POLITICAL OBJECTS series (1Q2017) | TALISMANIC OBJECTS series (2Q2017) | ILLICIT OBJECTS series (3Q2017) | LOST OBJECTS vol. 1 series (4Q2017) | FLAIR series (2Q2018) | FOSSIL series (4Q2018). 12 DAYS OF SIGNIFICANCE | 12 MORE DAYS OF SIGNIFICANCE | 12 DAYS OF SIGNIFICANCE (AGAIN) | ANOTHER 12 DAYS OF SIGNIFICANCE . ALSO SEE: SIGNIFICANT OBJECTS website | SIGNIFICANT OBJECTS collection, ed. Rob Walker and Josh Glenn (Fantagraphics, 2012) | TAKING THINGS SERIOUSLY, ed. Josh Glenn (Princeton Architectural Press, 2007) | TAKING THINGS SERIOUSLY excerpts.