FLAIR (5)
By: Paola Antonelli
May 14, 2018
The fifth PROJECT:OBJECT volume is a 25-part series of true stories about significant accoutrements, appurtenances, and regalia.
*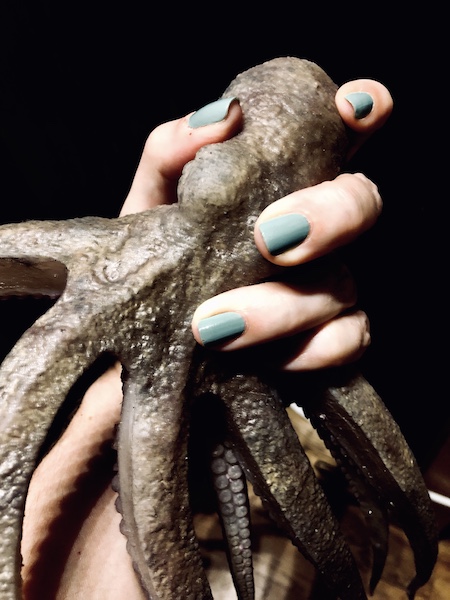 My dad had brought a magazine back from one of his trips abroad to speak at medical congresses. That's where I first saw it, in an advertisement for a Japanese TV set, worn by an impossibly thin, gorgeously tanned, devastatingly elegant young model with long, straight dark-blonde hair (with bangs), wearing an Emilio Pucci ensemble. Or so I imagined. All one could see in the ad was her left wrist coming into frame from the bottom of the page, sensuously holding a rather unsexy and boxy remote control. The object of my obsession was the nail polish: the color and translucency of jade, it was spellbinding. In a conservative world of nudes, vermilions, and carmines, it was nothing I had ever seen before, and nothing I would ever forget.
I started painting my nails rather late, at age sixteen. As a teen-ager, I really loved makeup, loads of it. My sin was quantity, not simply quality. My parents did not approve, so I would use the 12-story ride in the slowest elevator in Milan to go from normcore to Siouxsie. Still, even when I shaved my hair on one side, I stuck to red polish. I have long hands and I wanted to show them off and be pretty.
New York liberated me in so many ways, from head to fingertips. I moved in 1994, and I took to nail salons with abandon, drunk with possibility (and criminally ignorant of labor violations). I started to experiment timidly at first with golds and metallic forest greens that almost looked brown. And then I found my obsession.
When most people think of jade polish, they think of Chanel, which introduced the legendary Jade shade in 2009. My favorite salon did not offer the brand, however, and purchasing the expensive bottle was too much of a commitment. Also, frankly, it was too earnest, too easy, too westernized. Mermaid Tears, on the other hand, was pure poetry of title and color. It was introduced by O.P.I. in 2011, part of the "Pirates of the Caribbean" collection. It was the perfect tone of jade, dusty, opium-infused, murky enough as to hold a comparison with the water of the canals in Venice — as my beloved friend Aric Chen noted one Biennale evening, while we were smoking and drinking on a balcony near Rialto. Also, since it was O.P.I., I could find it in nail salons. That did not stop me from buying several bottles, which I still keep in my fridge, after so many years, and apply very sparingly.
The rest is history. I have worn it innumerable times, mentioned it in lectures during tech-trouble lulls, used it as inspiration for an unpublished essay on names of cosmetics (my favorite still is "…but, officer!" for a lovely shade of coral lipstick), tested colors and expanded my lexicon. Now I also like darker, brilliant emerald hues. I have come to regard green as the new red, still exotic but classy, classic, universally impeccable. Who knows what could have been had I encountered the right shade earlier in life?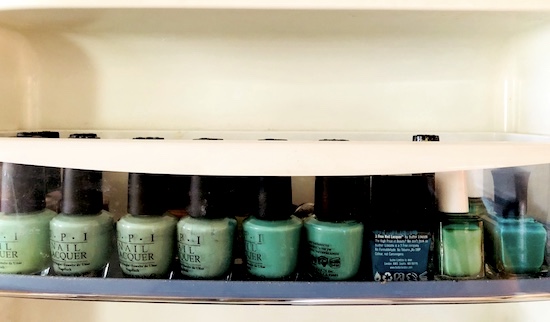 *
FLAIR: INTRODUCTION | Cliff Kuang on ROLEX DATEJUST | Ethan Zuckerman on LAPTOP STICKERS | Ann Shoket on LEATHER JACKET | Kembrew McLeod on KEMBREW MERCH | Paola Antonelli on MERMAID TEARS | Kanishka Raja on HANDMADE JACKET | Lynn Peril on BASEBALL RING | Rob Horning on NOTE PAD | Alexandra Lange on BEAD NECKLACE | Stephanie Burt on D&D EARRINGS | Michael Bierut on FEDORA | Debbie Millman on CHARM | Abram Himelstein on LUCKY 7 RING | Deb Chachra on HANDWRAPS | Jennifer Howze on HOLD-UP STOCKINGS | Mark Frauenfelder on CLARK KENT GLASSES | Adam McGovern on PLASTIC ALLIGATOR SHOES | Nicola Twilley on GOLD BRACES | Anne Quito on MUSEUM EARRINGS | Kristin Parker on STEEL BRACELET | Hillary Chute on POCKET KNIFE | James Gaddy on RESTAURANT PEN | Davy Rothbart on SHOELACE BELT | David Hajdu on PINCE-NEZ | Bishakh Som on KNEE-HIGH BOOTS.
LOST OBJECTS (vol. 1): INTRODUCTION | Kate Bernheimer on MULLET WIG (ill. Amy Evans) | Dan Piepenbring on COLOGNE (ill. Josh Neufeld) | Doug Dorst on STRATOCASTER (ill. John Holbo) | Paul Lukas on VANILLA BEAN (ill. Allison Bamcat) | Mimi Lipson on DODGE DART (ill. Mister Reusch) | & 20 MORE.
ILLICIT OBJECTS: INTRODUCTION | Kio Stark on PEEPSHOW TOKEN | Sari Wilson on TOMBSTONE PARTS | Annalee Newitz on CAR-BOMB REMNANT | Tito Bottitta on MOONINITE DEVICE | Eric Bennett on DIRTY MAGAZINE | & 20 MORE.
TALISMANIC OBJECTS: INTRODUCTION | Veda Hille on CROCHET SHEEP | Gary Panter on DINOSAUR BONES | Jami Attenberg on SELENITE CRYSTAL | Annie Nocenti on MINIATURE DICE | Wayne Curtis on CLOCK WINDING KEY | & 20 MORE.
POLITICAL OBJECTS: INTRODUCTION | Luc Sante on CAMPAIGN PAMPHLETS | Lydia Millet on PVC POLAR BEAR | Ben Greenman on MATCHBOX CAR | Rob Baedeker on PRESIDENTS PLACEMAT | L.A. Kauffman on WHEATPASTE POSTER | & 20 MORE.
SIGNIFICANT OBJECTS at HILOBROW: PROJECT:OBJECT homepage | PROJECT:OBJECT newsletter | PROJECT:OBJECT objects (Threadless shop — all profits donated to the ACLU) | POLITICAL OBJECTS series (1Q2017) | TALISMANIC OBJECTS series (2Q2017) | ILLICIT OBJECTS series (3Q2017) | LOST OBJECTS vol. 1 series (4Q2017) | FLAIR series (2Q2018) | FOSSIL series (4Q2018) | FETISHES series (2Q2019) | LOST OBJECTS vol. 2 series (4Q2019) | MOVIE OBJECTS series (2Q2020). ALSO SEE: SIGNIFICANT OBJECTS website | SIGNIFICANT OBJECTS collection, ed. Rob Walker and Josh Glenn (Fantagraphics, 2012) | TAKING THINGS SERIOUSLY, ed. Josh Glenn (Princeton Architectural Press, 2007) | TAKING THINGS SERIOUSLY excerpts.