PROJECT:OBJECTIONABLE (24)
By: Mimi Lipson
December 21, 2021
One in a series of 25 first-person narratives of offense, outrage, innocent transgression or principled affront, in attire, display, speech or spectacle.
*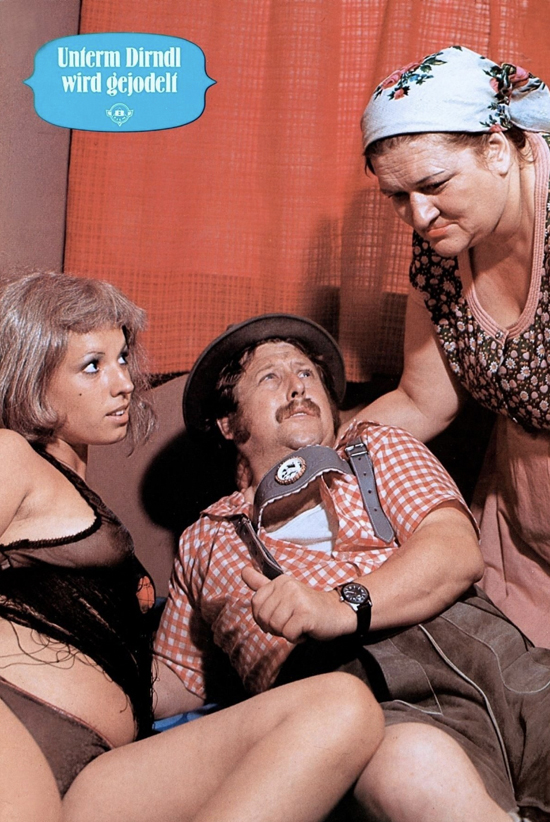 MEIN KITSCH
Driving south on the 110 through Torrance, California, you might spot a sign in the shape of a cottage with red gingerbread trim, inviting you to "Visit Alpine Village." It's one of those Los Angeles freeway apparitions that whiz past in broad daylight—something to notice and wonder about for a few seconds. I moved to town in the early aughts, and after I'd noticed and wondered about the Alpine Village sign a few times, I mentioned it to a friend, a native of Orange County. His face lit up. Alpine Village was a landmark, he said, ticking off the names of bands who had played there in the seventies and eighties. Black Flag, Minutemen, the Germs. I had to see it for myself, though.
So it was that I found myself pushing a cart down a fluorescent-lit aisle in the Alpine Market, pausing to compare brands of black currant syrup. In the adjoining cafeteria, where I got schnitzel and vinegary cucumber-dill salad, my friend commented on the genuine Muzak(tm). Next, we stopped in at the cavernous beer hall where the Dead Kennedys had played. A small gathering of senior citizens were dancing to recorded polka music. A poster advertised an upcoming event with Siegfried and Roy.
I'm sure Alpine Village didn't have a website in 2001, and there were definitely no apple-cheeked youth in dirndls and lederhosen skipping hand in hand through the village square, but this video does an adequate job of capturing the sunblasted Hansel-und-Gretel vibe and the oddball collection of businesses. Imagine getting your teeth drilled in a mock-Tudor shack with a giant gnome on its stucco façade. There it is: the note of menace that intrudes upon any spectacle of German kitsch, inviting black humor and inspiring S&M costumery. This is not the case with parking-lot Italian fests or Chinatown gift shops, and we all know why. They knew why in 1968, when Alpine Village opened, which only enhances the undercurrent of transgression.
Between a gift shop offering Tyrolean hats and a shoe store that sold sturdy West German deadstock was the Collector's Gallery. The signage featured an Austrian coat of arms and advertised, in gothic lettering, "Bronzes. Arms. Antiques." The shelf displays within held a few obligatory Hummels and beer steins, but the glass-top cases were stocked entirely with military memorabilia: Prussian swords, antique lugers, spiked WWI helmets, Iron Cross medals with and without swastikas. The proprietor didn't greet us or even make eye contact. Taped to the wall behind him was a cardboard sign saying NO PHOTOGRAPHS. My friend nudged me and pointed at a bronze bust of Hitler sitting on the counter by the register. Maybe I'd missed it because it was only about nine inches tall. You know, subtle.
Image, above: Concurrent with the early years of Alpine Village, the real Bavaria was booming with a cottage industry exemplified by this promo for (translated roughly) There's Yodeling Under the Dirndl (1974), part of the "Lederhosen Porn" film genre whose significance is lost in exportation.

*
PROJECT:OBJECTIONABLE: INTRODUCTION by Adam McGovern | Adrienne Crew on MAKIN' BACON | Lynn Peril on BABY'S FIRST ASHTRAY | Lisa Levy on TOILETTE-À-TÊTE | Maria Swisher on STEALING GENIUS | Oliver Baer on CTHULHU SEX MAGAZINE | Yelena Tylkina on A DRINK TO DEATH | Elke Claus on URINAL SHRINE | Jeff Lewonczyk on SUSPENDERS OF DISBELIEF | Jenn Mehm on TWIN SKIN | Marlon Stern Lopez on SOUVENIR OF THE LAPD | Lauren Curtis on NAILED IT! | Josh Glenn on K-TEL TRUCKER TAPE | Fran Pado on THE BRIEF LIFE OF FRANCES POTTER | Nikhil Singh on HASHTAG FASHIONPOLICEPROBLEMS | Adam McGovern on PERSONA NON GRATA | Crystal Durant on LICENSE TO SHOCK | Dean Haspiel on DIRTY DOORKNOB | Justin J Bowen on UNKLE KRAMPUS | Annie Nocenti on STICKY FINGERS | Michele Carlo on THE MANY HATS OF CARMEN MOFONGO | Alice Meichi Li on BEDTIME FOR CATWOMAN | Whitney Matheson on GYNECOLOGICAL GOODFELLA | Ran Xia on PROJECT GREENCARD | Mimi Lipson on MEIN KITSCH | Art Wallace on ELECTRIC KOCH.
*
SEMIO OBJECTS: Lucia Laurent-Neva on SPONGEBOB BUS | Samuel Grange on SALT & PEPPER HOLDER| Ximena Tobi on VASALISA | Sónia Marques on CABBAGE TUREEN | Thierry Mortier on BICYCLE BELL | & 20 MORE.
MOVIE OBJECTS: INTRODUCTION | Ramona Lyons on EYE OF THE SERPENT (CONAN THE BARBARIAN) | Faythe Levine on BEDKNOB (BEDKNOBS AND BROOMSTICKS) | Gerald Peary on CUP OF COFFEE (THE BIG HEAT) | Christopher Orr on TOM'S HAT (MILLER'S CROSSING) | Lynn Peril on TRANSISTOR RADIO (DR. STRANGELOVE) | & 20 MORE.
LOST OBJECTS (vol. 2): INTRODUCTION | Joe Yonan on MACRAMÉ ART (ill. Theo Ellsworth) | Ben Katchor on LUCITE CARRYING CASE | Debbie Millman on GLASS POODLE | Lydia Millet on ROCKY HORROR NOVEL (ill. Berta Valló) | Ben Greenman on WARHOL CAN (ill. Clara Selina Bach) | & 20 MORE.
FETISHES: INTRODUCTION | Josh Foer on DEATH MASK | Beth Lisick on MURDERED-OUT KFC BUCKET | Christina Couch on LEECH ACTION FIGURE | Kenneth Goldsmith on THEWLIS SOCK | Abby Rapoport on MAGNATILES | & 20 MORE.
FOSSILS: INTRODUCTION | Allegra Huston on SKATAWAY JACKET | Kevin Obsatz on HOMEMADE NUNCHUKS | Ian Bogost on DESKTOP TELEPHONE | Jeff Lewonczyk on CHA-CHA JACKET SCRAP | Kelly Horan on VOLVO KEY | & 20 MORE.
FLAIR: INTRODUCTION | Cliff Kuang on ROLEX DATEJUST | Ethan Zuckerman on LAPTOP STICKERS | Ann Shoket on LEATHER JACKET | Kembrew McLeod on KEMBREW MERCH | Paola Antonelli on MERMAID TEARS | & 20 MORE.
LOST OBJECTS (vol. 1): INTRODUCTION | Kate Bernheimer on MULLET WIG (ill. Amy Evans) | Dan Piepenbring on COLOGNE (ill. Josh Neufeld) | Doug Dorst on STRATOCASTER (ill. John Holbo) | Paul Lukas on VANILLA BEAN (ill. Allison Bamcat) | Mimi Lipson on DODGE DART (ill. Mister Reusch) | & 20 MORE.
ILLICIT OBJECTS: INTRODUCTION | Kio Stark on PEEPSHOW TOKEN | Sari Wilson on TOMBSTONE PARTS | Annalee Newitz on CAR-BOMB REMNANT | Tito Bottitta on MOONINITE DEVICE | Eric Bennett on DIRTY MAGAZINE | & 20 MORE.
TALISMANIC OBJECTS: INTRODUCTION | Veda Hille on CROCHET SHEEP | Gary Panter on DINOSAUR BONES | Jami Attenberg on SELENITE CRYSTAL | Annie Nocenti on MINIATURE DICE | Wayne Curtis on CLOCK WINDING KEY | & 20 MORE.
POLITICAL OBJECTS: INTRODUCTION | Luc Sante on CAMPAIGN PAMPHLETS | Lydia Millet on PVC POLAR BEAR | Ben Greenman on MATCHBOX CAR | Rob Baedeker on PRESIDENTS PLACEMAT | L.A. Kauffman on WHEATPASTE POSTER | & 20 MORE.
ALSO SEE: PROJECT:OBJECT homepage | POLITICAL OBJECTS (1Q2017) | TALISMANIC OBJECTS (2Q2017) | ILLICIT OBJECTS (3Q2017) | LOST OBJECTS vol. 1 (4Q2017) | FLAIR (2Q2018) | FOSSILS (4Q2018) | FETISHES (2Q2019) | LOST OBJECTS vol. 2 (4Q2019) | MOVIE OBJECTS (2Q2020) | SEMIO OBJECTS (2Q2021) | SIGNIFICANT OBJECTS (cross-posted from Significant Objects website). ALSO SEE: SIGNIFICANT OBJECTS website | LOST OBJECTS (Hat & Beard Press, 2022) | SIGNIFICANT OBJECTS collection, ed. Rob Walker and Josh Glenn (Fantagraphics, 2012) | TAKING THINGS SERIOUSLY, ed. Josh Glenn (Princeton Architectural Press, 2007) | TAKING THINGS SERIOUSLY excerpts.