PROJECT:OBJECTIONABLE (19)
By: Annie Nocenti
December 4, 2021
One in a series of 25 first-person narratives of offense, outrage, innocent transgression or principled affront, in attire, display, speech or spectacle.
*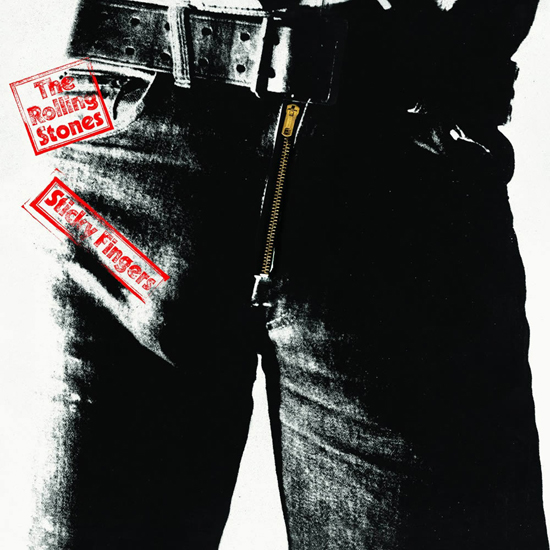 STICKY FINGERS
When I was a kid I saved up my babysitting cash to buy LPs. First up were Jimi Hendrix's 1971 Cry of Love, and The Rolling Stones' 1971 Sticky Fingers. The Stones' cover featured a grainy black and white close shot on a man's hips in tight jeans, wide belt, bulge at the crotch, and a real, working zipper you could pull right down. The inside sleeve debuted the fat red lips and lolling tongue which would become The Stones' signature logo. Sticky fingers, crotch, tongue. It's quite a package. One my parents disapproved of. The reigning hedonistic cry of the counter-culture — "sex, drugs & rock 'n' roll" — terrified conservative America. I didn't see the problem with it. A yank down on the zipper revealed… nothing really. The tighty-whities of underwear. The white of possibility. My parents confiscated the cover, but let me keep the record. The songs were salacious ("Brown Sugar"), druggy ("Sister Morphine"), and had a dreamy, sated weariness to them. I wanted to have so much experience that I, too, would be sated.
My young mind felt, more than understood, the injustice of censorship. In some ways it was a joke cover. The design was overt in signaling a sexual revolution. It seems so benign today. The cover was designed by Andy Warhol, with Craig Braun; the tongue logo by John Pasche. Warhol had already designed a "peelable" banana cover in 1967 for The Velvet Underground & Nico. The un-peelable underwear of the Stones' cover sported Warhol's gold signature logo. The underwear model was rumored to be Warhol's lover. Warhol, openly gay, was in on the joke. The red ink stamps of the cover text implied "censored." And censored it was, in Franco's Spain, where the cover was replaced by a revolting image of a can of sticky fingers. A Russian version from 1992 switched out the bulge for a crotchless model, and added a Soviet hammer and sickle to the belt buckle.
The original cover, with the real zipper, was expensive to produce, damaged the vinyl record, and was eventually replaced with a zipless crotch. By that time Erica Jong had coined the phrase "zipless fuck" in her book Fear of Flying, a response to uptight America. "Zippers fell away like rose petals," wrote Jong, "…underwear blew off in one breath like dandelion fluff."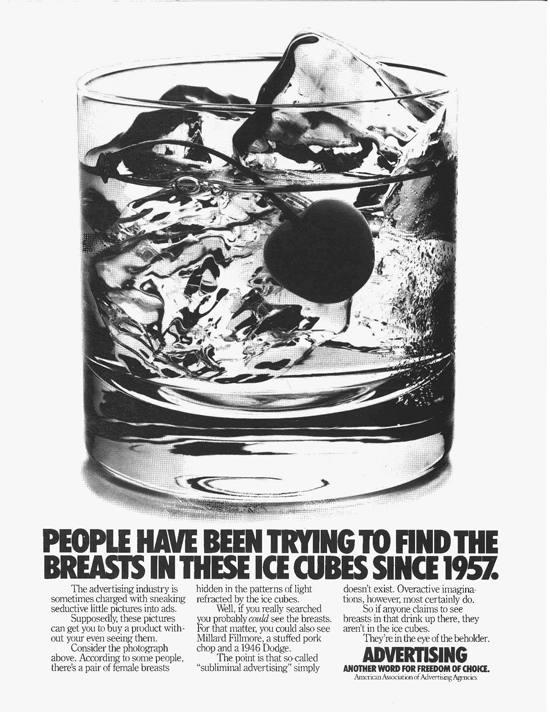 The Stones cover was certainly cocky, but at a time when implications of sex were commonly encoded into mainstream advertising, why did it inspire controversy? After all, it was honest and straightforward in its raunchy suggestiveness. The subliminal semiotics which now inform advertising was just a baby-science back then. Big Tobacco sold their death sticks with images of flirting couples and healthy sports, a duplicitous alignment which matched cigarettes with wholesomeness. Which notion is the obscenity?
In 1972 photographer Robert Frank went on the road with the Stones and shot intimate footage of their shenanigans. Cameras were passed around to anyone who felt like shooting. The film, titled after a deleted track on the album, Cocksucker Blues, is a casual, masterful tarnishing of the lusty sheen of the Stones. The swagger of Mick Jagger and pals veers into contortion, they look like promenading lizards as they preen, shoot up, toss groupies around, nod out. The film sucked the glam right out of sex, drugs & rock 'n' roll. The record label suppressed the film, only to be seen in rare screenings or on a contraband VHS, sold in the street — the faded, grainy, over-copied bootleg only adding to the ghostly allure of the film.
The album was a mega-hit. The original zip cover package can be found on eBay for over a grand. Wish I still had mine.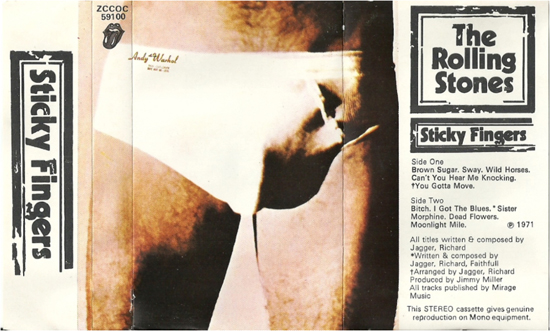 Images (top to bottom): Original vinyl album cover; period ad denying subliminal marketing in…ads; unfolded cover to a UK cassette version which, when seen on store shelves, left "Andy Warhol" as the only words on front or side.
*
PROJECT:OBJECTIONABLE: INTRODUCTION by Adam McGovern | Adrienne Crew on MAKIN' BACON | Lynn Peril on BABY'S FIRST ASHTRAY | Lisa Levy on TOILETTE-À-TÊTE | Maria Swisher on STEALING GENIUS | Oliver Baer on CTHULHU SEX MAGAZINE | Yelena Tylkina on A DRINK TO DEATH | Elke Claus on URINAL SHRINE | Jeff Lewonczyk on SUSPENDERS OF DISBELIEF | Jenn Mehm on TWIN SKIN | Marlon Stern Lopez on SOUVENIR OF THE LAPD | Lauren Curtis on NAILED IT! | Josh Glenn on K-TEL TRUCKER TAPE | Fran Pado on THE BRIEF LIFE OF FRANCES POTTER | Nikhil Singh on HASHTAG FASHIONPOLICEPROBLEMS | Adam McGovern on PERSONA NON GRATA | Crystal Durant on LICENSE TO SHOCK | Dean Haspiel on DIRTY DOORKNOB | Justin J Bowen on UNKLE KRAMPUS | Annie Nocenti on STICKY FINGERS | Michele Carlo on THE MANY HATS OF CARMEN MOFONGO | Alice Meichi Li on BEDTIME FOR CATWOMAN | Whitney Matheson on GYNECOLOGICAL GOODFELLA | Ran Xia on PROJECT GREENCARD | Mimi Lipson on MEIN KITSCH | Art Wallace on ELECTRIC KOCH.
*
SEMIO OBJECTS: Lucia Laurent-Neva on SPONGEBOB BUS | Samuel Grange on SALT & PEPPER HOLDER| Ximena Tobi on VASALISA | Sónia Marques on CABBAGE TUREEN | Thierry Mortier on BICYCLE BELL | & 20 MORE.
MOVIE OBJECTS: INTRODUCTION | Ramona Lyons on EYE OF THE SERPENT (CONAN THE BARBARIAN) | Faythe Levine on BEDKNOB (BEDKNOBS AND BROOMSTICKS) | Gerald Peary on CUP OF COFFEE (THE BIG HEAT) | Christopher Orr on TOM'S HAT (MILLER'S CROSSING) | Lynn Peril on TRANSISTOR RADIO (DR. STRANGELOVE) | & 20 MORE.
LOST OBJECTS (vol. 2): INTRODUCTION | Joe Yonan on MACRAMÉ ART (ill. Theo Ellsworth) | Ben Katchor on LUCITE CARRYING CASE | Debbie Millman on GLASS POODLE | Lydia Millet on ROCKY HORROR NOVEL (ill. Berta Valló) | Ben Greenman on WARHOL CAN (ill. Clara Selina Bach) | & 20 MORE.
FETISHES: INTRODUCTION | Josh Foer on DEATH MASK | Beth Lisick on MURDERED-OUT KFC BUCKET | Christina Couch on LEECH ACTION FIGURE | Kenneth Goldsmith on THEWLIS SOCK | Abby Rapoport on MAGNATILES | & 20 MORE.
FOSSILS: INTRODUCTION | Allegra Huston on SKATAWAY JACKET | Kevin Obsatz on HOMEMADE NUNCHUKS | Ian Bogost on DESKTOP TELEPHONE | Jeff Lewonczyk on CHA-CHA JACKET SCRAP | Kelly Horan on VOLVO KEY | & 20 MORE.
FLAIR: INTRODUCTION | Cliff Kuang on ROLEX DATEJUST | Ethan Zuckerman on LAPTOP STICKERS | Ann Shoket on LEATHER JACKET | Kembrew McLeod on KEMBREW MERCH | Paola Antonelli on MERMAID TEARS | & 20 MORE.
LOST OBJECTS (vol. 1): INTRODUCTION | Kate Bernheimer on MULLET WIG (ill. Amy Evans) | Dan Piepenbring on COLOGNE (ill. Josh Neufeld) | Doug Dorst on STRATOCASTER (ill. John Holbo) | Paul Lukas on VANILLA BEAN (ill. Allison Bamcat) | Mimi Lipson on DODGE DART (ill. Mister Reusch) | & 20 MORE.
ILLICIT OBJECTS: INTRODUCTION | Kio Stark on PEEPSHOW TOKEN | Sari Wilson on TOMBSTONE PARTS | Annalee Newitz on CAR-BOMB REMNANT | Tito Bottitta on MOONINITE DEVICE | Eric Bennett on DIRTY MAGAZINE | & 20 MORE.
TALISMANIC OBJECTS: INTRODUCTION | Veda Hille on CROCHET SHEEP | Gary Panter on DINOSAUR BONES | Jami Attenberg on SELENITE CRYSTAL | Annie Nocenti on MINIATURE DICE | Wayne Curtis on CLOCK WINDING KEY | & 20 MORE.
POLITICAL OBJECTS: INTRODUCTION | Luc Sante on CAMPAIGN PAMPHLETS | Lydia Millet on PVC POLAR BEAR | Ben Greenman on MATCHBOX CAR | Rob Baedeker on PRESIDENTS PLACEMAT | L.A. Kauffman on WHEATPASTE POSTER | & 20 MORE.
ALSO SEE: PROJECT:OBJECT homepage | POLITICAL OBJECTS (1Q2017) | TALISMANIC OBJECTS (2Q2017) | ILLICIT OBJECTS (3Q2017) | LOST OBJECTS vol. 1 (4Q2017) | FLAIR (2Q2018) | FOSSILS (4Q2018) | FETISHES (2Q2019) | LOST OBJECTS vol. 2 (4Q2019) | MOVIE OBJECTS (2Q2020) | SEMIO OBJECTS (2Q2021) | SIGNIFICANT OBJECTS (cross-posted from Significant Objects website). ALSO SEE: SIGNIFICANT OBJECTS website | LOST OBJECTS (Hat & Beard Press, 2022) | SIGNIFICANT OBJECTS collection, ed. Rob Walker and Josh Glenn (Fantagraphics, 2012) | TAKING THINGS SERIOUSLY, ed. Josh Glenn (Princeton Architectural Press, 2007) | TAKING THINGS SERIOUSLY excerpts.