PROJECT:OBJECTIONABLE (2)
By: Lynn Peril
October 7, 2021
One in a series of 25 first-person narratives of offense, outrage, innocent transgression or principled affront, in attire, display, speech or spectacle.
*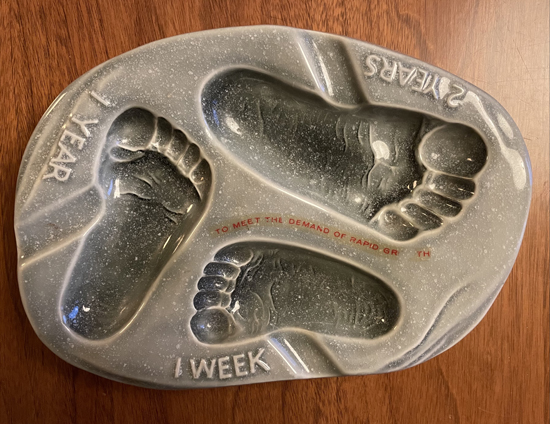 BABY'S FIRST ASHTRAY
I bought it at a friend's garage sale. Attracted at first by its mid-century amoeboid shape, I spent a few moments trying to puzzle out what I was looking at. There were deep and detailed depressions shaped like children's feet, labeled "1 WEEK," "1 YEAR," and "2 YEARS." Flip it over, and there's a foot-shaped decal extolling, in all caps, "SOME RECENT ADVANCES IN PREVENTATIVE PEDIATRICS," including the control of SCURVY, INFECTIOUS DIARRHEA, and RICKETS. Now, thanks to the advent of Similac with Iron, the DEPLETION OF IRON SUPPLIES in infancy had been conquered.
But what were those channels running from each footprint to the edge of the object? Could it be? Oh, yes, it was: An ashtray in which pediatricians were meant to stub out their cigarettes in children's footprints, all as an advertisement for Similac baby formula.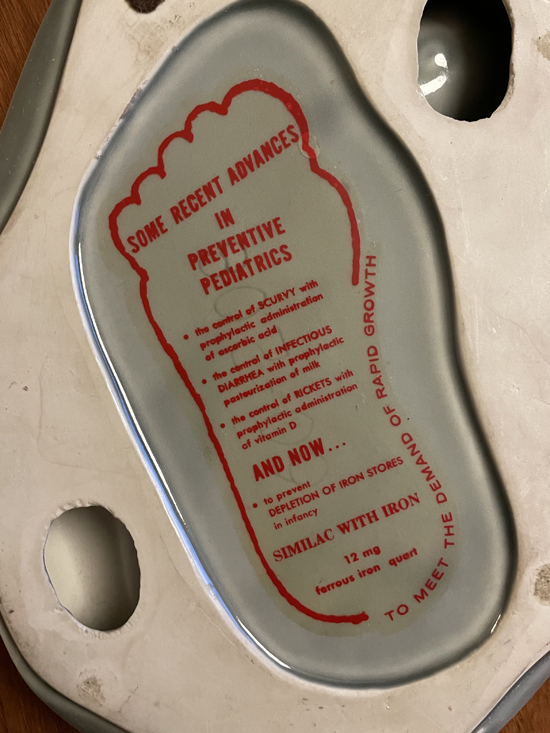 Similac dates to 1922, one of several new infant formulas to hit the market after attempts to create a powdered human milk failed. The name is a portmanteau of "similar" and "lactation." These are easily ascertainable facts. Why someone thought an ashtray was a good way to promote baby formula to physicians is an unanswerable question, even for an era when doctors smoked at the office. Even I, a happily childless crone, find the idea of stubbing out a cigarette in a receptacle shaped like a baby's foot rather transgressive. Even I, a happily childless crone, understand that baby feet are to stick in one's mouth and nibble — and I don't mean in a Hansel-and-Gretel amuse-bouche kind of way. (At this point in the narrative, I find it hard not to hear General Ripper in Dr. Strangelove, fulminating against fluoride and its alleged presence in a favorite confection: "Ice cream, Mandrake? Children's ice cream?")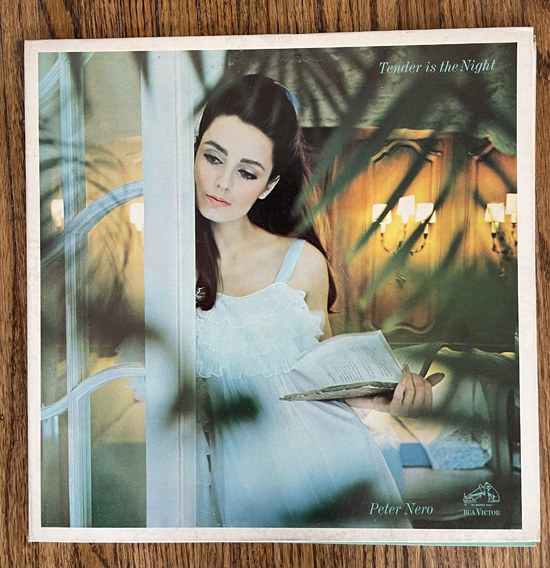 Nowadays, pharmaceutical advertising swag skews towards the pedestrian: pens and mugs or maybe a cute stuffed version of an anthropomorphized mucus blob. Back in the days of three-martini lunches and big advertising budgets, things were a bit more adventurous. I have a 1967 easy-listening LP that advertises Placidyl (a "sedative-hypnotic" prescribed for insomnia) with a nightgown-clad covergirl who, book in hand, gently rests her cheek against the window frame as she blankly stares outside. I can't decide if this is meant to show she needs the drug or if she's taken the drug. Placidyl also figured in a set of pinback buttons that mimicked both political ("Woodrow Wilson The Man of the Hour") and protest ("Calm Down") campaigns. They came pinned to a colorful card that read in part: "In times of choice you can rest assured with either candidate," these being Placidyl and Nembutal (the latter was the barbiturate that killed Marilyn Monroe). Did I mention the buttons were produced in the cataclysmic election year of 1968?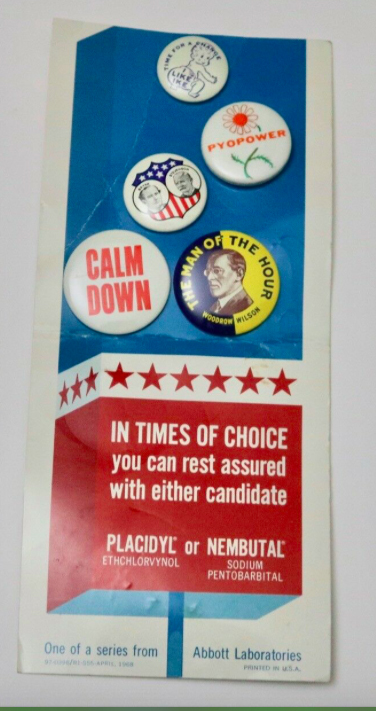 But even these items don't have quite the shock value of my baby-foot ashtray. Perhaps the team assigned to Similac's advertising was particularly bold — or clueless. Another piece of Similac swag is a tape measure. Printed on its side in a big, bold 1970s font are the words: "Plan for Infant Formula Profits." It's almost as if they said the quiet part out loud.
*
PROJECT:OBJECTIONABLE: INTRODUCTION by Adam McGovern | Adrienne Crew on MAKIN' BACON | Lynn Peril on BABY'S FIRST ASHTRAY | Lisa Levy on TOILETTE-À-TÊTE | Maria Swisher on STEALING GENIUS | Oliver Baer on CTHULHU SEX MAGAZINE | Yelena Tylkina on A DRINK TO DEATH | Elke Claus on URINAL SHRINE | Jeff Lewonczyk on SUSPENDERS OF DISBELIEF | Jenn Mehm on TWIN SKIN | Marlon Stern Lopez on SOUVENIR OF THE LAPD | Lauren Curtis on NAILED IT! | Josh Glenn on K-TEL TRUCKER TAPE | Fran Pado on THE BRIEF LIFE OF FRANCES POTTER | Nikhil Singh on HASHTAG FASHIONPOLICEPROBLEMS | Adam McGovern on PERSONA NON GRATA | Crystal Durant on LICENSE TO SHOCK | Dean Haspiel on DIRTY DOORKNOB | Justin J Bowen on UNKLE KRAMPUS | Annie Nocenti on STICKY FINGERS | Michele Carlo on THE MANY HATS OF CARMEN MOFONGO | Alice Meichi Li on BEDTIME FOR CATWOMAN | Whitney Matheson on GYNECOLOGICAL GOODFELLA | Ran Xia on PROJECT GREENCARD | Mimi Lipson on MEIN KITSCH | Art Wallace on ELECTRIC KOCH.
*
SEMIO OBJECTS: Lucia Laurent-Neva on SPONGEBOB BUS | Samuel Grange on SALT & PEPPER HOLDER| Ximena Tobi on VASALISA | Sónia Marques on CABBAGE TUREEN | Thierry Mortier on BICYCLE BELL | & 20 MORE.
MOVIE OBJECTS: INTRODUCTION | Ramona Lyons on EYE OF THE SERPENT (CONAN THE BARBARIAN) | Faythe Levine on BEDKNOB (BEDKNOBS AND BROOMSTICKS) | Gerald Peary on CUP OF COFFEE (THE BIG HEAT) | Christopher Orr on TOM'S HAT (MILLER'S CROSSING) | Lynn Peril on TRANSISTOR RADIO (DR. STRANGELOVE) | & 20 MORE.
LOST OBJECTS (vol. 2): INTRODUCTION | Joe Yonan on MACRAMÉ ART (ill. Theo Ellsworth) | Ben Katchor on LUCITE CARRYING CASE | Debbie Millman on GLASS POODLE | Lydia Millet on ROCKY HORROR NOVEL (ill. Berta Valló) | Ben Greenman on WARHOL CAN (ill. Clara Selina Bach) | & 20 MORE.
FETISHES: INTRODUCTION | Josh Foer on DEATH MASK | Beth Lisick on MURDERED-OUT KFC BUCKET | Christina Couch on LEECH ACTION FIGURE | Kenneth Goldsmith on THEWLIS SOCK | Abby Rapoport on MAGNATILES | & 20 MORE.
FOSSILS: INTRODUCTION | Allegra Huston on SKATAWAY JACKET | Kevin Obsatz on HOMEMADE NUNCHUKS | Ian Bogost on DESKTOP TELEPHONE | Jeff Lewonczyk on CHA-CHA JACKET SCRAP | Kelly Horan on VOLVO KEY | & 20 MORE.
FLAIR: INTRODUCTION | Cliff Kuang on ROLEX DATEJUST | Ethan Zuckerman on LAPTOP STICKERS | Ann Shoket on LEATHER JACKET | Kembrew McLeod on KEMBREW MERCH | Paola Antonelli on MERMAID TEARS | & 20 MORE.
LOST OBJECTS (vol. 1): INTRODUCTION | Kate Bernheimer on MULLET WIG (ill. Amy Evans) | Dan Piepenbring on COLOGNE (ill. Josh Neufeld) | Doug Dorst on STRATOCASTER (ill. John Holbo) | Paul Lukas on VANILLA BEAN (ill. Allison Bamcat) | Mimi Lipson on DODGE DART (ill. Mister Reusch) | & 20 MORE.
ILLICIT OBJECTS: INTRODUCTION | Kio Stark on PEEPSHOW TOKEN | Sari Wilson on TOMBSTONE PARTS | Annalee Newitz on CAR-BOMB REMNANT | Tito Bottitta on MOONINITE DEVICE | Eric Bennett on DIRTY MAGAZINE | & 20 MORE.
TALISMANIC OBJECTS: INTRODUCTION | Veda Hille on CROCHET SHEEP | Gary Panter on DINOSAUR BONES | Jami Attenberg on SELENITE CRYSTAL | Annie Nocenti on MINIATURE DICE | Wayne Curtis on CLOCK WINDING KEY | & 20 MORE.
POLITICAL OBJECTS: INTRODUCTION | Luc Sante on CAMPAIGN PAMPHLETS | Lydia Millet on PVC POLAR BEAR | Ben Greenman on MATCHBOX CAR | Rob Baedeker on PRESIDENTS PLACEMAT | L.A. Kauffman on WHEATPASTE POSTER | & 20 MORE.
ALSO SEE: PROJECT:OBJECT homepage | POLITICAL OBJECTS (1Q2017) | TALISMANIC OBJECTS (2Q2017) | ILLICIT OBJECTS (3Q2017) | LOST OBJECTS vol. 1 (4Q2017) | FLAIR (2Q2018) | FOSSILS (4Q2018) | FETISHES (2Q2019) | LOST OBJECTS vol. 2 (4Q2019) | MOVIE OBJECTS (2Q2020) | SEMIO OBJECTS (2Q2021) | SIGNIFICANT OBJECTS (cross-posted from Significant Objects website). ALSO SEE: SIGNIFICANT OBJECTS website | LOST OBJECTS (Hat & Beard Press, 2022) | SIGNIFICANT OBJECTS collection, ed. Rob Walker and Josh Glenn (Fantagraphics, 2012) | TAKING THINGS SERIOUSLY, ed. Josh Glenn (Princeton Architectural Press, 2007) | TAKING THINGS SERIOUSLY excerpts.