PROJECT:OBJECTIONABLE (21)
By: Alice Meichi Li
December 11, 2021
One in a series of 25 first-person narratives of offense, outrage, innocent transgression or principled affront, in attire, display, speech or spectacle.
*
CATWOMAN, UNINTENTIONAL CHINESE GHOST
As a '90s kid, Scholastic Book Fairs were the highlight of our school year. What red-blooded American Millennial doesn't remember the nostalgic rush from that magical week where some pocket change was your ticket to a wonderland of escapism? It was at one of these fateful events that my 8-year-old self caught a glimpse of this iconic poster of Michelle Pfeiffer's Catwoman from the classic 1992 film, Batman Returns.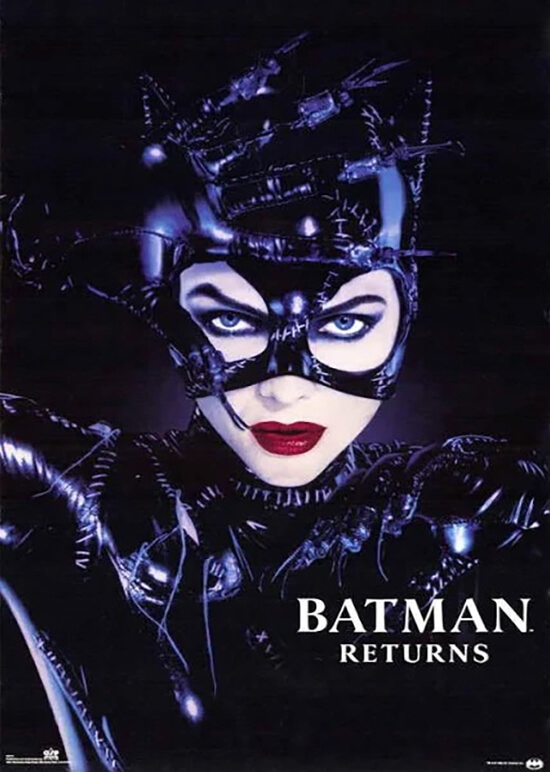 I can't put my finger on whether it was my emerging baby-goth energy, my emerging chaotic bisexual energy, or both that motivated me to take that poster home with me. Either way, Catwoman ended up in a prominent place in a bedroom that I shared with my Grandma and little sister in our shabby apartment above the Chinese-American fast food restaurant my parents ran in Detroit. She was in the perfect spot for me to gaze at longingly, sparking confusion over whether I wanted to be her or marry her before I fell asleep every night.
After a little while, my Grandma simply couldn't take it anymore and made me take the poster down. My dad explained that the poster reminded her of a 鬼 ("gwai," meaning "ghost" or "demon"), and she was afraid of being cursed by it.
"She's not a 鬼!" I protested, "She's Catwoman… She's a comic book character! She's just a normal human being who… died… and came back to life… with superpowers…"
Needless to say, I lost that debate.
It wasn't until adulthood and a nerdy think piece about what kind of creature Catwoman actually was, that I started to realize… maybe Grandma was right.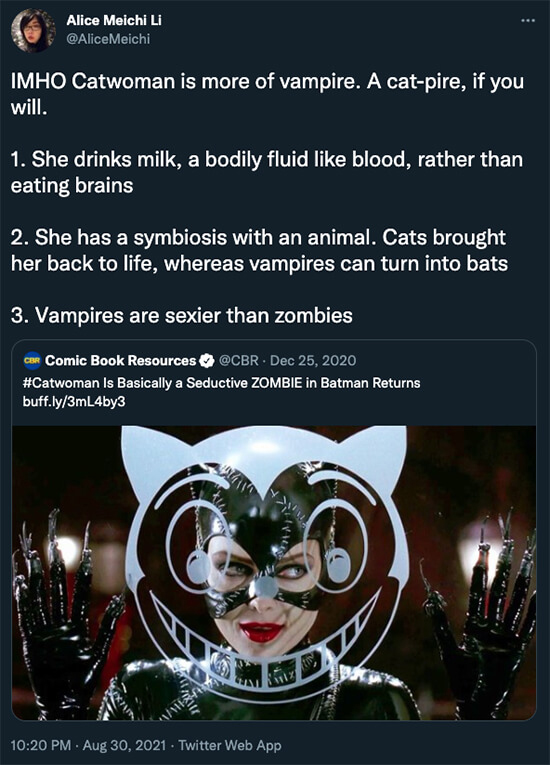 In Chinese folklore, there's a specific type of ghost called 女鬼 ("neoi gwai" in Cantonese, meaning "female ghost") which I now realize is exactly what my family was referring to. Recurring themes in Chinese female ghost stories specifically involve the angry spirit of a woman who died after being wronged in life and returns to take revenge. Some of these stories also incorporate a more succubus-like quality, involving 女鬼 who "seduce men and suck their yang essence or sometimes kill them" (Wikipedia).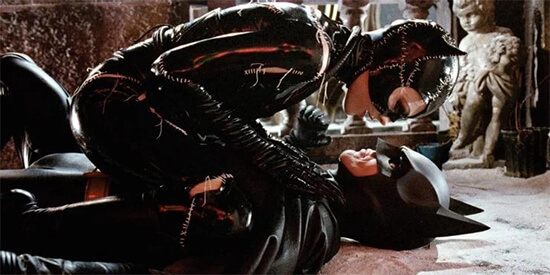 The most well-known 女鬼 characters in the Western canon tend to be characters from Japanese horror movies that have been remade for American audiences, like Sadako from The Ring and Kayako from Ju-On/The Grudge.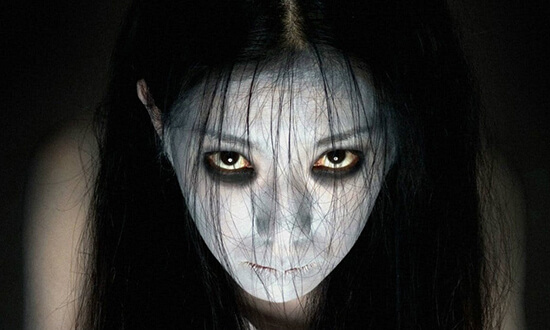 But let me propose that Tim Burton's take on Catwoman may be the most famous unintentional 女鬼 in the West. She begins the movie as a normal woman, is defenestrated and murdered by her boss, returns to life by supernatural feline means in order to take revenge, and uses newly-acquired seductive techniques in order to do so.
…Or at the very least, Catwoman and the poster that captured her essence definitely inspired 8-year-old me on a lifelong path towards becoming a future 女鬼 myself.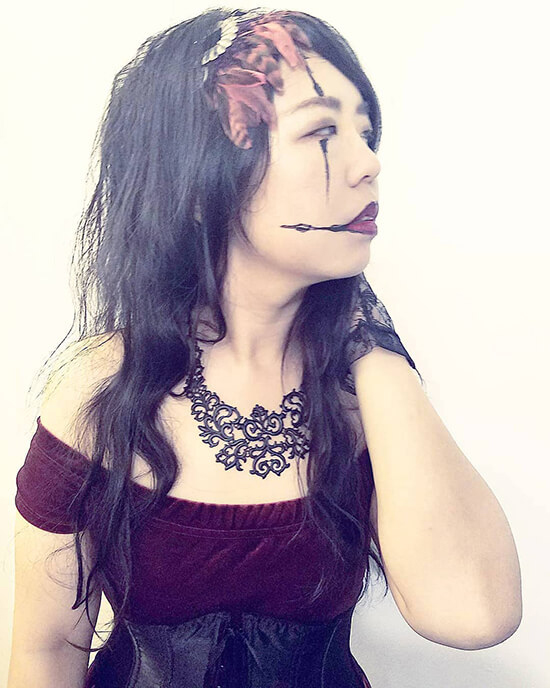 *
PROJECT:OBJECTIONABLE: INTRODUCTION by Adam McGovern | Adrienne Crew on MAKIN' BACON | Lynn Peril on BABY'S FIRST ASHTRAY | Lisa Levy on TOILETTE-À-TÊTE | Maria Swisher on STEALING GENIUS | Oliver Baer on CTHULHU SEX MAGAZINE | Yelena Tylkina on A DRINK TO DEATH | Elke Claus on URINAL SHRINE | Jeff Lewonczyk on SUSPENDERS OF DISBELIEF | Jenn Mehm on TWIN SKIN | Marlon Stern Lopez on SOUVENIR OF THE LAPD | Lauren Curtis on NAILED IT! | Josh Glenn on K-TEL TRUCKER TAPE | Fran Pado on THE BRIEF LIFE OF FRANCES POTTER | Nikhil Singh on HASHTAG FASHIONPOLICEPROBLEMS | Adam McGovern on PERSONA NON GRATA | Crystal Durant on LICENSE TO SHOCK | Dean Haspiel on DIRTY DOORKNOB | Justin J Bowen on UNKLE KRAMPUS | Annie Nocenti on STICKY FINGERS | Michele Carlo on THE MANY HATS OF CARMEN MOFONGO | Alice Meichi Li on BEDTIME FOR CATWOMAN | Whitney Matheson on GYNECOLOGICAL GOODFELLA | Ran Xia on PROJECT GREENCARD | Mimi Lipson on MEIN KITSCH | Art Wallace on ELECTRIC KOCH.
*
SEMIO OBJECTS: Lucia Laurent-Neva on SPONGEBOB BUS | Samuel Grange on SALT & PEPPER HOLDER| Ximena Tobi on VASALISA | Sónia Marques on CABBAGE TUREEN | Thierry Mortier on BICYCLE BELL | & 20 MORE.
MOVIE OBJECTS: INTRODUCTION | Ramona Lyons on EYE OF THE SERPENT (CONAN THE BARBARIAN) | Faythe Levine on BEDKNOB (BEDKNOBS AND BROOMSTICKS) | Gerald Peary on CUP OF COFFEE (THE BIG HEAT) | Christopher Orr on TOM'S HAT (MILLER'S CROSSING) | Lynn Peril on TRANSISTOR RADIO (DR. STRANGELOVE) | & 20 MORE.
LOST OBJECTS (vol. 2): INTRODUCTION | Joe Yonan on MACRAMÉ ART (ill. Theo Ellsworth) | Ben Katchor on LUCITE CARRYING CASE | Debbie Millman on GLASS POODLE | Lydia Millet on ROCKY HORROR NOVEL (ill. Berta Valló) | Ben Greenman on WARHOL CAN (ill. Clara Selina Bach) | & 20 MORE.
FETISHES: INTRODUCTION | Josh Foer on DEATH MASK | Beth Lisick on MURDERED-OUT KFC BUCKET | Christina Couch on LEECH ACTION FIGURE | Kenneth Goldsmith on THEWLIS SOCK | Abby Rapoport on MAGNATILES | & 20 MORE.
FOSSILS: INTRODUCTION | Allegra Huston on SKATAWAY JACKET | Kevin Obsatz on HOMEMADE NUNCHUKS | Ian Bogost on DESKTOP TELEPHONE | Jeff Lewonczyk on CHA-CHA JACKET SCRAP | Kelly Horan on VOLVO KEY | & 20 MORE.
FLAIR: INTRODUCTION | Cliff Kuang on ROLEX DATEJUST | Ethan Zuckerman on LAPTOP STICKERS | Ann Shoket on LEATHER JACKET | Kembrew McLeod on KEMBREW MERCH | Paola Antonelli on MERMAID TEARS | & 20 MORE.
LOST OBJECTS (vol. 1): INTRODUCTION | Kate Bernheimer on MULLET WIG (ill. Amy Evans) | Dan Piepenbring on COLOGNE (ill. Josh Neufeld) | Doug Dorst on STRATOCASTER (ill. John Holbo) | Paul Lukas on VANILLA BEAN (ill. Allison Bamcat) | Mimi Lipson on DODGE DART (ill. Mister Reusch) | & 20 MORE.
ILLICIT OBJECTS: INTRODUCTION | Kio Stark on PEEPSHOW TOKEN | Sari Wilson on TOMBSTONE PARTS | Annalee Newitz on CAR-BOMB REMNANT | Tito Bottitta on MOONINITE DEVICE | Eric Bennett on DIRTY MAGAZINE | & 20 MORE.
TALISMANIC OBJECTS: INTRODUCTION | Veda Hille on CROCHET SHEEP | Gary Panter on DINOSAUR BONES | Jami Attenberg on SELENITE CRYSTAL | Annie Nocenti on MINIATURE DICE | Wayne Curtis on CLOCK WINDING KEY | & 20 MORE.
POLITICAL OBJECTS: INTRODUCTION | Luc Sante on CAMPAIGN PAMPHLETS | Lydia Millet on PVC POLAR BEAR | Ben Greenman on MATCHBOX CAR | Rob Baedeker on PRESIDENTS PLACEMAT | L.A. Kauffman on WHEATPASTE POSTER | & 20 MORE.
ALSO SEE: PROJECT:OBJECT homepage | POLITICAL OBJECTS (1Q2017) | TALISMANIC OBJECTS (2Q2017) | ILLICIT OBJECTS (3Q2017) | LOST OBJECTS vol. 1 (4Q2017) | FLAIR (2Q2018) | FOSSILS (4Q2018) | FETISHES (2Q2019) | LOST OBJECTS vol. 2 (4Q2019) | MOVIE OBJECTS (2Q2020) | SEMIO OBJECTS (2Q2021) | SIGNIFICANT OBJECTS (cross-posted from Significant Objects website). ALSO SEE: SIGNIFICANT OBJECTS website | LOST OBJECTS (Hat & Beard Press, 2022) | SIGNIFICANT OBJECTS collection, ed. Rob Walker and Josh Glenn (Fantagraphics, 2012) | TAKING THINGS SERIOUSLY, ed. Josh Glenn (Princeton Architectural Press, 2007) | TAKING THINGS SERIOUSLY excerpts.