TALISMANIC OBJECTS (3)
By: Jami Attenberg
April 2, 2017
One in a 25-part series of nonfiction stories about objects of talismanic significance. This is the second volume in the PROJECT:OBJECT series. Please subscribe to the P:O newsletter; and purchase P:O apparel and accessories — all profits will be donated to the ACLU!
*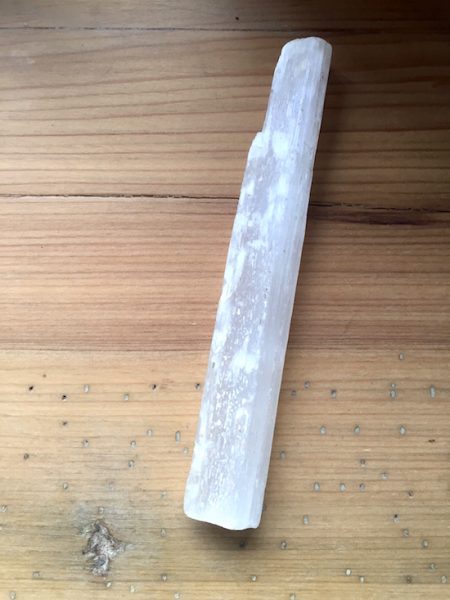 In 2015 I was having trouble with my writing — as in it was stuck inside of me, clinging to my insides like some grimy, salty barnacle, unwilling to relinquish its grip. Imagine if your words turned into organic matter and were in an act of revolt, and you will see me, in New York City, sweating in the summertime, drinking rosé by the gallon, believing that somehow I would survive this on my own.
My writer friend Karolina, newly exited to Los Angeles, sensed my distress. She had had similar turmoil in her life. We messaged about it practically every day. Finally, she mailed me a package. It contained a stick of white sage — which I lit and swung furiously about my house and flesh like a lunatic — and a piece of long, milky crystal called Selenite. The crystal reminded me instantly of Superman's Fortress of Solitude, which felt appropriate and comforting. I Googled it: Selenite is supposed to enhance mental clarity.
I placed the crystal on my desk. I contemplated it. I would occasionally pick it up and rub its slightly silky texture with my thumb. I did not write right away, but I felt better knowing it was there, this outside object newly introduced into my life, the possibility of a new facet to my writing ritual, the witnessing of this crystal sent from afar.
A month later I arrived at a writing residency in upstate New York. The crystal came with me. I wrote ninety pages in three weeks. Now it comes with me whenever I am going to spend an extended amount of time somewhere, and it lives in whatever writing space I adopt.
I acknowledge that I existed as a writer before this crystal came along, and I will exist as a writer long after this crystal gets lost in a move or shoved in a desk drawer. But for now I will treasure it, because it was there when I needed it, just as my friend was there for me, offering me a small bit of life force in the continuing struggle to live and thrive and make art.
*
TALISMANIC OBJECTS series: INTRODUCTION | Veda Hille on CROCHET SHEEP | Gary Panter on DINOSAUR BONES | Jami Attenberg on SELENITE CRYSTAL | Annie Nocenti on MINIATURE DICE | Wayne Curtis on CLOCK WINDING KEY | Judith Zissman on SPINDLE WHORL | Amy Fusselman on BOX OF PENCILS | Josh Glenn on MONKEY WHIMSEY | Mike Watt on DASHBOARD TOTEMS | Gordon Dahlquist on CLAY FOX | Mark Kingwell on ZIPPO | Jennifer Schuessler on BEER-CAN CHAIR | Anne Gisleson on WISDOM TEETH | Ben Ehrenreich on CHROME LUMP | Matthew De Abaitua on HATCHET | Ty Burr on INFLATABLE KING KONG | Jacob Covey on ARGUS COIN | Jessica Helfand on PILL BOTTLE | Shelley Jackson on IMPUNITY JANE | Jennifer Krasinski on LEO'S LIGHTER | Molly Heintz on EVIL EYE | Mark Frauenfelder on MARTIAN FINK RING | Amanda Fortini on PRAYER CARD | Ed Skoog on MAMMOTH IVORY | CONTEST-WINNING STORY: Seth on PEANUTS PAPERBACK.
POLITICAL OBJECTS series: INTRODUCTION | Luc Sante on CAMPAIGN PAMPHLETS | Lydia Millet on PVC POLAR BEAR | Ben Greenman on MATCHBOX CAR | Rob Baedeker on PRESIDENTS PLACEMAT | L.A. Kauffman on WHEATPASTE POSTER | & 20 MORE.
SIGNIFICANT OBJECTS at HILOBROW: PROJECT:OBJECT homepage | PROJECT:OBJECT newsletter | PROJECT:OBJECT objects (Threadless shop — all profits donated to the ACLU) | POLITICAL OBJECTS series (1Q2017) | TALISMANIC OBJECTS series (2Q2017) | ILLICIT OBJECTS series (3Q2017) | LOST OBJECTS vol. 1 series (4Q2017) | FLAIR series (2Q2018) | FOSSIL series (4Q2018). 12 DAYS OF SIGNIFICANCE | 12 MORE DAYS OF SIGNIFICANCE | 12 DAYS OF SIGNIFICANCE (AGAIN) | ANOTHER 12 DAYS OF SIGNIFICANCE . ALSO SEE: SIGNIFICANT OBJECTS website | SIGNIFICANT OBJECTS collection, ed. Rob Walker and Josh Glenn (Fantagraphics, 2012) | TAKING THINGS SERIOUSLY, ed. Josh Glenn (Princeton Architectural Press, 2007) | TAKING THINGS SERIOUSLY excerpts.