FLAIR (4)
By: Kembrew McLeod
May 11, 2018
The fifth PROJECT:OBJECT volume is a 25-part series of true stories about significant accoutrements, appurtenances, and regalia.
*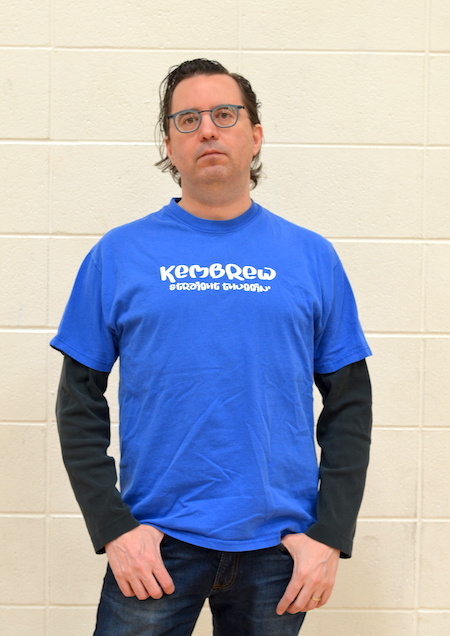 I have never met anyone who shared my first name, but there was this band called Kembrew. They only played a couple dozen gigs, including their Simi Valley, California high school talent show (they didn't win), and then broke up in 2005. No Grammy nominations looming on the horizon for Kembrew, a name they adopted after stumbling across my personal website.
Musically, they mined what I would call a stoopid aesthetic. Just check the song titles: "Emancipation Rocklamation," "Ninja Rock Machine," "Wanna Hear a Joke? My Life," and the whimsically dark ditty, "Grandpa" ("Grandpa's in a coma / poke him with a stick! / poke him with a stick! / Grandpa's in a coma / write on his face! / write on his face!").
These two high schoolers — Alex Martinez, aka Kembrew Jones, and Michael Weiss, aka Mike Danger — formed their band back in 2003, recorded two independently released albums, and then lapsed further into obscurity. You Should Buy This Album, their second, inexplicably remains on iTunes, Spotify, and other streaming services. More importantly, they printed a bunch of merch (stickers, t-shirts, buttons, and other flair), some of which I purchased years ago from their now-defunct website, kembrewrock.com.
Most of these items have been lost, sadly, but I still have a couple band shirts emblazoned with the phrase Kembrew: Straight Thuggin'. I feel a bit megalomaniacal wearing them, and also don't want to come off as a slang-appropriating hipster, so for the most part these t-shirts remain at the bottom of my dresser drawers. But when I do wear one, it can provoke interesting interactions, like this time when I flew from New York City to Iowa City.
After passing through the metal detector, a curious TSA agent asked me, "So, what is a Kembrew?" This query caught me off -guard, until I realized what I was wearing. "Oh, welllll," I said, "it's a long story, but, um, like…," and then quickly explained. As a nerdy white professor, I had been oblivious to the fact that I was walking around New York with the words Straight Thuggin' on my chest. (What was I thinking?)
By this point, the African American TSA agent was laughing at me — not with me. "Yeah, I was afraid you really were straight thuggin'," he deadpanned, "and I didn't know if I should let you through security with that shirt." As I put my shoes back on, he asked one last question. "So, where you going?" I cringed and blushed. "Well, I'm actually going back to Iowa, and we're not really very thuggin' there."
"But compared to most of 'em," I said about myself, too generously, "I'm totally straight thuggin'." He just kept laughing. "Yo, I'm scared. I don't ever wanna go to Iowa!" As I walked away with my bags I could hear him saying to another TSA colleague, "Straight thuggin'. That white boy's crazy."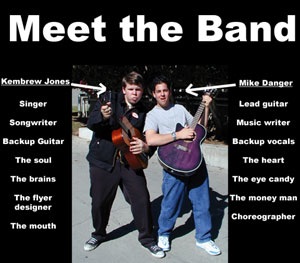 *
FLAIR: INTRODUCTION | Cliff Kuang on ROLEX DATEJUST | Ethan Zuckerman on LAPTOP STICKERS | Ann Shoket on LEATHER JACKET | Kembrew McLeod on KEMBREW MERCH | Paola Antonelli on MERMAID TEARS | Kanishka Raja on HANDMADE JACKET | Lynn Peril on BASEBALL RING | Rob Horning on NOTE PAD | Alexandra Lange on BEAD NECKLACE | Stephanie Burt on D&D EARRINGS | Michael Bierut on FEDORA | Debbie Millman on CHARM | Abram Himelstein on LUCKY 7 RING | Deb Chachra on HANDWRAPS | Jennifer Howze on HOLD-UP STOCKINGS | Mark Frauenfelder on CLARK KENT GLASSES | Adam McGovern on PLASTIC ALLIGATOR SHOES | Nicola Twilley on GOLD BRACES | Anne Quito on MUSEUM EARRINGS | Kristin Parker on STEEL BRACELET | Hillary Chute on POCKET KNIFE | James Gaddy on RESTAURANT PEN | Davy Rothbart on SHOELACE BELT | David Hajdu on PINCE-NEZ | Bishakh Som on KNEE-HIGH BOOTS.
LOST OBJECTS (vol. 1): INTRODUCTION | Kate Bernheimer on MULLET WIG (ill. Amy Evans) | Dan Piepenbring on COLOGNE (ill. Josh Neufeld) | Doug Dorst on STRATOCASTER (ill. John Holbo) | Paul Lukas on VANILLA BEAN (ill. Allison Bamcat) | Mimi Lipson on DODGE DART (ill. Mister Reusch) | & 20 MORE.
ILLICIT OBJECTS: INTRODUCTION | Kio Stark on PEEPSHOW TOKEN | Sari Wilson on TOMBSTONE PARTS | Annalee Newitz on CAR-BOMB REMNANT | Tito Bottitta on MOONINITE DEVICE | Eric Bennett on DIRTY MAGAZINE | & 20 MORE.
TALISMANIC OBJECTS: INTRODUCTION | Veda Hille on CROCHET SHEEP | Gary Panter on DINOSAUR BONES | Jami Attenberg on SELENITE CRYSTAL | Annie Nocenti on MINIATURE DICE | Wayne Curtis on CLOCK WINDING KEY | & 20 MORE.
POLITICAL OBJECTS: INTRODUCTION | Luc Sante on CAMPAIGN PAMPHLETS | Lydia Millet on PVC POLAR BEAR | Ben Greenman on MATCHBOX CAR | Rob Baedeker on PRESIDENTS PLACEMAT | L.A. Kauffman on WHEATPASTE POSTER | & 20 MORE.
SIGNIFICANT OBJECTS at HILOBROW: PROJECT:OBJECT homepage | PROJECT:OBJECT newsletter | PROJECT:OBJECT objects (Threadless shop — all profits donated to the ACLU) | POLITICAL OBJECTS series (1Q2017) | TALISMANIC OBJECTS series (2Q2017) | ILLICIT OBJECTS series (3Q2017) | LOST OBJECTS vol. 1 series (4Q2017) | FLAIR series (2Q2018) | FOSSIL series (4Q2018) | FETISHES series (2Q2019) | LOST OBJECTS vol. 2 series (4Q2019) | MOVIE OBJECTS series (2Q2020). ALSO SEE: SIGNIFICANT OBJECTS website | SIGNIFICANT OBJECTS collection, ed. Rob Walker and Josh Glenn (Fantagraphics, 2012) | TAKING THINGS SERIOUSLY, ed. Josh Glenn (Princeton Architectural Press, 2007) | TAKING THINGS SERIOUSLY excerpts.