ILLICIT OBJECTS (3)
By: Annalee Newitz
July 2, 2017
One in a 25-part series of nonfiction stories about objects of illicit significance. This is the third volume in the PROJECT:OBJECT series. Please subscribe to the P:O newsletter; and purchase P:O apparel and accessories — all profits will be donated to the ACLU!
*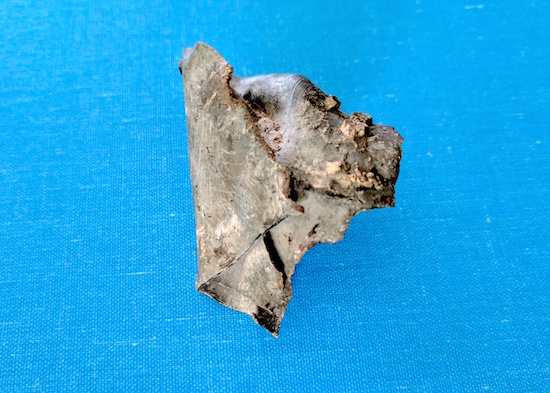 If you saw this piece of dull, twisted metal on my dresser, you would no doubt think it was a piece of junk. You might wonder why the hell I have it, then look anxiously at the ceiling, wondering if it had fallen from somewhere. In a sense, it has. This wavy hunk of steel is one of the few bits remaining from a car that was vaporized in a bomb.
There is a place in Socorro, New Mexico, right near the White Sands Missile Range, called the Energetic Materials Research and Testing Center. It's a lab where researchers test rocket launchers and mag rail guns and safety procedures during urban warfare. They also make diamonds using underground explosions. And occasionally, they let a journalist in to watch them work. That's why I was there, over a decade ago, hunched in a bunker next to a car that was about to explode.
The techs weren't actually studying the car. They knew how that would go: a flash of light, a new crater, a hail of random auto parts. This was an experiment related to reinforced concrete wall design. Scientists wanted to know whether the kind of wall they'd built next to the car would fall down when the car exploded. Also, they wanted me to know that it was absolutely mandatory that I not take anything away from the site. They needed to track every shard, pellet, and rock.
I waited until they had mapped the site, photographing and measuring to a pretty extreme level of granularity. The wall had done OK, but not great. I wanted a souvenir, but all that remained of the car was the engine block, hurled several meters away from where the car once was. They had packed the trunk with dynamite; I guess the blast had somehow pooted the engine out in accordance with a law of physics I do not know.
At last, we hiked up to another site where people were shooting guns with four-foot long barrels. I never quite understood whether they were prototypes for a new and incredibly awkward type of weapon, or just experimental models. I looked down and saw the piece of warped metal and scooped it up immediately. I'm not sure if it was from the explosion I witnessed or something even more dramatic. It had survived. That's all I know.
*
ILLICIT OBJECTS series: INTRODUCTION | Kio Stark on PEEPSHOW TOKEN | Sari Wilson on TOMBSTONE PARTS | Annalee Newitz on CAR-BOMB REMNANT | Tito Bottitta on MOONINITE DEVICE | Eric Bennett on DIRTY MAGAZINE | Natalie Kestecher on EROTIC RECORDING (audio) | Wayne Chambliss on RADIOACTIVE TRINITITE | Julian Hoeber on PIG HAMMER | Catherine Newman on HOARDED VICODIN | Josh Glenn on JAY-PEE SLUGGER | Nicole Pasulka on SHROOMS (audio) | Paul Lukas on STOLEN CORKSCREW | Shelby El Otmani on OCCULT CANDLE (audio) | Sam Dingman on HACK DOCUMENTS (audio) | Andrew Leland on GUIDE CANE (audio) | Douglas Rushkoff on LEARY'S STASH BOX | Kalila Holt on BURNT UNDERWEAR (audio) | William Gibson on RACIST BOOK | Alison Fensterstock on FUNERAL FLOWER | Julia Barton on PREGNANCY TEST (audio) | Miranda Mellis on GOLD TEETH | Katie Notopoulos on COPULATING PIGS | Ramona Martinez on STOLEN REMNANT (audio) | Wesley Stace on TOM WAITS NOTE | Mike Montiero on BO DEREK CARDS.
TALISMANIC OBJECTS series: INTRODUCTION | Veda Hille on CROCHET SHEEP | Gary Panter on DINOSAUR BONES | Jami Attenberg on SELENITE CRYSTAL | Annie Nocenti on MINIATURE DICE | Wayne Curtis on CLOCK WINDING KEY | & 20 MORE.
POLITICAL OBJECTS series: INTRODUCTION | Luc Sante on CAMPAIGN PAMPHLETS | Lydia Millet on PVC POLAR BEAR | Ben Greenman on MATCHBOX CAR | Rob Baedeker on PRESIDENTS PLACEMAT | L.A. Kauffman on WHEATPASTE POSTER | & 20 MORE.
SIGNIFICANT OBJECTS at HILOBROW: PROJECT:OBJECT homepage | PROJECT:OBJECT newsletter | PROJECT:OBJECT objects (Threadless shop — all profits donated to the ACLU) | POLITICAL OBJECTS series (1Q2017) | TALISMANIC OBJECTS series (2Q2017) | ILLICIT OBJECTS series (3Q2017) | LOST OBJECTS vol. 1 series (4Q2017) | FLAIR series (2Q2018) | FOSSIL series (4Q2018). 12 DAYS OF SIGNIFICANCE | 12 MORE DAYS OF SIGNIFICANCE | 12 DAYS OF SIGNIFICANCE (AGAIN) | ANOTHER 12 DAYS OF SIGNIFICANCE . ALSO SEE: SIGNIFICANT OBJECTS website | SIGNIFICANT OBJECTS collection, ed. Rob Walker and Josh Glenn (Fantagraphics, 2012) | TAKING THINGS SERIOUSLY, ed. Josh Glenn (Princeton Architectural Press, 2007) | TAKING THINGS SERIOUSLY excerpts.