PROJECT:OBJECTIONABLE (14)
By: Nikhil Singh
November 17, 2021
One in a series of 25 first-person narratives of offense, outrage, innocent transgression or principled affront, in attire, display, speech or spectacle.
*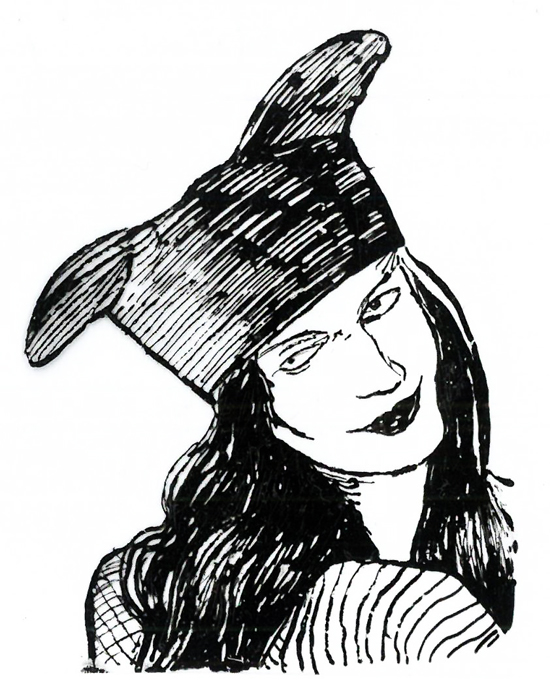 HASHTAG FASHIONPOLICEPROBLEMS
My debut novel Taty Went West was published in Kenya in 2015. I had discussed author pics in detail with my UK literary agent Sarah Such, who is herself a uniquely stylish individual, with eclectic tastes and a flair for promotion. I had done many professional shoots over the years, for my band and some friends in fashion, so, I started thinking along those lines.
I had done a cover shoot for Stefan Naude's Cape Town lifestyle print magazine, The Lake, where I decided to wear pieces from my friend Petro Steyn's label, Skeet Streetwear, which included a mischievous neoprene hat/mask, with fox ears. I selected one of the unused headshots for my author pic, snapped by versatile and talented fashion and commercial photographer Hayden Phipps. Somehow, the image created a debacle with Kwani Literary Trust, my Kenyan publisher.
I was informed that my precious fox ears would somehow offend large sections of the Kenyan readership. No real explanation was ever given by Kwani, except that we should trust them on this; fox ears would NOT go down well in Nairobi. I had a good working relationship with Kwani, so I didn't doubt the veracity of their claim — but it did pose something of an issue for me, because I do not take kindly, at all, to anyone telling me how I should or should not dress. A polite little war ensued, where the affair was tossed back and forth, until I finally, for the sake of diplomacy, relented and offered to provide alternatives.
At the time, Jenna Bass happened to be shooting a music video for my band, The Wild Eyes. Jenna opted to shoot the single "Vampire Radio" in negative. I had trained as a mime, and would often break out in spontaneous mime routines. In fact, once in Paris, I had trouble getting along, so I decided to go incognito, as a mime. Nobody expected me to speak and strangers kept giving me cash. A sensible fashion choice.
However, in order to do the mime look in negative, I would be obligated to paint myself black, with white eye and lip highlights. So, we also did a gothic shoot, in positive, wearing all black. Kwani loved the gothic look and chose a profile headshot for the print edition. Some over-politicized South African students and an elderly news editor were up in arms about a "blackface" portrait, but were then instantly nullified by Kwani's own enthusiasm for gothic culture and the image, which in fact, had been their favourite choice, out of over five options. Since Kwani enjoyed such a powerful prestige in the African literary community, this second debacle defused, into a bemused haze of pseudo-political confusion. By the time I started doing South African literary festivals to promote the book, the portrait had made the front cover of a regional newspaper's entertainment section, spreading this aura of perplexity. All very me, I suppose. Though, I did miss my fox ears…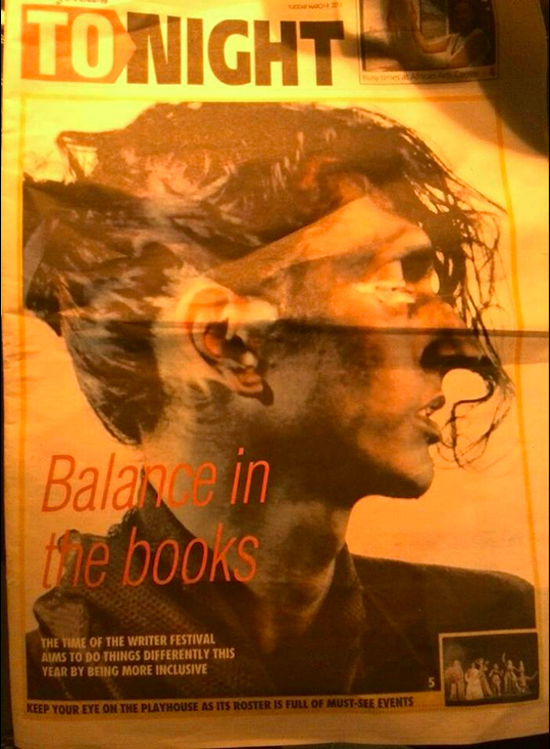 *
PROJECT:OBJECTIONABLE: INTRODUCTION by Adam McGovern | Adrienne Crew on MAKIN' BACON | Lynn Peril on BABY'S FIRST ASHTRAY | Lisa Levy on TOILETTE-À-TÊTE | Maria Swisher on STEALING GENIUS | Oliver Baer on CTHULHU SEX MAGAZINE | Yelena Tylkina on A DRINK TO DEATH | Elke Claus on URINAL SHRINE | Jeff Lewonczyk on SUSPENDERS OF DISBELIEF | Jenn Mehm on TWIN SKIN | Marlon Stern Lopez on SOUVENIR OF THE LAPD | Lauren Curtis on NAILED IT! | Josh Glenn on K-TEL TRUCKER TAPE | Fran Pado on THE BRIEF LIFE OF FRANCES POTTER | Nikhil Singh on HASHTAG FASHIONPOLICEPROBLEMS | Adam McGovern on PERSONA NON GRATA | Crystal Durant on LICENSE TO SHOCK | Dean Haspiel on DIRTY DOORKNOB | Justin J Bowen on UNKLE KRAMPUS | Annie Nocenti on STICKY FINGERS | Michele Carlo on THE MANY HATS OF CARMEN MOFONGO | Alice Meichi Li on BEDTIME FOR CATWOMAN | Whitney Matheson on GYNECOLOGICAL GOODFELLA | Ran Xia on PROJECT GREENCARD | Mimi Lipson on MEIN KITSCH | Art Wallace on ELECTRIC KOCH.
*
SEMIO OBJECTS: Lucia Laurent-Neva on SPONGEBOB BUS | Samuel Grange on SALT & PEPPER HOLDER| Ximena Tobi on VASALISA | Sónia Marques on CABBAGE TUREEN | Thierry Mortier on BICYCLE BELL | & 20 MORE.
MOVIE OBJECTS: INTRODUCTION | Ramona Lyons on EYE OF THE SERPENT (CONAN THE BARBARIAN) | Faythe Levine on BEDKNOB (BEDKNOBS AND BROOMSTICKS) | Gerald Peary on CUP OF COFFEE (THE BIG HEAT) | Christopher Orr on TOM'S HAT (MILLER'S CROSSING) | Lynn Peril on TRANSISTOR RADIO (DR. STRANGELOVE) | & 20 MORE.
LOST OBJECTS (vol. 2): INTRODUCTION | Joe Yonan on MACRAMÉ ART (ill. Theo Ellsworth) | Ben Katchor on LUCITE CARRYING CASE | Debbie Millman on GLASS POODLE | Lydia Millet on ROCKY HORROR NOVEL (ill. Berta Valló) | Ben Greenman on WARHOL CAN (ill. Clara Selina Bach) | & 20 MORE.
FETISHES: INTRODUCTION | Josh Foer on DEATH MASK | Beth Lisick on MURDERED-OUT KFC BUCKET | Christina Couch on LEECH ACTION FIGURE | Kenneth Goldsmith on THEWLIS SOCK | Abby Rapoport on MAGNATILES | & 20 MORE.
FOSSILS: INTRODUCTION | Allegra Huston on SKATAWAY JACKET | Kevin Obsatz on HOMEMADE NUNCHUKS | Ian Bogost on DESKTOP TELEPHONE | Jeff Lewonczyk on CHA-CHA JACKET SCRAP | Kelly Horan on VOLVO KEY | & 20 MORE.
FLAIR: INTRODUCTION | Cliff Kuang on ROLEX DATEJUST | Ethan Zuckerman on LAPTOP STICKERS | Ann Shoket on LEATHER JACKET | Kembrew McLeod on KEMBREW MERCH | Paola Antonelli on MERMAID TEARS | & 20 MORE.
LOST OBJECTS (vol. 1): INTRODUCTION | Kate Bernheimer on MULLET WIG (ill. Amy Evans) | Dan Piepenbring on COLOGNE (ill. Josh Neufeld) | Doug Dorst on STRATOCASTER (ill. John Holbo) | Paul Lukas on VANILLA BEAN (ill. Allison Bamcat) | Mimi Lipson on DODGE DART (ill. Mister Reusch) | & 20 MORE.
ILLICIT OBJECTS: INTRODUCTION | Kio Stark on PEEPSHOW TOKEN | Sari Wilson on TOMBSTONE PARTS | Annalee Newitz on CAR-BOMB REMNANT | Tito Bottitta on MOONINITE DEVICE | Eric Bennett on DIRTY MAGAZINE | & 20 MORE.
TALISMANIC OBJECTS: INTRODUCTION | Veda Hille on CROCHET SHEEP | Gary Panter on DINOSAUR BONES | Jami Attenberg on SELENITE CRYSTAL | Annie Nocenti on MINIATURE DICE | Wayne Curtis on CLOCK WINDING KEY | & 20 MORE.
POLITICAL OBJECTS: INTRODUCTION | Luc Sante on CAMPAIGN PAMPHLETS | Lydia Millet on PVC POLAR BEAR | Ben Greenman on MATCHBOX CAR | Rob Baedeker on PRESIDENTS PLACEMAT | L.A. Kauffman on WHEATPASTE POSTER | & 20 MORE.
ALSO SEE: PROJECT:OBJECT homepage | POLITICAL OBJECTS (1Q2017) | TALISMANIC OBJECTS (2Q2017) | ILLICIT OBJECTS (3Q2017) | LOST OBJECTS vol. 1 (4Q2017) | FLAIR (2Q2018) | FOSSILS (4Q2018) | FETISHES (2Q2019) | LOST OBJECTS vol. 2 (4Q2019) | MOVIE OBJECTS (2Q2020) | SEMIO OBJECTS (2Q2021) | SIGNIFICANT OBJECTS (cross-posted from Significant Objects website). ALSO SEE: SIGNIFICANT OBJECTS website | LOST OBJECTS (Hat & Beard Press, 2022) | SIGNIFICANT OBJECTS collection, ed. Rob Walker and Josh Glenn (Fantagraphics, 2012) | TAKING THINGS SERIOUSLY, ed. Josh Glenn (Princeton Architectural Press, 2007) | TAKING THINGS SERIOUSLY excerpts.