PROJECT:OBJECTIONABLE (18)
By: Justin J. Bowen
December 1, 2021
One in a series of 25 first-person narratives of offense, outrage, innocent transgression or principled affront, in attire, display, speech or spectacle.
*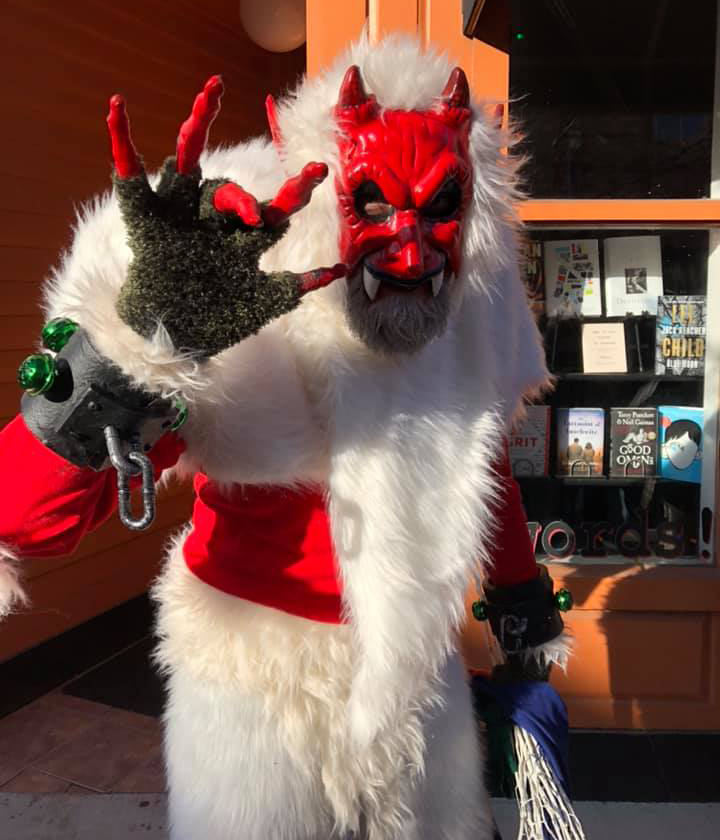 UNKLE KRAMPUS
My favorite word is "juxtaposition." Something about two wildly different concepts meeting and merging into one entity is always so interesting to me. It's why I love to get spoopy, which derives from the silliness in horror and Halloween. That's where Krampus comes in.
Christmas is my favorite holiday, JUST edging out Halloween. I love the magic and wonder of it all. But there's always that part of me that wants to explore the sinister and scary parts of Yule, and there are quite a lot! So many traditions of monsters and scary times, primarily in European folklore, have been around for hundreds of years. These stories weren't necessarily associated with Christmas but the solstice, the time of year when the sun is down as much as possible. The legends were designed to keep people home instead of going out in the cold darkness.
Some of these traditions center on parties and celebrations to make staying home with loved ones more enjoyable (or more often bearable). But the monsters are designed to scare you away from going out during this time of year. My favorite and arguably the most famous is Krampus.
Often known as the anti-Santa, Krampus comes out on Krampusnacht to punish the naughty kinder. If you weren't so bad you just get some chocolate-covered sticks. But the worst of the worst are stuffed into Krampus' basket and taken to his lair, never to be seen again!
Needless to say, when I was in my late teens and first heard of Krampus I was enamored! What a fun character to juxtapose Santa's jolliness. I started to absorb all the lore I could on Krampus and his Yuletide monster brethren. So much that I started to create my own version of the character.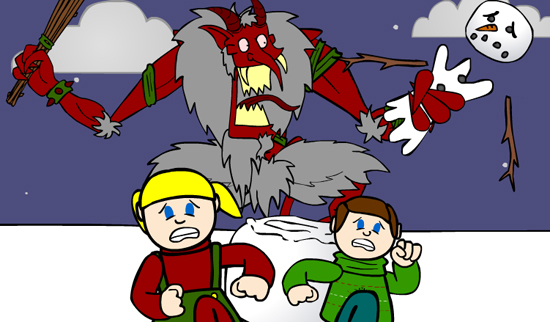 In 2014 I wrote and animated a song simply entitled "The Krampus!" and sang it with my dumb but favorite Arnold Schwarzenegger-esque voice (Krampus is Austrian, afterall!). My concept was sort of to Americanize the character, similar to how our version of Santa differs from the English, and indeed every culture's take. I made Unkle Krampus, as I'd soon name him, tall and lanky to be the opposite of Santa's stoutness. I gave him red skin like the devil with grayish fur, mirroring Santa more. But where Unkle Krampus really starts to differ is how I make him act.
See, lots of Krampuses are very mean and scary. Unkle Krampus revels in punishment with a jolliness akin to Claus'! He's affable and funny, just as long as you aren't on his naughty list. But he also genuinely believes in "spare the rod, spoil the child" and thinks what he is doing is for the greater good.
Since the music video (which currently has over 200,000 views), I've used Unkle Krampus more. I had him recite a new, Americanized poem detailing his nephews (as I call them) The Yule Lads. I've also made another music video, this one parodying The Squirrel Nut Zippers' song "Hell" which is all about Krampus Night! This was the first time Unkle Krampus became a real living breathing character in the costume I created to portray him.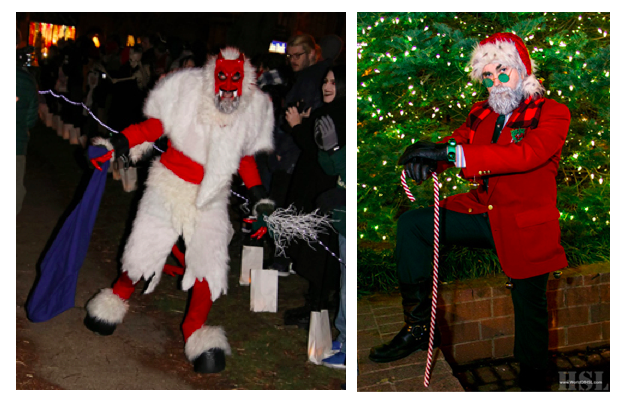 The same year, I took Unkle Krampus to the masses at the Asbury Park Krampus Fest. I would tower over guests and make jokes about their naughty ways. I even set up shop calling kinder over to ask what they DON'T want for Christmas!
"Do you want your ears pulled?"
"Do you want to be hung upside down from your thumbs?"
"Do you want to be beaten with a birch switch?"
"No" was invariably the answer, of course!
The costume itself involves a half mask allowing my mouth to emote, broad furry shoulders, and hooves made of paint cans giving me an extra foot to loom over the naughty festgoers. People really seemed to enjoy Unkle Krampus' antics and presence, even naming him "Best Krampus" at the 2019 festival.
It's so much fun bringing a character to life and adding my own silly twist to them. It's even better when they are accepted and praised by the people who are interacting with them. And don't worry, Unkle Krampus has lots more in store for the naughty kinder of the world!
*
PROJECT:OBJECTIONABLE: INTRODUCTION by Adam McGovern | Adrienne Crew on MAKIN' BACON | Lynn Peril on BABY'S FIRST ASHTRAY | Lisa Levy on TOILETTE-À-TÊTE | Maria Swisher on STEALING GENIUS | Oliver Baer on CTHULHU SEX MAGAZINE | Yelena Tylkina on A DRINK TO DEATH | Elke Claus on URINAL SHRINE | Jeff Lewonczyk on SUSPENDERS OF DISBELIEF | Jenn Mehm on TWIN SKIN | Marlon Stern Lopez on SOUVENIR OF THE LAPD | Lauren Curtis on NAILED IT! | Josh Glenn on K-TEL TRUCKER TAPE | Fran Pado on THE BRIEF LIFE OF FRANCES POTTER | Nikhil Singh on HASHTAG FASHIONPOLICEPROBLEMS | Adam McGovern on PERSONA NON GRATA | Crystal Durant on LICENSE TO SHOCK | Dean Haspiel on DIRTY DOORKNOB | Justin J Bowen on UNKLE KRAMPUS | Annie Nocenti on STICKY FINGERS | Michele Carlo on THE MANY HATS OF CARMEN MOFONGO | Alice Meichi Li on BEDTIME FOR CATWOMAN | Whitney Matheson on GYNECOLOGICAL GOODFELLA | Ran Xia on PROJECT GREENCARD | Mimi Lipson on MEIN KITSCH | Art Wallace on ELECTRIC KOCH.
*
SEMIO OBJECTS: Lucia Laurent-Neva on SPONGEBOB BUS | Samuel Grange on SALT & PEPPER HOLDER| Ximena Tobi on VASALISA | Sónia Marques on CABBAGE TUREEN | Thierry Mortier on BICYCLE BELL | & 20 MORE.
MOVIE OBJECTS: INTRODUCTION | Ramona Lyons on EYE OF THE SERPENT (CONAN THE BARBARIAN) | Faythe Levine on BEDKNOB (BEDKNOBS AND BROOMSTICKS) | Gerald Peary on CUP OF COFFEE (THE BIG HEAT) | Christopher Orr on TOM'S HAT (MILLER'S CROSSING) | Lynn Peril on TRANSISTOR RADIO (DR. STRANGELOVE) | & 20 MORE.
LOST OBJECTS (vol. 2): INTRODUCTION | Joe Yonan on MACRAMÉ ART (ill. Theo Ellsworth) | Ben Katchor on LUCITE CARRYING CASE | Debbie Millman on GLASS POODLE | Lydia Millet on ROCKY HORROR NOVEL (ill. Berta Valló) | Ben Greenman on WARHOL CAN (ill. Clara Selina Bach) | & 20 MORE.
FETISHES: INTRODUCTION | Josh Foer on DEATH MASK | Beth Lisick on MURDERED-OUT KFC BUCKET | Christina Couch on LEECH ACTION FIGURE | Kenneth Goldsmith on THEWLIS SOCK | Abby Rapoport on MAGNATILES | & 20 MORE.
FOSSILS: INTRODUCTION | Allegra Huston on SKATAWAY JACKET | Kevin Obsatz on HOMEMADE NUNCHUKS | Ian Bogost on DESKTOP TELEPHONE | Jeff Lewonczyk on CHA-CHA JACKET SCRAP | Kelly Horan on VOLVO KEY | & 20 MORE.
FLAIR: INTRODUCTION | Cliff Kuang on ROLEX DATEJUST | Ethan Zuckerman on LAPTOP STICKERS | Ann Shoket on LEATHER JACKET | Kembrew McLeod on KEMBREW MERCH | Paola Antonelli on MERMAID TEARS | & 20 MORE.
LOST OBJECTS (vol. 1): INTRODUCTION | Kate Bernheimer on MULLET WIG (ill. Amy Evans) | Dan Piepenbring on COLOGNE (ill. Josh Neufeld) | Doug Dorst on STRATOCASTER (ill. John Holbo) | Paul Lukas on VANILLA BEAN (ill. Allison Bamcat) | Mimi Lipson on DODGE DART (ill. Mister Reusch) | & 20 MORE.
ILLICIT OBJECTS: INTRODUCTION | Kio Stark on PEEPSHOW TOKEN | Sari Wilson on TOMBSTONE PARTS | Annalee Newitz on CAR-BOMB REMNANT | Tito Bottitta on MOONINITE DEVICE | Eric Bennett on DIRTY MAGAZINE | & 20 MORE.
TALISMANIC OBJECTS: INTRODUCTION | Veda Hille on CROCHET SHEEP | Gary Panter on DINOSAUR BONES | Jami Attenberg on SELENITE CRYSTAL | Annie Nocenti on MINIATURE DICE | Wayne Curtis on CLOCK WINDING KEY | & 20 MORE.
POLITICAL OBJECTS: INTRODUCTION | Luc Sante on CAMPAIGN PAMPHLETS | Lydia Millet on PVC POLAR BEAR | Ben Greenman on MATCHBOX CAR | Rob Baedeker on PRESIDENTS PLACEMAT | L.A. Kauffman on WHEATPASTE POSTER | & 20 MORE.
ALSO SEE: PROJECT:OBJECT homepage | POLITICAL OBJECTS (1Q2017) | TALISMANIC OBJECTS (2Q2017) | ILLICIT OBJECTS (3Q2017) | LOST OBJECTS vol. 1 (4Q2017) | FLAIR (2Q2018) | FOSSILS (4Q2018) | FETISHES (2Q2019) | LOST OBJECTS vol. 2 (4Q2019) | MOVIE OBJECTS (2Q2020) | SEMIO OBJECTS (2Q2021) | SIGNIFICANT OBJECTS (cross-posted from Significant Objects website). ALSO SEE: SIGNIFICANT OBJECTS website | LOST OBJECTS (Hat & Beard Press, 2022) | SIGNIFICANT OBJECTS collection, ed. Rob Walker and Josh Glenn (Fantagraphics, 2012) | TAKING THINGS SERIOUSLY, ed. Josh Glenn (Princeton Architectural Press, 2007) | TAKING THINGS SERIOUSLY excerpts.