FOSSILS (4)
By: Jeff Lewonczyk
October 11, 2018
The sixth PROJECT:OBJECT volume is a 25-part series of true stories about fossils — which is to say, objects that bear witness to a vanished way of life.
*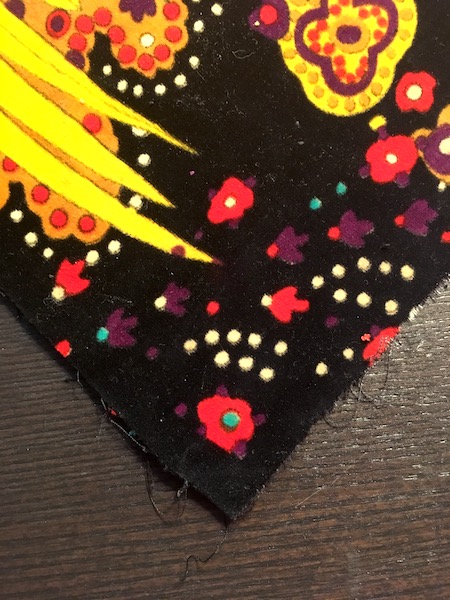 I first wore it while dropping acid on my bucolic upstate campus. It felt like an appropriate debut for the greatest thrift-store purchase of my life.
Across its velvety black exterior, a crowd of psychedelic blobs, abstract feathers, and Kirby crackles screamed in goldenrod, aquamarine, ochre, vermilion and plum — like the Vegas Strip puking itself up across the night sky. The pointy collars could easily put someone's eye out, and the oversized buttons were fit for a cartoon clown.
My friend Hope said, "You're looking pretty cha-cha in that jacket." Cha-cha became the night's leitmotif, climaxing in a pre-dawn amble across a stunningly landscaped garden overlooking the Hudson. I peacocked up to an archway proscenium that framed the gliding river, the rest of the world stretching past the horizon like a black-light rendition of Saul Steinberg's view from 9th Avenue. Gesturing with my resplendent sleeve, I said, "Welcome to my cha-cha kingdom." Applause.
Despite its mothballed provenance, the jacket became a totem of hysterical youth, a marker of my gleeful need to possess the world by protruding into it. Even when Hope and I moved to New York to get married and produce theater, people would stop to stare at its mock-shamanic oddness. If I couldn't make a mark with my work, I'd do it with my wardrobe.
I loved this jacket so much that it was hard to admit when the cha-cha kingdom began crumbling. Eventually, I couldn't button it up anymore — my most successful protrusion was in the area of my gut. Invincibility faltering, my body had rendered this sacred object ridiculous.
I hung it up next to our living room window — as decoration, artifact, maybe even incentive to lose a little weight. Sure. Mostly, it was a proof that our most cherished symbols can literally disappear into the woodwork. For more than a decade, well past the point when I stopped writing plays, it barely stood out — until this spring, when Hope and I were packing up to move after 19 years in our first post-college apartment.
The sun had blanched one arm a fluffy taupe, but when you pulled it back, the neon still flashed. What was it going to do now — languish unseen in the back of a closet?
I grabbed some scissors, cut a swatch from the back, and gently folded it up to travel to our new place. It's unfurled in front of me right now, desperately curious to find out what comes next.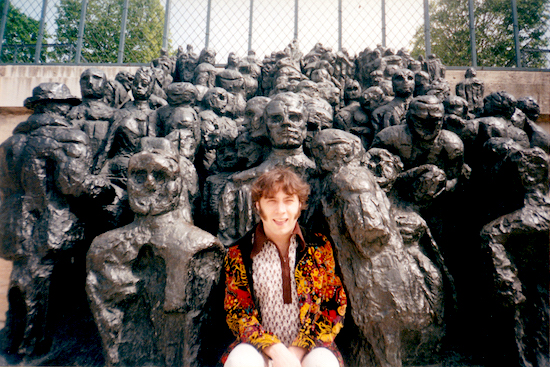 *
FOSSILS: INTRODUCTION | Allegra Huston on SKATAWAY JACKET | Kevin Obsatz on HOMEMADE NUNCHUKS | Ian Bogost on DESKTOP TELEPHONE | Jeff Lewonczyk on CHA-CHA JACKET SCRAP | Kelly Horan on VOLVO KEY | Sarah Rich on WESTFEST EARRINGS | Cynthia Joyce on MELODICA | Kevin Brockmeier on SALADMOBILE | Adam Harrison Levy on PASSPORT HOLDER | Marissa Frayer on BABY BLANKET | Elizabeth Foy Larsen on RML BOOKEND | Jae Nichelle on SHEET MUSIC | Sean Patrick Walsh on TYPEWRITER | Andrew Innes on BUST OF DUCK | Carla Sinclair on FACTSHEET FIVE | Chapell Ellison on SLEIGH BELL | Malcolm Evans on "QUEEN MARY" FOB | Jason Gilbert on HAND CHAIR | Karl Taro Greenfeld on OPIUM KIT | Tony Leone on MODEL TANK | Dave Boerger on TEEN BIBLE | Chelsey Johnson on BREYER HORSES | Erin M. Routson on PAPER WALLET | Alissa Walker on JUKEBOX | Adrienne Crew on FISH SCALER.
FLAIR: INTRODUCTION | Cliff Kuang on ROLEX DATEJUST | Ethan Zuckerman on LAPTOP STICKERS | Ann Shoket on LEATHER JACKET | Kembrew McLeod on KEMBREW MERCH | Paola Antonelli on MERMAID TEARS | & 20 MORE.
LOST OBJECTS (vol. 1): INTRODUCTION | Kate Bernheimer on MULLET WIG (ill. Amy Evans) | Dan Piepenbring on COLOGNE (ill. Josh Neufeld) | Doug Dorst on STRATOCASTER (ill. John Holbo) | Paul Lukas on VANILLA BEAN (ill. Allison Bamcat) | Mimi Lipson on DODGE DART (ill. Mister Reusch) | & 20 MORE.
ILLICIT OBJECTS: INTRODUCTION | Kio Stark on PEEPSHOW TOKEN | Sari Wilson on TOMBSTONE PARTS | Annalee Newitz on CAR-BOMB REMNANT | Tito Bottitta on MOONINITE DEVICE | Eric Bennett on DIRTY MAGAZINE | & 20 MORE.
TALISMANIC OBJECTS: INTRODUCTION | Veda Hille on CROCHET SHEEP | Gary Panter on DINOSAUR BONES | Jami Attenberg on SELENITE CRYSTAL | Annie Nocenti on MINIATURE DICE | Wayne Curtis on CLOCK WINDING KEY | & 20 MORE.
POLITICAL OBJECTS: INTRODUCTION | Luc Sante on CAMPAIGN PAMPHLETS | Lydia Millet on PVC POLAR BEAR | Ben Greenman on MATCHBOX CAR | Rob Baedeker on PRESIDENTS PLACEMAT | L.A. Kauffman on WHEATPASTE POSTER | & 20 MORE.
SIGNIFICANT OBJECTS at HILOBROW: PROJECT:OBJECT homepage | PROJECT:OBJECT newsletter | PROJECT:OBJECT objects (Threadless shop — all profits donated to the ACLU) | POLITICAL OBJECTS series (1Q2017) | TALISMANIC OBJECTS series (2Q2017) | ILLICIT OBJECTS series (3Q2017) | LOST OBJECTS vol. 1 series (4Q2017) | FLAIR series (2Q2018) | FOSSIL series (4Q2018) | FETISHES series (2Q2019) | LOST OBJECTS vol. 2 series (4Q2019) | MOVIE OBJECTS series (2Q2020). ALSO SEE: SIGNIFICANT OBJECTS website | SIGNIFICANT OBJECTS collection, ed. Rob Walker and Josh Glenn (Fantagraphics, 2012) | TAKING THINGS SERIOUSLY, ed. Josh Glenn (Princeton Architectural Press, 2007) | TAKING THINGS SERIOUSLY excerpts.