PROJECT:OBJECTIONABLE (4)
By: Maria Swisher
October 13, 2021
One in a series of 25 first-person narratives of offense, outrage, innocent transgression or principled affront, in attire, display, speech or spectacle.
*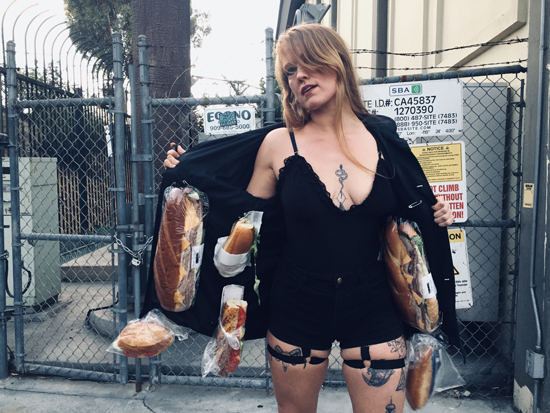 STEALING GENIUS
"Art is what you can get away with." — Andy Warhol*
When he brought in those stolen sandwiches it bothered me. And what bothered me more was the thought that it bothered me because I hadn't stolen them. Annoyingly, I'd been clean for several months and there's no one more self-righteous than a former degenerate. I'd just finished a yoga teacher training course and had been entertaining the idea that stealing might actually be bad for me. Not just because I might get caught and go to jail. Like somewhere in my soul, which I'd also been entertaining the idea of having.
"Asteya basically means, don't steal," our taut blonde instructor intoned from her position in Hero Pose. "I'm sure you're all thinking, I would never steal! " giggle giggle  "But this principle goes so much deeper than that." I felt an odd wave of shame and pride shining from my 3rd chakra like a beam of golden light. "Oh, I steal," I thought. "I'm an exceptional human being, like Napoleon or Winona Rider."
Though exceptional, I tried my best not to be a bastard. My MMPI looks relatively normal, as embarrassing as that is. So I had rules. I didn't steal from people; I stole from institutions.**
Wal-Mart ruined my hometown ∴ They owe me this free triple antibiotic ointment.
If the IRS really wants me to declare ALL my income, maybe Uncle Sam ought to use some of that dough to help with the tooth that's rotting out of my head? K, thanks.
I guess when you're creative you can justify just about anything.
And so now, newly law-abiding and working on this experimental theatre show downtown, my collaborator bringing in stolen Starbucks cheese-cube trays every day was making my palms itch.
Of course, Mack*** was doing it out of necessity. At least in the reality I live in. He didn't have money, for a multitude of complex psychological and socioeconomic reasons, but mostly because he was an artist. He'd spent all his money renting this 80-seat theatre, where he was also sleeping. He'd made a virtuous choice, not selling his (hypothetical) soul to become a cog in the capitalist machine. But even to a comrade, his smugness was irritating.
For those who haven't recently had the pleasure of getting away with theft, there's a thrill of euphoria followed by an immediate knowledge that I'm so much smarter than everyone else following the rules. Mack was in the intoxicating glow of that feeling. However, for those of us with relatively normal (read: boring) MMPI's, after the elation come the emotional undertones of Raskolnikov and out-out-damned-spot.
Mack had none of that. How was he so calm, fisting his pilfered caesar wrap as he regaled us with his latest escapades? Was this enlightenment? Or just a white dude thing? I was dying to take a look at his MMPI. Wiping the mayonnaise from his chin, he pointed out that he recognized his privilege. He was a thin ginger white man with what might pass as a fine wool coat draped over his arm (to hide the sandwiches). His clothes were old but his je ne sais quoi of vagrancy was only in line with the standard Williamsburger. He could get away with more than most. He lifted his eyebrow facetiously, finishing the tortilla. But we all use the privileges we have to survive, don't we? Isn't that the American way?
Suddenly it dawned on me; the reason I was reformed had so very little to do with yoga. I'd grown accustomed to paying for sandwiches because it was easier. I'd figured out how to shake my ass on a bar so many times I had filled shoeboxes under my bed with cash. Enough cash to take a yoga teacher training course where I could get enlightened to the karmic repercussions of stealing and have the luxury of entertaining that shit. I'd replaced petty crime with the false hopes and dreams I peddled in the undulations of my yoga-toned body, the hours I stole from rows of shell-shocked punters as shots flowed from my fingertips like flaming oil into the Florida Gulf.
Viva the thief, I say. There's no artist like a con-artist.
---
*Not really an Andy Warhol quote.
**For the record, this is a piece of art and is completely fictional. I always pay my fucking taxes. God Bless America.
***Not his name.
*
PROJECT:OBJECTIONABLE: INTRODUCTION by Adam McGovern | Adrienne Crew on MAKIN' BACON | Lynn Peril on BABY'S FIRST ASHTRAY | Lisa Levy on TOILETTE-À-TÊTE | Maria Swisher on STEALING GENIUS | Oliver Baer on CTHULHU SEX MAGAZINE | Yelena Tylkina on A DRINK TO DEATH | Elke Claus on URINAL SHRINE | Jeff Lewonczyk on SUSPENDERS OF DISBELIEF | Jenn Mehm on TWIN SKIN | Marlon Stern Lopez on SOUVENIR OF THE LAPD | Lauren Curtis on NAILED IT! | Josh Glenn on K-TEL TRUCKER TAPE | Fran Pado on THE BRIEF LIFE OF FRANCES POTTER | Nikhil Singh on HASHTAG FASHIONPOLICEPROBLEMS | Adam McGovern on PERSONA NON GRATA | Crystal Durant on LICENSE TO SHOCK | Dean Haspiel on DIRTY DOORKNOB | Justin J Bowen on UNKLE KRAMPUS | Annie Nocenti on STICKY FINGERS | Michele Carlo on THE MANY HATS OF CARMEN MOFONGO | Alice Meichi Li on BEDTIME FOR CATWOMAN | Whitney Matheson on GYNECOLOGICAL GOODFELLA | Ran Xia on PROJECT GREENCARD | Mimi Lipson on MEIN KITSCH | Art Wallace on ELECTRIC KOCH.
*
SEMIO OBJECTS: Lucia Laurent-Neva on SPONGEBOB BUS | Samuel Grange on SALT & PEPPER HOLDER| Ximena Tobi on VASALISA | Sónia Marques on CABBAGE TUREEN | Thierry Mortier on BICYCLE BELL | & 20 MORE.
MOVIE OBJECTS: INTRODUCTION | Ramona Lyons on EYE OF THE SERPENT (CONAN THE BARBARIAN) | Faythe Levine on BEDKNOB (BEDKNOBS AND BROOMSTICKS) | Gerald Peary on CUP OF COFFEE (THE BIG HEAT) | Christopher Orr on TOM'S HAT (MILLER'S CROSSING) | Lynn Peril on TRANSISTOR RADIO (DR. STRANGELOVE) | & 20 MORE.
LOST OBJECTS (vol. 2): INTRODUCTION | Joe Yonan on MACRAMÉ ART (ill. Theo Ellsworth) | Ben Katchor on LUCITE CARRYING CASE | Debbie Millman on GLASS POODLE | Lydia Millet on ROCKY HORROR NOVEL (ill. Berta Valló) | Ben Greenman on WARHOL CAN (ill. Clara Selina Bach) | & 20 MORE.
FETISHES: INTRODUCTION | Josh Foer on DEATH MASK | Beth Lisick on MURDERED-OUT KFC BUCKET | Christina Couch on LEECH ACTION FIGURE | Kenneth Goldsmith on THEWLIS SOCK | Abby Rapoport on MAGNATILES | & 20 MORE.
FOSSILS: INTRODUCTION | Allegra Huston on SKATAWAY JACKET | Kevin Obsatz on HOMEMADE NUNCHUKS | Ian Bogost on DESKTOP TELEPHONE | Jeff Lewonczyk on CHA-CHA JACKET SCRAP | Kelly Horan on VOLVO KEY | & 20 MORE.
FLAIR: INTRODUCTION | Cliff Kuang on ROLEX DATEJUST | Ethan Zuckerman on LAPTOP STICKERS | Ann Shoket on LEATHER JACKET | Kembrew McLeod on KEMBREW MERCH | Paola Antonelli on MERMAID TEARS | & 20 MORE.
LOST OBJECTS (vol. 1): INTRODUCTION | Kate Bernheimer on MULLET WIG (ill. Amy Evans) | Dan Piepenbring on COLOGNE (ill. Josh Neufeld) | Doug Dorst on STRATOCASTER (ill. John Holbo) | Paul Lukas on VANILLA BEAN (ill. Allison Bamcat) | Mimi Lipson on DODGE DART (ill. Mister Reusch) | & 20 MORE.
ILLICIT OBJECTS: INTRODUCTION | Kio Stark on PEEPSHOW TOKEN | Sari Wilson on TOMBSTONE PARTS | Annalee Newitz on CAR-BOMB REMNANT | Tito Bottitta on MOONINITE DEVICE | Eric Bennett on DIRTY MAGAZINE | & 20 MORE.
TALISMANIC OBJECTS: INTRODUCTION | Veda Hille on CROCHET SHEEP | Gary Panter on DINOSAUR BONES | Jami Attenberg on SELENITE CRYSTAL | Annie Nocenti on MINIATURE DICE | Wayne Curtis on CLOCK WINDING KEY | & 20 MORE.
POLITICAL OBJECTS: INTRODUCTION | Luc Sante on CAMPAIGN PAMPHLETS | Lydia Millet on PVC POLAR BEAR | Ben Greenman on MATCHBOX CAR | Rob Baedeker on PRESIDENTS PLACEMAT | L.A. Kauffman on WHEATPASTE POSTER | & 20 MORE.
ALSO SEE: PROJECT:OBJECT homepage | POLITICAL OBJECTS (1Q2017) | TALISMANIC OBJECTS (2Q2017) | ILLICIT OBJECTS (3Q2017) | LOST OBJECTS vol. 1 (4Q2017) | FLAIR (2Q2018) | FOSSILS (4Q2018) | FETISHES (2Q2019) | LOST OBJECTS vol. 2 (4Q2019) | MOVIE OBJECTS (2Q2020) | SEMIO OBJECTS (2Q2021) | SIGNIFICANT OBJECTS (cross-posted from Significant Objects website). ALSO SEE: SIGNIFICANT OBJECTS website | LOST OBJECTS (Hat & Beard Press, 2022) | SIGNIFICANT OBJECTS collection, ed. Rob Walker and Josh Glenn (Fantagraphics, 2012) | TAKING THINGS SERIOUSLY, ed. Josh Glenn (Princeton Architectural Press, 2007) | TAKING THINGS SERIOUSLY excerpts.