FLAIR (3)
By: Ann Shoket
May 8, 2018
The fifth PROJECT:OBJECT volume is a 25-part series of true stories about significant accoutrements, appurtenances, and regalia.
*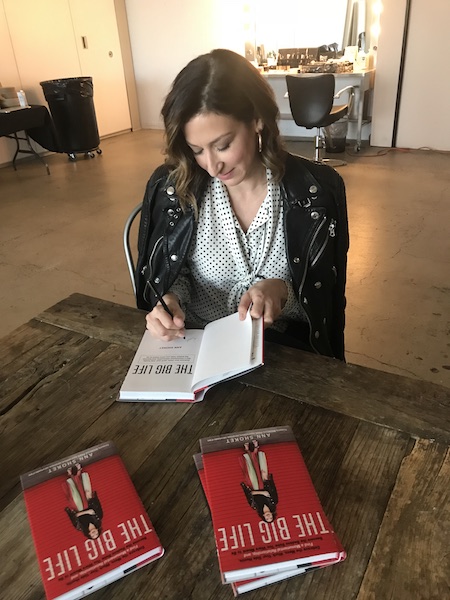 I was profoundly pregnant with my second child in two years when I fell in love. It was the kind of irrational, daydreaming-at-3 p.m., save-me-from-my-gray-day existence kind of love that is usually reserved for high-hormone teen girl crushes. But I fell in love with a jacket I saw in a magazine. It was the most perfect motorcycle jacket ever created, with bright zippers rippling through heavy, buttery black leather.
It's the grown-up version of the stiff-as-a-board Schott leather moto jacket I coveted growing up in the suburbs of Philadelphia in the late 1980s, when I was imagining what it would be like to move to New York and become a writer. Those teen-age dreams are the most powerful promises you make to yourself to do something big in the world. And so I tore out the magazine page, tucked it under my work keyboard where I could see it every day and imagined what it would be like if that jacket was mine. It's a delicious feeling to want what you cannot have — it never would have fit over my ever-expanding belly. Still, I imagined that jacket propped on my shoulders over a feminine dress and zipped up with a heavy fisherman sweater against a cool breeze.
I needed this jacket. My edge, which had been carefully honed by years in the ultra-competitive New York magazine world, was in danger of being blunted by pregnancy and new motherhood. Gone were the pencil skirts and tightly belted skinny sheath dresses that had become my signature. I was moving into earth-mother territory with long wavy locks, floaty tent-like dresses… and I hated every minute of it. I couldn't wait to reclaim my pre-baby body and life. I didn't want anyone to think I'd gone soft. I was not sliding into this next phase of my life with grace. I was charging ahead with grit.
It was months until I was finally able to get dressed like a human being and not a beach ball, and I was sure the jacket would be long gone. I stalked it online and at stores across the country. The thrill of the hunt gave it even more allure.
A lovely woman at a fancy boutique helped me track down one of the last remaining jackets — finally it was mine. I wore it with those feminine dresses and the heavy sweaters. I wore it for business meetings and speaking events. I wore it on Friday nights and Saturdays pushing a stroller. I am even wearing it on my book cover — the most public platform to tell the world who you are in a glance.
The jacket is not nostalgia for my teen-age dream — I am now that writer living in New York City. The jacket is a new promise to hold on to the spirit that keeps us young, hungry, ambitious and still aiming for something big in the world.
*
FLAIR: INTRODUCTION | Cliff Kuang on ROLEX DATEJUST | Ethan Zuckerman on LAPTOP STICKERS | Ann Shoket on LEATHER JACKET | Kembrew McLeod on KEMBREW MERCH | Paola Antonelli on MERMAID TEARS | Kanishka Raja on HANDMADE JACKET | Lynn Peril on BASEBALL RING | Rob Horning on NOTE PAD | Alexandra Lange on BEAD NECKLACE | Stephanie Burt on D&D EARRINGS | Michael Bierut on FEDORA | Debbie Millman on CHARM | Abram Himelstein on LUCKY 7 RING | Deb Chachra on HANDWRAPS | Jennifer Howze on HOLD-UP STOCKINGS | Mark Frauenfelder on CLARK KENT GLASSES | Adam McGovern on PLASTIC ALLIGATOR SHOES | Nicola Twilley on GOLD BRACES | Anne Quito on MUSEUM EARRINGS | Kristin Parker on STEEL BRACELET | Hillary Chute on POCKET KNIFE | James Gaddy on RESTAURANT PEN | Davy Rothbart on SHOELACE BELT | David Hajdu on PINCE-NEZ | Bishakh Som on KNEE-HIGH BOOTS.
LOST OBJECTS (vol. 1): INTRODUCTION | Kate Bernheimer on MULLET WIG (ill. Amy Evans) | Dan Piepenbring on COLOGNE (ill. Josh Neufeld) | Doug Dorst on STRATOCASTER (ill. John Holbo) | Paul Lukas on VANILLA BEAN (ill. Allison Bamcat) | Mimi Lipson on DODGE DART (ill. Mister Reusch) | & 20 MORE.
ILLICIT OBJECTS: INTRODUCTION | Kio Stark on PEEPSHOW TOKEN | Sari Wilson on TOMBSTONE PARTS | Annalee Newitz on CAR-BOMB REMNANT | Tito Bottitta on MOONINITE DEVICE | Eric Bennett on DIRTY MAGAZINE | & 20 MORE.
TALISMANIC OBJECTS: INTRODUCTION | Veda Hille on CROCHET SHEEP | Gary Panter on DINOSAUR BONES | Jami Attenberg on SELENITE CRYSTAL | Annie Nocenti on MINIATURE DICE | Wayne Curtis on CLOCK WINDING KEY | & 20 MORE.
POLITICAL OBJECTS: INTRODUCTION | Luc Sante on CAMPAIGN PAMPHLETS | Lydia Millet on PVC POLAR BEAR | Ben Greenman on MATCHBOX CAR | Rob Baedeker on PRESIDENTS PLACEMAT | L.A. Kauffman on WHEATPASTE POSTER | & 20 MORE.
SIGNIFICANT OBJECTS at HILOBROW: PROJECT:OBJECT homepage | PROJECT:OBJECT newsletter | PROJECT:OBJECT objects (Threadless shop — all profits donated to the ACLU) | POLITICAL OBJECTS series (1Q2017) | TALISMANIC OBJECTS series (2Q2017) | ILLICIT OBJECTS series (3Q2017) | LOST OBJECTS vol. 1 series (4Q2017) | FLAIR series (2Q2018) | FOSSIL series (4Q2018) | FETISHES series (2Q2019) | LOST OBJECTS vol. 2 series (4Q2019) | MOVIE OBJECTS series (2Q2020). ALSO SEE: SIGNIFICANT OBJECTS website | SIGNIFICANT OBJECTS collection, ed. Rob Walker and Josh Glenn (Fantagraphics, 2012) | TAKING THINGS SERIOUSLY, ed. Josh Glenn (Princeton Architectural Press, 2007) | TAKING THINGS SERIOUSLY excerpts.