POLITICAL OBJECTS (2)
By: Lydia Millet
January 19, 2017
One in a 25-part series of nonfiction stories about objects of political significance. This is the first volume in the PROJECT:OBJECT series. Please subscribe to the P:O newsletter; and purchase P:O apparel and accessories — all profits will be donated to the ACLU!
*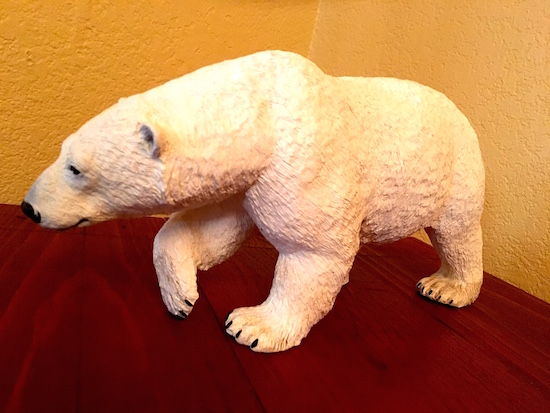 PVC POLAR BEAR
Fashioned of rigid polyvinylchloride, the polar bear figurine is perfect, an item of contradiction and no contradiction at all.
Polar bears are being driven toward extinction by sea-ice melt in the Arctic, which in turn is being caused by greenhouse gases in the atmosphere, which are mostly generated by the processing and consumption of fossil fuels such as oil.
PVC is one of the most common plastic polymers in the world. It is primarily made of ethylene, a petrochemical product.
This is an object made of oil, in the form of an animal that oil is driving extinct.
Oil is itself made of extinct animals.
The bear embodies our tortured, gluttonous, sensual, fetishistic, pathological relationship to oil, a substance that surrounds and defines the narratives of our daily existences, both in their plot and in their tone. Most of our toys are made of oil. Oil clothes us, feeds us, shelters us, and moves us almost everywhere we go. After air and water, over the past century or so, it is oil that comes closest to being the true medium of our lives.
I hold the polar bear figure, which I have owned for many years, and feel a curious and fractured fondness for it, the posture of its body and the expression on its face — one I take to be of resignation and fatigue. I am aware these are projections onto a factory-made semblance of a living creature. But they're etched onto my perception of the bear as surely as the grooves of pretend fur are etched into its flanks.
Polar bears may well be the most politicized animals in the world. The species is at the fore of the climate-change driven extinction wave, at the heart of a global fight over the course of the future. This is a struggle between two elites, the knowledge elite and the power elite. Sometimes these elite groups overlap; sometimes they do not. But everyone outside the elites, human and otherwise, is a pawn in the struggle.
In the United States, polar bears have been partly protected by the Endangered Species Act since 2008. Partly because a loophole in the Act has allowed the main threat to their existence, global warming, to remain unaddressed.
In the wake of November 2016, we're shifting to governance by a power elite that flatly rejects knowledge. Science, fact, expert consensus are irrelevant, subjugated to sheer dominance, the basic assertion of power. At this moment the knowledge elite, which urges protection of both polar bear and planet, whimpers.
The polar bear made out of oil will have a long, long life.
*
POLITICAL OBJECTS series: INTRODUCTION | Luc Sante on CAMPAIGN PAMPHLETS | Lydia Millet on PVC POLAR BEAR | Ben Greenman on MATCHBOX CAR | Rob Baedeker on PRESIDENTS PLACEMAT | L.A. Kauffman on WHEATPASTE POSTER | Astra Taylor on SALAM'S NECKLACE | Carolina A. Miranda on POCHO | Stephen Duncombe on PROTEST SIGN | Marisa Silver on SHAMAN BOWLS | James Hannaham on DR. BUZZARD LP | Virginia Heffernan on HRC PAINTING | Kenya (Robinson) on BURNER PHONE | Kathryn Davis on POLITBUREAU | Chenjerai Kumanyika on NAT TURNER PRINT | Alexis Madrigal on MERMAID COSTUME | Anne Boyer on ALL KNEES AND ELBOWS OF SUSCEPTIBILITY AND REFUSAL | Steven Heller on JFK DOLL | Anne Elizabeth Moore on BLOOD PRESSURE MONITOR | Gary Dauphin on RUM BOTTLE | Tom Frank on DNC PASS | Lizzie Skurnick on GROUP PHOTO | Stuart Ewen on SNCC PIN | Benjamen Walker on BEEF BOX 12″ | Rob Walker on CAMPAIGN SIGN | Alex Kalman on THEM=US PIN.
SIGNIFICANT OBJECTS at HILOBROW: PROJECT:OBJECT homepage | PROJECT:OBJECT newsletter | PROJECT:OBJECT objects (Threadless shop — all profits donated to the ACLU) | POLITICAL OBJECTS series (1Q2017) | TALISMANIC OBJECTS series (2Q2017) | ILLICIT OBJECTS series (3Q2017) | LOST OBJECTS vol. 1 series (4Q2017) | FLAIR series (2Q2018) | FOSSIL series (4Q2018). 12 DAYS OF SIGNIFICANCE | 12 MORE DAYS OF SIGNIFICANCE | 12 DAYS OF SIGNIFICANCE (AGAIN) | ANOTHER 12 DAYS OF SIGNIFICANCE . ALSO SEE: SIGNIFICANT OBJECTS website | SIGNIFICANT OBJECTS collection, ed. Rob Walker and Josh Glenn (Fantagraphics, 2012) | TAKING THINGS SERIOUSLY, ed. Josh Glenn (Princeton Architectural Press, 2007) | TAKING THINGS SERIOUSLY excerpts.