FIVE-O YOUR ENTHUSIASM (19)
By: Adrienne Crew
June 3, 2021
One in a series of 25 enthusiastic posts, contributed by 25 HILOBROW friends and regulars, on the topic of our favorite TV shows of the Sixties (in our periodization: 1964–1973).
*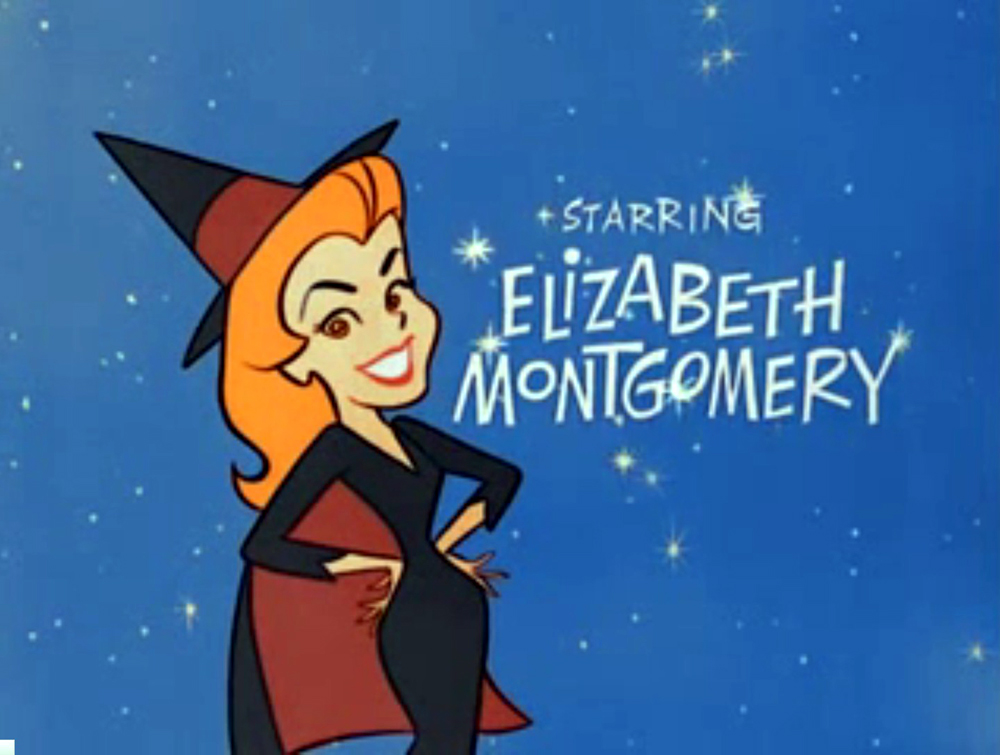 BEWITCHED | 1964–1972
Bewitched enchanted me. The sitcom, about an advertising account exec (Dick York as Darrin Stephens) who marries a witch (Elizabeth Montgomery as Samantha) and asks her to adopt the life of a suburban housewife, taught me that magic was bigger than mere tricks. Samantha and Darrin opened my eyes to a variety of secrets… hidden in the worlds of visual effects, advertising, and cultural politics.
The show started in 1964, and the first 74 episodes were filmed in black-and-white; the show switched to color in '66. I started watching in '68, so whenever black-and-white episodes were rerun, I became aware that color TV hadn't always existed. And this revelation made me hyper-aware of the show's (pre-CGI) visual effects. Samantha's signature nose twitch, used during spell-casting, was a camera trick — techs sped up the film as Montgomery wiggled her upper lip. To facilitate Endora's frequent pop-ins, Agnes Moorehead would walk in/out of the frame while the cameras were stopped; meanwhile, the other actors would freeze in their positions. Special effects teams managed flying effects with wires and wind machines. When making Dr Bombay's flashy entrances, actor Bernard Fox contended with smoke machines and firepots.
Bewitched played tricks with my head as well. In 1972, Dick Sargent replaced Dick York in the role of Darrin. Bewitched kept viewers on our toes: The "Darrin Switch" was only the most noticeable on-screen character alteration. The role of nosy neighbor Gladys Kravitz was shared by two actresses, while Elizabeth Montgomery played her alter ego, Cousin Serena, on a frequent basis.
I loved all the witchy stuff, but it was Darrin's occult world of advertising that transfixed me. Bewitched was one of the first shows to reveal the inner workings of the advertising industry. After watching Darrin navigate his role as at McMann & Tate Advertising (a shout out to real-life advertising agency McCann Erickson), I grew savvy about corporate sponsorships… like the one that impacted each season's animated title credits. Bewitched taught me about the precarious nature of client management, and capturing inspiration on the fly. Words and phrases like slogan, Madison Avenue, campaign, and layout boards entered my vocabulary.
This was a romantic comedy about a mixed marriage. Samantha could have confessed to being African American or Jewish or a Muslim. Feeling tricked, Darrin's antipathy created conflict. Storylines echoed obstacles that mixed couples still face from hostile relatives and suspicious neighbors. Proto-feminist Samantha defied her husband, using her power to right wrongs. Endora critiqued the institution of marriage frequently. The show injected progressive notions into storylines. One episode featured Samantha teaching a lesson to a bigoted client by switching the color of his skin. (Putting the actor in blackface was a cop-out. Showrunners could have had a black actor play the bigot during his comeuppance. But it was a different era.) Via these and other story lines, Bewitched taught me the power of metaphor… and later, I'd learn these metaphors were correspondences in metaphysics.
Bewitched may have ended in 1972, but its magic lives forever.
***
FIVE-O YOUR ENTHUSIASM: INTRODUCTION by Josh Glenn | Lynn Peril on DARK SHADOWS (1966–1971) | Mark Kingwell on THE MAN FROM U.N.C.L.E. (1964–1968) | Elizabeth Foy Larsen on I DREAM OF JEANNIE (1965–1970) | Luc Sante on SECRET AGENT/DANGER MAN (1964–1968 seasons) | Erin M. Routson on THE PATTY DUKE SHOW (1963–1966 run) | Gordon Dahlquist on HAWAII FIVE-O (1968–1973 seasons) | Annie Nocenti on GET SMART (1965–1970) | Sara Driver on THE ADDAMS FAMILY (1964–1966) | Carlo Rotella on MANNIX (1967–1973 seasons) | Adam McGovern on JULIA (1968–1971) | Mimi Lipson on THE MARY TYLER MOORE SHOW (1970–1973 seasons) | Josh Glenn on BATMAN (1966–1968) | Tom Nealon on HOGAN'S HEROES (1965–1971) | Miranda Mellis on THE ODD COUPLE (1970–1973 seasons) | Peggy Nelson on GILLIGAN'S ISLAND (1964–1967) | Susan Roe on THE BRADY BUNCH (1969–1973 seasons) | Michael Grasso on UFO (1970–1973) | Richard McKenna on DOOMWATCH (1970–1972) | Adrienne Crew on BEWITCHED (1964–1972) | Michael Lewy on STAR TREK (1966–1969) | Greg Rowland on THE PARTRIDGE FAMILY (1970–1973 seasons) | David Smay on THE MONKEES (1966–1968) | Vijay Parthasarathy on THE DICK VAN DYKE SHOW (1964–1966 seasons) | Carl Wilson on THE CAROL BURNETT SHOW (1967–1973 seasons) | Jessamyn West on EMERGENCY! (1972–1973 seasons).
MORE ENTHUSIASM at HILOBROW
TEEN YOUR ENTHUSIASM (2Q2023): ANDY GIBB | KIM WYLDE | KIRK CAMERON | MACCA | SHAUN CASSIDY & 20 other heartthrobs. DOLLY YOUR ENTHUSIASM (1Q2023): WE FOUND IT | TOGETHER AGAIN | SUNDAY MORNIN' COMIN' DOWN | BAD CASE OF THE BLUES | FANCY | & 20 other Sixties (1964–1973) Country singles. KILL YOUR ENTHUSIASM (4Q2022): LT. TASHA YAR | JOYCE SUMMERS | COL. HENRY BLAKE | MRS. LANDINGHAM | ALEX KAMAL | & 20 other TV deaths. BLURB YOUR ENTHUSIASM (3Q2022): LEFT-CORNER BRICK | JOY IS RESISTANCE | THE FUTURE IS PASSÉ | EVERY MINUTE AN OCEAN | SHUT UP, HE EXPLAINED | & 20 other apothegms to live by. KOJAK YOUR ENTHUSIASM (2Q2022): ARK II | WKRP IN CINCINNATI | BUCK ROGERS | THE WHITE SHADOW | POLICE WOMAN | & 20 other Seventies (1974–1983) TV shows. KICK YOUR ENTHUSIASM (1Q2022): KUILL | CATO | COSMO | TRIXIE | VOLSTAGG | & 20 other sidekicks. NERD YOUR ENTHUSIASM (4Q2021): TIME | THE POST OFFICE | ARDUIN | DOUBT | SUMMATIONS | & 20 other nerdy passions. SWERVE YOUR ENTHUSIASM (3Q2021): WARHOL'S WALT WHITMAN | 70, GIRLS, 70 | TYRAEL'S MIGHT | SHIRATO SANPEI | THE LEON SUITES | & 20 other never-realized cultural productions. FIVE-O YOUR ENTHUSIASM (2Q2021): DARK SHADOWS | MANNIX | GET SMART | THE ADDAMS FAMILY | I DREAM OF JEANNIE | & 20 other Sixties (1964–1973) TV shows. FERB YOUR ENTHUSIASM (1Q2021): STEVEN UNIVERSE | TOP CAT | REN & STIMPY | SHE-RA AND THE PRINCESSES OF POWER | DRAGON BALL Z | & 20 other animated series. CARBONA YOUR ENTHUSIASM (2020): "Sex Bomb" | "Going Underground" | "Soft South Africans" | "Typical Girls" | "Human Fly" | & 20 other Seventies (1974–1983) punk singles. KLAATU YOU (2020 weekly): ZARDOZ | METROPOLIS | DARK STAR | SINS OF THE FLESHAPOIDS | SOLARIS | & dozens of other pre-STAR WARS sci-fi movies. CONVOY YOUR ENTHUSIASM (2019): THE TAKING OF PELHAM ONE TWO THREE | ROLLERBALL | BLACK SUNDAY | SORCERER | STRAIGHT TIME | & 20 other Seventies (1974–1983) action movies. SERIOCOMIC (2019 weekly): LITTLE LULU | VIZ | MARSUPILAMI | ERNIE POOK'S COMEEK | HELLBOY | & dozens of other comics. TUBE YOUR ENTHUSIASM (2018): LOONEY TUNES | THREE STOOGES | THE AVENGERS | ROCKY & BULLWINKLE | THE TWILIGHT ZONE | & 20 other Fifties (1954–1963) TV shows. WOWEE ZOWEE (2018 weekly): UNISEX | UNDER THE PINK | DUMMY | AMOR PROHIBIDO | HIPS AND MAKERS | & dozens of other Nineties (1994–2003) albums. KLUTE YOUR ENTHUSIASM (2017): THE KILLERS | BANDE À PART (BAND OF OUTSIDERS) | ALPHAVILLE | HARPER | BLOW-UP | & 20 other Sixties (1964–1973) neo-noir movies. #SQUADGOALS (2017 weekly): THE WILD BUNCH | BOWIE'S BAND | THE BLOOMSBURY GROUP | THE HONG KONG CAVALIERS | VI ÄR BÄST! & dozens of other squads. GROK MY ENTHUSIASM (2016 weekly): THE THEORY AND PRACTICE OF LUNCH | WEEKEND | MILLION YEAR PICNIC | LA BARONNE EMILE D'ERLANGER | THE SURVIVAL SAMPLER | & dozens more one-off enthusiasms. QUIRK YOUR ENTHUSIASM (2016): "Tainted Love" | "Metal" | "Frankie Teardrop" | "Savoir Faire" | "Broken English" | & 20 other Seventies (1974–1983) new wave singles. CROM YOUR ENTHUSIASM (2015): DARKER THAN YOU THINK | THE SWORD IN THE STONE | OUT OF THE SILENT PLANET | THIEVES' HOUSE | QUEEN OF THE BLACK COAST | & 20 other Thirties (1934–1943) fantasy novels. KERN YOUR ENTHUSIASM (2014): ALDINE ITALIC | DATA 70 | TORONTO SUBWAY | JOHNSTON'S "HAMLET" | TODD KLONE | & 20 other typefaces. HERC YOUR ENTHUSIASM (2013): "Spoonin' Rap" | "Rapper's Delight" | "Rappin' Blow" | "The Incredible Fulk" | "The Adventures of Super Rhyme" | & 20 other Seventies (1974–1983) hip-hop songs. KIRK YOUR ENTHUSIASM (2012): Justice or vengeance? | Kirk teaches his drill thrall to kiss | "KHAAAAAN!" | "No kill I" | Kirk browbeats NOMAD | & 20 other Captain Kirk scenes. KIRB YOUR ENTHUSIASM (2011): THE ETERNALS | BLACK MAGIC | DEMON | OMAC | CAPTAIN AMERICA | & 20 other Jack Kirby panels.