LOST OBJECTS (1)
By: Kate Bernheimer
October 1, 2017
One in a 25-part series of nonfiction stories about lost objects. We asked 25 writers to tell us about a significant object they'd lost (or thrown away, or destroyed), then assigned these stories to 25 illustrators. We're thrilled with the results. This is the fourth volume in the PROJECT:OBJECT series.
UPDATE: The Lost Objects book was published in September 2022 by Hat & Beard Press. Check it out!
*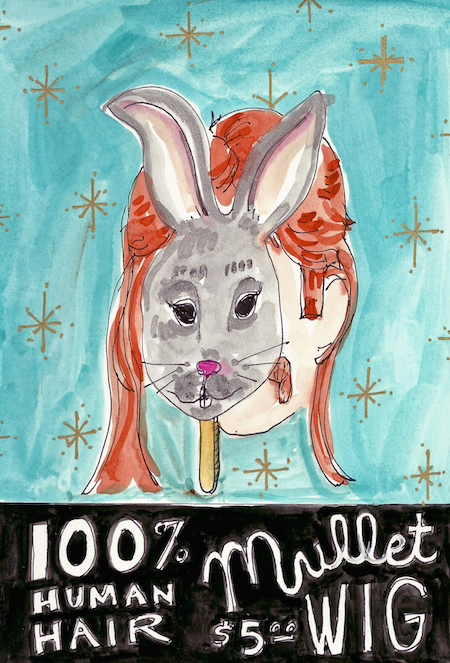 The night before I wore the mullet wig, in a circular, star-lit private room, I was introduced to a woman (peach gown, auburn hair, moon-glow complexion) who, grasping my hand, said I know everything about you. I longed and dreaded to ask her what she knew, for I knew nothing then of myself!
The party went very late. I awoke alone to a brilliant blue and washed morning — eventually my husband returned. We took the elevator down and waited for a white vintage Jaguar to pull up to the hotel. Dressed in a Beefeater outfit, the doorman tipped his hat, opened the door for me, and gazed into the car. A Jaguar is a beautiful creature but the Beefeater's expression, full of desire, was directed at the car's driver. The Beefeater seemed not to be aware that he was in costume; I marveled at this. My husband worked to fold himself into the tiny back seat beside an unfamiliar man. At the soiree later that night this man, who had an affable face, would be dressed in a robe — a monk's robe? a judge's? a nun's? — and would preside over the marriage of the driver to the beautiful, red-headed woman who had known everything about me last night.
The affable man continued speaking to the driver about a song by the driver that blasted out open windows. We floated downhill. Coffee splashed — I gasped — I wore a white jacket over a white undershirt (later I would add a black satin tie) — its purity spared — no one had noticed the peril. "This is a really good song," I said. "The roses are so pretty this time of year!"
I was excited. We were being whisked — secretly — to a costume shop. The costume shop was closed but the costume shop was going to opened for us. In the dark shop, rows and rows of heavy textiles — strangely perfumed — among them got lost near a tiger. The costumes were for wedding guests to be photographed in, but this search for incognito attire sought something else with its palm. The groom held up garments (black velvet, white leather, gold armor). The stranger was decisive, nodded yes, no, yes, no, yes, yes and so on.
I was told to select a few wigs. Blonde, rainbow, braids, none suited me but many such wigs were acquired. And then I found it. In the mirror, I saw myself just as I had always imagined. I felt bewitched, I felt formal. Finally, I understood what Rimbaud meant: J'est un autre. "That looks good," the groom said, as if he never had seen me before! As if he didn't know me! All the make-believe outfits went into an old-fashioned trunk.
At the soiree, I wore the mullet wig for a portrait. In it, my husband holds a rabbit mask in front of his face. I look just like myself only different. He looks like a man holding a leporine mask in front of his face. In the wan light of the next morning, Champagne-lit, I was whisked back to the hotel in a white van. Alone in the room I discovered I was still wearing the wig. I have no idea where it is now. Nor my then-husband.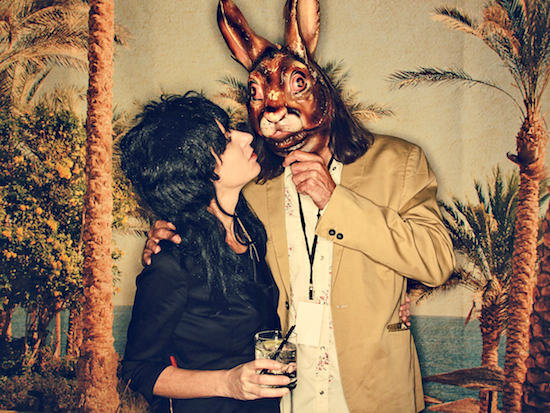 *
ABOUT THE AUTHOR: See sidebar.
ABOUT THE ARTIST: Amy C. Evans is an artist, writer, educator, and independent documentarian based in Houston, Texas. She appreciates a good meringue and can never eat too many oysters.
LOST OBJECTS series: INTRODUCTION | Kate Bernheimer on MULLET WIG (ill. Amy Evans) | Dan Piepenbring on COLOGNE (ill. Josh Neufeld) | Doug Dorst on STRATOCASTER (ill. John Holbo) | Paul Lukas on VANILLA BEAN (ill. Allison Bamcat) | Mimi Lipson on DODGE DART (ill. Mister Reusch) | Luc Sante on CLUB CHAIR (ill. Kate Bingaman-Burt) | Nina Katchadourian on FOUNTAIN PENS (ill. Lisa Congdon) | Matthew Sharpe on BAUBLE (ill. Glenn Jones) | Claire Lehmann on PEANUT-BUTTER CRACKERS (ill. Karen Kurycki) | Jessamyn West on ENGINEER RING (ill. Amanda Clarke) | Mandy Keifetz on ORGONE ACCUMULATOR (ill. Emory Allen) | Molly Sauter on DESKTOP DOG (ill. Shayna Piascik) | Amy Thielen on DOG-FUR SCARF (ill. Heather Kasunick) | Stephen O'Connor on HUNTING HAT (ill. Oliver Munday) | Alice Boone on COLLEGE NEWSPAPERS (ill. Rick Pinchera) | Dante Ramos on ROAD ATLAS (ill. Joe Alterio) | Alex Balk on SHOOTING GALLERY (ill. John Lowe) | Chelsey Johnson on NOTEBOOK (ill. Rubi McGrory) | Susannah Breslin on SILICONE VAGINA (ill. Jennifer Heuer) | Seth Mnookin on .22 REVOLVER (ill. Alex Eben Meyer) | Dan Fox on CONKER (ill. Linzie Hunter) | Lisa Takeuchi Cullen on GLASS CLOCK (ill. Rose Wong) | Michael Tisserand on WALKING SHOES (ill. Jackie Roche) | Jeff Turrentine on BASEBALL MITT (ill. Andrew DeGraff) | Randy Kennedy on SNAKE RATTLES (ill. Max Temescu).
ILLICIT OBJECTS series: INTRODUCTION | Kio Stark on PEEPSHOW TOKEN | Sari Wilson on TOMBSTONE PARTS | Annalee Newitz on CAR-BOMB REMNANT | Tito Bottitta on MOONINITE DEVICE | Eric Bennett on DIRTY MAGAZINE | & 20 MORE.
TALISMANIC OBJECTS series: INTRODUCTION | Veda Hille on CROCHET SHEEP | Gary Panter on DINOSAUR BONES | Jami Attenberg on SELENITE CRYSTAL | Annie Nocenti on MINIATURE DICE | Wayne Curtis on CLOCK WINDING KEY | & 20 MORE.
POLITICAL OBJECTS series: INTRODUCTION | Luc Sante on CAMPAIGN PAMPHLETS | Lydia Millet on PVC POLAR BEAR | Ben Greenman on MATCHBOX CAR | Rob Baedeker on PRESIDENTS PLACEMAT | L.A. Kauffman on WHEATPASTE POSTER | & 20 MORE.
SIGNIFICANT OBJECTS at HILOBROW: PROJECT:OBJECT homepage | PROJECT:OBJECT newsletter | PROJECT:OBJECT objects (Threadless shop — all profits donated to the ACLU) | POLITICAL OBJECTS series (1Q2017) | TALISMANIC OBJECTS series (2Q2017) | ILLICIT OBJECTS series (3Q2017) | LOST OBJECTS vol. 1 series (4Q2017) | FLAIR series (2Q2018) | FOSSIL series (4Q2018). 12 DAYS OF SIGNIFICANCE | 12 MORE DAYS OF SIGNIFICANCE | 12 DAYS OF SIGNIFICANCE (AGAIN) | ANOTHER 12 DAYS OF SIGNIFICANCE . ALSO SEE: SIGNIFICANT OBJECTS website | SIGNIFICANT OBJECTS collection, ed. Rob Walker and Josh Glenn (Fantagraphics, 2012) | TAKING THINGS SERIOUSLY, ed. Josh Glenn (Princeton Architectural Press, 2007) | TAKING THINGS SERIOUSLY excerpts.