SWERVE YOUR ENTHUSIASM (19)
By: Sajan Saini
September 2, 2021
One in a series of 25 enthusiastic posts, contributed by 25 HILOBROW friends and regulars, on the topic of our favorite unfinished masterworks, legendary obscurities and cherished almost-weres.
*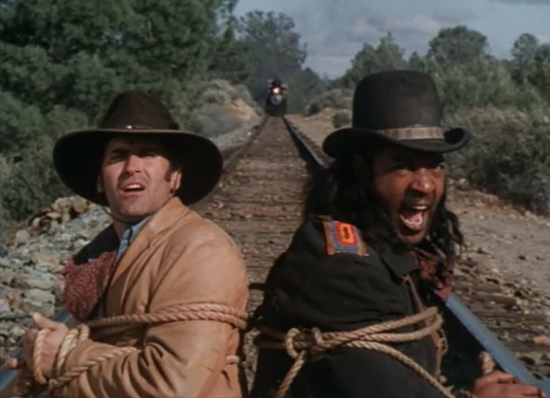 BRISCO COUNTY, SEASONS 2 – ?
When you're a B-movie star, primetime billing on a show where you talk to your horse may seem a fair enough proposition. But where might that offbeat tale of the West end up, given time?
By 1993, Bruce Campbell had wrapped his fantastically awful Evil Dead run — where he'll forever retain the honor of "worst self-inflicted amputation performance" in cinematic history. The irreverent Campbell charisma was now recast on Fox TV's The Adventures of Brisco Country, Jr. as a gentle yet savvy itinerant cowboy: Brisco the lefty gunslinger in tailored tan jacket, out to avenge the murder of his estranged dad, a famed lawman killed by a villainous time traveler (yep). Brisco grew up in 1890s small-town California, but went to Harvard and came home with a law degree. Then he chucked it all to the winds to saddle up as an oddball bounty hunter on the margins of society.
Here was a series set at the turn of the previous century, about an educated man who waxed of the "coming thing" and great technological change, atop a horse. Brisco flirted with prim dames, yet lost his heart to Dixie Cousins, a bodacious saloon singer. He worked for robber barons, but found brotherhood with a burly African-American bounty-hunting rival named Lord Bowler. By the finale, they'd turned secret agents of the President, and rode off for a well-earned hiatus — from which they never came back.
What might have become of this off-kilter show about contradictions and misfits, had it found its audience? Showrunner Carleton Cuse said Brisco strived to be "just short of over-the-top." That liminal space between knowing and innocent camp not only gave breathing room to try anything under the sun (pirates raiding stagecoaches, proto-Elvis pelvic-swingin' sheriff); it cultivated characters. Brisco gave us a silly world, filled with people we wanted to take seriously.
Cuse planned to make Brisco a sheriff next, saddling ol' pointy-chin with responsibilities one step closer to the lantern-jaw mold of his Dad. But Brisco may also have given us a '90s take on the enterprising Black man and self-made woman. Lord Bowler blew past his initial caricature as second banana, into a mythic tracker with a goofy laugh who remodeled his San Francisco mansion (bounties pay!) and dreamt of a winery in Napa. And Dixie transformed overnight from a sultry siren into a hard-luck survivor rebuilding her life.
For all the clichés about episodic TV going nowhere, Brisco's characters changed at a brisk gallop. Season two would have reunited us with Dixie, returned from China (long story, featuring a baby emperor); would she retire the sexy songstress act, maybe buy a saloon in Brisco's township? Would Bowler have returned as a groundbreaking Black lawman, then settle in Napa with his love Lenore, only to reteam with Brisco to investigate bizarro alien abductions of Jersey cows, or maybe square off against a vision-questin' Geronimo pardnered with a gunslingin' Frankenstein?
In its preoccupation with genre mash-up, Brisco mixed 'n' matched the DNA of the Western with sci-fi's charge to envision new societies and pluralistic possibilities. There were blind spots: every Asian was a railway laborer or ninja, and Native Americans were AWOL altogether. Might that SF impulse have led maverick Brisco — man of letters and fists — to reckon with Manifest Destiny, tongue still in cheek? Would he continue to live between worlds, or end up making a choice?
There's so much we could've explored, in the mischievous guise of genres colliding. At least Brisco took down that time traveler and admitted his love to Dixie, before cashing in. As a card shark complimented him early on: "You cheated me fair and square."
***
SWERVE YOUR ENTHUSIASM: SERIES INTRODUCTION by Adam McGovern | Luc Sante on WARHOL'S WALT WHITMAN | Peggy Nelson on THE CURSE OF QUIXOTE | Adrienne Crew on POOR DEVIL | Bishakh Som on KATE BUSH BOOTLEGS | Douglas Wolk on BIG NUMBERS #3 | Devin McKinney on THE ORIGINAL OF LAURA | Mandy Keifetz on BACKFIRE | Heather Quinlan on TRANSITIONAL DISNEY | Michael Grasso on STEELY DAN'S 2nd ARRANGEMENT | Kelly Jean Fitzsimmons on THE GREAT MOVIE RIDE | Josh Glenn on LE HIBOU PHILOSOPHE | Lynn Peril on 70, GIRLS, 70 | Ron Wimberly on SHIRATO SANPEI | Holly Interlandi on LONDON AFTER MIDNIGHT |Stan Chou on TYRAEL'S MIGHT | Nikhil Singh on JOURNEY TO IXTLAN | Brian Lozano on BLOWN BANNER | Adam McGovern on THE LEON SUITES | Sajan Saini on BRISCO COUNTY | Heather Kapplow on LORD OF LIGHT | Greg Rowland on SOLARNAUTS | Christopher-Rashee Stevenson on FLEDGLING | Crystal Durant on TURN-ON | Ran Xia on BYRON'S FRAGMENT | Carolyn Raship on BURNT BRONTË.
MORE ENTHUSIASM at HILOBROW
TEEN YOUR ENTHUSIASM (2Q2023): ANDY GIBB | VALERIE BERTINELLI | KIM WILDE | ARLO GUTHRIE | CHERYL TIEGS | & 20 other heartthrobs from our adolescences. DOLLY YOUR ENTHUSIASM (1Q2023): WE FOUND IT | TOGETHER AGAIN | SUNDAY MORNIN' COMIN' DOWN | BAD CASE OF THE BLUES | FANCY | & 20 other Sixties (1964–1973) Country records. KILL YOUR ENTHUSIASM (4Q2022): LT. TASHA YAR | JOYCE SUMMERS | COL. HENRY BLAKE | MRS. LANDINGHAM | ALEX KAMAL | & 20 other TV deaths. BLURB YOUR ENTHUSIASM (3Q2022): LEFT-CORNER BRICK | JOY IS RESISTANCE | THE FUTURE IS PASSÉ | EVERY MINUTE AN OCEAN | SHUT UP, HE EXPLAINED | & 20 other apothegms to live by. KOJAK YOUR ENTHUSIASM (2Q2022): ARK II | WKRP IN CINCINNATI | BUCK ROGERS | THE WHITE SHADOW | POLICE WOMAN | & 20 other Seventies (1974–1983) TV shows. KICK YOUR ENTHUSIASM (1Q2022): KUILL | CATO | COSMO | TRIXIE | VOLSTAGG | & 20 other sidekicks. NERD YOUR ENTHUSIASM (4Q2021): TIME | THE POST OFFICE | ARDUIN | DOUBT | SUMMATIONS | & 20 other nerdy passions. SWERVE YOUR ENTHUSIASM (3Q2021): WARHOL'S WALT WHITMAN | 70, GIRLS, 70 | TYRAEL'S MIGHT | SHIRATO SANPEI | THE LEON SUITES | & 20 other never-realized cultural productions. FIVE-O YOUR ENTHUSIASM (2Q2021): DARK SHADOWS | MANNIX | GET SMART | THE ADDAMS FAMILY | I DREAM OF JEANNIE | & 20 other Sixties (1964–1973) TV shows. FERB YOUR ENTHUSIASM (1Q2021): STEVEN UNIVERSE | TOP CAT | REN & STIMPY | SHE-RA AND THE PRINCESSES OF POWER | DRAGON BALL Z | & 20 other animated series. CARBONA YOUR ENTHUSIASM (2020): "Sex Bomb" | "Going Underground" | "Soft South Africans" | "Typical Girls" | "Human Fly" | & 20 other Seventies (1974–1983) punk singles. KLAATU YOU (2020 weekly): ZARDOZ | METROPOLIS | DARK STAR | SINS OF THE FLESHAPOIDS | SOLARIS | & dozens of other pre-STAR WARS sci-fi movies. CONVOY YOUR ENTHUSIASM (2019): THE TAKING OF PELHAM ONE TWO THREE | ROLLERBALL | BLACK SUNDAY | SORCERER | STRAIGHT TIME | & 20 other Seventies (1974–1983) action movies. SERIOCOMIC (2019 weekly): LITTLE LULU | VIZ | MARSUPILAMI | ERNIE POOK'S COMEEK | HELLBOY | & dozens of other comics. TUBE YOUR ENTHUSIASM (2018): LOONEY TUNES | THREE STOOGES | THE AVENGERS | ROCKY & BULLWINKLE | THE TWILIGHT ZONE | & 20 other Fifties (1954–1963) TV shows. WOWEE ZOWEE (2018 weekly): UNISEX | UNDER THE PINK | DUMMY | AMOR PROHIBIDO | HIPS AND MAKERS | & dozens of other Nineties (1994–2003) albums. KLUTE YOUR ENTHUSIASM (2017): THE KILLERS | BANDE À PART (BAND OF OUTSIDERS) | ALPHAVILLE | HARPER | BLOW-UP | & 20 other Sixties (1964–1973) neo-noir movies. #SQUADGOALS (2017 weekly): THE WILD BUNCH | BOWIE'S BAND | THE BLOOMSBURY GROUP | THE HONG KONG CAVALIERS | VI ÄR BÄST! & dozens of other squads. GROK MY ENTHUSIASM (2016 weekly): THE THEORY AND PRACTICE OF LUNCH | WEEKEND | MILLION YEAR PICNIC | LA BARONNE EMILE D'ERLANGER | THE SURVIVAL SAMPLER | & dozens more one-off enthusiasms. QUIRK YOUR ENTHUSIASM (2016): "Tainted Love" | "Metal" | "Frankie Teardrop" | "Savoir Faire" | "Broken English" | & 20 other Seventies (1974–1983) new wave singles. CROM YOUR ENTHUSIASM (2015): DARKER THAN YOU THINK | THE SWORD IN THE STONE | OUT OF THE SILENT PLANET | THIEVES' HOUSE | QUEEN OF THE BLACK COAST | & 20 other Thirties (1934–1943) fantasy novels. KERN YOUR ENTHUSIASM (2014): ALDINE ITALIC | DATA 70 | TORONTO SUBWAY | JOHNSTON'S "HAMLET" | TODD KLONE | & 20 other typefaces. HERC YOUR ENTHUSIASM (2013): "Spoonin' Rap" | "Rapper's Delight" | "Rappin' Blow" | "The Incredible Fulk" | "The Adventures of Super Rhyme" | & 20 other Seventies (1974–1983) hip-hop songs. KIRK YOUR ENTHUSIASM (2012): Justice or vengeance? | Kirk teaches his drill thrall to kiss | "KHAAAAAN!" | "No kill I" | Kirk browbeats NOMAD | & 20 other Captain Kirk scenes. KIRB YOUR ENTHUSIASM (2011): THE ETERNALS | BLACK MAGIC | DEMON | OMAC | CAPTAIN AMERICA | & 20 other Jack Kirby panels.