SWERVE YOUR ENTHUSIASM (4)
By: Bishakh Som
July 12, 2021
One in a series of 25 enthusiastic posts, contributed by 25 HILOBROW friends and regulars, on the topic of our favorite unfinished masterworks, legendary obscurities and cherished almost-weres.
*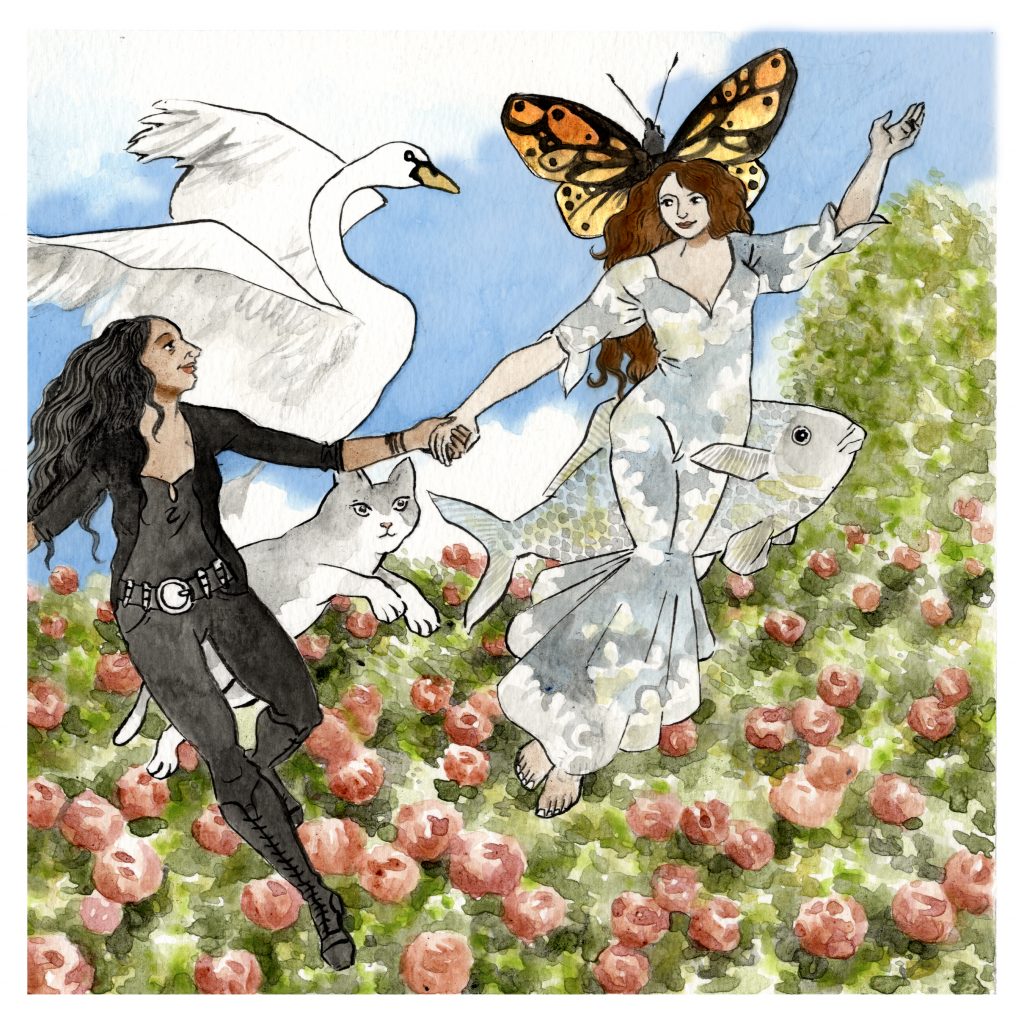 Illustration by the author.
KATE BUSH, FIRST DRAFT
Way before I knew I was trans, sitting on the lime green carpeting of my bedroom, playing vinyl on our little "Dansette"-style record player, I was drawn into the world of Kate Bush, into soundscapes that spoke of multifaceted femininities: swirling eddies of intimacy, strength, vulnerability, warmth. Kate's first two albums, The Kick Inside and Lionheart, spoke to me of the qualities of being femme, which I found at the time simultaneously unattainable and familiar. Now I was by no means a Kate completist like her more rabid fans, but I sought out bootlegs when I could and was more than a little verklempt, one day at a record stall in London's Kensington Market, to come across a cassette called Cathy's Album (the artwork for which seemed to have been created on a dot-matrix printer) containing Kate songs I'd never heard before. What were these? It was 1989: no online research or instantaneous answers to private musings. The recordings on this tape were scratchy and old but suffused with an ardor and longing that I recognized from her early albums. Kate, ever precocious, had recorded these songs as a teen — these were tunes that failed to make the cut onto her official records but I found in them the same sweetness with which I was familiar, though the contraction of the music to just Kate's voice and piano seemed to distill this essence.
A decade or so later, eating lunch at my desk at work and trawling through the internet, I came across an old-school website devoted to Kate, all sparkly fonts and tiled backgrounds, with a tantalizing link buried within paragraphs, winking at me in violet type: The Phoenix Demos? A click took me into a treasure trove of MP3s — all the songs from my old bootleg cassette plus twenty-odd others, heretofore undiscovered. It was like having lived in a house for your whole life, only to be drawn up to the attic one day to unearth a steel trunk containing all your gran's old jewels. Here were all the emotional flourishes I loved from Kate's catalogue but in embryonic form: her portrayals of gay men (as evidenced in Lionheart's "Kashka in Baghdad"), whose energy seemed to me to be femme-adjacent ("Hey, boy, you're so young / to be a queen weeping / You're just a little princess / Oh, Eddie, don't!" from "The Gay Farewell"), and her sketches of intimate moments, filtered through a crystalline innocence ("I know how you like to kiss / I'll ask you what you're thinking / Silvers in our dark hair / The sheets are soaked by your tiny fish" from "Craft of Love").
I come back to these songs time and again, when the tumult and crassness of our modern world brings me down, and I retreat into a Kate-world of bedrooms, gardens, lace and chintz, heaving sighs, fumbling eroticism and femininity — a psychic landscape which I thought I'd never have access to, until Kate gave me the key.
***
SWERVE YOUR ENTHUSIASM: SERIES INTRODUCTION by Adam McGovern | Luc Sante on WARHOL'S WALT WHITMAN | Peggy Nelson on THE CURSE OF QUIXOTE | Adrienne Crew on POOR DEVIL | Bishakh Som on KATE BUSH BOOTLEGS | Douglas Wolk on BIG NUMBERS #3 | Devin McKinney on THE ORIGINAL OF LAURA | Mandy Keifetz on BACKFIRE | Heather Quinlan on TRANSITIONAL DISNEY | Michael Grasso on STEELY DAN'S 2nd ARRANGEMENT | Kelly Jean Fitzsimmons on THE GREAT MOVIE RIDE | Josh Glenn on LE HIBOU PHILOSOPHE | Lynn Peril on 70, GIRLS, 70 | Ron Wimberly on SHIRATO SANPEI | Holly Interlandi on LONDON AFTER MIDNIGHT |Stan Chou on TYRAEL'S MIGHT | Nikhil Singh on JOURNEY TO IXTLAN | Brian Lozano on BLOWN BANNER | Adam McGovern on THE LEON SUITES | Sajan Saini on BRISCO COUNTY | Heather Kapplow on LORD OF LIGHT | Greg Rowland on SOLARNAUTS | Christopher-Rashee Stevenson on FLEDGLING | Crystal Durant on TURN-ON | Ran Xia on BYRON'S FRAGMENT | Carolyn Raship on BURNT BRONTË.
MORE ENTHUSIASM at HILOBROW
TEEN YOUR ENTHUSIASM (2Q2023): ANDY GIBB | KIM WYLDE | KIRK CAMERON | MACCA | SHAUN CASSIDY & 20 other heartthrobs. DOLLY YOUR ENTHUSIASM (1Q2023): WE FOUND IT | TOGETHER AGAIN | SUNDAY MORNIN' COMIN' DOWN | BAD CASE OF THE BLUES | FANCY | & 20 other Sixties (1964–1973) Country singles. KILL YOUR ENTHUSIASM (4Q2022): LT. TASHA YAR | JOYCE SUMMERS | COL. HENRY BLAKE | MRS. LANDINGHAM | ALEX KAMAL | & 20 other TV deaths. BLURB YOUR ENTHUSIASM (3Q2022): LEFT-CORNER BRICK | JOY IS RESISTANCE | THE FUTURE IS PASSÉ | EVERY MINUTE AN OCEAN | SHUT UP, HE EXPLAINED | & 20 other apothegms to live by. KOJAK YOUR ENTHUSIASM (2Q2022): ARK II | WKRP IN CINCINNATI | BUCK ROGERS | THE WHITE SHADOW | POLICE WOMAN | & 20 other Seventies (1974–1983) TV shows. KICK YOUR ENTHUSIASM (1Q2022): KUILL | CATO | COSMO | TRIXIE | VOLSTAGG | & 20 other sidekicks. NERD YOUR ENTHUSIASM (4Q2021): TIME | THE POST OFFICE | ARDUIN | DOUBT | SUMMATIONS | & 20 other nerdy passions. SWERVE YOUR ENTHUSIASM (3Q2021): WARHOL'S WALT WHITMAN | 70, GIRLS, 70 | TYRAEL'S MIGHT | SHIRATO SANPEI | THE LEON SUITES | & 20 other never-realized cultural productions. FIVE-O YOUR ENTHUSIASM (2Q2021): DARK SHADOWS | MANNIX | GET SMART | THE ADDAMS FAMILY | I DREAM OF JEANNIE | & 20 other Sixties (1964–1973) TV shows. FERB YOUR ENTHUSIASM (1Q2021): STEVEN UNIVERSE | TOP CAT | REN & STIMPY | SHE-RA AND THE PRINCESSES OF POWER | DRAGON BALL Z | & 20 other animated series. CARBONA YOUR ENTHUSIASM (2020): "Sex Bomb" | "Going Underground" | "Soft South Africans" | "Typical Girls" | "Human Fly" | & 20 other Seventies (1974–1983) punk singles. KLAATU YOU (2020 weekly): ZARDOZ | METROPOLIS | DARK STAR | SINS OF THE FLESHAPOIDS | SOLARIS | & dozens of other pre-STAR WARS sci-fi movies. CONVOY YOUR ENTHUSIASM (2019): THE TAKING OF PELHAM ONE TWO THREE | ROLLERBALL | BLACK SUNDAY | SORCERER | STRAIGHT TIME | & 20 other Seventies (1974–1983) action movies. SERIOCOMIC (2019 weekly): LITTLE LULU | VIZ | MARSUPILAMI | ERNIE POOK'S COMEEK | HELLBOY | & dozens of other comics. TUBE YOUR ENTHUSIASM (2018): LOONEY TUNES | THREE STOOGES | THE AVENGERS | ROCKY & BULLWINKLE | THE TWILIGHT ZONE | & 20 other Fifties (1954–1963) TV shows. WOWEE ZOWEE (2018 weekly): UNISEX | UNDER THE PINK | DUMMY | AMOR PROHIBIDO | HIPS AND MAKERS | & dozens of other Nineties (1994–2003) albums. KLUTE YOUR ENTHUSIASM (2017): THE KILLERS | BANDE À PART (BAND OF OUTSIDERS) | ALPHAVILLE | HARPER | BLOW-UP | & 20 other Sixties (1964–1973) neo-noir movies. #SQUADGOALS (2017 weekly): THE WILD BUNCH | BOWIE'S BAND | THE BLOOMSBURY GROUP | THE HONG KONG CAVALIERS | VI ÄR BÄST! & dozens of other squads. GROK MY ENTHUSIASM (2016 weekly): THE THEORY AND PRACTICE OF LUNCH | WEEKEND | MILLION YEAR PICNIC | LA BARONNE EMILE D'ERLANGER | THE SURVIVAL SAMPLER | & dozens more one-off enthusiasms. QUIRK YOUR ENTHUSIASM (2016): "Tainted Love" | "Metal" | "Frankie Teardrop" | "Savoir Faire" | "Broken English" | & 20 other Seventies (1974–1983) new wave singles. CROM YOUR ENTHUSIASM (2015): DARKER THAN YOU THINK | THE SWORD IN THE STONE | OUT OF THE SILENT PLANET | THIEVES' HOUSE | QUEEN OF THE BLACK COAST | & 20 other Thirties (1934–1943) fantasy novels. KERN YOUR ENTHUSIASM (2014): ALDINE ITALIC | DATA 70 | TORONTO SUBWAY | JOHNSTON'S "HAMLET" | TODD KLONE | & 20 other typefaces. HERC YOUR ENTHUSIASM (2013): "Spoonin' Rap" | "Rapper's Delight" | "Rappin' Blow" | "The Incredible Fulk" | "The Adventures of Super Rhyme" | & 20 other Seventies (1974–1983) hip-hop songs. KIRK YOUR ENTHUSIASM (2012): Justice or vengeance? | Kirk teaches his drill thrall to kiss | "KHAAAAAN!" | "No kill I" | Kirk browbeats NOMAD | & 20 other Captain Kirk scenes. KIRB YOUR ENTHUSIASM (2011): THE ETERNALS | BLACK MAGIC | DEMON | OMAC | CAPTAIN AMERICA | & 20 other Jack Kirby panels.