SWERVE YOUR ENTHUSIASM (25)
By: Carolyn Raship
September 23, 2021
One in a series of 25 enthusiastic posts, contributed by 25 HILOBROW friends and regulars, on the topic of our favorite unfinished masterworks, legendary obscurities and cherished almost-weres.
*
THE LOST NOVEL OF EMILY BRONTË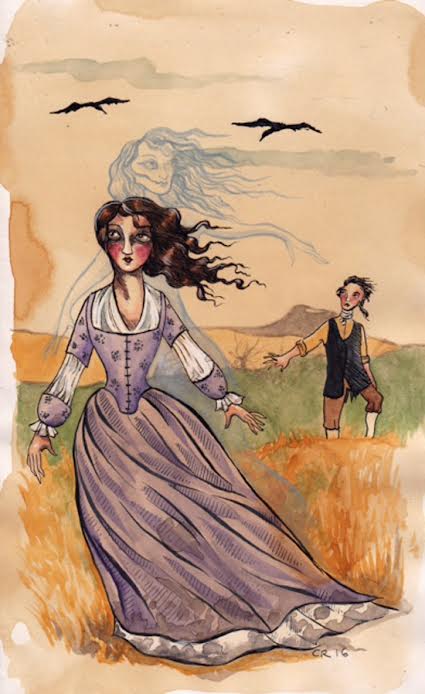 I've always had a fascination with the unprolific. The early deaths, the one hit wonders, the people whose work has been destroyed by time and flood, eaten by mice. The people (by which I mean women) who left the game early to raise families, support husbands and die in childbirth. Or, people whose work was consigned to the flames, either accidentally or on purpose. People like Emily Brontë.
Emily Brontë is likely the least prolific true literary titan. We have a handful of poems, some scraps of juvenilia, three short letters — more like notes — and one extraordinary, dark novel that reads as if it sprang from nowhere. A sui generis yawp of inter-generational horror, violence and dark romance. The gothiest of the goth, both the apotheosis and the last gasp of romanticism. All the Brontë siblings read and loved Byron, but Emily was his true literary heir. Charlotte maimed her Byronic hero in a fire and had him come out the other side a kinder, better man (reader, she married him). But Emily took hers and ravaged him with love and jealousy and the damp of the moors and made him a monster. And then — nothing.
Born in 1818 (the year Byron published Childe Harold), with a childhood inventing and writing the history and romantic epics of an imaginary kingdom (lost, all lost), she hated: travel, friends, going to school, communicating in any way with people outside her immediate family, and Brussels. What she loved was writing, animals, reading poetry, walking on her beloved moors, and her siblings. Under the pseudonym Ellis Bell (her sisters were Currer and Acton) she published her novel in 1847 and died a year later from tuberculosis, likely contracted from her (tragic, junky) brother Branwell, who she nursed until his death a few months earlier. People have also suggested that she assisted in her own death by starving herself, but we don't really know.
But here's the crux: there was another novel. Definite information is scanty, but it seems clear she was either nearly finished with, or had actually completed it. So why don't we have the second novel by one of the greatest geniuses ever to write in English? Because her sister Charlotte burned it. Whether at Emily's behest, whether out of grief or rage or jealousy (or, to be completely honest, at all), we don't know. No one was talking and Anne was to follow her siblings into the grave a few short months later. Charlotte was the only businesslike, ambitious Brontë, but she was a wretched guardian of her sisters' legacies. Emily was a Romantic, Charlotte was a Victorian and one gets the feeling she thought her sister's work was not-quite-nice.
I've wept over that unknowable, burnt novel. We have more work by Euripides and Aristotle, both dead over two thousand years, than we had by Emily Brontë on the day of her death. Charlotte was the madwoman in the attic of her sister's legacy; this most eminently sane Brontë torched this most tantalizing of lost novels, nothing but smoke, blown away from the Haworth parsonage, across the moor.
***
SWERVE YOUR ENTHUSIASM: SERIES INTRODUCTION by Adam McGovern | Luc Sante on WARHOL'S WALT WHITMAN | Peggy Nelson on THE CURSE OF QUIXOTE | Adrienne Crew on POOR DEVIL | Bishakh Som on KATE BUSH BOOTLEGS | Douglas Wolk on BIG NUMBERS #3 | Devin McKinney on THE ORIGINAL OF LAURA | Mandy Keifetz on BACKFIRE | Heather Quinlan on TRANSITIONAL DISNEY | Michael Grasso on STEELY DAN'S 2nd ARRANGEMENT | Kelly Jean Fitzsimmons on THE GREAT MOVIE RIDE | Josh Glenn on LE HIBOU PHILOSOPHE | Lynn Peril on 70, GIRLS, 70 | Ron Wimberly on SHIRATO SANPEI | Holly Interlandi on LONDON AFTER MIDNIGHT |Stan Chou on TYRAEL'S MIGHT | Nikhil Singh on JOURNEY TO IXTLAN | Brian Lozano on BLOWN BANNER | Adam McGovern on THE LEON SUITES | Sajan Saini on BRISCO COUNTY | Heather Kapplow on LORD OF LIGHT | Greg Rowland on SOLARNAUTS | Christopher-Rashee Stevenson on FLEDGLING | Crystal Durant on TURN-ON | Ran Xia on BYRON'S FRAGMENT | Carolyn Raship on BURNT BRONTË.
MORE ENTHUSIASM at HILOBROW
TEEN YOUR ENTHUSIASM (2Q2023): ANDY GIBB | VALERIE BERTINELLI | KIM WILDE | ARLO GUTHRIE | CHERYL TIEGS | & 20 other heartthrobs from our adolescences. DOLLY YOUR ENTHUSIASM (1Q2023): WE FOUND IT | TOGETHER AGAIN | SUNDAY MORNIN' COMIN' DOWN | BAD CASE OF THE BLUES | FANCY | & 20 other Sixties (1964–1973) Country records. KILL YOUR ENTHUSIASM (4Q2022): LT. TASHA YAR | JOYCE SUMMERS | COL. HENRY BLAKE | MRS. LANDINGHAM | ALEX KAMAL | & 20 other TV deaths. BLURB YOUR ENTHUSIASM (3Q2022): LEFT-CORNER BRICK | JOY IS RESISTANCE | THE FUTURE IS PASSÉ | EVERY MINUTE AN OCEAN | SHUT UP, HE EXPLAINED | & 20 other apothegms to live by. KOJAK YOUR ENTHUSIASM (2Q2022): ARK II | WKRP IN CINCINNATI | BUCK ROGERS | THE WHITE SHADOW | POLICE WOMAN | & 20 other Seventies (1974–1983) TV shows. KICK YOUR ENTHUSIASM (1Q2022): KUILL | CATO | COSMO | TRIXIE | VOLSTAGG | & 20 other sidekicks. NERD YOUR ENTHUSIASM (4Q2021): TIME | THE POST OFFICE | ARDUIN | DOUBT | SUMMATIONS | & 20 other nerdy passions. SWERVE YOUR ENTHUSIASM (3Q2021): WARHOL'S WALT WHITMAN | 70, GIRLS, 70 | TYRAEL'S MIGHT | SHIRATO SANPEI | THE LEON SUITES | & 20 other never-realized cultural productions. FIVE-O YOUR ENTHUSIASM (2Q2021): DARK SHADOWS | MANNIX | GET SMART | THE ADDAMS FAMILY | I DREAM OF JEANNIE | & 20 other Sixties (1964–1973) TV shows. FERB YOUR ENTHUSIASM (1Q2021): STEVEN UNIVERSE | TOP CAT | REN & STIMPY | SHE-RA AND THE PRINCESSES OF POWER | DRAGON BALL Z | & 20 other animated series. CARBONA YOUR ENTHUSIASM (2020): "Sex Bomb" | "Going Underground" | "Soft South Africans" | "Typical Girls" | "Human Fly" | & 20 other Seventies (1974–1983) punk singles. KLAATU YOU (2020 weekly): ZARDOZ | METROPOLIS | DARK STAR | SINS OF THE FLESHAPOIDS | SOLARIS | & dozens of other pre-STAR WARS sci-fi movies. CONVOY YOUR ENTHUSIASM (2019): THE TAKING OF PELHAM ONE TWO THREE | ROLLERBALL | BLACK SUNDAY | SORCERER | STRAIGHT TIME | & 20 other Seventies (1974–1983) action movies. SERIOCOMIC (2019 weekly): LITTLE LULU | VIZ | MARSUPILAMI | ERNIE POOK'S COMEEK | HELLBOY | & dozens of other comics. TUBE YOUR ENTHUSIASM (2018): LOONEY TUNES | THREE STOOGES | THE AVENGERS | ROCKY & BULLWINKLE | THE TWILIGHT ZONE | & 20 other Fifties (1954–1963) TV shows. WOWEE ZOWEE (2018 weekly): UNISEX | UNDER THE PINK | DUMMY | AMOR PROHIBIDO | HIPS AND MAKERS | & dozens of other Nineties (1994–2003) albums. KLUTE YOUR ENTHUSIASM (2017): THE KILLERS | BANDE À PART (BAND OF OUTSIDERS) | ALPHAVILLE | HARPER | BLOW-UP | & 20 other Sixties (1964–1973) neo-noir movies. #SQUADGOALS (2017 weekly): THE WILD BUNCH | BOWIE'S BAND | THE BLOOMSBURY GROUP | THE HONG KONG CAVALIERS | VI ÄR BÄST! & dozens of other squads. GROK MY ENTHUSIASM (2016 weekly): THE THEORY AND PRACTICE OF LUNCH | WEEKEND | MILLION YEAR PICNIC | LA BARONNE EMILE D'ERLANGER | THE SURVIVAL SAMPLER | & dozens more one-off enthusiasms. QUIRK YOUR ENTHUSIASM (2016): "Tainted Love" | "Metal" | "Frankie Teardrop" | "Savoir Faire" | "Broken English" | & 20 other Seventies (1974–1983) new wave singles. CROM YOUR ENTHUSIASM (2015): DARKER THAN YOU THINK | THE SWORD IN THE STONE | OUT OF THE SILENT PLANET | THIEVES' HOUSE | QUEEN OF THE BLACK COAST | & 20 other Thirties (1934–1943) fantasy novels. KERN YOUR ENTHUSIASM (2014): ALDINE ITALIC | DATA 70 | TORONTO SUBWAY | JOHNSTON'S "HAMLET" | TODD KLONE | & 20 other typefaces. HERC YOUR ENTHUSIASM (2013): "Spoonin' Rap" | "Rapper's Delight" | "Rappin' Blow" | "The Incredible Fulk" | "The Adventures of Super Rhyme" | & 20 other Seventies (1974–1983) hip-hop songs. KIRK YOUR ENTHUSIASM (2012): Justice or vengeance? | Kirk teaches his drill thrall to kiss | "KHAAAAAN!" | "No kill I" | Kirk browbeats NOMAD | & 20 other Captain Kirk scenes. KIRB YOUR ENTHUSIASM (2011): THE ETERNALS | BLACK MAGIC | DEMON | OMAC | CAPTAIN AMERICA | & 20 other Jack Kirby panels.