SWERVE YOUR ENTHUSIASM (2)
By: Peggy Nelson
July 5, 2021
One in a series of 25 enthusiastic posts, contributed by 25 HILOBROW friends and regulars, on the topic of our favorite unfinished masterworks, legendary obscurities and cherished almost-weres.
*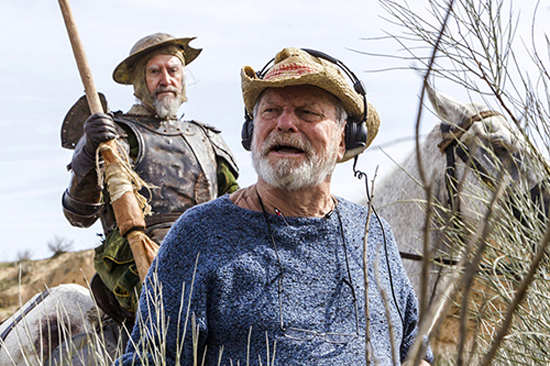 Image: Diego Lopez Calvin/Cannes.
THE CURSE OF QUIXOTE
"Quixotic" has entered the language to describe an idealistic and impossible quest. Appropriately, it is also a description of multiple attempts to film Miguel de Cervantes' novel, The Ingenious Gentleman Don Quixote of La Mancha (1605, 1615). The story has proved irresistible to auteurs over the years, as its epic picaresque encompasses the whole of human emotion and experience. The illusions of the Don should be a natural fit for the cinema whose currency they are; in fact, Don Quixote is almost a screenplay avant la lettre. Or so it has seemed.
It seemed that way to Waldo Salt, of Midnight Cowboy fame, who wrote a script (1965-66) that still languishes, unproduced, in a Hollywood vault. It seemed that way to Orson Welles (1955-85), the grandmaster of unfinished projects, whose initial inspiration was silent movie comedies, although he set it in midcentury Mexico City, and intended to overdub all the voices himself. Or (changing his mind), perhaps an essay film…? Cobbled together after his death, the resulting pastiche (1992) is hardly the masterpiece he may have imagined.
And it seemed that way to Python alum Terry Gilliam (1989-2000; 2008-2017), whose absurdist oeuvre made him the natural heir to the javelin and shaving basin helmet. Gilliam's first attempt, to be shot on the spaghetti-western plains in Northern Spain, failed immediately and spectacularly on all levels. Some of the mayhem was salvaged as a "making-of" documentary, Lost in La Mancha (2002), but for almost two decades, "disaster" was the keynote to Quixote and his quest.
When Cervantes wrote Don Quixote, the era of chivalry and courtly love was not only over but had never existed. Don Quixote's insistence on its reality provokes mockery, pity, frustration, and anger, but also admiration, and real love. To live a life of honor and "walk the walk" is a rare and inspiring goal. To believe in an ideal and act as if it makes a difference, is how we forge meaning. To love someone and persist in seeing the best in them, even (or especially) when they don't see it in themselves, is a gift. What arid soul could refuse such a gift? Not the high desert landscapes of Spain. Not the grindingly poor Sancho Panza. Not the beaten-down and hopeless Dulcinea.
And not Terry Gilliam. By 2008 he had restarted production. By 2014 he had swapped out lead actors several more times. By 2017 he was back on location tilting at windmills, and by 2018, The Man Who Killed Don Quixote premiered to reportedly the longest standing ovation ever received at Cannes. After which, it promptly disappeared.
Towards the end of the film, in one of its nested meta-fictional turns, Don Quixote is again riding off across the plains. As he charges a stray windmill left over from a vodka commercial (appearing to his eyes as one of the animated giants that are a Gilliam trademark), we realize that Don Quixote can never be truly finished. There will always be — there must always be — someone to pick up the helmet and spear. It is in the nature of a quest to continue. It is in the nature of the grail to be sought. It is in the nature of the impossible to dream. And it is in the nature of a noble knight to tilt at any and all windmills in his way.
***
SWERVE YOUR ENTHUSIASM: SERIES INTRODUCTION by Adam McGovern | Luc Sante on WARHOL'S WALT WHITMAN | Peggy Nelson on THE CURSE OF QUIXOTE | Adrienne Crew on POOR DEVIL | Bishakh Som on KATE BUSH BOOTLEGS | Douglas Wolk on BIG NUMBERS #3 | Devin McKinney on THE ORIGINAL OF LAURA | Mandy Keifetz on BACKFIRE | Heather Quinlan on TRANSITIONAL DISNEY | Michael Grasso on STEELY DAN'S 2nd ARRANGEMENT | Kelly Jean Fitzsimmons on THE GREAT MOVIE RIDE | Josh Glenn on LE HIBOU PHILOSOPHE | Lynn Peril on 70, GIRLS, 70 | Ron Wimberly on SHIRATO SANPEI | Holly Interlandi on LONDON AFTER MIDNIGHT |Stan Chou on TYRAEL'S MIGHT | Nikhil Singh on JOURNEY TO IXTLAN | Brian Lozano on BLOWN BANNER | Adam McGovern on THE LEON SUITES | Sajan Saini on BRISCO COUNTY | Heather Kapplow on LORD OF LIGHT | Greg Rowland on SOLARNAUTS | Christopher-Rashee Stevenson on FLEDGLING | Crystal Durant on TURN-ON | Ran Xia on BYRON'S FRAGMENT | Carolyn Raship on BURNT BRONTË.
MORE ENTHUSIASM at HILOBROW
TEEN YOUR ENTHUSIASM (2Q2023): ANDY GIBB | KIM WYLDE | KIRK CAMERON | MACCA | SHAUN CASSIDY & 20 other heartthrobs. DOLLY YOUR ENTHUSIASM (1Q2023): WE FOUND IT | TOGETHER AGAIN | SUNDAY MORNIN' COMIN' DOWN | BAD CASE OF THE BLUES | FANCY | & 20 other Sixties (1964–1973) Country singles. KILL YOUR ENTHUSIASM (4Q2022): LT. TASHA YAR | JOYCE SUMMERS | COL. HENRY BLAKE | MRS. LANDINGHAM | ALEX KAMAL | & 20 other TV deaths. BLURB YOUR ENTHUSIASM (3Q2022): LEFT-CORNER BRICK | JOY IS RESISTANCE | THE FUTURE IS PASSÉ | EVERY MINUTE AN OCEAN | SHUT UP, HE EXPLAINED | & 20 other apothegms to live by. KOJAK YOUR ENTHUSIASM (2Q2022): ARK II | WKRP IN CINCINNATI | BUCK ROGERS | THE WHITE SHADOW | POLICE WOMAN | & 20 other Seventies (1974–1983) TV shows. KICK YOUR ENTHUSIASM (1Q2022): KUILL | CATO | COSMO | TRIXIE | VOLSTAGG | & 20 other sidekicks. NERD YOUR ENTHUSIASM (4Q2021): TIME | THE POST OFFICE | ARDUIN | DOUBT | SUMMATIONS | & 20 other nerdy passions. SWERVE YOUR ENTHUSIASM (3Q2021): WARHOL'S WALT WHITMAN | 70, GIRLS, 70 | TYRAEL'S MIGHT | SHIRATO SANPEI | THE LEON SUITES | & 20 other never-realized cultural productions. FIVE-O YOUR ENTHUSIASM (2Q2021): DARK SHADOWS | MANNIX | GET SMART | THE ADDAMS FAMILY | I DREAM OF JEANNIE | & 20 other Sixties (1964–1973) TV shows. FERB YOUR ENTHUSIASM (1Q2021): STEVEN UNIVERSE | TOP CAT | REN & STIMPY | SHE-RA AND THE PRINCESSES OF POWER | DRAGON BALL Z | & 20 other animated series. CARBONA YOUR ENTHUSIASM (2020): "Sex Bomb" | "Going Underground" | "Soft South Africans" | "Typical Girls" | "Human Fly" | & 20 other Seventies (1974–1983) punk singles. KLAATU YOU (2020 weekly): ZARDOZ | METROPOLIS | DARK STAR | SINS OF THE FLESHAPOIDS | SOLARIS | & dozens of other pre-STAR WARS sci-fi movies. CONVOY YOUR ENTHUSIASM (2019): THE TAKING OF PELHAM ONE TWO THREE | ROLLERBALL | BLACK SUNDAY | SORCERER | STRAIGHT TIME | & 20 other Seventies (1974–1983) action movies. SERIOCOMIC (2019 weekly): LITTLE LULU | VIZ | MARSUPILAMI | ERNIE POOK'S COMEEK | HELLBOY | & dozens of other comics. TUBE YOUR ENTHUSIASM (2018): LOONEY TUNES | THREE STOOGES | THE AVENGERS | ROCKY & BULLWINKLE | THE TWILIGHT ZONE | & 20 other Fifties (1954–1963) TV shows. WOWEE ZOWEE (2018 weekly): UNISEX | UNDER THE PINK | DUMMY | AMOR PROHIBIDO | HIPS AND MAKERS | & dozens of other Nineties (1994–2003) albums. KLUTE YOUR ENTHUSIASM (2017): THE KILLERS | BANDE À PART (BAND OF OUTSIDERS) | ALPHAVILLE | HARPER | BLOW-UP | & 20 other Sixties (1964–1973) neo-noir movies. #SQUADGOALS (2017 weekly): THE WILD BUNCH | BOWIE'S BAND | THE BLOOMSBURY GROUP | THE HONG KONG CAVALIERS | VI ÄR BÄST! & dozens of other squads. GROK MY ENTHUSIASM (2016 weekly): THE THEORY AND PRACTICE OF LUNCH | WEEKEND | MILLION YEAR PICNIC | LA BARONNE EMILE D'ERLANGER | THE SURVIVAL SAMPLER | & dozens more one-off enthusiasms. QUIRK YOUR ENTHUSIASM (2016): "Tainted Love" | "Metal" | "Frankie Teardrop" | "Savoir Faire" | "Broken English" | & 20 other Seventies (1974–1983) new wave singles. CROM YOUR ENTHUSIASM (2015): DARKER THAN YOU THINK | THE SWORD IN THE STONE | OUT OF THE SILENT PLANET | THIEVES' HOUSE | QUEEN OF THE BLACK COAST | & 20 other Thirties (1934–1943) fantasy novels. KERN YOUR ENTHUSIASM (2014): ALDINE ITALIC | DATA 70 | TORONTO SUBWAY | JOHNSTON'S "HAMLET" | TODD KLONE | & 20 other typefaces. HERC YOUR ENTHUSIASM (2013): "Spoonin' Rap" | "Rapper's Delight" | "Rappin' Blow" | "The Incredible Fulk" | "The Adventures of Super Rhyme" | & 20 other Seventies (1974–1983) hip-hop songs. KIRK YOUR ENTHUSIASM (2012): Justice or vengeance? | Kirk teaches his drill thrall to kiss | "KHAAAAAN!" | "No kill I" | Kirk browbeats NOMAD | & 20 other Captain Kirk scenes. KIRB YOUR ENTHUSIASM (2011): THE ETERNALS | BLACK MAGIC | DEMON | OMAC | CAPTAIN AMERICA | & 20 other Jack Kirby panels.