SWERVE YOUR ENTHUSIASM (8)
By: Heather Quinlan
July 26, 2021
One in a series of 25 enthusiastic posts, contributed by 25 HILOBROW friends and regulars, on the topic of our favorite unfinished masterworks, legendary obscurities and cherished almost-weres.
*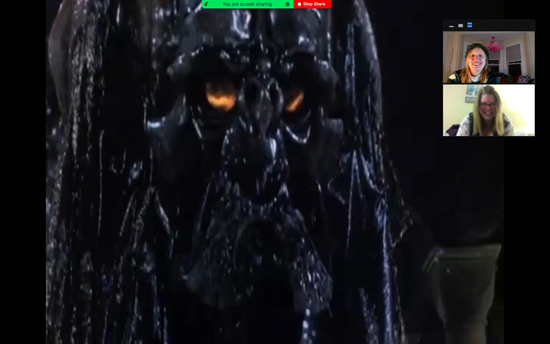 Kerri and I reliving the horror that we first encountered 40 years ago, with the same results.
THE WATCHER IN THE WOODS
The early '80s was a time of interregnum for me and Disney Entertainment. To explain — my parents had just split up, leaving my Mom and Dad to sort out who would be in charge of making sure I did my homework and who would be in charge of making sure I had a lot of fun.
The weekends began with a trip to the local Dial-A-Video. Dad and I would arrive on Friday evenings and curate that weekend's roster of films played at his apartment in Staten Island. Without closing my eyes I can see the VHS box designs for movies like C.H.U.D., Valley Girl, and Blame it on Rio.
In those days a lot of new releases would come with trailers for upcoming movies produced by the same studio. I don't remember the video that opened with the trailer for Disney's The Watcher in the Woods, but I'll never forget the trailer itself — a blindfolded blonde girl, her arms reaching toward me, imploring, "Help me!" My best friend Kerri Parise and I agreed this looked like a winner.
Kerri and I shared an early love for horror movies — like, when we were barely out of diapers. Most of these movies were ridiculous, though some, like Tourist Trap, a slasher starring Chuck Conners, Tanya Roberts, and mannequins, terrified us. My Dad never really minded as long as there wasn't any sex. (I watched The Exorcist when I was 11, but all I was allowed to see of Purple Rain was the end where Prince sang "Purple Rain.")
While this was happening, Disney was going through its own growing pains, trying to branch out from animated romps into more "adult" fare. Even rewatching as adults, little of it has grown on Kerri and me.
The Watcher in the Woods starred Lynn-Holly Johnson ('70s famous for teen-movie weeper Ice Castles); Bette Davis; Paris Hilton's aunt; and The Man from U.N.C.L.E's David McCallum, who wisely drives straight out of the film within the first half-hour.
What I had waited so patiently for, the film with the blindfolded girl beckoning me — Was she alive? Dead? Trapped in another dimension? (It was that one.) — turned out to be a hilarious comedy. How scary was this movie? Five-year-olds were laughing at it. In trying to be all things to all people — wanting to break from Snow White and The Aristocats but fearing to truly do so — they made a horror movie with no horror.
A year later they would try (intentional) horror-comedy with The Devil and Max Devlin, a film that presciently starred Bill Cosby as a devil and (I believe) ruined co-star Elliot Gould's career. True to Disney's try-everything, succeed-at-nothing business model of the time, Devil had started life a decade before as an unsold Hammer horror script; its heavily rewritten screen version would recycle some footage from The Black Hole, Disney's 1979 Star Wars knockoff which was first conceived as a "space disaster film."
The Watcher in the Woods itself had at least three different endings filmed: one which had Paris Hilton's aunt possessed; one which had a creature that looked like it was made from Hefty bags; and one with the same creature, except it came from outer space and shot lasers out of its eyes. That particular ending was filmed much later because of an actors' strike, and not even in the same country. Bette Davis had by then gotten a haircut, and there was a different actor playing her daughter, who I think was a man. My Mom and Dad handled co-parenting with less drama.
***
SWERVE YOUR ENTHUSIASM: SERIES INTRODUCTION by Adam McGovern | Luc Sante on WARHOL'S WALT WHITMAN | Peggy Nelson on THE CURSE OF QUIXOTE | Adrienne Crew on POOR DEVIL | Bishakh Som on KATE BUSH BOOTLEGS | Douglas Wolk on BIG NUMBERS #3 | Devin McKinney on THE ORIGINAL OF LAURA | Mandy Keifetz on BACKFIRE | Heather Quinlan on TRANSITIONAL DISNEY | Michael Grasso on STEELY DAN'S 2nd ARRANGEMENT | Kelly Jean Fitzsimmons on THE GREAT MOVIE RIDE | Josh Glenn on LE HIBOU PHILOSOPHE | Lynn Peril on 70, GIRLS, 70 | Ron Wimberly on SHIRATO SANPEI | Holly Interlandi on LONDON AFTER MIDNIGHT |Stan Chou on TYRAEL'S MIGHT | Nikhil Singh on JOURNEY TO IXTLAN | Brian Lozano on BLOWN BANNER | Adam McGovern on THE LEON SUITES | Sajan Saini on BRISCO COUNTY | Heather Kapplow on LORD OF LIGHT | Greg Rowland on SOLARNAUTS | Christopher-Rashee Stevenson on FLEDGLING | Crystal Durant on TURN-ON | Ran Xia on BYRON'S FRAGMENT | Carolyn Raship on BURNT BRONTË.
MORE ENTHUSIASM at HILOBROW
TEEN YOUR ENTHUSIASM (2Q2023): ANDY GIBB | KIM WYLDE | KIRK CAMERON | MACCA | SHAUN CASSIDY & 20 other heartthrobs. DOLLY YOUR ENTHUSIASM (1Q2023): WE FOUND IT | TOGETHER AGAIN | SUNDAY MORNIN' COMIN' DOWN | BAD CASE OF THE BLUES | FANCY | & 20 other Sixties (1964–1973) Country singles. KILL YOUR ENTHUSIASM (4Q2022): LT. TASHA YAR | JOYCE SUMMERS | COL. HENRY BLAKE | MRS. LANDINGHAM | ALEX KAMAL | & 20 other TV deaths. BLURB YOUR ENTHUSIASM (3Q2022): LEFT-CORNER BRICK | JOY IS RESISTANCE | THE FUTURE IS PASSÉ | EVERY MINUTE AN OCEAN | SHUT UP, HE EXPLAINED | & 20 other apothegms to live by. KOJAK YOUR ENTHUSIASM (2Q2022): ARK II | WKRP IN CINCINNATI | BUCK ROGERS | THE WHITE SHADOW | POLICE WOMAN | & 20 other Seventies (1974–1983) TV shows. KICK YOUR ENTHUSIASM (1Q2022): KUILL | CATO | COSMO | TRIXIE | VOLSTAGG | & 20 other sidekicks. NERD YOUR ENTHUSIASM (4Q2021): TIME | THE POST OFFICE | ARDUIN | DOUBT | SUMMATIONS | & 20 other nerdy passions. SWERVE YOUR ENTHUSIASM (3Q2021): WARHOL'S WALT WHITMAN | 70, GIRLS, 70 | TYRAEL'S MIGHT | SHIRATO SANPEI | THE LEON SUITES | & 20 other never-realized cultural productions. FIVE-O YOUR ENTHUSIASM (2Q2021): DARK SHADOWS | MANNIX | GET SMART | THE ADDAMS FAMILY | I DREAM OF JEANNIE | & 20 other Sixties (1964–1973) TV shows. FERB YOUR ENTHUSIASM (1Q2021): STEVEN UNIVERSE | TOP CAT | REN & STIMPY | SHE-RA AND THE PRINCESSES OF POWER | DRAGON BALL Z | & 20 other animated series. CARBONA YOUR ENTHUSIASM (2020): "Sex Bomb" | "Going Underground" | "Soft South Africans" | "Typical Girls" | "Human Fly" | & 20 other Seventies (1974–1983) punk singles. KLAATU YOU (2020 weekly): ZARDOZ | METROPOLIS | DARK STAR | SINS OF THE FLESHAPOIDS | SOLARIS | & dozens of other pre-STAR WARS sci-fi movies. CONVOY YOUR ENTHUSIASM (2019): THE TAKING OF PELHAM ONE TWO THREE | ROLLERBALL | BLACK SUNDAY | SORCERER | STRAIGHT TIME | & 20 other Seventies (1974–1983) action movies. SERIOCOMIC (2019 weekly): LITTLE LULU | VIZ | MARSUPILAMI | ERNIE POOK'S COMEEK | HELLBOY | & dozens of other comics. TUBE YOUR ENTHUSIASM (2018): LOONEY TUNES | THREE STOOGES | THE AVENGERS | ROCKY & BULLWINKLE | THE TWILIGHT ZONE | & 20 other Fifties (1954–1963) TV shows. WOWEE ZOWEE (2018 weekly): UNISEX | UNDER THE PINK | DUMMY | AMOR PROHIBIDO | HIPS AND MAKERS | & dozens of other Nineties (1994–2003) albums. KLUTE YOUR ENTHUSIASM (2017): THE KILLERS | BANDE À PART (BAND OF OUTSIDERS) | ALPHAVILLE | HARPER | BLOW-UP | & 20 other Sixties (1964–1973) neo-noir movies. #SQUADGOALS (2017 weekly): THE WILD BUNCH | BOWIE'S BAND | THE BLOOMSBURY GROUP | THE HONG KONG CAVALIERS | VI ÄR BÄST! & dozens of other squads. GROK MY ENTHUSIASM (2016 weekly): THE THEORY AND PRACTICE OF LUNCH | WEEKEND | MILLION YEAR PICNIC | LA BARONNE EMILE D'ERLANGER | THE SURVIVAL SAMPLER | & dozens more one-off enthusiasms. QUIRK YOUR ENTHUSIASM (2016): "Tainted Love" | "Metal" | "Frankie Teardrop" | "Savoir Faire" | "Broken English" | & 20 other Seventies (1974–1983) new wave singles. CROM YOUR ENTHUSIASM (2015): DARKER THAN YOU THINK | THE SWORD IN THE STONE | OUT OF THE SILENT PLANET | THIEVES' HOUSE | QUEEN OF THE BLACK COAST | & 20 other Thirties (1934–1943) fantasy novels. KERN YOUR ENTHUSIASM (2014): ALDINE ITALIC | DATA 70 | TORONTO SUBWAY | JOHNSTON'S "HAMLET" | TODD KLONE | & 20 other typefaces. HERC YOUR ENTHUSIASM (2013): "Spoonin' Rap" | "Rapper's Delight" | "Rappin' Blow" | "The Incredible Fulk" | "The Adventures of Super Rhyme" | & 20 other Seventies (1974–1983) hip-hop songs. KIRK YOUR ENTHUSIASM (2012): Justice or vengeance? | Kirk teaches his drill thrall to kiss | "KHAAAAAN!" | "No kill I" | Kirk browbeats NOMAD | & 20 other Captain Kirk scenes. KIRB YOUR ENTHUSIASM (2011): THE ETERNALS | BLACK MAGIC | DEMON | OMAC | CAPTAIN AMERICA | & 20 other Jack Kirby panels.