SWERVE YOUR ENTHUSIASM (7)
By: Mandy Keifetz
July 22, 2021
One in a series of 25 enthusiastic posts, contributed by 25 HILOBROW friends and regulars, on the topic of our favorite unfinished masterworks, legendary obscurities and cherished almost-weres.
*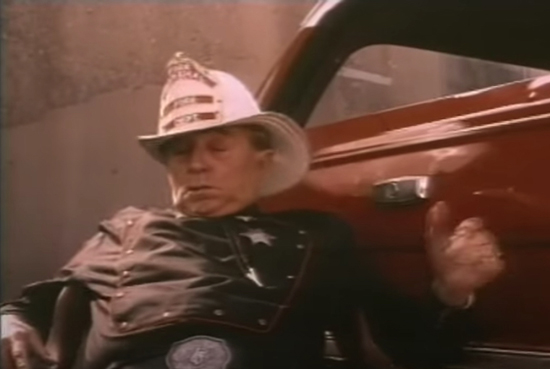 BACKFIRE
It is still hard to believe that Backfire is a real movie. The 1994 direct-to-video-in-Southeast-Asia romp featured Robert Mitchum (in his last role, and in drag) as the chief of an all-female firehouse.
Nevertheless, these things did take place: On May 26, 1994 — my 28th birthday — my friend (let's call her Southie) showed up at my doorstep in the late morning, saying we were going on a birthday adventure.
Southie's boyfriend (a real person) was on set at the Shooting Gallery in TriBeCa. Southie's boyfriend was then and is now always on set. (He spent the pandemic on a Zoom set, doing an extended, months-long improv so deep it can better be described as LARPing.) So I failed, at the time, to see how this qualified as a birthday adventure. But it was a lovely day, and Southie was good at surprises, so I went along.
The Shooting Gallery, a production facility in Matthew Brady's old Civil War photography studio, was in a state of joyful chaos. Wires snaked everywhere. Dollies careened. Southie led me past Telly Savalas who was bleeding profusely from his right ear (it was to be his last role as well); past Kathy Ireland (who was smoking); past Josh Mosby (also smoking); past Shelley Winters (who was pinching a shrieking grip's ass); past a larval Edie Falco — who even then radiated presence.
We ended up on a half-dressed set, and there, in his glory, was screen legend Robert Mitchum. I'm not the squealing fangirl type, but inside me there was a squealing fangirl. Mitchum was holding melted silicone breast implants against his pecs, over his shirt. I'd barely registered this fact when Mitchum's guy leapt out of a chair and interposed himself between us and the bemused superstar.
"Bob, these are the girls, Johnny's friends." Bob leered. "Which of you two is the biggest fan, would you say?" he asked.
Southie shrank back, saying "Oh, she is. I don't even like movies."
Mitchum looked back and forth, at my breasts, at her breasts, at my breasts, at her breasts. He leered, and was beautiful.
"Oh, I don't think so," he said. Drawled. No account of Robert Mitchum is complete without this word.
Southie grabbed my hand and dragged me away. She was mortified, and I was laughing. We walked in silence for about ten blocks.
"Firehouse 2: Planet of Women," I finally said.
Firehouse 2: Planet of Women, a sequel to a spoof of Ron Howard's Backdraft called Firehouse, was the brainchild of CinemaScience's J. Christian Ingvordsen and the writer Dean Bell. The budget, for a straight-to-video-in-Southeast-Asia spoof, was enormous, and most of it went to that one day of shooting the three big names, Bob, Telly, and Shelley.
It is a preposterous goofy mess, crammed with every cultural reference anyone could think of — one line of Josh Mosby's starts at Amy Fisher and ends at James Joyce. Renamed Backfire in post-production — this explains why I was never able to convince anyone that it exists — the movie seeks to contain every possible running sight gag from the silents, every trope of the Zucker Bros satires, every gossip rag story of the Nineties, and every old-skool face-morphing special effect from Total Recall.
CinemaScience has a few other movies which exist in an uncertain space. Blue Vengeance was made in 1989 and first released thirty years later after a protracted legal battle. Breaking Bone, due out this year, combines the Zoom LARP sessions with thirty-year-old footage the team had to have mold professionally burned off of. I plan to see it with Southie at a drive-in. Drive-ins are real, right?
***
SWERVE YOUR ENTHUSIASM: SERIES INTRODUCTION by Adam McGovern | Luc Sante on WARHOL'S WALT WHITMAN | Peggy Nelson on THE CURSE OF QUIXOTE | Adrienne Crew on POOR DEVIL | Bishakh Som on KATE BUSH BOOTLEGS | Douglas Wolk on BIG NUMBERS #3 | Devin McKinney on THE ORIGINAL OF LAURA | Mandy Keifetz on BACKFIRE | Heather Quinlan on TRANSITIONAL DISNEY | Michael Grasso on STEELY DAN'S 2nd ARRANGEMENT | Kelly Jean Fitzsimmons on THE GREAT MOVIE RIDE | Josh Glenn on LE HIBOU PHILOSOPHE | Lynn Peril on 70, GIRLS, 70 | Ron Wimberly on SHIRATO SANPEI | Holly Interlandi on LONDON AFTER MIDNIGHT |Stan Chou on TYRAEL'S MIGHT | Nikhil Singh on JOURNEY TO IXTLAN | Brian Lozano on BLOWN BANNER | Adam McGovern on THE LEON SUITES | Sajan Saini on BRISCO COUNTY | Heather Kapplow on LORD OF LIGHT | Greg Rowland on SOLARNAUTS | Christopher-Rashee Stevenson on FLEDGLING | Crystal Durant on TURN-ON | Ran Xia on BYRON'S FRAGMENT | Carolyn Raship on BURNT BRONTË.
MORE ENTHUSIASM at HILOBROW
TEEN YOUR ENTHUSIASM (2Q2023): ANDY GIBB | KIM WYLDE | KIRK CAMERON | MACCA | SHAUN CASSIDY & 20 other heartthrobs. DOLLY YOUR ENTHUSIASM (1Q2023): WE FOUND IT | TOGETHER AGAIN | SUNDAY MORNIN' COMIN' DOWN | BAD CASE OF THE BLUES | FANCY | & 20 other Sixties (1964–1973) Country singles. KILL YOUR ENTHUSIASM (4Q2022): LT. TASHA YAR | JOYCE SUMMERS | COL. HENRY BLAKE | MRS. LANDINGHAM | ALEX KAMAL | & 20 other TV deaths. BLURB YOUR ENTHUSIASM (3Q2022): LEFT-CORNER BRICK | JOY IS RESISTANCE | THE FUTURE IS PASSÉ | EVERY MINUTE AN OCEAN | SHUT UP, HE EXPLAINED | & 20 other apothegms to live by. KOJAK YOUR ENTHUSIASM (2Q2022): ARK II | WKRP IN CINCINNATI | BUCK ROGERS | THE WHITE SHADOW | POLICE WOMAN | & 20 other Seventies (1974–1983) TV shows. KICK YOUR ENTHUSIASM (1Q2022): KUILL | CATO | COSMO | TRIXIE | VOLSTAGG | & 20 other sidekicks. NERD YOUR ENTHUSIASM (4Q2021): TIME | THE POST OFFICE | ARDUIN | DOUBT | SUMMATIONS | & 20 other nerdy passions. SWERVE YOUR ENTHUSIASM (3Q2021): WARHOL'S WALT WHITMAN | 70, GIRLS, 70 | TYRAEL'S MIGHT | SHIRATO SANPEI | THE LEON SUITES | & 20 other never-realized cultural productions. FIVE-O YOUR ENTHUSIASM (2Q2021): DARK SHADOWS | MANNIX | GET SMART | THE ADDAMS FAMILY | I DREAM OF JEANNIE | & 20 other Sixties (1964–1973) TV shows. FERB YOUR ENTHUSIASM (1Q2021): STEVEN UNIVERSE | TOP CAT | REN & STIMPY | SHE-RA AND THE PRINCESSES OF POWER | DRAGON BALL Z | & 20 other animated series. CARBONA YOUR ENTHUSIASM (2020): "Sex Bomb" | "Going Underground" | "Soft South Africans" | "Typical Girls" | "Human Fly" | & 20 other Seventies (1974–1983) punk singles. KLAATU YOU (2020 weekly): ZARDOZ | METROPOLIS | DARK STAR | SINS OF THE FLESHAPOIDS | SOLARIS | & dozens of other pre-STAR WARS sci-fi movies. CONVOY YOUR ENTHUSIASM (2019): THE TAKING OF PELHAM ONE TWO THREE | ROLLERBALL | BLACK SUNDAY | SORCERER | STRAIGHT TIME | & 20 other Seventies (1974–1983) action movies. SERIOCOMIC (2019 weekly): LITTLE LULU | VIZ | MARSUPILAMI | ERNIE POOK'S COMEEK | HELLBOY | & dozens of other comics. TUBE YOUR ENTHUSIASM (2018): LOONEY TUNES | THREE STOOGES | THE AVENGERS | ROCKY & BULLWINKLE | THE TWILIGHT ZONE | & 20 other Fifties (1954–1963) TV shows. WOWEE ZOWEE (2018 weekly): UNISEX | UNDER THE PINK | DUMMY | AMOR PROHIBIDO | HIPS AND MAKERS | & dozens of other Nineties (1994–2003) albums. KLUTE YOUR ENTHUSIASM (2017): THE KILLERS | BANDE À PART (BAND OF OUTSIDERS) | ALPHAVILLE | HARPER | BLOW-UP | & 20 other Sixties (1964–1973) neo-noir movies. #SQUADGOALS (2017 weekly): THE WILD BUNCH | BOWIE'S BAND | THE BLOOMSBURY GROUP | THE HONG KONG CAVALIERS | VI ÄR BÄST! & dozens of other squads. GROK MY ENTHUSIASM (2016 weekly): THE THEORY AND PRACTICE OF LUNCH | WEEKEND | MILLION YEAR PICNIC | LA BARONNE EMILE D'ERLANGER | THE SURVIVAL SAMPLER | & dozens more one-off enthusiasms. QUIRK YOUR ENTHUSIASM (2016): "Tainted Love" | "Metal" | "Frankie Teardrop" | "Savoir Faire" | "Broken English" | & 20 other Seventies (1974–1983) new wave singles. CROM YOUR ENTHUSIASM (2015): DARKER THAN YOU THINK | THE SWORD IN THE STONE | OUT OF THE SILENT PLANET | THIEVES' HOUSE | QUEEN OF THE BLACK COAST | & 20 other Thirties (1934–1943) fantasy novels. KERN YOUR ENTHUSIASM (2014): ALDINE ITALIC | DATA 70 | TORONTO SUBWAY | JOHNSTON'S "HAMLET" | TODD KLONE | & 20 other typefaces. HERC YOUR ENTHUSIASM (2013): "Spoonin' Rap" | "Rapper's Delight" | "Rappin' Blow" | "The Incredible Fulk" | "The Adventures of Super Rhyme" | & 20 other Seventies (1974–1983) hip-hop songs. KIRK YOUR ENTHUSIASM (2012): Justice or vengeance? | Kirk teaches his drill thrall to kiss | "KHAAAAAN!" | "No kill I" | Kirk browbeats NOMAD | & 20 other Captain Kirk scenes. KIRB YOUR ENTHUSIASM (2011): THE ETERNALS | BLACK MAGIC | DEMON | OMAC | CAPTAIN AMERICA | & 20 other Jack Kirby panels.