Grok My Enthusiasm (16)
By: Brian Berger
April 27, 2016
One in a weekly series of enthusiastic posts contributed by HILOBROW friends and regulars.
*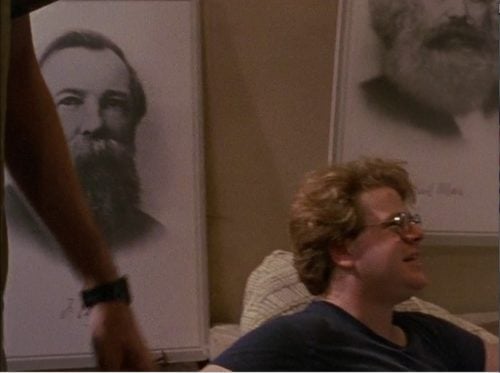 Sly and audacious still, Richard Linklater's Slacker (filmed summer 1989, Austin premier July 1990, national release July 1991) is especially impressive in its examinations of historical memory. Take "Bush Basher" Ron Marks, seated beneath separate portraits of Engels and Marx, for example, caught mid-rant on the erstwhile "mandate" of President Bush after the 1988 election. Marks is correct — and so echoes Gil Scott-Heron's 1980 anti-Reagan protest, "B Movie," which begins "Mandate my ass!" one wonders. In real life, Marks was then bassist for The Texas Instruments, one of the era's greatest political and poetic rock bands, so a knowing homage is certainly possible.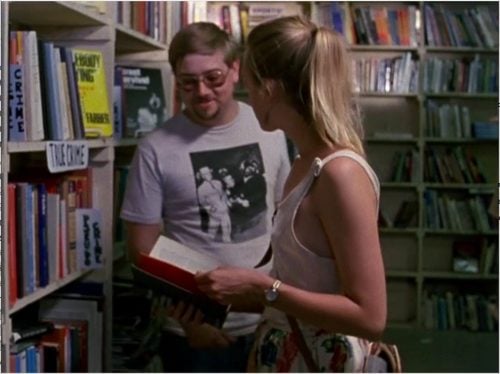 Later, a bookstore denizen and "JFK Buff" (John Slate) clad in a Jack Ruby shooting Lee Harvey Oswald t-shirt recognizes a former classmate (Sarah Harmon) browsing Mark Lane's Rush To Judgment and volubly engages her with assassination lore. Lane, it will be recalled, was the attorney for Oswald's mother, Marguerite, and his four-hundred-plus page work, published in August 1966, a best-selling rejoinder to the Warren Commission's massive but demonstrably flawed report. While subsequent revelations have expanded our understanding of the JFK cover-up — especially the FBI's and the CIA's myriad pre-assassination involvements with Oswald — Lane's work remains important and the movie is wise to reference this ineradicable Texan scar. Note also: Myron Farber's 1982 true-crime book Somebody Is Lying: The Story of Dr. X, its bright-yellow-and-black dustjacket too suggestive of Don DeLillo's 1988 Kennedy assassination novel Libra to be "coincidence."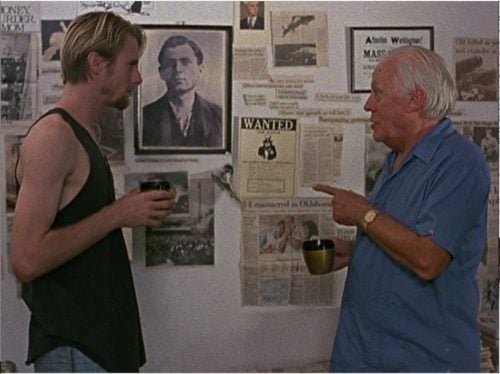 Perhaps Slacker's greatest sequence stars University of Texas philosophy professor Louis Mackey as "The Old Anarchist." Walking with his doting daughter (Kathy McCarty), they pass a shoplifter being accosted outside a grocery store ("Well, I'm always glad to see any young person doing something" Mackey quips) and a Ron Paul Libertarian for President panel truck before returning home to find a burglar inside. Mackey disarms the youth with charm and a disquisition on the young anarchist Leon Czolgosz, who killed President William McKinley in September 1901; Guy Fawkes, who conspired to blow up King James in 1605; and — most disturbingly, for this wasn't a political crime — Charles J. Whitman, the 25-year-old ex-Marine and architecture student, who on August 1, 1966 murdered his mother, his wife, and later that day thirteen people, and wounded dozens of others inside and from atop the UT tower, a horror unrelieved by the discovery that Whitman had unknowingly been living with a walnut-sized brain-tumor. It bears stating that while Slacker was often improvisatory, and certain sentiments nearly "real," Mackey is here in character, and a deluded one; for the true and beloved Mackey, read his 1971 book, Kierkegaard: A Kind of Poet and later essays on Thomas Pynchon and Gilbert Sorrentino for starters.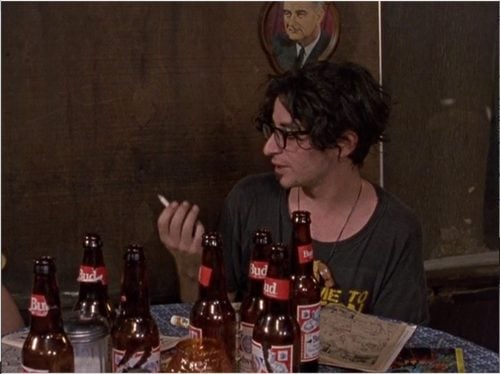 Two further scenes with political ciphers are brief but suggestive. In one, two young men in a bar discourse on Scooby Doo and the Smurfs while on the wall behind them, a small portrait of Lyndon Johnson slowly, inexorably creeps into the frame until LBJ himself becomes a third-party to their conversation. Slacker concludes almost like a musical, without dialogue, with a small picnic atop Austin's Mt. Bonnell. The group has two books with them: 1980's Max Apple-edited Southwest Fiction Anthology and, in the author's greatest cinematic absence since Annie Hall, Paul Goodman's 1960 Growing Up Absurd.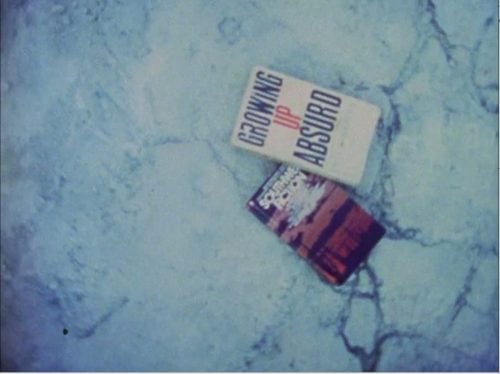 ***
GROK MY ENTHUSIASM: Rob Wringham on THE THEORY AND PRACTICE OF LUNCH | Gordon Dahlquist on WEEKEND | Joe Alterio on MILLION YEAR PICNIC | Adrienne Crew on LA BARONNE EMILE D'ERLANGER | Josh Glenn on THE SURVIVAL SAMPLER | Alix Lambert on THE SKIES BELONG TO US | Adam McGovern on PENELOPE and CHAVEZ RAVINE | Rob Wringham on THE LYKE WAKE WALK | Mark Kingwell on NORTH STAR SNEAKERS & GWG JEANS | Gordon Dahlquist on FELLINI SATYRICON | Erik Davis on AH! | Devin McKinney on WHISPERING AFRAID | Mimi Lipson on 1973 SEARS ROEBUCK CATALOG | Jessamyn West on MOSS | Josh Glenn on THE SCOUT HOW BOOK | Brian Berger on SLACKER | Alix Lambert on ABSOLUTE BEGINNERS | Chelsey Johnson on MONOTREMES | Devin McKinney on THE BUTCHER COVER | Flourish Klink on ONE DIRECTION | Gordon Dahlquist on FULL METAL JACKET | Allegra Huston on CLOTHESLINE | Jenny Davidson on POWERLIFTING | Evan Narcisse on REZ | Deborah Wassertzug on VEGETARIAN MEATBALLS | Chris Spurgeon on WALLACE AND GROMIT | Mandy Keifetz on BENEFICIAL MICROBES | Annie Nocenti on MARKS ON WALLS | Molly Sauter on THE GREAT BRITISH BAKE OFF | William Nericcio on LAND OF THE LOST | Dan Fox on "VOICE OF GOD" RADIO DJS | Brandi Brown on WIKIPEDIA TALK | Claire Lehmann on THE APPARATUS REVEAL | Alice Boone on COSTUME JEWELRY | Colin Dickey on WIDESPREAD PANIC | Anshuman Iddamsetty on THE FULL BODY PROJECT | John Hilgart on MAKING GRATEFUL DEAD ALBUMS | Rob Wringham on STEVEN UNIVERSE | John Overholt on DECKLE EDGES | James Hannaham on HABIT PATTERNS | Jessamyn West on THE PUBLIC LIBRARY SYSTEM | Adam McGovern on THE SPACE GIANTS | Brian Berger on MEDIUM COOL | Chris Spurgeon on THE DUNNING-KRUGER EFFECT | Joe Alterio on TABLETOP WARGAMING | Mimi Lipson on TRASH PICKING | Jason Grote on CZECH CINEMA | Roxane Gay on AUTOMATED CAR WASH | Dan Fox on JULIA DAVIS | Amy Thielen on BINGO | Steph Burt on FEIJOA.
MORE ENTHUSIASM at HILOBROW
NERD YOUR ENTHUSIASM (4Q2021): NERDING | ARDUIN | KLINGON CONFIDENTIAL | MAP INSERTS | TIME | & 20 other nerdy passions. SWERVE YOUR ENTHUSIASM (3Q2021): WARHOL'S WALT WHITMAN | 70, GIRLS, 70 | TYRAEL'S MIGHT | SHIRATO SANPEI | THE LEON SUITES | & 20 other never-realized cultural productions. FIVE-O YOUR ENTHUSIASM (2Q2021): DARK SHADOWS | MANNIX | GET SMART | THE ADDAMS FAMILY | I DREAM OF JEANNIE | & 20 other Sixties (1964–1973) TV shows. FERB YOUR ENTHUSIASM (1Q2021): STEVEN UNIVERSE | TOP CAT | REN & STIMPY | SHE-RA AND THE PRINCESSES OF POWER | DRAGON BALL Z | & 20 other animated series. CARBONA YOUR ENTHUSIASM (2020): "Sex Bomb" | "Going Underground" | "Soft South Africans" | "Typical Girls" | "Human Fly" | & 20 other Seventies (1974–1983) punk singles. KLAATU YOU (2020 weekly): ZARDOZ | METROPOLIS | DARK STAR | SINS OF THE FLESHAPOIDS | SOLARIS | & dozens of other pre-STAR WARS sci-fi movies. CONVOY YOUR ENTHUSIASM (2019): THE TAKING OF PELHAM ONE TWO THREE | ROLLERBALL | BLACK SUNDAY | SORCERER | STRAIGHT TIME | & 20 other Seventies (1974–1983) action movies. SERIOCOMIC (2019 weekly): LITTLE LULU | VIZ | MARSUPILAMI | ERNIE POOK'S COMEEK | HELLBOY | & dozens of other comics. TUBE YOUR ENTHUSIASM (2018): LOONEY TUNES | THREE STOOGES | THE AVENGERS | ROCKY & BULLWINKLE | THE TWILIGHT ZONE | & 20 other Fifties (1954–1963) TV shows. WOWEE ZOWEE (2018 weekly): UNISEX | UNDER THE PINK | DUMMY | AMOR PROHIBIDO | HIPS AND MAKERS | & dozens of other Nineties (1994–2003) albums. KLUTE YOUR ENTHUSIASM (2017): THE KILLERS | BANDE À PART (BAND OF OUTSIDERS) | ALPHAVILLE | HARPER | BLOW-UP | & 20 other Sixties (1964–1973) neo-noir movies. #SQUADGOALS (2017 weekly): THE WILD BUNCH | BOWIE'S BAND | THE BLOOMSBURY GROUP | THE HONG KONG CAVALIERS | VI ÄR BÄST! & dozens of other squads. GROK MY ENTHUSIASM (2016 weekly): THE THEORY AND PRACTICE OF LUNCH | WEEKEND | MILLION YEAR PICNIC | LA BARONNE EMILE D'ERLANGER | THE SURVIVAL SAMPLER | & dozens more one-off enthusiasms. QUIRK YOUR ENTHUSIASM (2016): "Tainted Love" | "Metal" | "Frankie Teardrop" | "Savoir Faire" | "Broken English" | & 20 other Seventies (1974–1983) new wave singles. CROM YOUR ENTHUSIASM (2015): DARKER THAN YOU THINK | THE SWORD IN THE STONE | OUT OF THE SILENT PLANET | THIEVES' HOUSE | QUEEN OF THE BLACK COAST | & 20 other Thirties (1934–1943) fantasy novels. KERN YOUR ENTHUSIASM (2014): ALDINE ITALIC | DATA 70 | TORONTO SUBWAY | JOHNSTON'S "HAMLET" | TODD KLONE | & 20 other typefaces. HERC YOUR ENTHUSIASM (2013): "Spoonin' Rap" | "Rapper's Delight" | "Rappin' Blow" | "The Incredible Fulk" | "The Adventures of Super Rhyme" | & 20 other Seventies (1974–1983) hip-hop songs. KIRK YOUR ENTHUSIASM (2012): Justice or vengeance? | Kirk teaches his drill thrall to kiss | "KHAAAAAN!" | "No kill I" | Kirk browbeats NOMAD | & 20 other Captain Kirk scenes. KIRB YOUR ENTHUSIASM (2011): THE ETERNALS | BLACK MAGIC | DEMON | OMAC | CAPTAIN AMERICA | & 20 other Jack Kirby panels.