INTO THE GROVE (20)
By: Brian Berger
July 20, 2017
One in a series of posts, by long-time HILOBROW friend and contributor Brian Berger, celebrating perhaps America's most exciting and controversial publisher: Barney Rosset's Grove Press.
*
Nicholas Halasz's Captain Dreyfus: The Story of a Mass Hysteria (1955, 1957)
Marc Bernard's Zola, translated by Jean M. Leblon (1960)
Jean-Paul Sarte's Anti-Semite and Jew (1948, 1960), translated by George Becker
Jazz: Essays on the Nature and Development of Jazz (1959), edited by Martin T. Williams
Jack Kerouac's Mexico City Blues (1959)
Jack Kerouac's Doctor Sax (1959)
Jean-Jaques Mayoux's Melville (1960), translated by John Ashbery
Monique Nathan's Virginia Woolf (1960), translated by Herma Briffault
Nina Gourfinkel's Gorky (1960), translated by Ann Fesbach
Nina Gourfinkel's Lenin (1961), translated by Maurice Thornton
Henry Miller's Tropic of Cancer (1934, 1961)
Henry Miller's Tropic of Capricorn (1938, 1961)
Jazz edited by Nat Hentoff & Albert McCarthy (1961)
Henry Miller's Black Spring (1936, 1963)
Jack Kerouac's Satori in Paris (1966)
Theodor Reik's Psychology of Sex Relations (1945, 1966)
Tuli Kupferberg's 1001 Ways to Make Love (1969)
Jules Feiffer's The White House Murder Case (1970)
Ed Sanders' Shards of God: A Novel of the Yippies (1970)
Abbie Hoffman's Steal This Book (1971), published by Pirate Editions, distributed by Grove Press
Julian Barry's Lenny (1971)
All cover designs by Roy Kuhlman except Steal This Book (designer unknown)
There are many variations of the infamous Lenny Bruce routine defining Jewish and goyisch; my own favorite, performed in San Francisco in 1961 and namechecking a brilliant black tenor saxophonist, suggests the following:
"If you're from New York and you're Catholic you're still Jewish. If you're from Butte, Montana, and you're Jewish you're still goyisch. The Air Force is Jewish, the Marine Corps is dangerous goyisch… Eddie Cantor is goyisch, George Jessel is goyisch… Ben Webster is very Jewish. I've got an uncle who looks exactly like Ben Webster."
Barney Rosset was proudly half-Irish and half-Jewish on his mother's and father's sides, respectively, and the triumph of Grove Press is also the triumph of hard-headed ethnic radicalism in America. By this reasoning, Jack Kerouac — a French-Canadian Catholic by birth — is Jewish sometimes.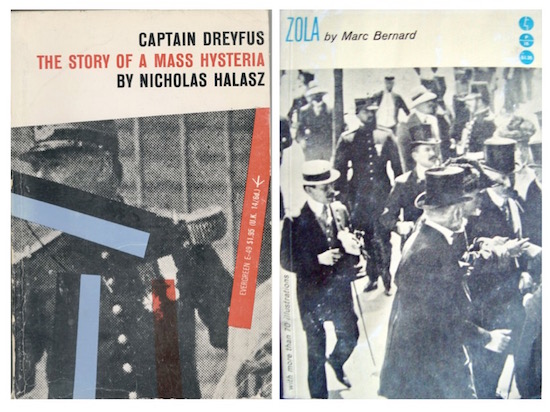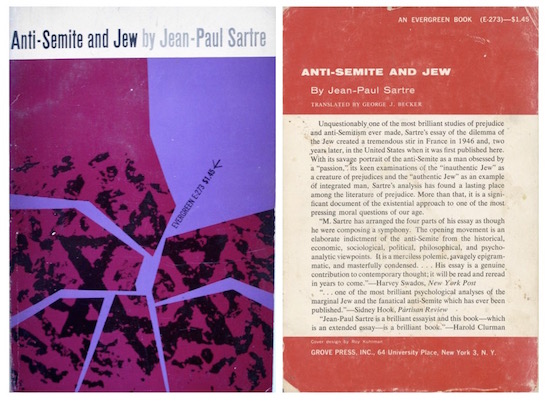 Unquestionably one of the most brilliant studies of prejudice and anti-Semitism ever made, Sartre's essay of the dilemma of the Jew created a tremendous stir in France in 1946 and, two years later, in the United States when it was first published here. With its savage portrait of the anti-Semite as a man obsessed by a "passion," its keen examination of the "inauthentic Jew" as a creature of prejudice and the "authentic Jew" as an example of integrated man, Sartre's analysis has found a lasting place among the literature of prejudice. More than that, it is a significant document of the existential approach to one of the most pressing moral questions of our age.

"M. Sarte has arranged the four parts of his essay as though he were composing a symphony. The opening movement is an elaborate indictment of the anti-Semite from the historical, economic, sociological, political, philosophical, and psycho-analytic viewpoints. It is a merciless polemic, savagely epigrammatic, and masterfully condensed… His essay is a genuine contribution to contemporary thought; it will be read and reread in years to come." — Harvey Swados, New York Post

"… one of the most brilliant psychological analyses of the marginal Jew and the fanatical anti-Semite which was ever been published." — Sidney Hook, Partisan Review

"Jean-Paul Sartre is a brilliant essayist and this book — which is an extended essay—
is a brilliant book." — Harold Clurman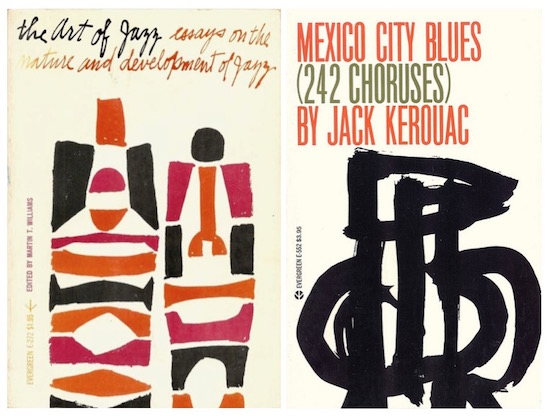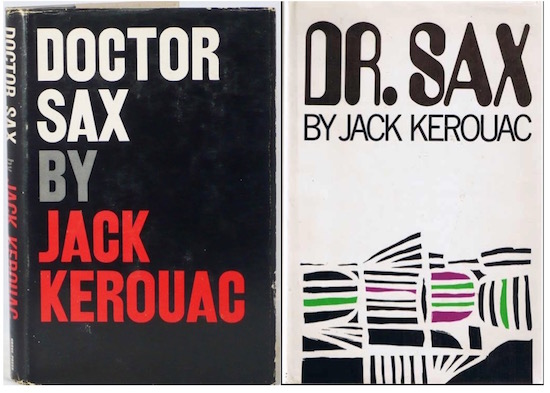 "Poor Doctor Sax stood drooped and sad at his forge works. The fire was blue, the blue cave roof was blue, everything, shadow was blue, my shoes were blue — "Oooh–Ah-man!" I heard a whisper from the cat. It was a Talking Cat? Doctor Sax said "Yes, it was a talking cat once I suppose. Help me with these jars".

I uprolled me sleeves to help Doctor Sax with the jars of eternity. They were labeled one after another with bright blue and obviously other colors and had Hebraic writing on them–his secrets were Jewish, mixed with some Arabic.

"Introversions! torturous introversions of my mind!" screamed Doctor Sax jumping up and down as hard as he could and screaming at the top of his lungs, his great shroud flapping. I hid in the corner, covered my mouth and nose with fear, my hands ice cold.

"Yaaah!" screeched Doctor Sax turning and protruding his great leering green face with red eyes at me, showing blue teeth in the general blue world of his own fool powders. "Screeeech!" he hollered–he began pulling his jaw cheeks apart to make worse faces and scare me, I was scared enough– "he bounced back, head down, like a hip tap dancer pulling his bops away, on swinging heels —

"Doctor Sax," I cried, "Monsieur Sax, m'fa peur!" (You scare me!)"

— from Doctor Sax, Chapter 8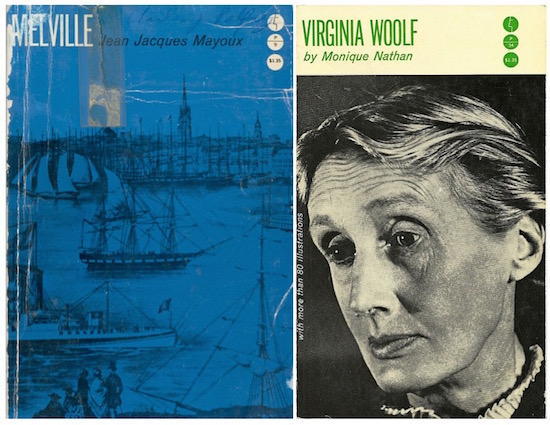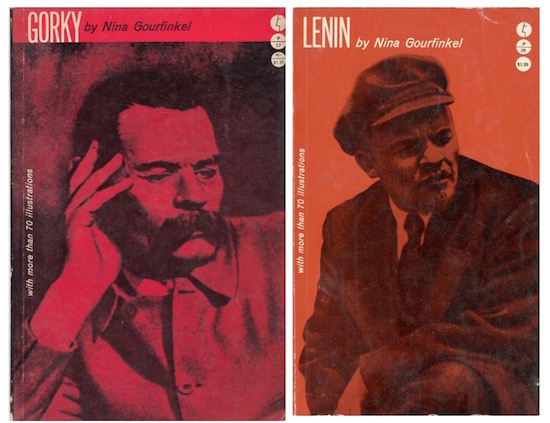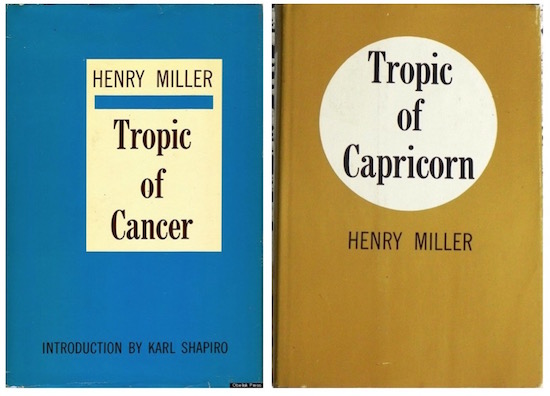 Tropic of Capricorn, first published in Paris in 1939, is in some respects an achievement superior to the first Tropic novel. Here Miller, in shifting the scene to the United States, and the time to his younger years, undertakes to explore the sources of his own life and to define a view of his own country.

As an unsparing account of what it means to grow to manhood in America, it is unlike anything that has ever been published. In its episodes of sex, hilarious and harrowing by turns, and in its uproarious comedy, Miller matches the best that he has done elsewhere.

In place of Paris, the scene is now New York: home and family in Brooklyn, the changing neighborhood as the flood of immigrants pours in before World War I, the "Cosmodemonic Telegraph Company" — American industry in a microcosm — where Miller worked as employment manager, Broadway dance halls, subway pickups, the sex frenzy of the Twenties. Against this backdrop we see and hear the astonishing parade of Miller characters and cascade of Miller talk that makes this one of the truly important books of our time. — from hardcover jacket copy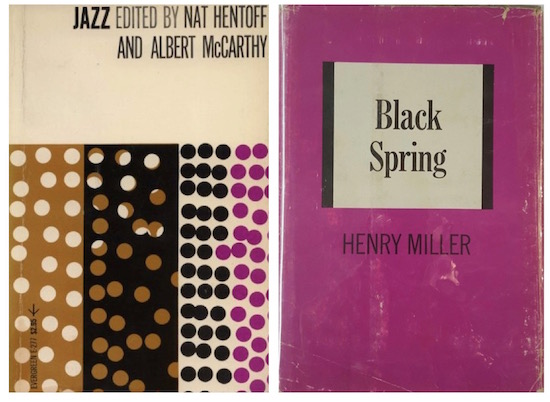 "…Mischa Elman, David Belasco, Farragut, The Hairy Ape, Minnehaha, Arrow Collars, Sunrise, Sun Up, the Shenandoah, Jack Johnson, the Little Church Around the Corner, Cab Calloway, Elaine Hammerstein, Kid McCoy, Ben Ami, Ouida, Peck's Bad Boy, Patti, Eugene V. Debs, Delaware & Lackawanna, Carlo Tresca, Chuck Connors, George Ade, Emma Goldman, Sitting Bull, Paul Dressler, Child's, Hubert's Museum, The Bum, Florence Mills, the Alamo, Peacock Alley, Pomander Walk, The Gold Rush, Sheepshead Bay, Strangler Lewis, Mimi Aguglia, The Barber Shop Chord, Bobby Walthour, Painless Parker, Mrs. Leslie Carter, The Police Gazette, Carter's Little Liver Pills, Bustanoby's, Paul & Joe's, William Jennings Bryan, George Al. Cohan, Swami Vivekananda, Sadakichi Hartman, Elizabeth Gurley Flynn, the Monitor and the Merrimac, Snuffy the Cabman, Dorothy Dix, Amato, the Great Sylvester, Joe Jackson, Bunny, Elsie Janis, Irene Franklin, The Beale Street Blues…" — from Black Spring chapter titled "Jabberwhorld Cronstadt"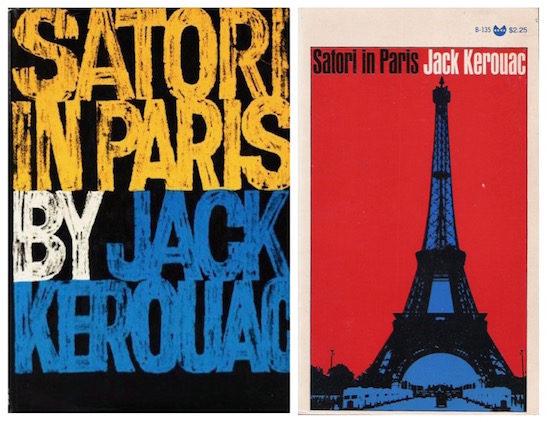 "Somewhere during my ten days in Paris (and Brittany) I received an illumination of some kind that seems to've changed me again, toward what I suppose'll be more my pattern for another seven years or more: in effect, a satori: the Japanese word for 'sudden illumination,' 'sudden awakening,' or simply 'kick in the eye.' So begins Jack Kerouac's newest venture into his own unique sensibility, the breakneck, dizzying record of his trip last year to France, to trace his surname.

Written in episodes true to his own theories of "spontaneous prose," casually linked by the theme of the search, Satori in Paris shimmers with the energy and thrust which only Kerouac can maintain. From his meetings with Parisian bookies and cab drivers to insane non sequiturs in conversations with a priest, a fellow drinker, and his Breton namesake, Ulysses Lebris, of the Lebris de Kérouack family tree, this short book whirls with unbelievable speed through ten days, and dozens of events, any one of which may be, in retrospect, Kerouac's satori.

In Satori in Paris, Kerouac brings the candid and innocent joy which informs all his writings of America, to the calmer, less changing world of France. He sees the French as themselves and at the same time, as American counterparts.

Flashing in and out of his "travelogue" are scenes and images from his days as a boy, a student, a football player, employed as a metaphor or comment on analogous occurrences in his travels.

The combination of guileless reportage and shrewd notation, tourist amazement and zany Marx Brothers routines of his own creation, makes this book a bright addition to the Kerouac canon. It sings and bristles with his singular, catholic vision of life and the world. — from hardcover jacket copy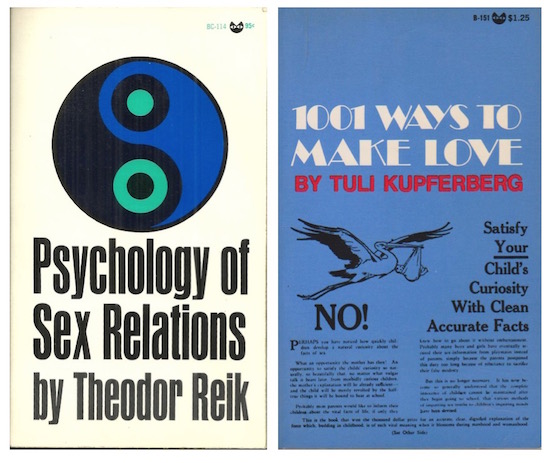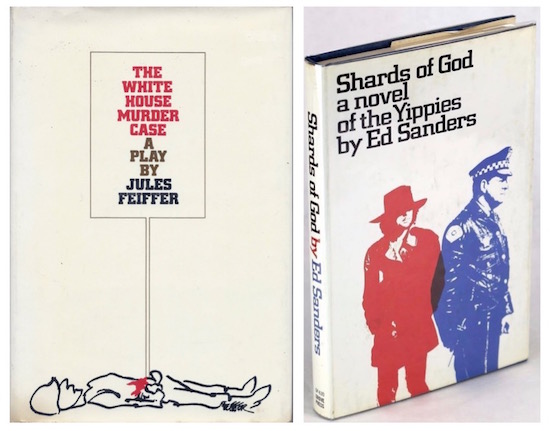 In this totally outrageous and insane novel, Ed Sanders, one of the non-leaders of the gang of subversives loosely grouped under the title "The Underground," has recorded for posterity the truth, the whole truth and nothing but the truth about the depraved and degenerate street filth known as the Yippies. Shards of God, is indeed, a history of the Yippies, their passions, loves, foibles, weaknesses, and flights of nobility.

The novel traces the growth of the Yippie conspiracy from its early inner-treason cell days up to its current position as an international cartel of chromosome-damaged diplomats, Swedish generals, Pentagon luminaries, war correspondents, nuns, poets, street fornicators, and peace apes — not to mention to television personalities, rock stars, and communist dupes.

Beginning in those halcyon days just prior to the exorcism of the Pentagon, and ending with an escape from Chicago, Shards of God dwells lovingly on the scene in the Second City at that time in the recent past when it played host to the Democratic National Convention. Focusing its demented light on this week of sex and violence, Mr. Sanders traces the activities of such stellar personalities as Abbie Hoffman, Keith Lampe, Jerry Rubin, Black Hobart, Piano Wire Louie, Bob Fass and Paul Krassner — in a word, "the mirthless smut-trampled inner core of the holy citadel of Yippie."

Aided and abetted by a cast of thousands, these paragons of prurience are seen at work, at play, asleep and awake, delirious with drugs and libertinism, carrying the principles, not to mention the banner of Yippie into the stodgy American heartland.

At once a historical tract and a treatise on street joy, Shards of God will doubtlessly stand for years as the definitive wok on this most amazing eruption of Americana, Yippie.

***

Ed Sanders was recently born somewhere in America. A veteran peace freak and submarine boarded, he is better known as the author of Poem from Jail and Peace Eye. The proprietor of the Peace Eye Bookstore in Manhattan, he first came to prominence as the editor and publisher of Fuck You! A Magazine of the Arts. He is also the leader of the notorious rock group, The Fugs.

— from hardcover jacket copy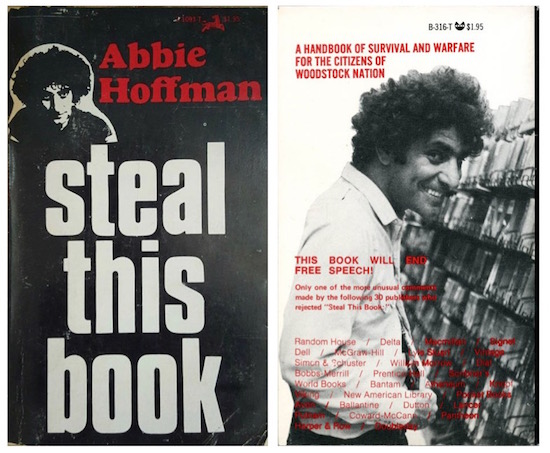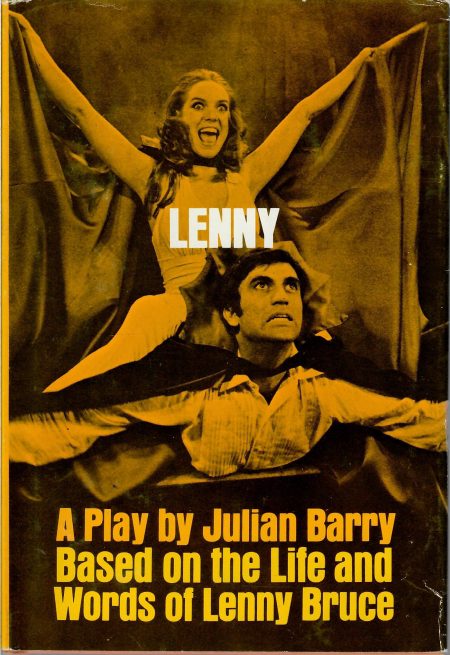 NB: Ben Webster Quintet Soulville (Verve LP, 1957), photographer uncredited, liner notes by the Jewish Nat Hentoff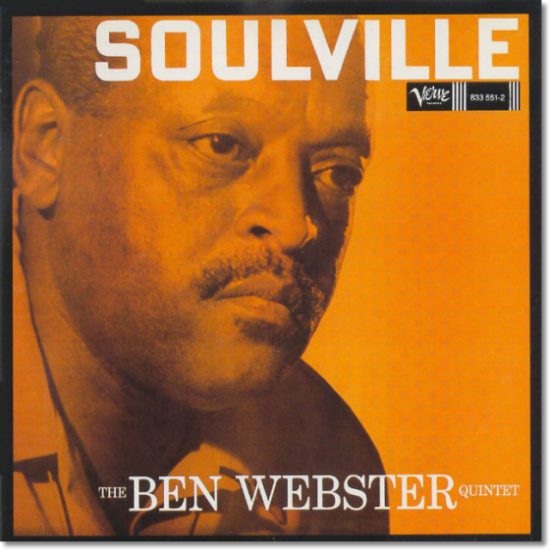 ***
BOOK COVERS at HILOBROW: INTO THE GROVE series by Brian Berger | FILE X series by Josh Glenn | THE BOOK IS A WEAPON series | HIGH-LOW COVER GALLERY series | RADIUM AGE COVER ART | BEST RADIUM AGE SCI-FI | BEST GOLDEN AGE SCI-FI | BEST NEW WAVE SCI-FI | REVOLUTION IN THE HEAD.