Grok My Enthusiasm (8)
By: Robert Wringham
March 2, 2016
One in a weekly series of enthusiastic posts contributed by HILOBROW friends and regulars.
*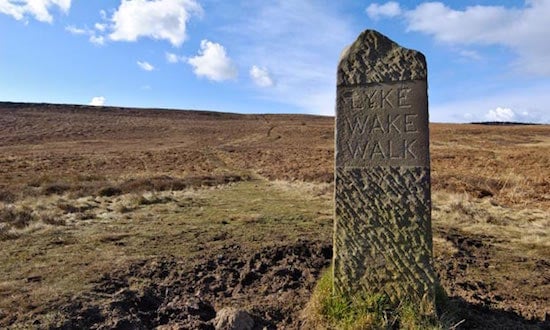 Walking routes exist in the mind, not as geological facts. They may be reified on maps and in literature, but they're ultimately imaginary. Walks are the preserve of human minds, not tectonic plates; and the minds preserving the Lyke Wake Walk have a certain trainspotterly dedication. It's very much a cult walk and, I'd argue, a cultural production equal to a book or film or indeed any other great saunter.
The Lyke Wake Walk is a 40-mile amble over North Yorkshire moorland with a time limit of 24 hours. It's always meant something to me, the words LYKE WAKE WALK standing in my mind like obelisks, set in the stone typeface used on film posters for epics like Ben Hur. It's part of family lore: My dad made a crossing in 1969 while hungover from a drinking session the previous evening. On a family holiday in 1988, we chanced across the standing stone marking the endpoint of the walk so there's a photo of my sister and me standing at it like a pair of shell-suited druids. In 2011, I tackled the walk and failed it gloriously after 34 miles and 13 hours; pain, misery, and sense convincing me to stop. Kinky, I'll doubtless try again.
There's a strong culture surrounding it all. You can drink Lyke Wake ale at the Golden Lion Inn near the foot of the walk, surrounded with relevant maps, artefacts and poetry. There's a unique and very funny vocabulary around the walk: people who complete a crossing are called dirgers and witches, while those who complete multiple crossings are awarded "degrees" and called "masters of misery" or "doctors of dolefulness." Degrees are awarded by the Lyke Wake Club who also publish literature about the walk and monitor its unfolding history. Dirgers can file an account of their walk there and buy a coffin-shaped button badge to proclaim their victory. The club's yearly gatherings are called wakes, at which one is, according to the club website, "expected to dress with appropriate funereal solemnity".
Why the gothic imagery? Well, the experience of the walk can leave the unprepared feeling quite close to the reaper. Each painful, contemplative step makes the walk feel like a gradual, cumulative suicide: it was on the walk I learned the word "ochlothanasia", meaning "death by numbers." But deep in rural England — a mystical place at the best of times with its panthers, crop circles and green men — the walk is steeped with folklore: it takes its name from a folk song called the "Lyke Wake Dirge," which refers to watching (wake) over a corpse (lyke) and the journey of the soul into purgatory.
If, like me, you're a city slicker with a tendency to get one's annual exposure to the natural world over with in a single, almighty blast to the face, the Lyke Wake Walk is a thorough way of doing so. Hipster cynicism fades: when you're navigating tree roots in the woods or marvelling at the view from the trig point, you'll not regret buying the boots.
***
GROK MY ENTHUSIASM: Rob Wringham on THE THEORY AND PRACTICE OF LUNCH | Gordon Dahlquist on WEEKEND | Joe Alterio on MILLION YEAR PICNIC | Adrienne Crew on LA BARONNE EMILE D'ERLANGER | Josh Glenn on THE SURVIVAL SAMPLER | Alix Lambert on THE SKIES BELONG TO US | Adam McGovern on PENELOPE and CHAVEZ RAVINE | Rob Wringham on THE LYKE WAKE WALK | Mark Kingwell on NORTH STAR SNEAKERS & GWG JEANS | Gordon Dahlquist on FELLINI SATYRICON | Erik Davis on AH! | Devin McKinney on WHISPERING AFRAID | Mimi Lipson on 1973 SEARS ROEBUCK CATALOG | Jessamyn West on MOSS | Josh Glenn on THE SCOUT HOW BOOK | Brian Berger on SLACKER | Alix Lambert on ABSOLUTE BEGINNERS | Chelsey Johnson on MONOTREMES | Devin McKinney on THE BUTCHER COVER | Flourish Klink on ONE DIRECTION | Gordon Dahlquist on FULL METAL JACKET | Allegra Huston on CLOTHESLINE | Jenny Davidson on POWERLIFTING | Evan Narcisse on REZ | Deborah Wassertzug on VEGETARIAN MEATBALLS | Chris Spurgeon on WALLACE AND GROMIT | Mandy Keifetz on BENEFICIAL MICROBES | Annie Nocenti on MARKS ON WALLS | Molly Sauter on THE GREAT BRITISH BAKE OFF | William Nericcio on LAND OF THE LOST | Dan Fox on "VOICE OF GOD" RADIO DJS | Brandi Brown on WIKIPEDIA TALK | Claire Lehmann on THE APPARATUS REVEAL | Alice Boone on COSTUME JEWELRY | Colin Dickey on WIDESPREAD PANIC | Anshuman Iddamsetty on THE FULL BODY PROJECT | John Hilgart on MAKING GRATEFUL DEAD ALBUMS | Rob Wringham on STEVEN UNIVERSE | John Overholt on DECKLE EDGES | James Hannaham on HABIT PATTERNS | Jessamyn West on THE PUBLIC LIBRARY SYSTEM | Adam McGovern on THE SPACE GIANTS | Brian Berger on MEDIUM COOL | Chris Spurgeon on THE DUNNING-KRUGER EFFECT | Joe Alterio on TABLETOP WARGAMING | Mimi Lipson on TRASH PICKING | Jason Grote on CZECH CINEMA | Roxane Gay on AUTOMATED CAR WASH | Dan Fox on JULIA DAVIS | Amy Thielen on BINGO | Steph Burt on FEIJOA.
MORE ENTHUSIASM at HILOBROW
NERD YOUR ENTHUSIASM (4Q2021): NERDING | ARDUIN | KLINGON CONFIDENTIAL | MAP INSERTS | TIME | & 20 other nerdy passions. SWERVE YOUR ENTHUSIASM (3Q2021): WARHOL'S WALT WHITMAN | 70, GIRLS, 70 | TYRAEL'S MIGHT | SHIRATO SANPEI | THE LEON SUITES | & 20 other never-realized cultural productions. FIVE-O YOUR ENTHUSIASM (2Q2021): DARK SHADOWS | MANNIX | GET SMART | THE ADDAMS FAMILY | I DREAM OF JEANNIE | & 20 other Sixties (1964–1973) TV shows. FERB YOUR ENTHUSIASM (1Q2021): STEVEN UNIVERSE | TOP CAT | REN & STIMPY | SHE-RA AND THE PRINCESSES OF POWER | DRAGON BALL Z | & 20 other animated series. CARBONA YOUR ENTHUSIASM (2020): "Sex Bomb" | "Going Underground" | "Soft South Africans" | "Typical Girls" | "Human Fly" | & 20 other Seventies (1974–1983) punk singles. KLAATU YOU (2020 weekly): ZARDOZ | METROPOLIS | DARK STAR | SINS OF THE FLESHAPOIDS | SOLARIS | & dozens of other pre-STAR WARS sci-fi movies. CONVOY YOUR ENTHUSIASM (2019): THE TAKING OF PELHAM ONE TWO THREE | ROLLERBALL | BLACK SUNDAY | SORCERER | STRAIGHT TIME | & 20 other Seventies (1974–1983) action movies. SERIOCOMIC (2019 weekly): LITTLE LULU | VIZ | MARSUPILAMI | ERNIE POOK'S COMEEK | HELLBOY | & dozens of other comics. TUBE YOUR ENTHUSIASM (2018): LOONEY TUNES | THREE STOOGES | THE AVENGERS | ROCKY & BULLWINKLE | THE TWILIGHT ZONE | & 20 other Fifties (1954–1963) TV shows. WOWEE ZOWEE (2018 weekly): UNISEX | UNDER THE PINK | DUMMY | AMOR PROHIBIDO | HIPS AND MAKERS | & dozens of other Nineties (1994–2003) albums. KLUTE YOUR ENTHUSIASM (2017): THE KILLERS | BANDE À PART (BAND OF OUTSIDERS) | ALPHAVILLE | HARPER | BLOW-UP | & 20 other Sixties (1964–1973) neo-noir movies. #SQUADGOALS (2017 weekly): THE WILD BUNCH | BOWIE'S BAND | THE BLOOMSBURY GROUP | THE HONG KONG CAVALIERS | VI ÄR BÄST! & dozens of other squads. GROK MY ENTHUSIASM (2016 weekly): THE THEORY AND PRACTICE OF LUNCH | WEEKEND | MILLION YEAR PICNIC | LA BARONNE EMILE D'ERLANGER | THE SURVIVAL SAMPLER | & dozens more one-off enthusiasms. QUIRK YOUR ENTHUSIASM (2016): "Tainted Love" | "Metal" | "Frankie Teardrop" | "Savoir Faire" | "Broken English" | & 20 other Seventies (1974–1983) new wave singles. CROM YOUR ENTHUSIASM (2015): DARKER THAN YOU THINK | THE SWORD IN THE STONE | OUT OF THE SILENT PLANET | THIEVES' HOUSE | QUEEN OF THE BLACK COAST | & 20 other Thirties (1934–1943) fantasy novels. KERN YOUR ENTHUSIASM (2014): ALDINE ITALIC | DATA 70 | TORONTO SUBWAY | JOHNSTON'S "HAMLET" | TODD KLONE | & 20 other typefaces. HERC YOUR ENTHUSIASM (2013): "Spoonin' Rap" | "Rapper's Delight" | "Rappin' Blow" | "The Incredible Fulk" | "The Adventures of Super Rhyme" | & 20 other Seventies (1974–1983) hip-hop songs. KIRK YOUR ENTHUSIASM (2012): Justice or vengeance? | Kirk teaches his drill thrall to kiss | "KHAAAAAN!" | "No kill I" | Kirk browbeats NOMAD | & 20 other Captain Kirk scenes. KIRB YOUR ENTHUSIASM (2011): THE ETERNALS | BLACK MAGIC | DEMON | OMAC | CAPTAIN AMERICA | & 20 other Jack Kirby panels.