INTO THE GROVE (21)
By: Brian Berger
July 29, 2017
One in a series of posts, by long-time HILOBROW friend and contributor Brian Berger, celebrating perhaps America's most exciting and controversial publisher: Barney Rosset's Grove Press.
*
Jack Kerouac's The Subterraneans (1958), source of mediocre 1960 movie
Jack Kerouac's Pull My Daisy (1959), Alfred Leslie & Robert Frank movie directors
Marie Seton's Sergei M. Eisenstein: The Definitive Biography (1952, 1960)
V.I. Pudovkin's Film Technique and Film Acting (1949, 1960), translated by Ivor Montagu
Joseph L. Anderson & Donald Richie's The Japanese Film (1960)
Film: Book 1, The Audience and the Filmmaker (1959), edited by Robert Hughes
Marguerite Duras' Hiroshima Mon Amour (1961), translated by Richard Seaver; Alan Resnais movie director
Film: Book 2, Films of Peace and War (1962), edited by Robert Hughes
Alain Robbe-Grillet's Last Year at Marienbad (1962), Alain Resnais movie director; translated by Richard Howard
John Osborne's Tom Jones (1964), Tony Richardson movie director
David Goodis' Shoot the Piano Player (1965) / François Truffaut movie tie-in
Jorge Semprum's La Guerre Est Finie (1967), Alain Resnais movie director; translated by Richard Seaver
Vilgot Sjöman's I Am Curious (Yellow) (1968), translated by Martin Minnow & Jenny Bohman
Vilgot Sjöman's I Was Curious: Diary of the Making of a Film (1968), translated by Alan Blair
Samuel Beckett's Film (1969), Alan Schneider movie director
Akira Kurosawa's Rashomon (1969), edited by Donald Richie
Ingmar Bergman's Three Films: Through a Glass Darkly, Winter Light, The Silence (1969), translated by Paul Britten Austin
François Truffaut's The 400 Blows (1969), translated by David Denby
Jean-Luc Godard's Masculin-Feminin (1969), transated by Pierre Billard
Jens Bjørneboe's Without a Stitch (1969), translated by Walter Barthold
Parker Tyler's Underground Film: A Critical History (1969)
Andy Warhol's Blue Movie (1970)
Gabriel Axel's Danish Blue (1970), translator unknown
Vilgot Sjöman's I Am Curious (Blue) (1970), translated by Martin Minnow & Jenny Bohman
Fred Baker's Events (1970)
Evergreen Review issue #s 51-61 (February 1968-January 1969)
All book cover designs by Roy Kuhlman
Though he once wished to be a filmmaker, Barney Rosset's substantial movie-related feats would be elsewhere than behind the camera. In 1948, he produced Leo Hurwitz's landmark anti-racial discrimination documentary, Strange Victory (see Into the Grove #11) and later, he commissioned, produced and shepherded Samuel Beckett around New York for the Irishman's lone cinematic work, Film (1965). As a publisher, Rosset issued a wide variety of movie books: biography, history, criticism, illustrated screenplays and movie tie-ins, including a remarkable congress of the underworld where hardboiled Philadelphia anti-hero David Goodis' Shoot The Piano Player (original title: Down There) is blurbed by subterranean Brooklyn-boy Henry Miller. In 1967, Grove got into film distribution racket, scoring a hit with the scandalous I Am Curious (Yellow) and within a few years, offering a catalog with hundreds of titles, including both features and shorts.
Like the mooted message picture "O Brother, Where Art Thou?" in Preston Sturges' Sullivan's Travels (1941), some of these offerings were movies "with a little sex in it." Consider the Fred Baker-directed Events of 1970, which Grove Press would publish in book form that same year. The picture, the paperback's brief back cover copy offers "is about a young filmmaker, Ryan, who wants to make his own film, but who, in order to raise money, must first make some stag films…" Ellipses in the original, so I won't spoil it, but really, given the subject, how bad can it be? Cast includes the Robert Altman and the ineffable Joy Bang who, with Andy Warhol's Blue Movie star Viva, will memorably join Kris Kristofferson in 1972's drugs, sex, folk music and corrupt Los Angeles police exploitation classic, Cisco Pike and… Well, you just gotta see it.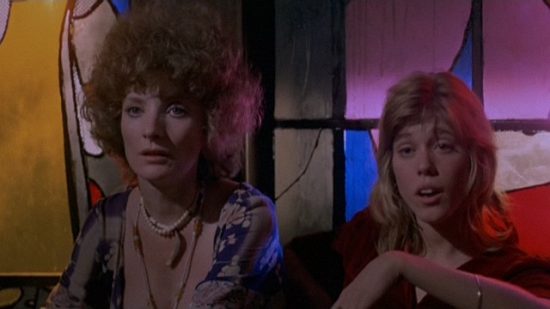 For additional context, I've included the Evergreen Review covers of 1968 and the first one dated 1969. While it's common to denigrate the later magazine when compared to its earlier journal incarnation, Evergreen continued to offer a largely compelling mix of left-to-radical politics, cultural criticism, literature and a healthy dose of sex. Highlights often include journalism by Nat Hentoff and Jack Newfield, race war dispatches from Julius Lester and — even if Evergreen sometimes embraced titillation as an end — some of its covers were amazing. In 1968, this included issue #51 (February), with Paul Davis' brilliant portrait of Che Guevera and issue #60 (November), where Edward Sorel savagely — and aptly — shows presidential candidates George Wallace, Hubert Humphrey and Richard Nixon astride Pigasus, the Yippie-nominee, in bandolier, pistol and helmet fleeing from the horrors of that August's Democratic National Convention in Chicago.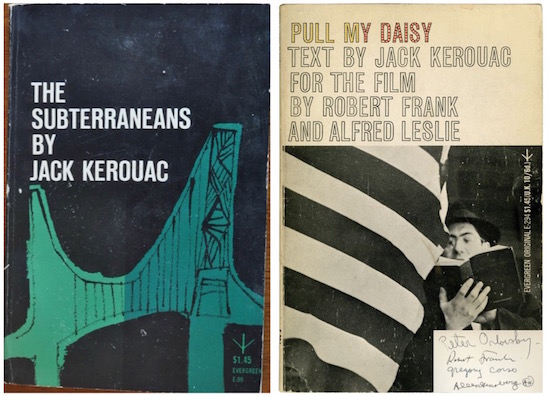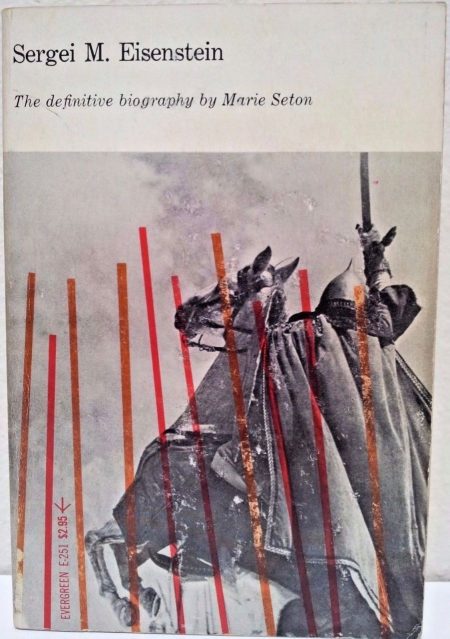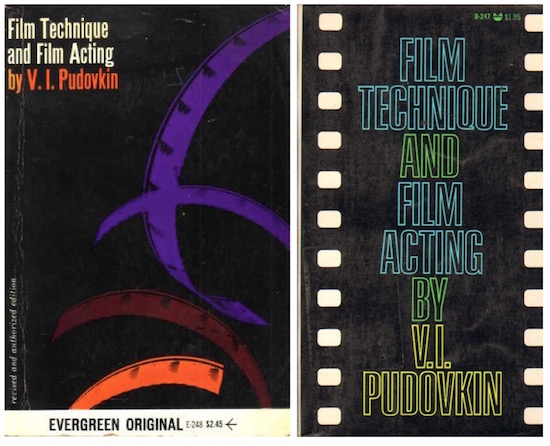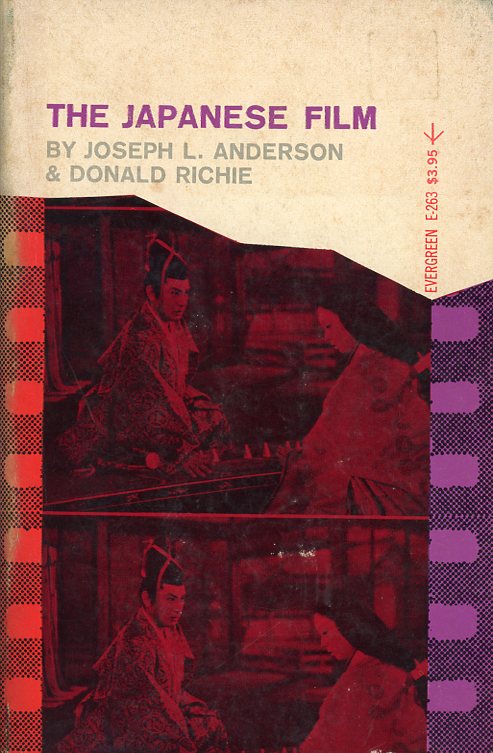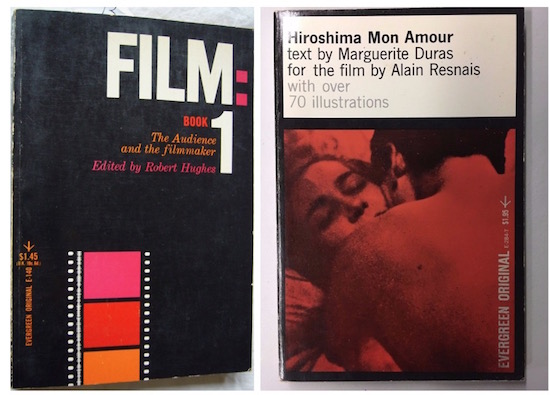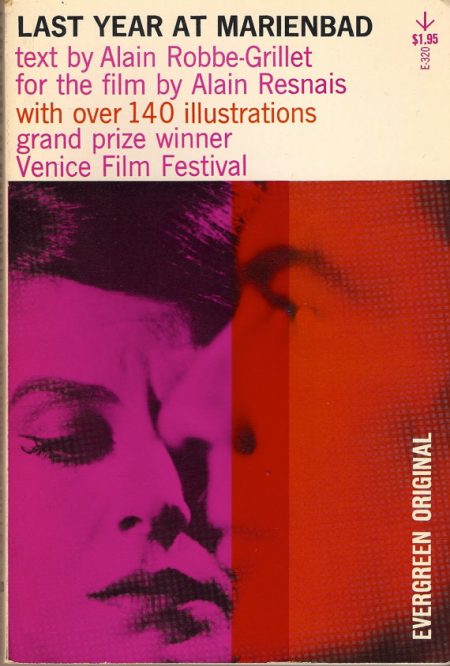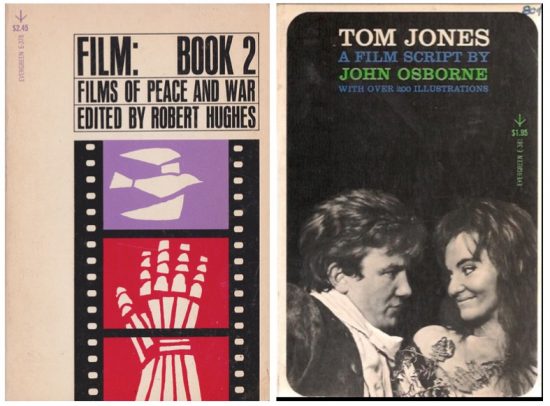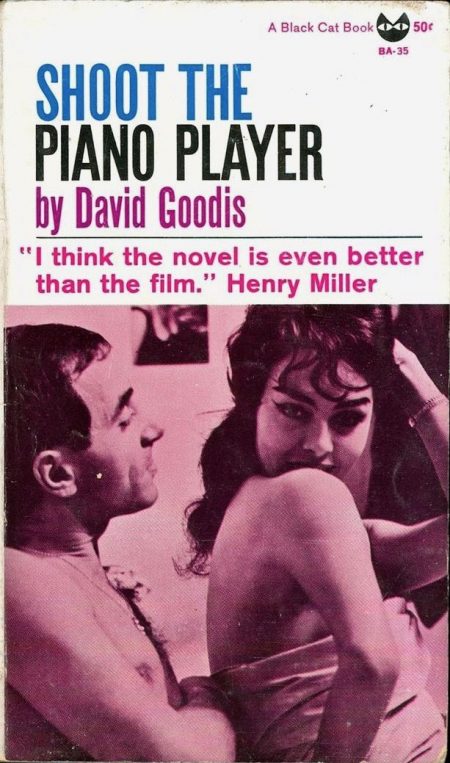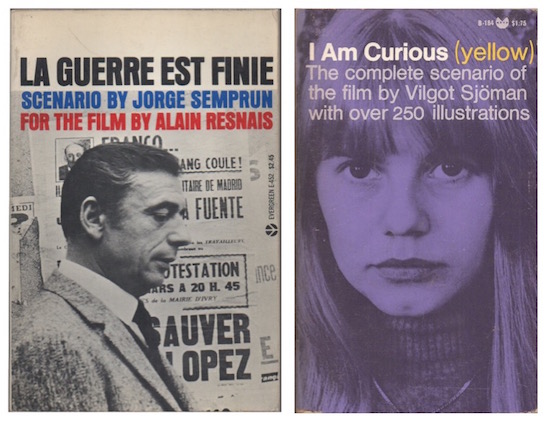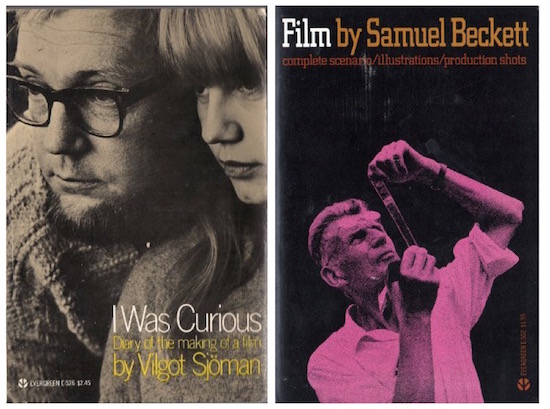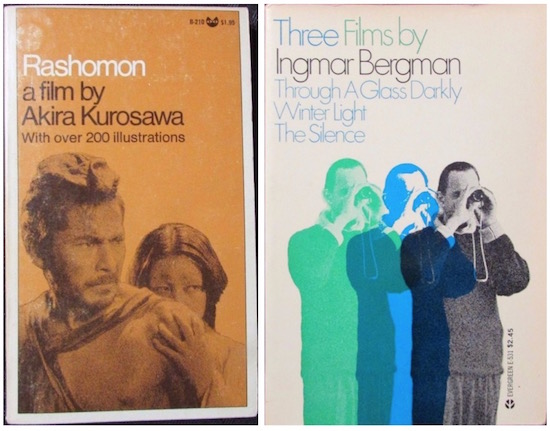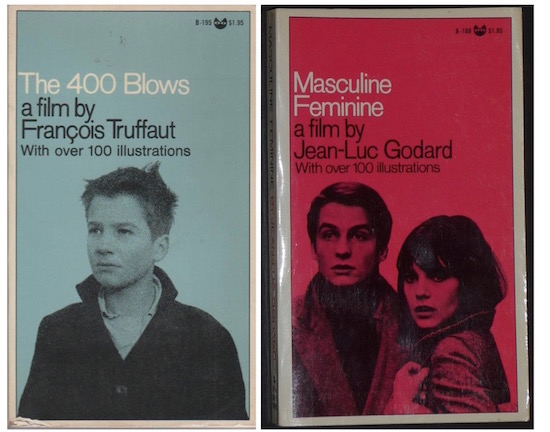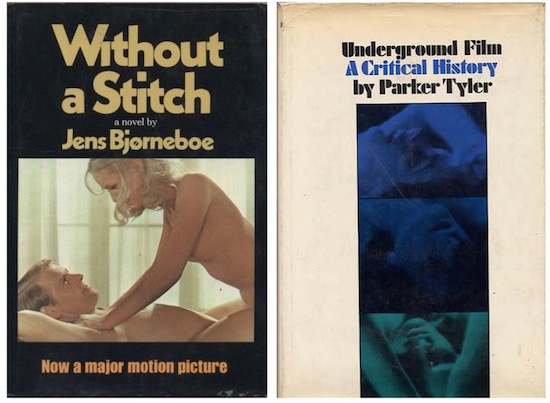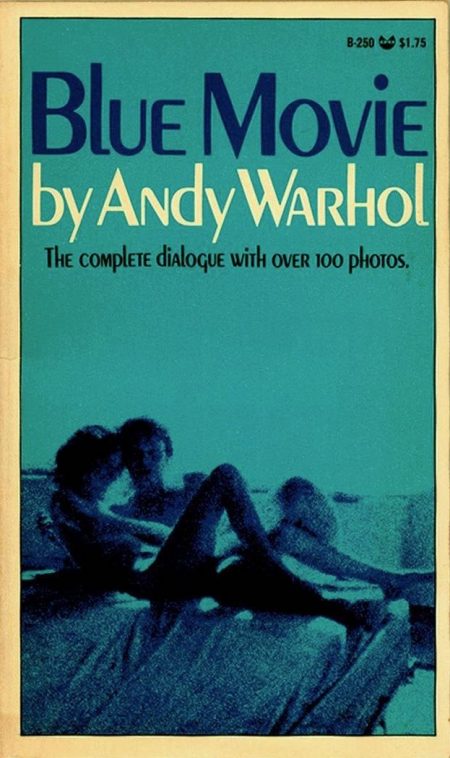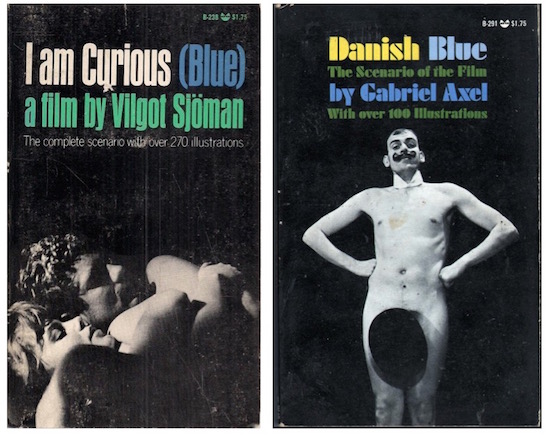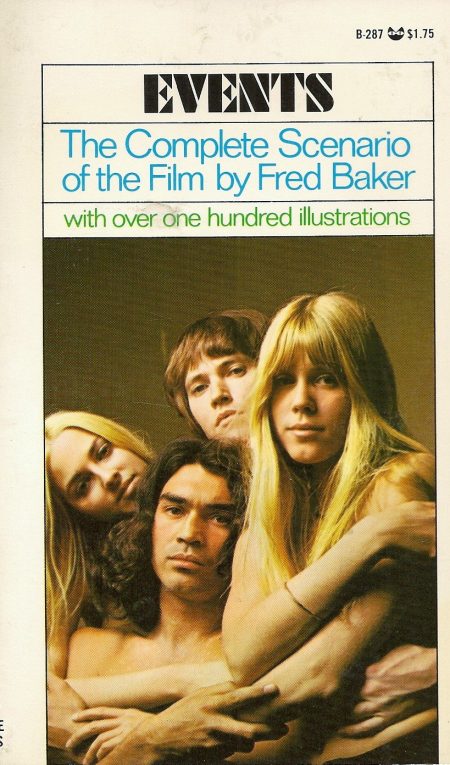 ***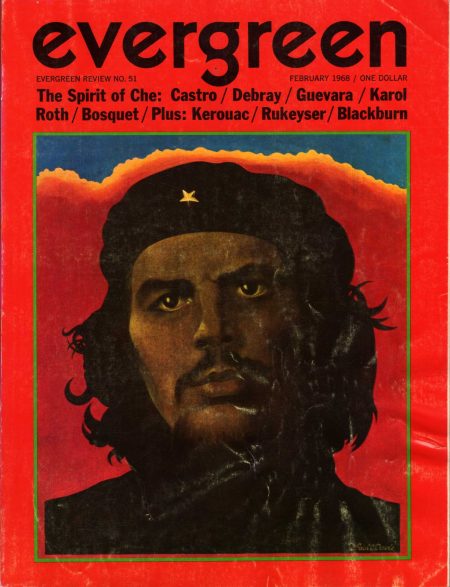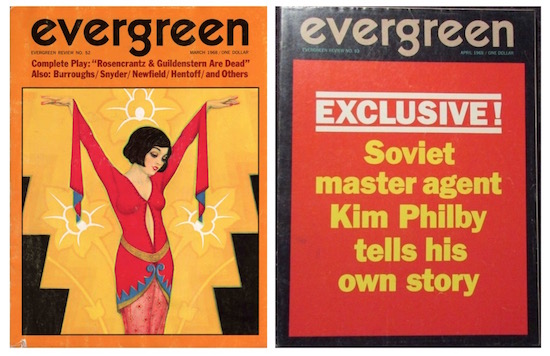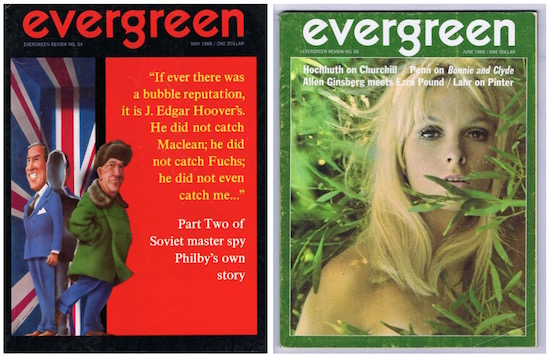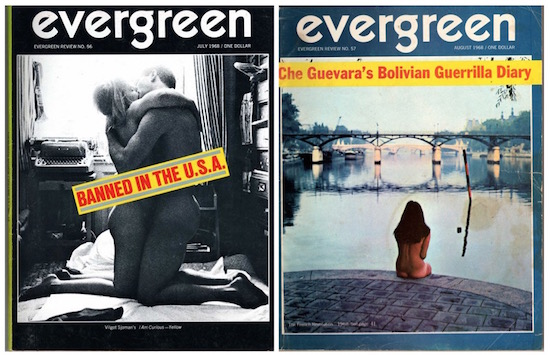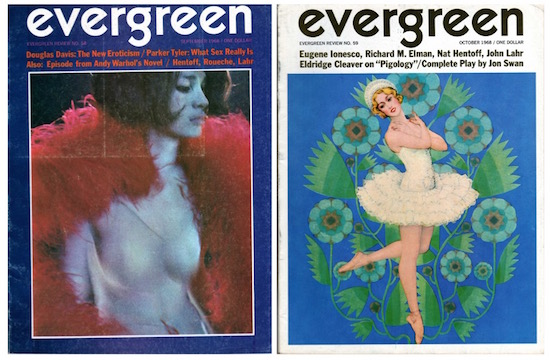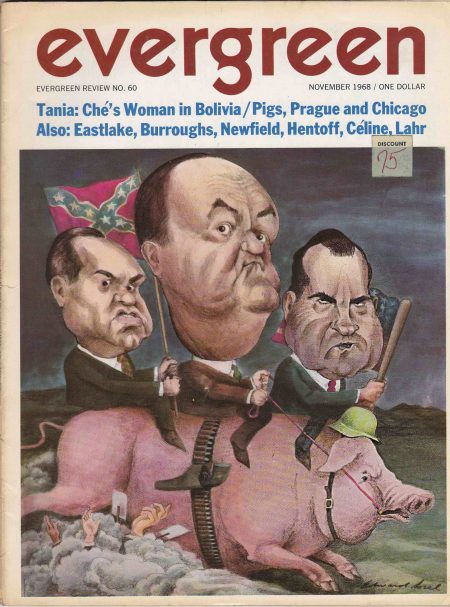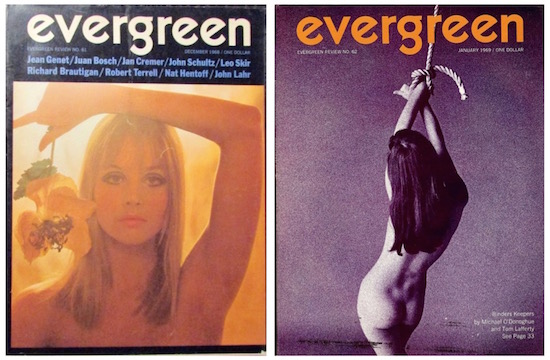 ***
MORE MOVIES at HILOBROW: KLUTE YOUR ENTHUSIASM: 25 neo-noirs of the Sixties (1964–1973) | James Parker's BOURNE VARIATIONS series | Alix Lambert's SÉRIE NOIRE series | Jacob Mikanowski's SCREEN TIME series | Josh Glenn's SHOCKING BLOCKING series | Joanne McNeil's ALL MY STARS series | MORE: including dozens of HILO HERO items on movie directors and actors.
BOOK COVERS at HILOBROW: INTO THE GROVE series by Brian Berger | FILE X series by Josh Glenn | THE BOOK IS A WEAPON series | HIGH-LOW COVER GALLERY series | RADIUM AGE COVER ART | BEST RADIUM AGE SCI-FI | BEST GOLDEN AGE SCI-FI | BEST NEW WAVE SCI-FI | REVOLUTION IN THE HEAD.