Thomas Pynchon
By: Brian Berger
May 8, 2014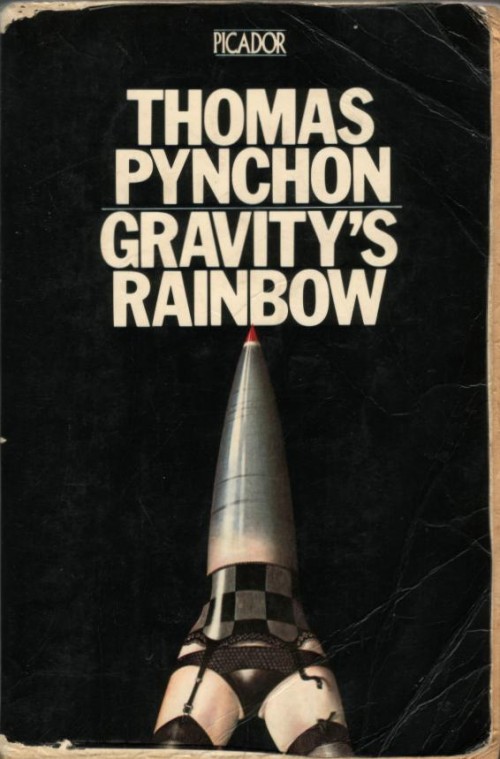 "Hey, Pensiero, you know whut an Eye-talian submarine sounds like, on dat new sonar? Huh?" one American soldier asks another, Eddie, a benny-popping barber meticulously cutting his Colonel's hair in Gravity's Rainbow by THOMAS PYNCHON (born 1937). "Uh… what?" "Pinnnguinnnea-guinea-guinea wopwopwop! Dat's whut! Yuk, yuk, yuk!" Hidden in this ethnic joke is E di pensiero, a line from Rigoletto, a sly Verdian nod in a work so Wagnerian, "If you can't sing Siegfried, at least you can carry a spear" is its pithiest apothegm. Size does matter, though — velleity can't achieve liebestod — and here too Pynchon delivers. "The prose was gorgeous," opined eminent editor Gerald Howard for Bookforum three decades after he first read the novel, "with a density of allusion and implication and hyperalertness that almost no one writing today would even attempt, let alone pull off." As for Pynchon's epic forebears — Dreiser, Dos Passos, Gaddis — it's Melville, from Moby Dick through The Confidence Man, who most predicts… what exactly? A military comedy, a corporate espionage tale, a wicked sex romp, a doper's movie musical about colonialism, zoot suits, dodo birds and many displaced persons — Puritans, hereros, gauchos, kamikazes, homosexuals, Jews. Horrified rocket engineer Franz Pökler wordlessly comforts a Dora concentration camp survivor, placing his gold wedding ring on her finger, "If she lived…" Composer Anton Webern is shot, "accidental if you believe in accidents." AWOL Seaman Pig Bodine gives ailing anti-hero Tyrone Slothrop an undershirt stained with John Dillinger's blood for protection, "This thing here works. Really does."
NEW WAVE SCI-FI at HILOBROW: 75 Best New Wave (1964–1983) Sci-Fi Novels | Back to Utopia: Fredric Jameson's theorizing about New Wave sci-fi | Douglas Adams | Poul Anderson | J.G. Ballard | John Brunner | William Burroughs | Octavia E. Butler | Samuel R. Delany | Philip K. Dick | Frank Herbert | Ursula K. Le Guin | Barry N. Malzberg | Moebius (Jean Giraud) | Michael Moorcock | Alan Moore | Gary Panter | Walker Percy | Thomas Pynchon | Joanna Russ | James Tiptree Jr. (Alice Sheldon) | Kurt Vonnegut | PLUS: Jack Kirby's Golden Age and New Wave science fiction comics.
***
On his or her birthday, HiLobrow irregularly pays tribute to one of our high-, low-, no-, or hilobrow heroes. Also born this date: Edmund Wilson, Tristan Jones, Gary Snyder, Roberto Rossellini, Don Rickles.
READ MORE about members of the Anti-Anti-Utopian Generation (1934-43).