Grok My Enthusiasm (39)
By: John Overholt
October 5, 2016
One in a weekly series of enthusiastic posts contributed by HILOBROW friends and regulars.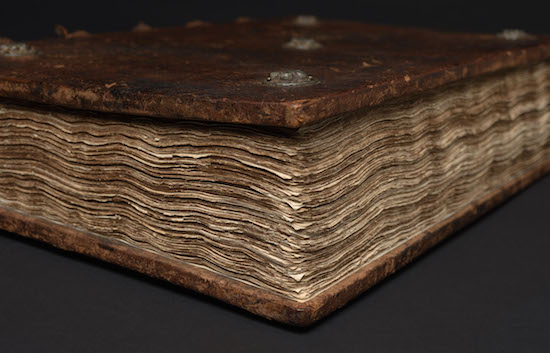 In an age of mass production, traces of the handmade take on far greater significance than they held when they were the norm. There's nothing obviously lovable about the deckle edge, the fuzzy, irregular margin characteristic of handmade paper. In a bound volume, authentic deckle edges (more on that in a moment) usually signal an owner too penurious or too indifferent to complete the process of acquiring a book — until the mid-19th century this usually meant both purchasing it from a bookseller and taking it to a bookbinder, where these wavy, messy leaves would be made neat and square.
As the practice of bespoke binding was supplanted by cheaper edition binding, supplied by the publisher and the same on every copy, so too did machine-made paper, trimmed to whatever size was required, eliminate the deckle edge. This clear improvement in efficiency and functionality was met almost immediately with nostalgia for the vanished deckle, like music buffs praising the warmth of vinyl as they abjured the CD. Machining reintroduced a skeuomorphic deckle edge to new books — if you buy a book today with a ridged foredge, you're seeing a remarkably durable allusion to a style that's been obsolete for about 150 years. As well, collectors paid a high premium for its genuine presence in older books. In his bibliophilic Bible ABC for Book Collectors, John Carter refers disdainfully to "Deckle-Fetishism, the overzealous, undiscriminating (and often very expensive) passion for uncut edges in books which were intended to have their edges cut."
While I don't think my enthusiasm for deckle edges rises to the level of a paraphilia, I like deckle edges for precisely the reason Carter identifies. Every librarian prizes signs of use in books; knowing who owned a book, and especially how they reacted to the experience of reading it, are among the most important reasons we acquire and preserve books. But there is something magical too about holding an object that has survived two or three centuries in essentially the same condition as it was first created. It feels a little bit like time travel.
PHOTO CREDIT: Inc 2084 (A). Houghton Library, Harvard University.
***
GROK MY ENTHUSIASM: Rob Wringham on THE THEORY AND PRACTICE OF LUNCH | Gordon Dahlquist on WEEKEND | Joe Alterio on MILLION YEAR PICNIC | Adrienne Crew on LA BARONNE EMILE D'ERLANGER | Josh Glenn on THE SURVIVAL SAMPLER | Alix Lambert on THE SKIES BELONG TO US | Adam McGovern on PENELOPE and CHAVEZ RAVINE | Rob Wringham on THE LYKE WAKE WALK | Mark Kingwell on NORTH STAR SNEAKERS & GWG JEANS | Gordon Dahlquist on FELLINI SATYRICON | Erik Davis on AH! | Devin McKinney on WHISPERING AFRAID | Mimi Lipson on 1973 SEARS ROEBUCK CATALOG | Jessamyn West on MOSS | Josh Glenn on THE SCOUT HOW BOOK | Brian Berger on SLACKER | Alix Lambert on ABSOLUTE BEGINNERS | Chelsey Johnson on MONOTREMES | Devin McKinney on THE BUTCHER COVER | Flourish Klink on ONE DIRECTION | Gordon Dahlquist on FULL METAL JACKET | Allegra Huston on CLOTHESLINE | Jenny Davidson on POWERLIFTING | Evan Narcisse on REZ | Deborah Wassertzug on VEGETARIAN MEATBALLS | Chris Spurgeon on WALLACE AND GROMIT | Mandy Keifetz on BENEFICIAL MICROBES | Annie Nocenti on MARKS ON WALLS | Molly Sauter on THE GREAT BRITISH BAKE OFF | William Nericcio on LAND OF THE LOST | Dan Fox on "VOICE OF GOD" RADIO DJS | Brandi Brown on WIKIPEDIA TALK | Claire Lehmann on THE APPARATUS REVEAL | Alice Boone on COSTUME JEWELRY | Colin Dickey on WIDESPREAD PANIC | Anshuman Iddamsetty on THE FULL BODY PROJECT | John Hilgart on MAKING GRATEFUL DEAD ALBUMS | Rob Wringham on STEVEN UNIVERSE | John Overholt on DECKLE EDGES | James Hannaham on HABIT PATTERNS | Jessamyn West on THE PUBLIC LIBRARY SYSTEM | Adam McGovern on THE SPACE GIANTS | Brian Berger on MEDIUM COOL | Chris Spurgeon on THE DUNNING-KRUGER EFFECT | Joe Alterio on TABLETOP WARGAMING | Mimi Lipson on TRASH PICKING | Jason Grote on CZECH CINEMA | Roxane Gay on AUTOMATED CAR WASH | Dan Fox on JULIA DAVIS | Amy Thielen on BINGO | Steph Burt on FEIJOA.
MORE ENTHUSIASM at HILOBROWGROK MY ENTHUSIASM (ongoing): THE THEORY AND PRACTICE OF LUNCH | WEEKEND | MILLION YEAR PICNIC | LA BARONNE EMILE D'ERLANGER | THE SURVIVAL SAMPLER | & dozens more one-off enthusiasms. QUIRK YOUR ENTHUSIASM (2016): "Tainted Love" | "Metal" | "Frankie Teardrop" | "Savoir Faire" | "Broken English" | & 20 other new wave songs. CROM YOUR ENTHUSIASM (2015): DARKER THAN YOU THINK | THE SWORD IN THE STONE | OUT OF THE SILENT PLANET | THIEVES' HOUSE | QUEEN OF THE BLACK COAST | & 20 other fantasy novels from 1934–1943. KERN YOUR ENTHUSIASM (2014): ALDINE ITALIC | DATA 70 | TORONTO SUBWAY | JOHNSTON'S "HAMLET" | TODD KLONE | & 20 other typefaces. HERC YOUR ENTHUSIASM (2013): "Spoonin' Rap" | "Rapper's Delight" | "Rappin' Blow" | "The Incredible Fulk" | "The Adventures of Super Rhyme" | & 20 other old-school hip-hop songs. KIRK YOUR ENTHUSIASM (2012): Justice or vengeance? | Kirk teaches his drill thrall to kiss | "KHAAAAAN!" | "No kill I" | Kirk browbeats NOMAD | & 20 other Captain Kirk scenes. KIRB YOUR ENTHUSIASM (2011): THE ETERNALS | BLACK MAGIC | DEMON | OMAC | CAPTAIN AMERICA | & 20 other Jack Kirby panels.