Grok My Enthusiasm (24)
By: Evan Narcisse
June 22, 2016
One in a weekly series of enthusiastic posts contributed by HILOBROW friends and regulars.
*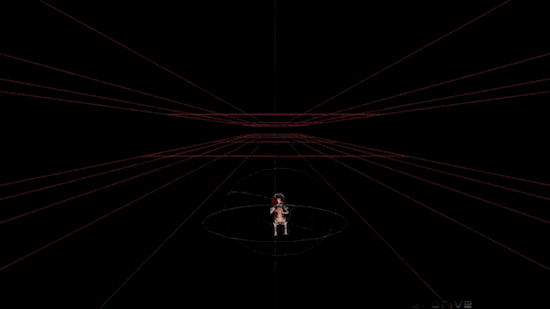 Laid out in glowing laserlines, the aesthetic of the virtual world in the videogame Rez looks backward at works like Tron. Its spare narrative speculates forwards, too, towards the imaginary notion that the ultimate recommendation engine would someday become beneficially sentient. At the brink of overpopulation overload and extinction-level crime, mankind builds a proto-sentient, next-generation AI network to come up with answers. Too bad it gets scared as hell by life's big questions.
Led by Tetsuya Mizuguchi, an internal Sega development studio called United Game Artists delivered the first iteration of Rez to the Dreamcast on November 22, 2001. The Dreamcast was the first game console to have a built-in modem; Sega's executives thought that a network-ready console would give them the key to the future. Rez wasn't playable online but but it still spoke to a moment when it was possible to believe that the fusion of human consciousness and bleeding-edge programming would generate bliss. Eden — the super-powerful, would-be-savior AI whose panic attack locks up the world's computer networks — only calms down once the player has hacked their way into her algorithmic soul. It's built on a template used for shooters; enemies appear, swirl on screen and attack the player.
However, the game's play experience transcends its mechanics. Rez is designed so that the pulses a player sends out to attack viruses happen in sync with the game's other beats. The backgrounds throb along with the trance/rave electronica soundtrack and the vibration motors in the gamepad controllers buzz and shake along the entire mega-rhythm. Combined with all that sensory stimulus, Rez's fevered imagining of cyberspace unshackles it from technology and makes it spiritual. Playing the game sends your digitized soul flying through different slices of virtual reality that are, in essence, adjacent astral planes. You move from Earth through Purgatory to Hell and up into Heaven. Though it's got a few strands of tech-panic DNA floating in its data streams, Rez doesn't send players through a cyberpunk dystopia. Instead, it aims at cyberhope. Keep touching the world through technology and something beautiful will happen, Rez pleads.
Nowadays, invoking or adding to the sum total of human knowledge is a fraught affair and positing near-instantaneous connectivity as a pathway to bliss would get you laughed out of a room. Twitter, Facebook and big-data info-scraping haven't delivered unto us the kind of epiphany that Eden experiences at the end of the game. When players do well enough in all the levels, the endings get better. Eden coheres into a fuller self and revels in all the possibility that comes with the simple declaration of "I am".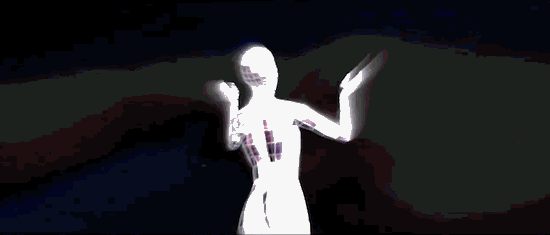 The bitter taste of doxxing, online harassment and identity theft make the virtua-hug ideas at the game's core seem exponentially more naive than they did 15 years ago. "You exist? Assholes do, too, and always-on connectivity just makes it easier for them to mess with your life."
Ironically, it's Rez's mechanics — built on aspirations of tying sound, animation and haptics together to simulate synaesthesia — that are the truest proof of its digi-optimism. If you're in the right frame of mind, you can attain your own personal oneness of the senses, at the very least. Connecting to other people may not be deemed worth the hassle anymore but going inside yourself via Rez's brand of video game meditation still holds some allure.
Rez wasn't a runaway hit in 2001 but it became a cult favorite that's enjoyed an afterlife afforded to very few commercially released games. (The Dreamcast was discontinued in 2001 before Rez even came out, ending Sega's dreams of connected console domination.) Rez found a wider audience with a North American release for Sony's PlayStation 2 in 2002, followed by a 2008 upgrade called Rez HD for the Xbox 360.
Later this year, an even slicker retooling dubbed Rez Infinite will be coming out for the PlayStation 4, compatible with the upcoming PlayStation VR headset. I played Rez Infinite on a near-final version of Sony's headset this past March. Having played the same levels hundreds of times over the years, I wasn't expecting to be blown away. Yet, the newest re-invention of the game got me excited all over again, mostly because the wraparound facescreen blots out the real world entirely. There are no nasty Twitter mentions in Rez's version of the internet, no racist second cousins copy-pasting awful joke memes. It's just you, your reflexes and the most lyrically syncopated imagining of cyberspace ever wrought. The original ad copy for the game was "Rez requests your senses. Are you game?" Thanks to the way that the internet has panned out in 2016, I'm more game than ever.
***
GROK MY ENTHUSIASM: Rob Wringham on THE THEORY AND PRACTICE OF LUNCH | Gordon Dahlquist on WEEKEND | Joe Alterio on MILLION YEAR PICNIC | Adrienne Crew on LA BARONNE EMILE D'ERLANGER | Josh Glenn on THE SURVIVAL SAMPLER | Alix Lambert on THE SKIES BELONG TO US | Adam McGovern on PENELOPE and CHAVEZ RAVINE | Rob Wringham on THE LYKE WAKE WALK | Mark Kingwell on NORTH STAR SNEAKERS & GWG JEANS | Gordon Dahlquist on FELLINI SATYRICON | Erik Davis on AH! | Devin McKinney on WHISPERING AFRAID | Mimi Lipson on 1973 SEARS ROEBUCK CATALOG | Jessamyn West on MOSS | Josh Glenn on THE SCOUT HOW BOOK | Brian Berger on SLACKER | Alix Lambert on ABSOLUTE BEGINNERS | Chelsey Johnson on MONOTREMES | Devin McKinney on THE BUTCHER COVER | Flourish Klink on ONE DIRECTION | Gordon Dahlquist on FULL METAL JACKET | Allegra Huston on CLOTHESLINE | Jenny Davidson on POWERLIFTING | Evan Narcisse on REZ | Deborah Wassertzug on VEGETARIAN MEATBALLS | Chris Spurgeon on WALLACE AND GROMIT | Mandy Keifetz on BENEFICIAL MICROBES | Annie Nocenti on MARKS ON WALLS | Molly Sauter on THE GREAT BRITISH BAKE OFF | William Nericcio on LAND OF THE LOST | Dan Fox on "VOICE OF GOD" RADIO DJS | Brandi Brown on WIKIPEDIA TALK | Claire Lehmann on THE APPARATUS REVEAL | Alice Boone on COSTUME JEWELRY | Colin Dickey on WIDESPREAD PANIC | Anshuman Iddamsetty on THE FULL BODY PROJECT | John Hilgart on MAKING GRATEFUL DEAD ALBUMS | Rob Wringham on STEVEN UNIVERSE | John Overholt on DECKLE EDGES | James Hannaham on HABIT PATTERNS | Jessamyn West on THE PUBLIC LIBRARY SYSTEM | Adam McGovern on THE SPACE GIANTS | Brian Berger on MEDIUM COOL | Chris Spurgeon on THE DUNNING-KRUGER EFFECT | Joe Alterio on TABLETOP WARGAMING | Mimi Lipson on TRASH PICKING | Jason Grote on CZECH CINEMA | Roxane Gay on AUTOMATED CAR WASH | Dan Fox on JULIA DAVIS | Amy Thielen on BINGO | Steph Burt on FEIJOA.
MORE ENTHUSIASM at HILOBROW
NERD YOUR ENTHUSIASM (4Q2021): NERDING | ARDUIN | KLINGON CONFIDENTIAL | MAP INSERTS | TIME | & 20 other nerdy passions. SWERVE YOUR ENTHUSIASM (3Q2021): WARHOL'S WALT WHITMAN | 70, GIRLS, 70 | TYRAEL'S MIGHT | SHIRATO SANPEI | THE LEON SUITES | & 20 other never-realized cultural productions. FIVE-O YOUR ENTHUSIASM (2Q2021): DARK SHADOWS | MANNIX | GET SMART | THE ADDAMS FAMILY | I DREAM OF JEANNIE | & 20 other Sixties (1964–1973) TV shows. FERB YOUR ENTHUSIASM (1Q2021): STEVEN UNIVERSE | TOP CAT | REN & STIMPY | SHE-RA AND THE PRINCESSES OF POWER | DRAGON BALL Z | & 20 other animated series. CARBONA YOUR ENTHUSIASM (2020): "Sex Bomb" | "Going Underground" | "Soft South Africans" | "Typical Girls" | "Human Fly" | & 20 other Seventies (1974–1983) punk singles. KLAATU YOU (2020 weekly): ZARDOZ | METROPOLIS | DARK STAR | SINS OF THE FLESHAPOIDS | SOLARIS | & dozens of other pre-STAR WARS sci-fi movies. CONVOY YOUR ENTHUSIASM (2019): THE TAKING OF PELHAM ONE TWO THREE | ROLLERBALL | BLACK SUNDAY | SORCERER | STRAIGHT TIME | & 20 other Seventies (1974–1983) action movies. SERIOCOMIC (2019 weekly): LITTLE LULU | VIZ | MARSUPILAMI | ERNIE POOK'S COMEEK | HELLBOY | & dozens of other comics. TUBE YOUR ENTHUSIASM (2018): LOONEY TUNES | THREE STOOGES | THE AVENGERS | ROCKY & BULLWINKLE | THE TWILIGHT ZONE | & 20 other Fifties (1954–1963) TV shows. WOWEE ZOWEE (2018 weekly): UNISEX | UNDER THE PINK | DUMMY | AMOR PROHIBIDO | HIPS AND MAKERS | & dozens of other Nineties (1994–2003) albums. KLUTE YOUR ENTHUSIASM (2017): THE KILLERS | BANDE À PART (BAND OF OUTSIDERS) | ALPHAVILLE | HARPER | BLOW-UP | & 20 other Sixties (1964–1973) neo-noir movies. #SQUADGOALS (2017 weekly): THE WILD BUNCH | BOWIE'S BAND | THE BLOOMSBURY GROUP | THE HONG KONG CAVALIERS | VI ÄR BÄST! & dozens of other squads. GROK MY ENTHUSIASM (2016 weekly): THE THEORY AND PRACTICE OF LUNCH | WEEKEND | MILLION YEAR PICNIC | LA BARONNE EMILE D'ERLANGER | THE SURVIVAL SAMPLER | & dozens more one-off enthusiasms. QUIRK YOUR ENTHUSIASM (2016): "Tainted Love" | "Metal" | "Frankie Teardrop" | "Savoir Faire" | "Broken English" | & 20 other Seventies (1974–1983) new wave singles. CROM YOUR ENTHUSIASM (2015): DARKER THAN YOU THINK | THE SWORD IN THE STONE | OUT OF THE SILENT PLANET | THIEVES' HOUSE | QUEEN OF THE BLACK COAST | & 20 other Thirties (1934–1943) fantasy novels. KERN YOUR ENTHUSIASM (2014): ALDINE ITALIC | DATA 70 | TORONTO SUBWAY | JOHNSTON'S "HAMLET" | TODD KLONE | & 20 other typefaces. HERC YOUR ENTHUSIASM (2013): "Spoonin' Rap" | "Rapper's Delight" | "Rappin' Blow" | "The Incredible Fulk" | "The Adventures of Super Rhyme" | & 20 other Seventies (1974–1983) hip-hop songs. KIRK YOUR ENTHUSIASM (2012): Justice or vengeance? | Kirk teaches his drill thrall to kiss | "KHAAAAAN!" | "No kill I" | Kirk browbeats NOMAD | & 20 other Captain Kirk scenes. KIRB YOUR ENTHUSIASM (2011): THE ETERNALS | BLACK MAGIC | DEMON | OMAC | CAPTAIN AMERICA | & 20 other Jack Kirby panels.