Grok My Enthusiasm (7)
By: Adam McGovern
February 24, 2016
One in a weekly series of enthusiastic posts contributed by HILOBROW friends and regulars.
*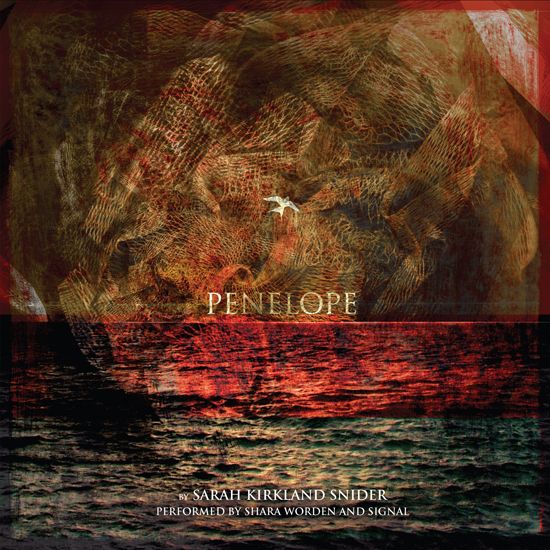 "Home is where I'm going, but never coming" — the unattainability of conclusions, and perhaps the undesirability of endings, is a theme central to the American psyche, this nation of travelers and the discontent. Moby-Dick keeps to the eternally potential void of the sea (and if "Ishmael" is still alive on solid land, we can tell he's left home behind for good); Gatsby speaks of the impossibility of possession once wanting gives you up, specifically symbolized with the moment the inhabiting of the Americas went wrong (that is, upon humans' arrival).
My wife and I were driving back through the ignited jewels of a misted mountain afternoon, returning from our last Canadian 4th of July (we knew when home was prime for leaving), as the lines that open this article were playing on the deck — Sarah Kirkland Snider's song-cycle Penelope (2010; composed by Snider, lyrics by Ellen McLaughlin, performed by Shara Worden and Signal), an edge-classical drama based in ancient Greek tragedy and the ongoing sorrow of Western existence. Evoking the return of Odysseus, but not as the man he was or to the home he knew or the spouse who thought she knew him, Penelope takes place in some imagined present, the husband returning after twenty years from an unnamed war with no memory of who he was, but a remaining territorial conception of what is "his."
"The world wants her travelers to stay lost," sings Worden, and the title character was given a world — of self-determination, of identity — that she would be happy to stay in; the man's return takes this world away without her going anywhere. My wife and I took each other almost everywhere, and changed worlds for wherever we were. Snider's melancholy, intimately momentous score stirs like the sea, and its slowly recurring figures are oceanic in their sensation and sweep. The currents of Penelope's life have washed up regrets and dissatisfactions she had with the man even as he had been; the lengthening days erode both her security and her resistance to remaking a life with him.
I saw my wife to the shore of eternity on July 9, 2015, two years after we listened to these songs. We reached each other long before, and went together to the edge of the endless; I feel its waves still, as she gets further to the center of the rings that widen out to me.
The hero here is not the man who returned but the woman who left. My earliest memories are of heroines — Guinevere going to the stake in the Camelot original-cast album my parents would always play; Persephone stolen to hell in winter and holding fast the power of spring. My mom carried me out of the dark of nonexistence and through my early life; my first hero, who left for her own darkness two months after my wife. She had packed up to California from Chicago in her college years, and ventured on a trip alone to the segregated South in that same time. She drank from the "Colored" water-fountains and brought back indelible stories of why the fight for civil rights was right; she didn't go on a freedom ride, she was more like a tourist to the tragedy, but she could always be counted on to edit nothing from the slideshow — like when she and my dad sat my sister and me down for Holocaust documentaries early in our lives; they taught us how we lucky survivors were meant to meet the dispossessed more than halfway.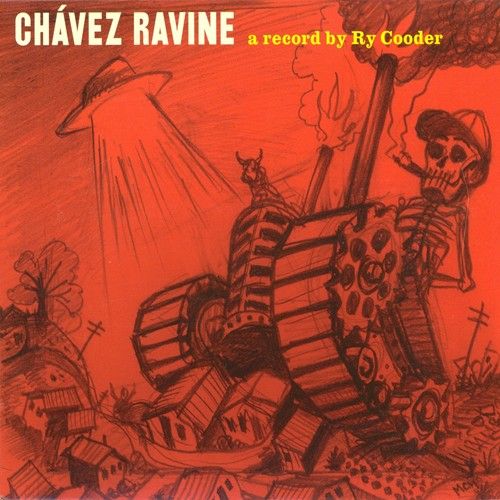 Mom's California experience exposed her to Latin culture earlier than many in our suburban universe; my wife and I were crossing back and forth from the West once while we listened to Ry Cooder, et al.'s Chávez Ravine (2005), the other novel-for-disk most meaningful to me. It takes place in the postwar LA of my mom, and the places in it even she had a phobia of going. A brilliant transmission plucked from some supernatural radio-waves traveling slow since the last midcentury, Chávez Ravine mixes Latin pop of the period with imagined soliloquies from mad Anglo developers, conflicted African-American demolition contractors, and doomed Spanish-speaking citizens as dirty deals and racist policies spell the end of the Mexican-American neighborhood named in the title, razed to build a housing project that never materialized while LA Dodger Stadium did. The stylish "Pachuco" subculture, branded of course as a criminal uprising, is vividly brought to life, and two of the period's musical masters, Don Tosti and Lalo Guerrero, were still alive to sing on this album. It's the main reason I was inspired to make the good-hearted demon Hotspot in my and Paolo Leandri's comic Nightworld a zoot-suit kid in his long-ago life.
The album begins with space-aliens and ends with nature deities; my wife and I played this music as we drove around in dark wastelands, at the feet of shadow mountains, guided by starry satellites. "Just a place you don't know, up a road you can't go," sings Bla Pahinui toward the end, and I'm happy to have had these journeys, my heroines by my side and the voices we only ever heard as echoes brought back to brief life, headed for places that are not in this world, and in that way, on a trip that never has to end.
***
GROK MY ENTHUSIASM: Rob Wringham on THE THEORY AND PRACTICE OF LUNCH | Gordon Dahlquist on WEEKEND | Joe Alterio on MILLION YEAR PICNIC | Adrienne Crew on LA BARONNE EMILE D'ERLANGER | Josh Glenn on THE SURVIVAL SAMPLER | Alix Lambert on THE SKIES BELONG TO US | Adam McGovern on PENELOPE and CHAVEZ RAVINE | Rob Wringham on THE LYKE WAKE WALK | Mark Kingwell on NORTH STAR SNEAKERS & GWG JEANS | Gordon Dahlquist on FELLINI SATYRICON | Erik Davis on AH! | Devin McKinney on WHISPERING AFRAID | Mimi Lipson on 1973 SEARS ROEBUCK CATALOG | Jessamyn West on MOSS | Josh Glenn on THE SCOUT HOW BOOK | Brian Berger on SLACKER | Alix Lambert on ABSOLUTE BEGINNERS | Chelsey Johnson on MONOTREMES | Devin McKinney on THE BUTCHER COVER | Flourish Klink on ONE DIRECTION | Gordon Dahlquist on FULL METAL JACKET | Allegra Huston on CLOTHESLINE | Jenny Davidson on POWERLIFTING | Evan Narcisse on REZ | Deborah Wassertzug on VEGETARIAN MEATBALLS | Chris Spurgeon on WALLACE AND GROMIT | Mandy Keifetz on BENEFICIAL MICROBES | Annie Nocenti on MARKS ON WALLS | Molly Sauter on THE GREAT BRITISH BAKE OFF | William Nericcio on LAND OF THE LOST | Dan Fox on "VOICE OF GOD" RADIO DJS | Brandi Brown on WIKIPEDIA TALK | Claire Lehmann on THE APPARATUS REVEAL | Alice Boone on COSTUME JEWELRY | Colin Dickey on WIDESPREAD PANIC | Anshuman Iddamsetty on THE FULL BODY PROJECT | John Hilgart on MAKING GRATEFUL DEAD ALBUMS | Rob Wringham on STEVEN UNIVERSE | John Overholt on DECKLE EDGES | James Hannaham on HABIT PATTERNS | Jessamyn West on THE PUBLIC LIBRARY SYSTEM | Adam McGovern on THE SPACE GIANTS | Brian Berger on MEDIUM COOL | Chris Spurgeon on THE DUNNING-KRUGER EFFECT | Joe Alterio on TABLETOP WARGAMING | Mimi Lipson on TRASH PICKING | Jason Grote on CZECH CINEMA | Roxane Gay on AUTOMATED CAR WASH | Dan Fox on JULIA DAVIS | Amy Thielen on BINGO | Steph Burt on FEIJOA.
MORE ENTHUSIASM at HILOBROW
NERD YOUR ENTHUSIASM (4Q2021): NERDING | ARDUIN | KLINGON CONFIDENTIAL | MAP INSERTS | TIME | & 20 other nerdy passions. SWERVE YOUR ENTHUSIASM (3Q2021): WARHOL'S WALT WHITMAN | 70, GIRLS, 70 | TYRAEL'S MIGHT | SHIRATO SANPEI | THE LEON SUITES | & 20 other never-realized cultural productions. FIVE-O YOUR ENTHUSIASM (2Q2021): DARK SHADOWS | MANNIX | GET SMART | THE ADDAMS FAMILY | I DREAM OF JEANNIE | & 20 other Sixties (1964–1973) TV shows. FERB YOUR ENTHUSIASM (1Q2021): STEVEN UNIVERSE | TOP CAT | REN & STIMPY | SHE-RA AND THE PRINCESSES OF POWER | DRAGON BALL Z | & 20 other animated series. CARBONA YOUR ENTHUSIASM (2020): "Sex Bomb" | "Going Underground" | "Soft South Africans" | "Typical Girls" | "Human Fly" | & 20 other Seventies (1974–1983) punk singles. KLAATU YOU (2020 weekly): ZARDOZ | METROPOLIS | DARK STAR | SINS OF THE FLESHAPOIDS | SOLARIS | & dozens of other pre-STAR WARS sci-fi movies. CONVOY YOUR ENTHUSIASM (2019): THE TAKING OF PELHAM ONE TWO THREE | ROLLERBALL | BLACK SUNDAY | SORCERER | STRAIGHT TIME | & 20 other Seventies (1974–1983) action movies. SERIOCOMIC (2019 weekly): LITTLE LULU | VIZ | MARSUPILAMI | ERNIE POOK'S COMEEK | HELLBOY | & dozens of other comics. TUBE YOUR ENTHUSIASM (2018): LOONEY TUNES | THREE STOOGES | THE AVENGERS | ROCKY & BULLWINKLE | THE TWILIGHT ZONE | & 20 other Fifties (1954–1963) TV shows. WOWEE ZOWEE (2018 weekly): UNISEX | UNDER THE PINK | DUMMY | AMOR PROHIBIDO | HIPS AND MAKERS | & dozens of other Nineties (1994–2003) albums. KLUTE YOUR ENTHUSIASM (2017): THE KILLERS | BANDE À PART (BAND OF OUTSIDERS) | ALPHAVILLE | HARPER | BLOW-UP | & 20 other Sixties (1964–1973) neo-noir movies. #SQUADGOALS (2017 weekly): THE WILD BUNCH | BOWIE'S BAND | THE BLOOMSBURY GROUP | THE HONG KONG CAVALIERS | VI ÄR BÄST! & dozens of other squads. GROK MY ENTHUSIASM (2016 weekly): THE THEORY AND PRACTICE OF LUNCH | WEEKEND | MILLION YEAR PICNIC | LA BARONNE EMILE D'ERLANGER | THE SURVIVAL SAMPLER | & dozens more one-off enthusiasms. QUIRK YOUR ENTHUSIASM (2016): "Tainted Love" | "Metal" | "Frankie Teardrop" | "Savoir Faire" | "Broken English" | & 20 other Seventies (1974–1983) new wave singles. CROM YOUR ENTHUSIASM (2015): DARKER THAN YOU THINK | THE SWORD IN THE STONE | OUT OF THE SILENT PLANET | THIEVES' HOUSE | QUEEN OF THE BLACK COAST | & 20 other Thirties (1934–1943) fantasy novels. KERN YOUR ENTHUSIASM (2014): ALDINE ITALIC | DATA 70 | TORONTO SUBWAY | JOHNSTON'S "HAMLET" | TODD KLONE | & 20 other typefaces. HERC YOUR ENTHUSIASM (2013): "Spoonin' Rap" | "Rapper's Delight" | "Rappin' Blow" | "The Incredible Fulk" | "The Adventures of Super Rhyme" | & 20 other Seventies (1974–1983) hip-hop songs. KIRK YOUR ENTHUSIASM (2012): Justice or vengeance? | Kirk teaches his drill thrall to kiss | "KHAAAAAN!" | "No kill I" | Kirk browbeats NOMAD | & 20 other Captain Kirk scenes. KIRB YOUR ENTHUSIASM (2011): THE ETERNALS | BLACK MAGIC | DEMON | OMAC | CAPTAIN AMERICA | & 20 other Jack Kirby panels.